Saludo amigos de HIVE.




Saludo friends of HIVE.
---
Excelente día comunidad Hive, en esta nueva edición quiero presentarle una receta que prepare se trata de unos ricos rollos de canela; esta receta es fácil, contiene pocos ingredientes tiene un proceso de elaboración ya que el secreto es la masa tiene que quedar bien suave y moldeable seguido de un relleno de mantequilla, canela, azúcar. Para poder preparar los rollos de canelas, este dulce es muy sabrosos primera vez que hago este dulce y me quedaron buenísimos a pesar que improvise algunos ingredientes porque no la tenía, igual me quedaron muy rico a mi familia le encanto espero que ha ustedes le gusten mi versión y anímense a preparar este rico dulce en casita empecemos a cocinar.
---
Excellent day community Hive, in this new edition I want to present a recipe that I prepared is a rich cinnamon rolls, this recipe is easy, contains few ingredients has a process of preparation as the secret is the dough has to be well soft and moldable followed by a filling of butter, cinnamon, sugar. To be able to prepare the cinnamon rolls, this candy is very tasty the first time I make this candy and they were very good despite the fact that I improvised some ingredients because I did not have it, but they were very good anyway. My family loved them and I hope you like my version and encourage you to prepare this delicious candy at home.
---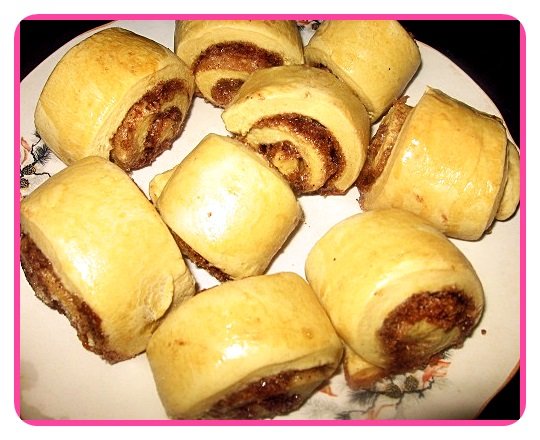 ---

---
250g Harina de trigo.
250g wheat flour.
---
azúcar blanca (o azúcar morena).
White sugar (or brown sugar).
---
Leche líquida.
Liquid milk.
---
2 huevos.
2 eggs.
---
sal.
Salt.
---
polvo de hornear (o levadura).
Baking powder (or yeast).
---
mantequilla.
Butter.
---
canela en polvo.
cinnamon powder.
---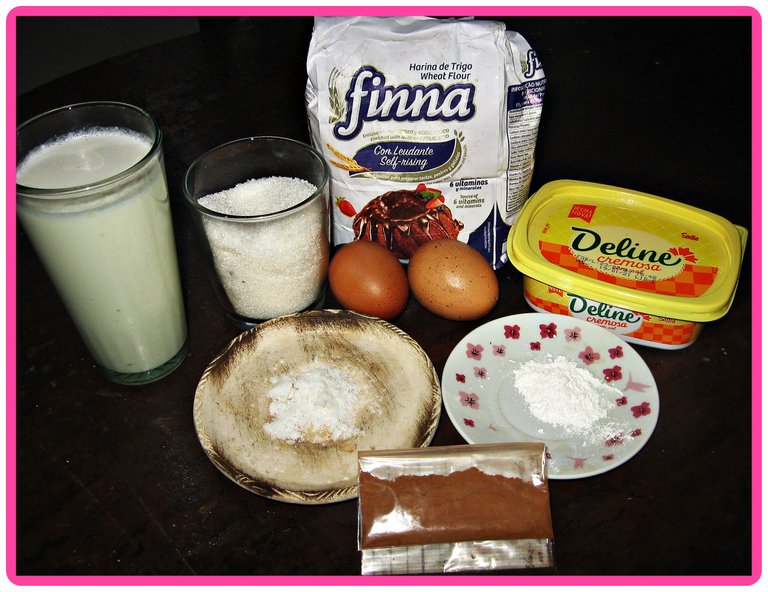 ---

1. Primero tome un tazón grande y coloque los 250g de harina de trigo y seguido pase abrirle un agujero en el centro donde le agregue un huevo.
1. First take a large bowl and place the 250g of wheat flour and then pass it through a hole in the center where you add an egg.
---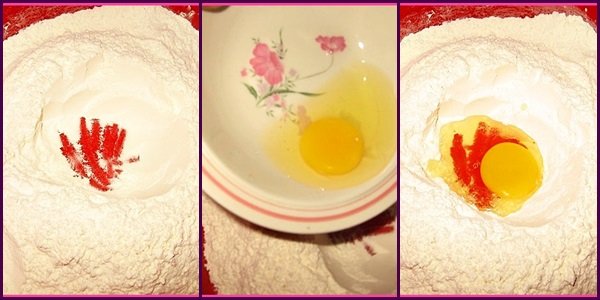 ---
2. Luego agregue 4 cucharadas de azúcar, 3 cucharada de mantequilla a temperatura ambiente, 1 pizca de sal.
2. Then add 4 tablespoons of sugar, 3 tablespoons of butter at room temperature, 1 pinch of salt.
---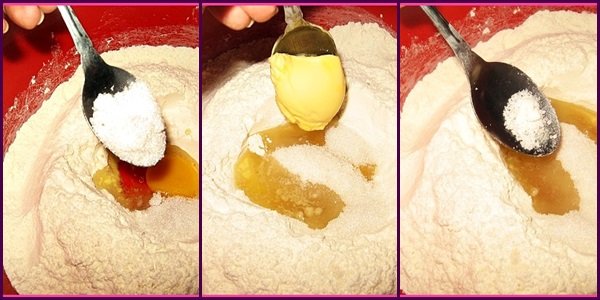 ---
3. Entonces le agregué una cucharada de polvo de hornear directo a la mezcla si usan levadura tiene que agregarlo a la leche y dejar fermentar, seguido comencé agregar poco a poco la leche tibia y comencé a masar tener cuidado al agregar la leche no tiene que quedar muy liquida la mezcla de la harina.
3. Then I added a spoonful of baking powder directly to the mix, if you use yeast you have to add it to the milk and let it ferment, then I started adding little by little the warm milk and started to mash, be careful when adding the milk that the flour mixture doesn't have to be too liquid.
---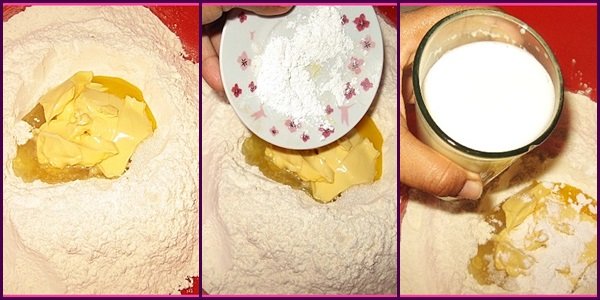 ---
4. Comencé a masar bien todo hasta incorporar todos los ingredientes.
4. I began to massage everything well until I incorporated all the ingredients.
---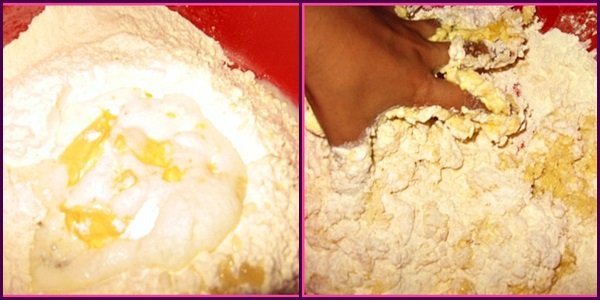 ---
5. Después de amasar estirar y procesar bien todos los ingredientes esta lista la masa.
5. After kneading, stretching and processing all the ingredients well, the dough is ready.
---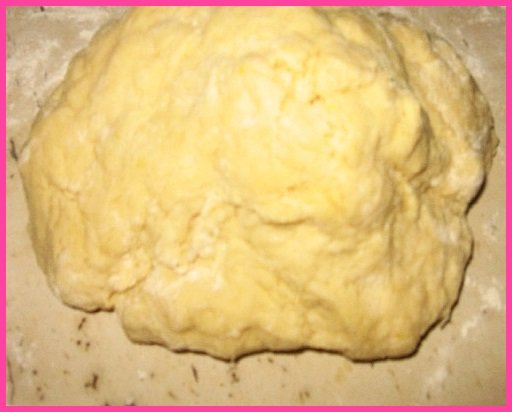 ---
6. Luego tome la masa la coloque un tazón grande lo empolvoré con un poquito de harina de trigo y lo tape con una toalla y deje reposar por hora y media para creciera un poquito más.
6. Then take the dough and place it in a large bowl, dust it with a little bit of wheat flour and cover it with a towel and let it rest for an hour and a half so that it grows a little bit more.
---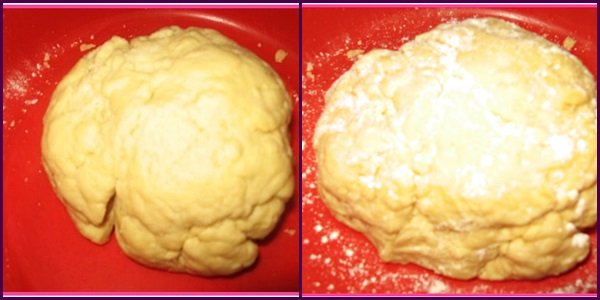 ---
7. Aparte en un plato hondo agregue azúcar blanca ya que no tenía la morena que es la perfecta para este dulce seguido le agregue canela en polvo, removí todo hasta que se mezclara todo y reserve.
7. In a deep dish add white sugar since I didn't have the perfect brown for this sweet, then add powdered cinnamon, stir everything until everything is mixed and set aside.
---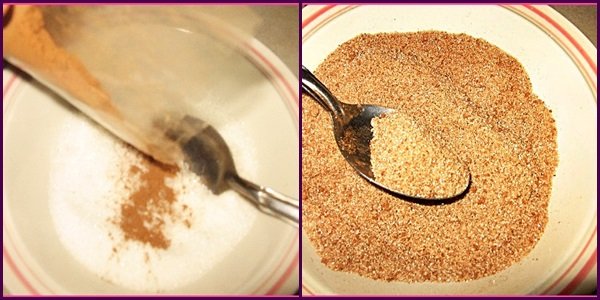 ---
8. Luego tome azúcar 1/2 taza de azúcar y lo agregue a la licuadora hasta que se pulverizara coloque en un platillo y le agregue un poquito de agua y removí hasta que quedara una mezcla liquida que iba hace mi glaseado.
8. Then take sugar 1/2 cup of sugar and add it to the blender until it pulverizes. Put it in a saucer and add a little bit of water and stir until there is a liquid mixture that will make my icing.
---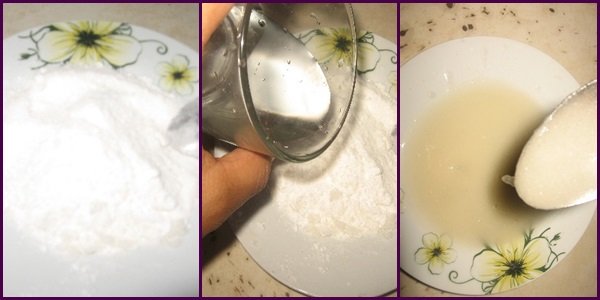 ---
9. Tome un vaso agregue un huevo y comencé a batirlo con un tenedor hasta que se desintegrara todo y quedara líquido que va a ayudarme a barnizar los rollos de canela para que tengan un brillo dorado por encima
9. I took a glass and added an egg and started beating it with a fork until it all disintegrated and there was liquid left that was going to help me varnish the cinnamon rolls so that they had a golden glow on top.
---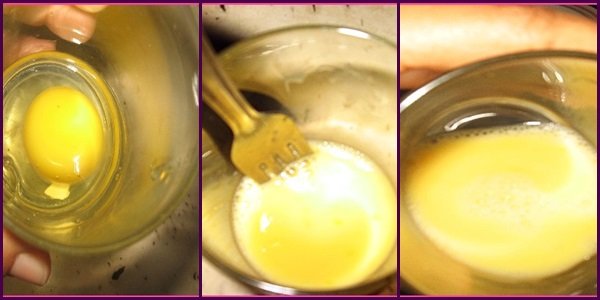 ---
10. Ingrediente que acompañare con la masa y formar los rollos de canela.
10. Ingredient to accompany the dough and form the cinnamon rolls.
---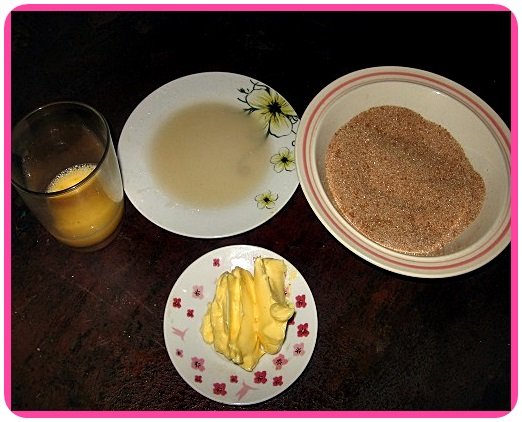 ---
11. Luego tome la masa ya pasado la hora y media comencé a estirar en el mesón con un poquito de harina para que no se pegara y estire le corte las horillas y deje un cuadro y le comencé a untar mantequilla dejando las horillas superior e inferior limpia para que pueda pegar al momento de enrollar la masa.
11. Then I took the dough and after an hour and a half I started to stretch it on the counter with a little bit of flour so that it wouldn't stick and I stretched it by cutting the top and bottom of the dough and leaving a square and I started to spread butter on it leaving the top and bottom of the dough clean so that it would stick when I rolled it up.
---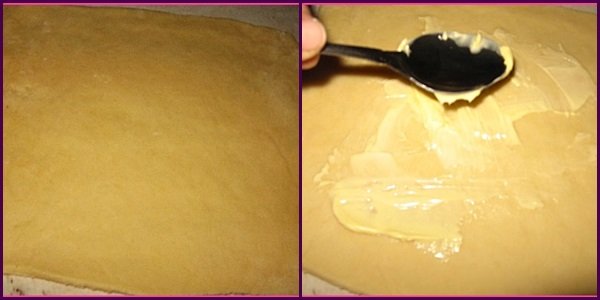 ---
12. Comencé agregar la mezcla de canela y azúcar a la masa ya con la mantequilla untada.
12. I started to add the mixture of cinnamon and sugar to the dough already with the butter spread.
---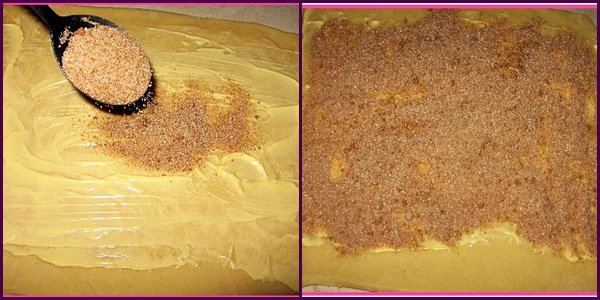 ---
13. Empecé a enrollar la masa hasta que me quedara en forma de cilindro.
13. I began to roll the dough until it was in the shape of a cylinder.
---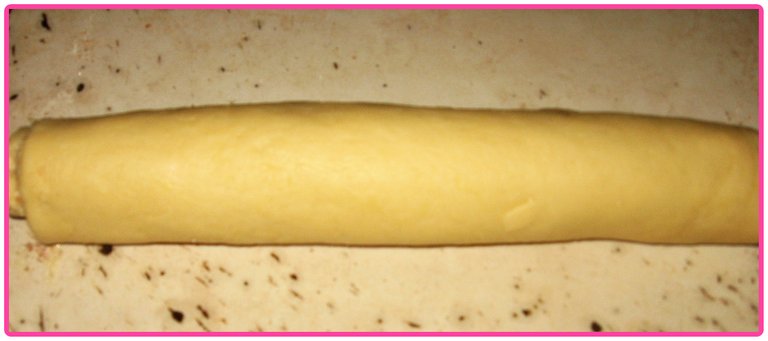 ---
14. Luego recorte la masa midiendo con 2 dedos y los coloque en una bandeja ya con mantequilla, pase a barnizar con el huevo batido todos los rollos de canela, los coloque en el horno aproximadamente por 20 min.
14. Then cut the dough measuring with 2 fingers and place them on a tray already buttered, go to varnish with the beaten egg all the cinnamon rolls, place them in the oven for about 20 min.
---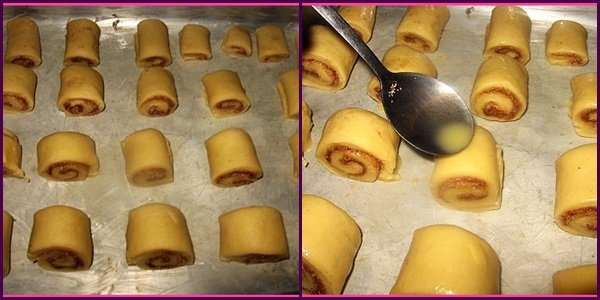 ---
15. Tome los rollos de canela ya listo los comencé a colocar en un plato le agregue el glaseado de azúcar por encima y listo para degustar.
15. Take the cinnamon rolls and place them on a plate, add the sugar glaze on top and you are ready to taste.
---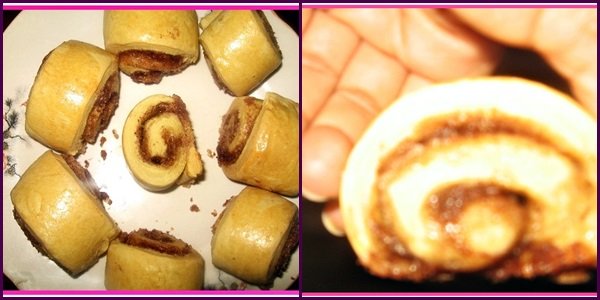 ---
Fue un placer compartir este post espero que le agrade mi receta mi versión de cómo hacer ricos rollos de canela y nos vemos en otra edición gracias por leerme.
---
It was a pleasure to share this post I hope you like my recipe my version of how to make rich cinnamon rolls and see you in another edition thanks for reading me.
---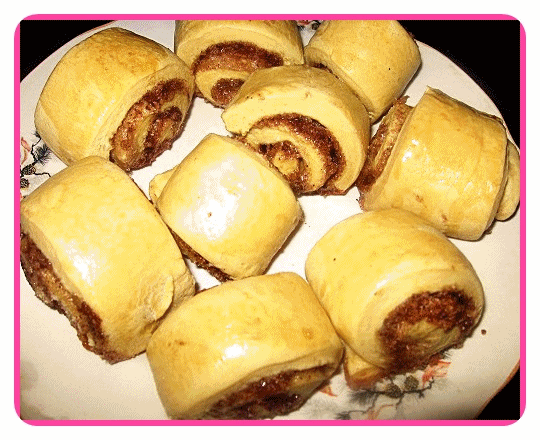 ---
---

---
Fotos tomadas desde mi BlackBerry.
Photos taken from my BlackBerry.
---
Gifs realizados en PhotoScape.
Gifs made in PhotoScape.
---