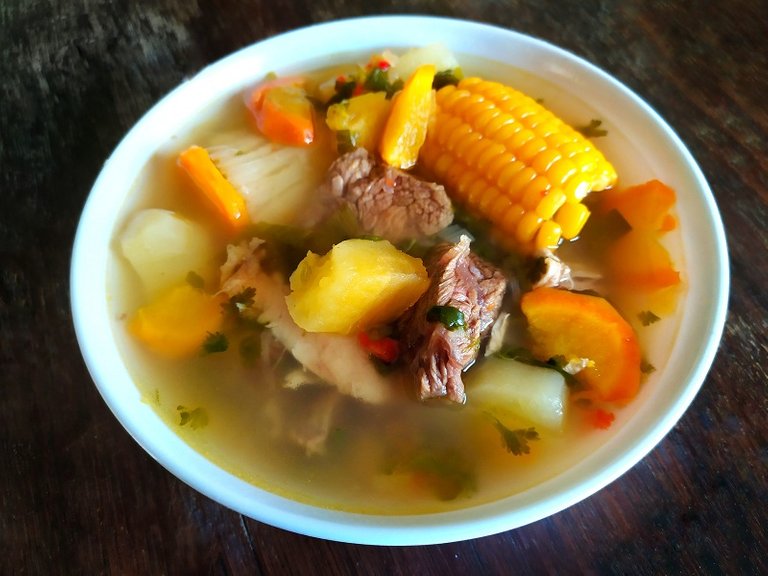 ---
It is a tradition that when we feel sick, we immediately think in a hot soup to heal our bodies. That broth full of veggies and some meat seems to cure the evils away from our bodies and make us feel better.
Since my Mom was feeling very sick, I prepared her this tasty healing Sancocho soup. The name of this soup refers to the combination of at least two types of meet in the dish. For this one I used chicken and beef.
Es una tradición que cuando nos sentimos enfermos, inmediatamente pensamos en una sopa caliente para curar nuestros cuerpos. Ese caldo lleno de verduras y algo de carne parece curar los males de nuestro cuerpo y hacernos sentir mejor.
Como mi mamá se sentía muy enferma, le preparé esta sabrosa sopa de Sancocho. El nombre de esta sopa se refiere a la combinación de al menos dos tipos de carne en el plato. Para este usé pollo y ternera.
---
Ingredients
ingredientes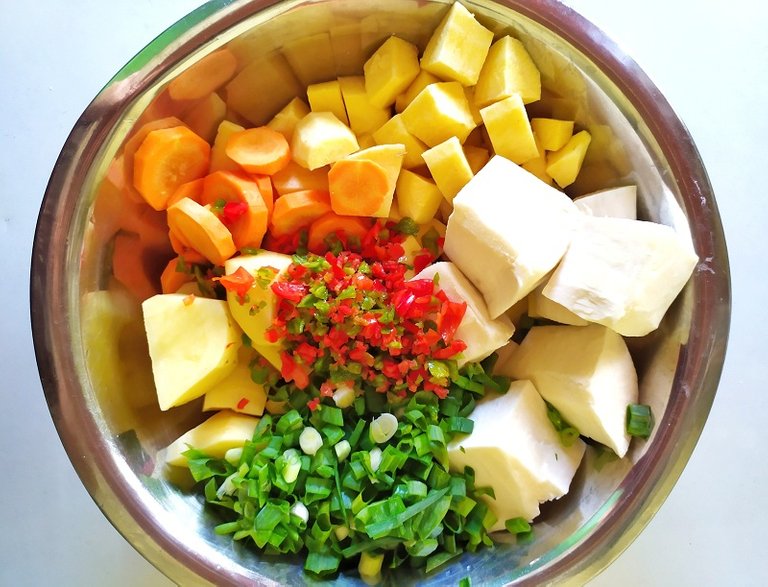 The ingredients consisted mainly in several types of roots: carrots, white carrots or arracacha, potatoes, yuka, and ocumo. These roots can be found traditionally in many places of South America. As I mentioned the two types of meat were chicken breast and beef being specifically Shank cut lengthwise. Finally the Veggies I used were chili, chives, coriander, bell pepper, and succini. As a final ingredient I used corn cobs.
Los ingredientes consistieron principalmente en varios tipos de raíces: zanahorias, zanahorias blancas o arracacha (apio), papas, yuka y ocumo. Estas raíces se pueden encontrar tradicionalmente en muchos lugares de América del Sur. Como mencioné, los dos tipos de carne eran pechuga de pollo y ternera siendo específicamente Mlagarto cortado a lo largo o sin huesos. Finalmente, las verduras que utilicé fueron ají, cebollin, cilantro, pimienton y calabacin. Como ingrediente final usé mazorcas de maíz o jojoto.
---
Preparation
preparación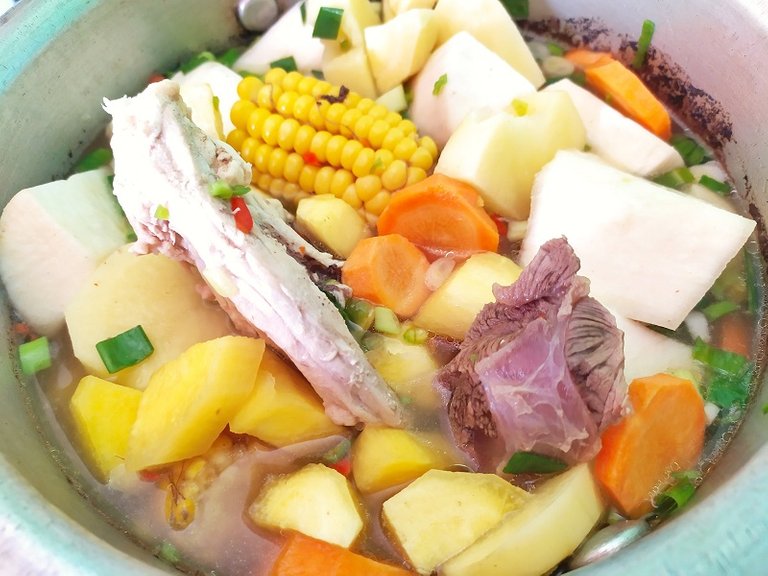 First, I placed the hard ingredients on boiling water starting with the shank and corn, followed by the chicken breast and all the roots. It is recommended that you pressure boil the shank and cobs to make them more tender faster. Once all of them were softer, I added the rest of the ingredients. the cooking after this point took about 30min and it varies depending on how fresh the roots and vegetables are.
Primero, coloqué los ingredientes duros en agua hirviendo comenzando con la carne y el maíz, seguido de la pechuga de pollo y todas las raíces. Se recomienda que hierva a presión la carne y las mazorcas para que estén más tiernas más rápido. Una vez que todos estuvieron más suaves, agregué el resto de los ingredientes. la cocción después de este punto tomó alrededor de 30 minutos y varía dependiendo de qué tan frescas estén las raíces y las verduras.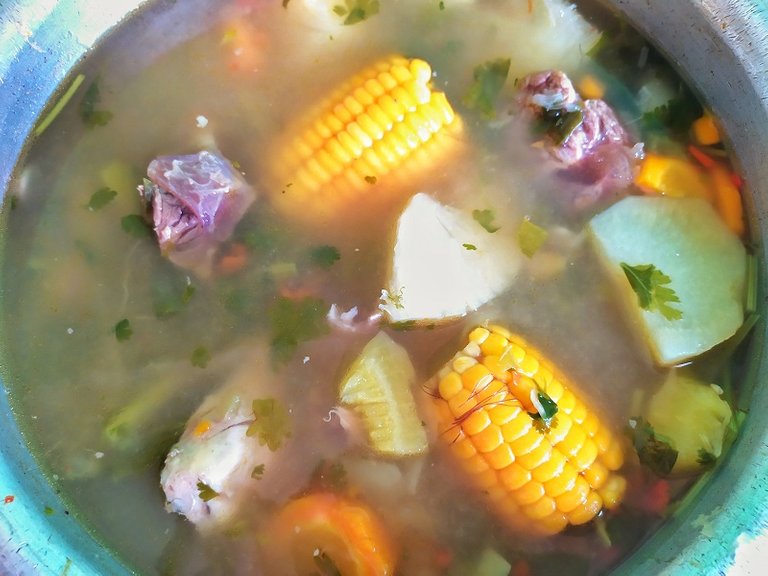 As time passes by, the ingredients dissolve in the water and the soup finally gains thickness.
A medida que pasa el tiempo, los ingredientes se disuelven en el agua y la sopa finalmente gana espesor.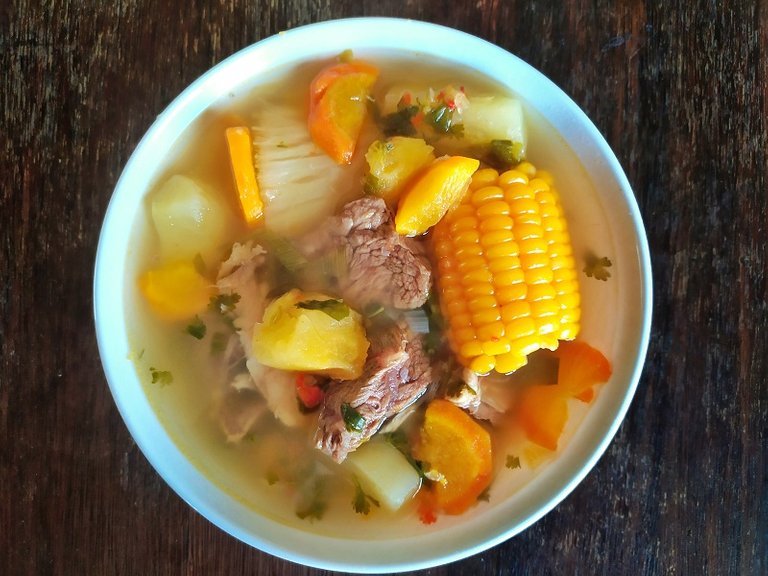 Once everything is soft enough, the sancocho soup is ready to eat!. MY mom felt way better :)
Una vez que todo esté lo suficientemente suave, ¡la sopa de sancocho está lista para comer! Mi mamá se sintió mucho mejor :)
---

@gaeljosser
photos taken with my redmi note 7 camera
edited with snapseed