The Kitchen is OPEN - Once again - Even under the global lockdown. We are announcing the move to Hive exclusively. With the relaunch comes a rebrand and an Air Drop of the FOODIE token on Hive-Engine. Join the community - Food, food and more food! Food, friends and passion. Foodies! Start earning the FOODIE token and join us on FoodiesUnite!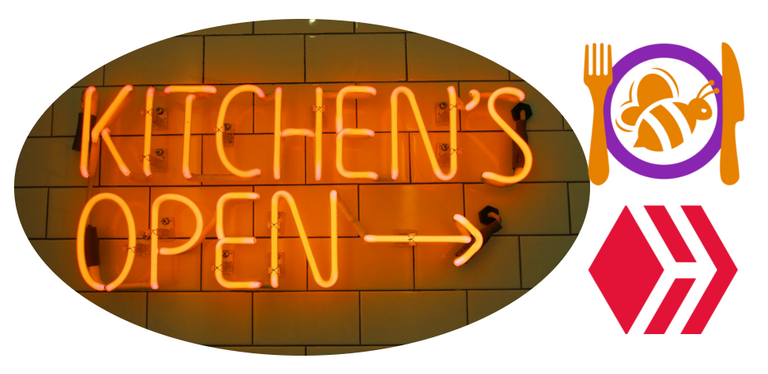 Foodies Unite! If you didnt know we are a Hive based Community and Tribe with our own utility token and distribution called FOODIE. The FOODIE token is a SCOT token built on top of the Hive blockchain. FOODIE is available on Hive-Engine for you to buy and stake. So... with that said we are out on Steem and no longer support it.

It's a new blockchain so we thought it was a good time for a slight rebrand. You will start to see the new brand around Hive and social media. Let us know what you think.
What is the Foodies Bee Hive?
Foodies Bee Hive is where foodies like you come together to post, comment and inform. Do you have a passionate interest in food? Are you someone who eats different foods because you find it interesting or even as a hobby or maybe because it's your profession?
Be sure you join us on the site use the tag #foodie. Use your Hive account. Start earning FOODIE today under the #foodie tag.
Let's review when you should use the #foodie tag?
We are providing a social media platform that will allow content creators to focus on the #foodie world. We encourage engagement and posts on subjects relating to cooking, food, beverages and your gastronomic experiences.
We'd love to see postings in any of these subjects (just tag #foodie as well!):
#bbq
#beverage,
#dairy,
#deserts,
#fooding,
#gastronomy,
#healthyfoods,
#keto,
#snacks,
#sweets,
#vegetarian,
#vegan,
#recipes
YES, there's a #food tag but we are #food plus, plus...you'll earn FOODIE tokens there too, as a bonus. We'll be running contests and doing curation on the posts.
We did a huge AirDrop and sync!
You do't have to do anything. What ever you had on Steem-Engine you will have on Hive-Engine. One thing to note, if you had started an unstaking you will need to restart it on Hive, we hope you don't. :-) Other than that - log into Hive-Engine and carry on.
We are using the same accounts on Hive and a couple new ones.
@foodiesunite
@foodiespromo
@nofoodie4u
@foodiesbeehive <- New
Ways to earn FOODIE tokens?
Easy, use the FoodiesUnite.net front end or you can use whatever interface you like. Just remember to use the #foodie tag for the potential to earn FOODIE token rewards (you can also earn tokens on #food and #keto.)
We already have peakd.com setup with community. Be sure to follow @foodiesunite for updates and join the Foodies Bee Hive.
There's more to come over the next few weeks!

---
Help us help you and become a supporter
Please help us and delegate to @foodiesunite (if you had delegations on Steem feel free to remove them - we hope that you maintain you delegation or increase.)
Become a supporter. We're looking for like-minded individuals to help support the #foodiesunite front-end project through delegations. Your support will allow us to help ensure that quality content is rewarded and that we can support ongoing efforts in the community. We will reward any delegation with 2x FOODIE tokens.
You can use these custom links to delegate Steem to us:
30SP, 50SP, 100SP, 250SP, 500SP, 1000SP
ALL you foodies come and gather with us in #foodie on https://www.foodiesunite.net!
---
The FOODIE token is a utility token specific to the FoodiesUnite.net site (based on Hive) used for curation, rewards, and contest promotion. The token price is market-driven and may never have any value.