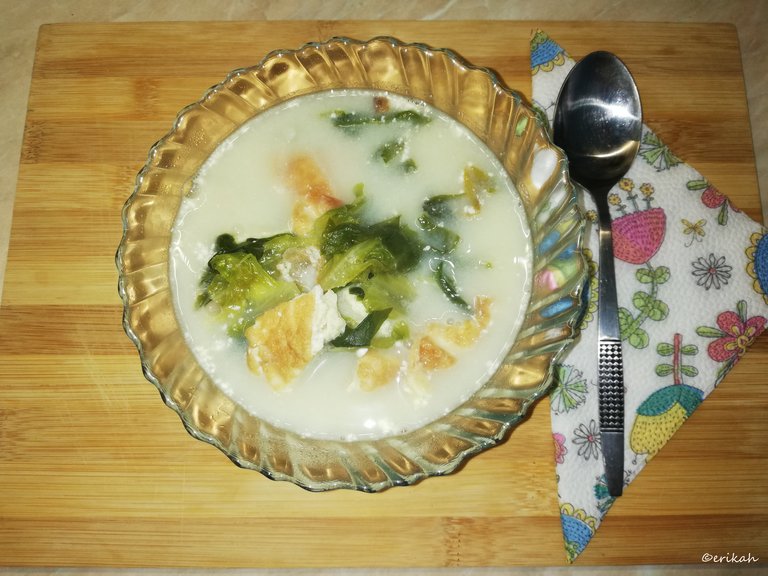 Lettuce Soup (ENG)
Lettuce is another green vegetable that you can buy all year round and can be eaten raw and cooked. I like fresh lettuce salad with vinegar and also a good lettuce soup. Today I'm going to share my famous 😁 lettuce soup recipe.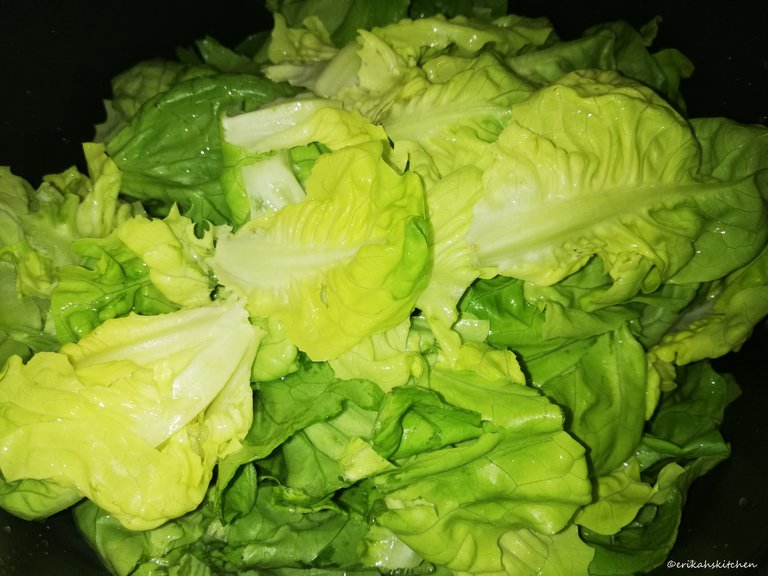 Ingredients
2 lettuces
2 garlic cloves,
salt,
pepper (optional),
vinegar,
4 eggs,
200 ml sour cream,
a small quantity of bacon.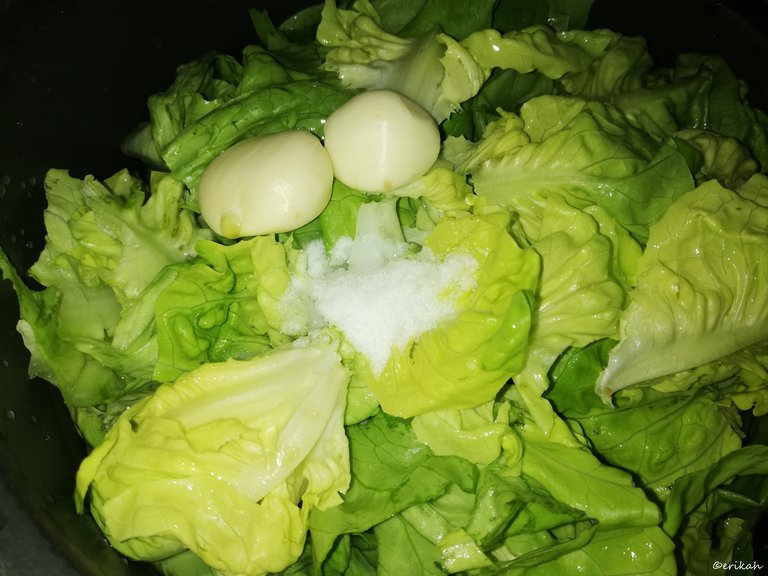 Method
Wash the lettuce, tear the lettuce leaves to small pieces. I don't use a knife as it cam make the lettuce oxidize. Put it in a pot, add garlic and salt, water to cover. Cover with a lid and cook for about 15 minutes or so. I don't like to overcook my lettuce as if you can eat it raw, why overcook it.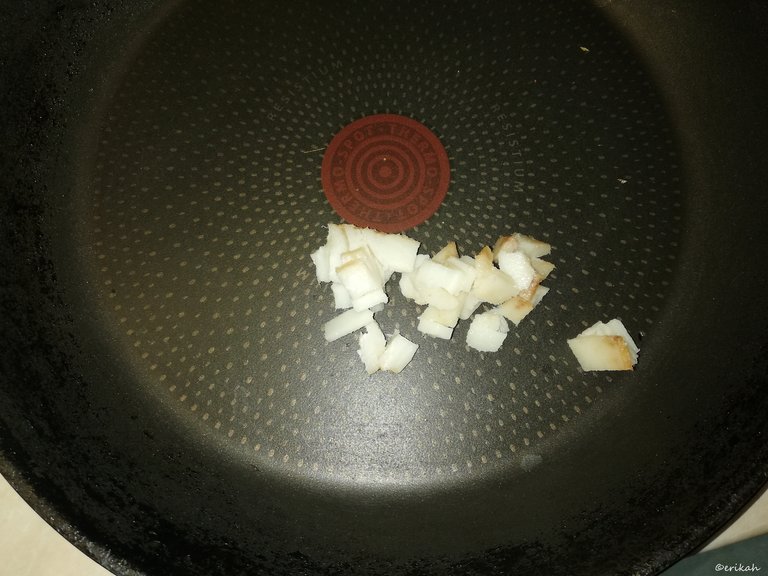 Cut the bacon into small pieces, add the the frying pan and let it melt.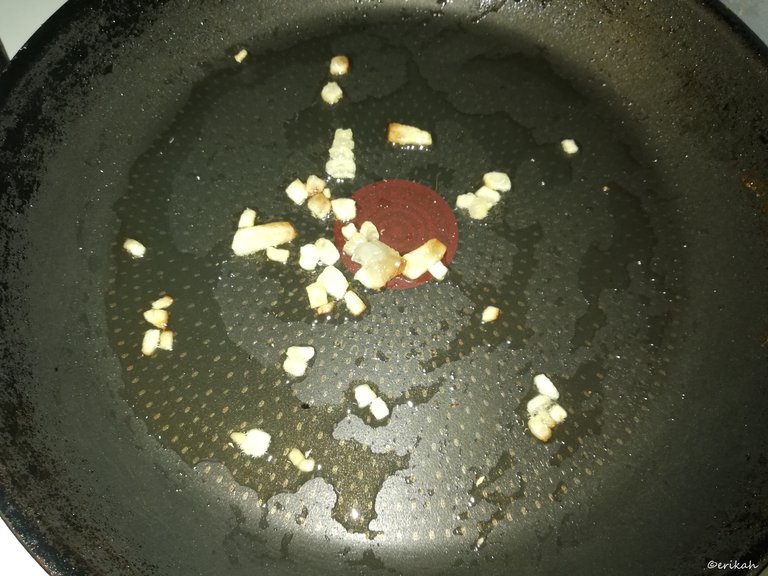 The bacon is necessary for the omelette. It gives a nice flavor.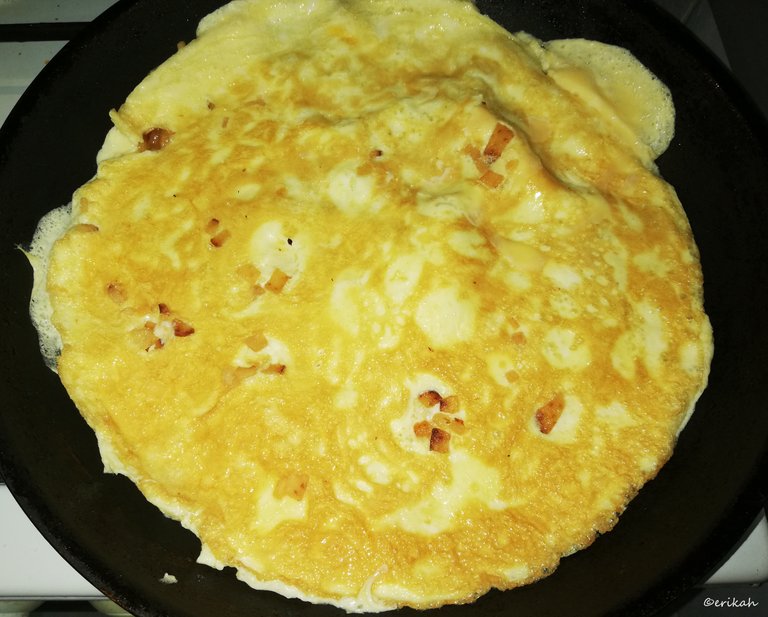 Separate two eggs, put two yolks aside. Break two eggs, add the two egg whites, salt and pepper, beat and make an omelette.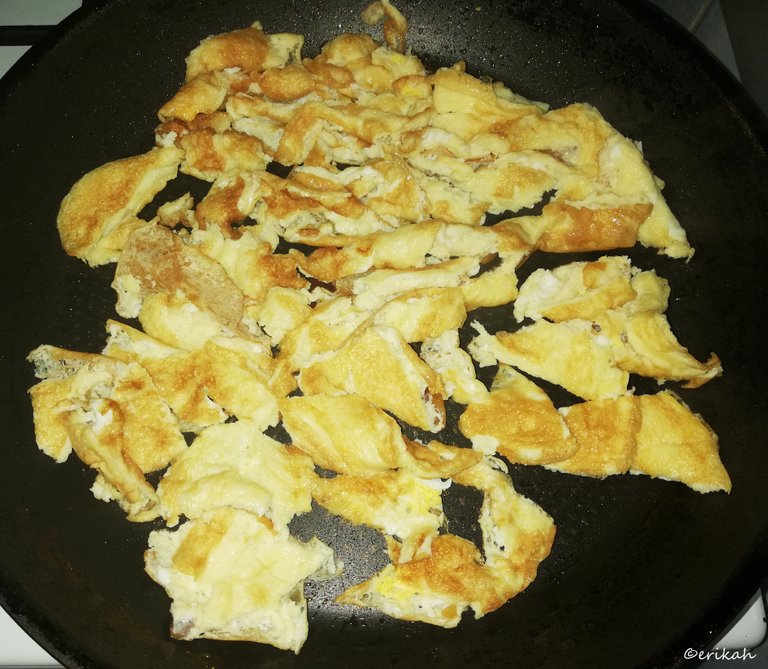 Rip into small pieces and add to the soup, cook for another 3 or 4 minutes so the soup can have the omelette's flavor. Then turn off the heat and let the soup cool for another 5 minutes.

The next step is maybe the most important as it has to be one right. Add half of the sour cream to the two egg yolks put aside and mix well. Add the rest of the sour cream and mix till you get a homogeneous cream, then slowly add a few spoon of hot soup to warm up the egg-sour cream mix. Bringing the two liquids to the same temperature is essential here.
After letting the soup cool for 5 minutes, add the egg-sour cream mix, mix well, add vinegar, season with salt and pepper if needed and serve till it's still hot.

Saláta leves (HU)
A saláta egy nagyon fontos zöldség, amit egész évben lehet kapni a piacon, vagy a kereskedelemben és fogyasztható nyersen és/vagy főve egyaránt. Nekem kedvencem a nyers zöldsaláta ecetesen, de a saláta levest is nagyon szeretem. Ma a híres 😁 saláta leves receptemet osztom meg veletek.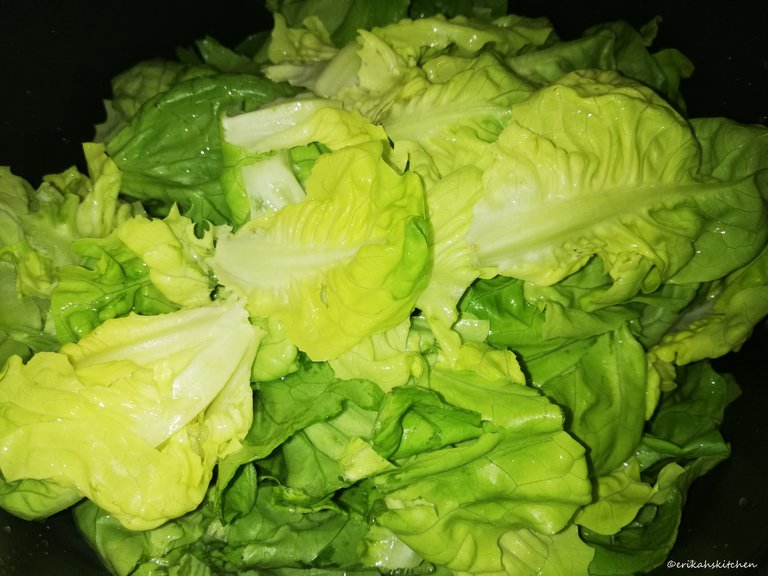 Hozzávalók:
2 fej saláta,
2 cikk fokhagyma,
só,
bors (opcionális),
ecet,
4 tojás,
200 ml tejföl,
egy kevés szalonna.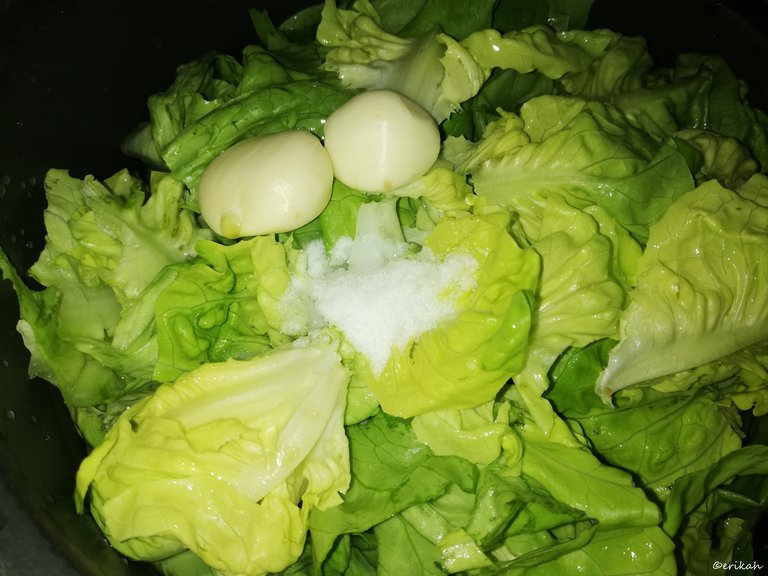 Elkészítés
Mossuk meg a salátaleveleket bő, hideg vízben, majd tépjük darabokra. Én nem használok kést a salátához, mert a saláta oxidálódhat, ezért inkább csak tépem.
Tegyük a salátát a fazékba, adjunk hozzá sót, fokhagymát és annyi vizet, hogy ellepje. Fedő alatt főzzük kb. 15 percig. Én nem szoktam túlfőzni, mert ha nyersen meg lehet enni, akkor nincs értelme pépet csinálni belőle.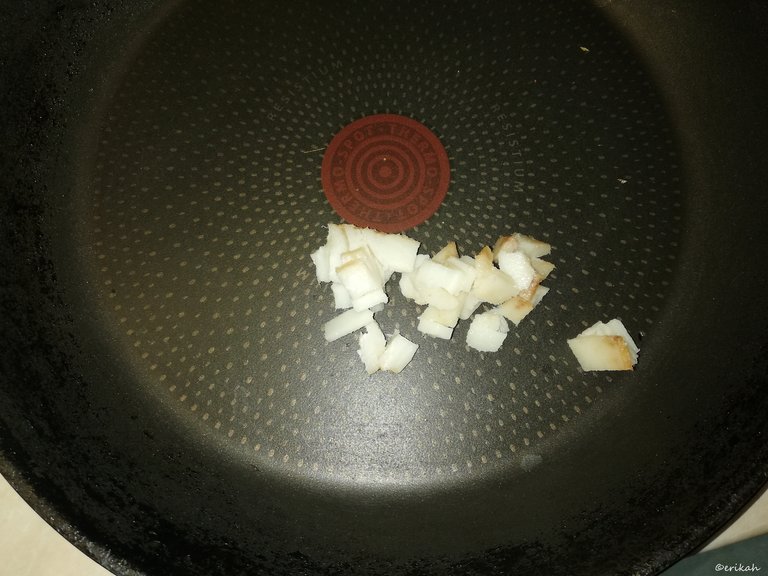 A szalonnát vágjuk apró kockára, tegyük a seprenyőbe és olvasszuk ki.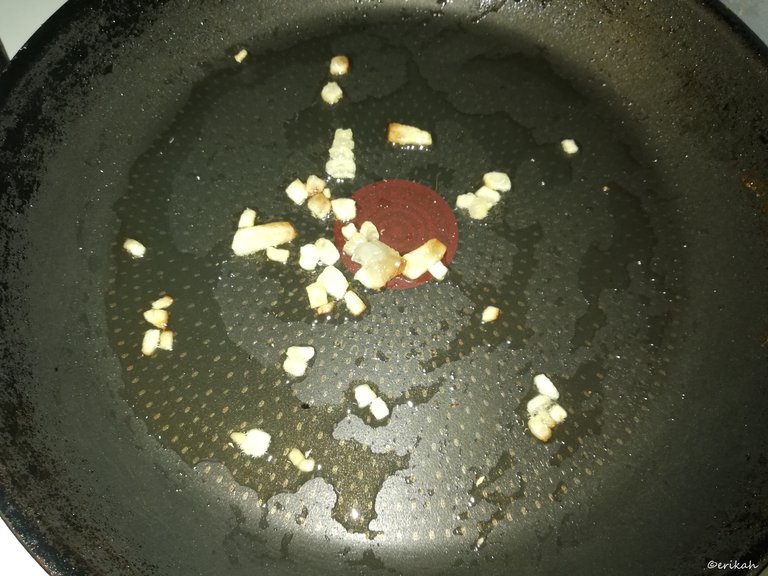 A szalonna vagy bacon az omlett sütéséhez szükséges, mert egy különleges ízt ad neki és ezáltal a levesnek is. Ha van megmaradva egy kis szalonnabőr, azt is bele lehet főzni. Ha füstölt, akkor még jobb.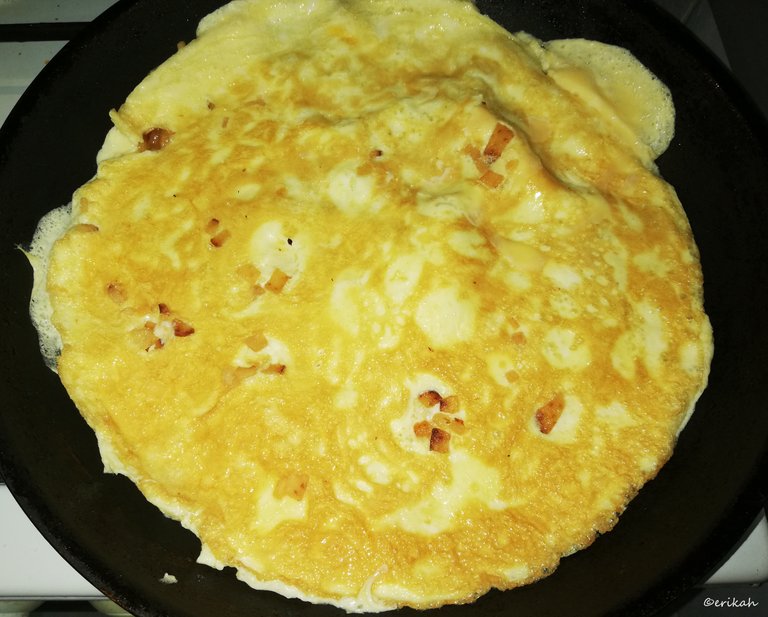 Válasszunk szét két tojást és tegyük félre a két sárgáját. A két tojásfehérjét a két egész tojással verjük fel, adjunk hozzá sót, borst, öntsük a kiolvasztott szalonnára és süssünk omlettet belőle.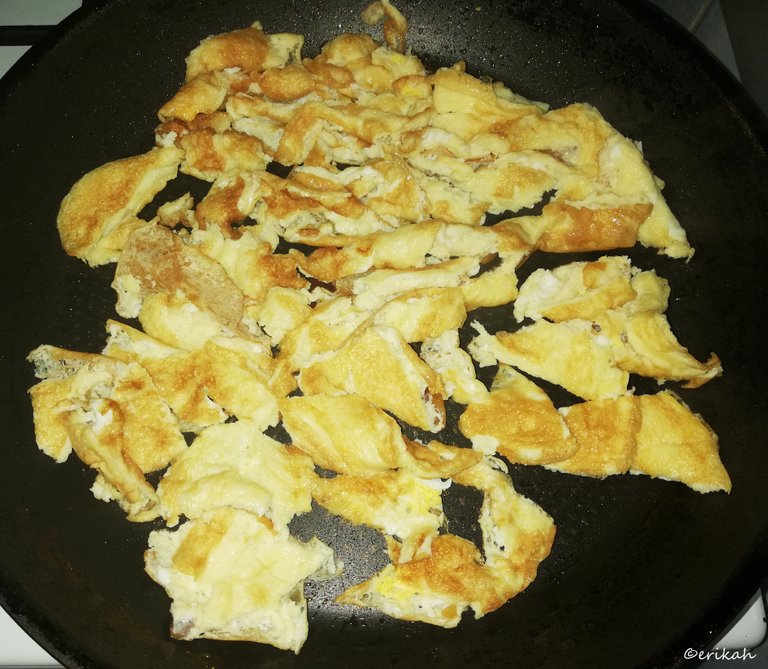 Amikor mindkét fele pirosr a sült, szakítsuk vagy vágjuk aptó darabkákra, adjuk hozzá a leveshez, főzzük további 3 - 4 percig, hogy kis ízt adjon a levesnek. Utána oltsuk el a tüzet a leves alatt.

A következő lépés nagyon fontos és jól kell csinálni, ellenkező esetben a tejfölös habarcs kicsapódik.
A tejföl felét adjuk hozzá a két előzőleg félretett tojássárgához és kavarjuk csomómentesre. Utána adjuk hozzá a maradék tejfölt is és jól kavarjuk el. Apránként adjunk a keverékhez a forró levesből, hogy felmelegítsük a tojásos tejföl habarcsot. Ez nagyon fontos része a folyamatnak, ugyanis ha a hideg tejfölös keveréket hozzáadjuk a forró leveshez, egyszerűen kicsapódik.
Miután a leves kb. 5 percig hült, adjuk hozzá a habarcsot, kavarjuk össze, adjunk hozzá ecetet, sózzuk, borsozzuk, ha szükséges. Forrón tálaljuk.
Jó étvágyat!

Previous posts / Korábbi bejegyzéseim