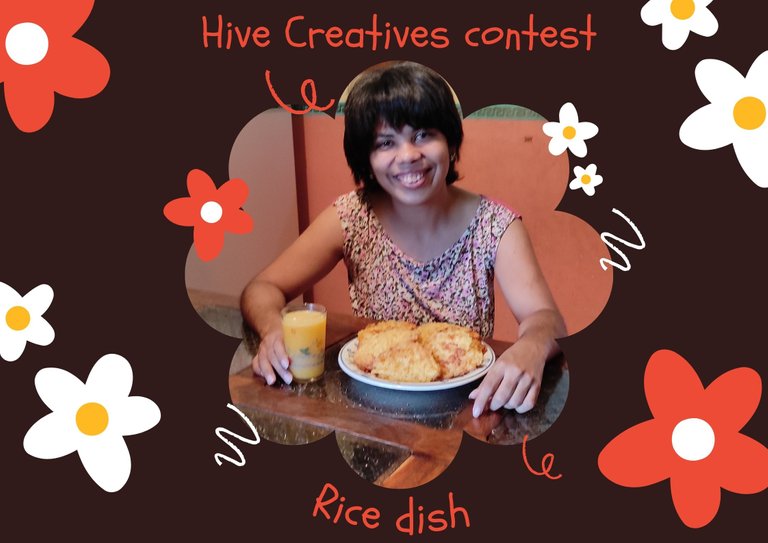 Rice, which is a monocotyledonous plant, is normally grown as an annual, although in tropical areas it can survive as a perennial and can produce crops from ratoons for up to 30 years.8 Rice cultivation is well adapted to countries and regions with low labor costs and high rainfall, as it is a crop with high labor and water requirements. However, rice can be grown almost anywhere, even on steep hills or mountainous areas, using water-controlled terracing systems. Although its ancestral species are native to Asia and certain parts of Africa, centuries of trade and export have made it common in many cultures around the world.
The origin of rice is the subject of controversy among researchers; it is disputed whether it originated in China or India.
---
El arroz, que es una planta monocotiledónea, se cultiva normalmente como planta anual, aunque en las áreas tropicales puede sobrevivir como planta perenne y puede producir cosecha a partir de retoños hasta durante 30 años.8 El cultivo del arroz está bien adaptado a países y regiones con costes de mano de obra bajos y alto régimen de lluvias, ya que se trata de un cultivo con altos requerimientos tanto de mano de obra como de agua. De todas maneras, el arroz se puede cultivar prácticamente en cualquier parte, incluso en colinas empinadas o áreas montañosas, mediante el uso de sistemas de terrazas con control del agua. Aunque sus especies ancestrales son nativas de Asia y ciertas partes de África, siglos de comercio y exportación lo han hecho común en muchas culturas en todo el mundo.
El origen del arroz es objeto de controversia entre los investigadores; se discute si fue en China o en India.

There is a great variety of dishes with this ingredient, which makes it an excellent accompaniment to any meal.
When I read about this contest, it came to my mind to prepare a breakfast to share with the family; a nutritious, easy to make and economical breakfast.
How many of you have leftover cooked rice for lunch? Opinions of professional chefs agree that for this recipe it is best to use "old" rice, that which is left over from one day to the next. So you know what to do with that little bit of leftover rice, we are accumulating it in the fridge.
The recipe I am going to present you is so good that it yields eight servings. You can add ham, mortadella, green dressings, bacon, but this time I will prepare a breakfast with the ingredients that we have at home.
You will like it.
---
Existe gran variedad de platillos con este ingrediente, lo que lo hace excelente para acompañar cualquier comida.
Al leer sobre este concurso, se me vino a la mente preparar un desayuno para compartir en familia; un desayuno nutritivo, fácil de hacer y económico.
¿A cuántos de ustedes les sobra arroz cocido en el almuerzo? Opiniones de chef profesionales coinciden en que para esta receta lo mejor es usar arroz "viejo", ese que queda de un día para otro. De modo que ya saben qué hacer con ese poquito de arroz que les sobra, lo vamos acumulando en la nevera.
La receta que les presentaré es tan bondadosa que rinde para ocho porciones. Sirve para desayunar, merendar o hasta una cena super rápida y con pocos ingredientes; le pueden agregar jamón, mortadela, aliños verdes, tocineta, pero en esta ocasión prepararé un desayuno con los ingredientes que tenemos en casa
Les va gustar.

Ingredients:
4 cups of cooked rice
4 eggs
Cheese
Salt to taste
Oil
Ingredientes:
• 4 tasas de arroz ya cocido
• 4 huevos
• Queso
• Sal al gusto
• Aceite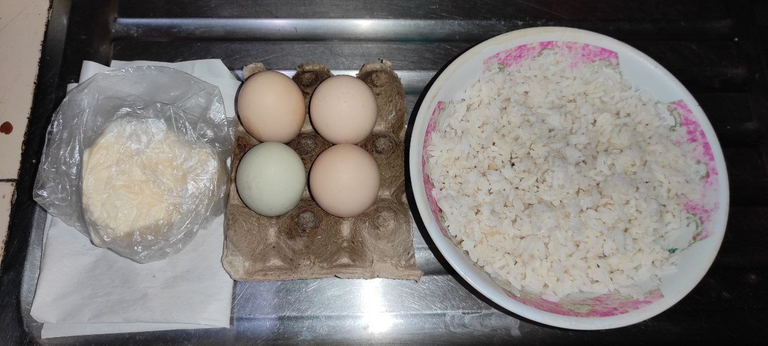 Preparation
Step 1: add the rice in a bowl, the cheese and the 4 eggs, stir until well blended, add salt to taste.
---
Preparación
Paso 1: agregamos el arroz en un tazón, el queso y los 4 huevos, revolvemos hasta unirlos bien, le agregamos sal al gusto.
Step 2: in a frying pan with very hot oil, add portions of the mixture to form a tortilla that should be browned on both sides.
---
Paso 2: en un sartén con aceite bien caliente, vamos agregando porciones de la mezcla hasta formar una tortilla que debe dorarse por los dos lados.
Step 3: After frying, we leave them on absorbent paper to remove the grease.
---
Paso 3: Al freírlas las dejamos en papel absorbente para eliminar la grasa.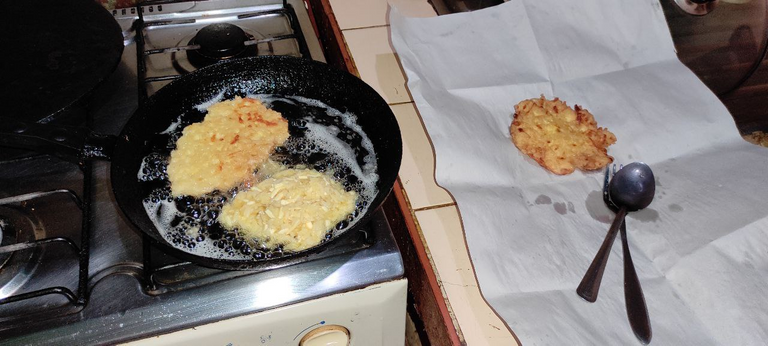 Serve to taste with a nutritious juice.
---
Servimos al gusto con un nutritivo jugo.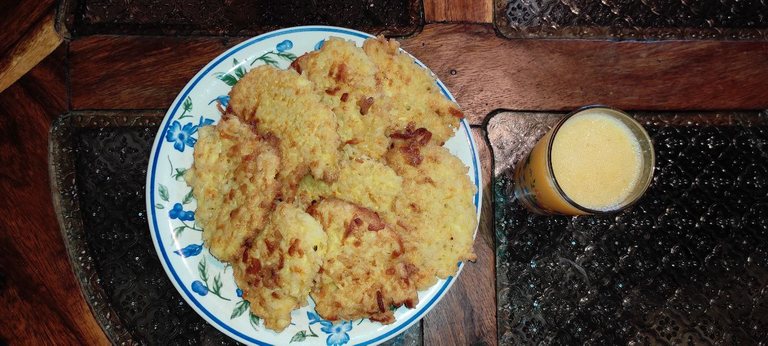 I thank @zord189 for this initiative and the entire @foodiesbeehive community for the support. Thanks for reading me and see you another time.
---
Agradezco a @zord189 por esta iniciativa y a toda la comunidad de @foodiesbeehive por el apoyo. Gracias por leerme y nos vemos en otra oportunidad.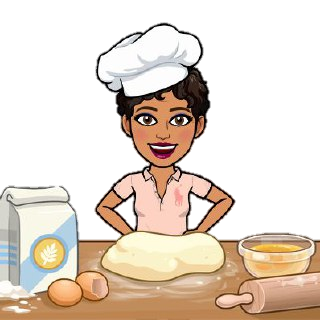 Las fotos son de mi autoría tomadas desde un Xiaomi redmi 9 pro y uso el traductor deepl.
---
The photos are of my authorship taken from a Xiaomi redmi 9 pro and I use the deepl translator.