La cocina de la abuela | Grandma's kitchen
Hola mi bella comunidad, bendiciones a todos, hoy traigo una nueva receta que añado a mi repertorio, a mí me encantan los plátanos horneados, pero como no cuento con un horno, pues me atreví a hacer mi receta en la hornilla.
Hello my beautiful community, blessings to all, today I bring a new recipe to add to my repertoire, I love baked plantains, but since I don't have an oven, I dared to make my recipe on the stove.
Algo sobre el plátano | Something about bananas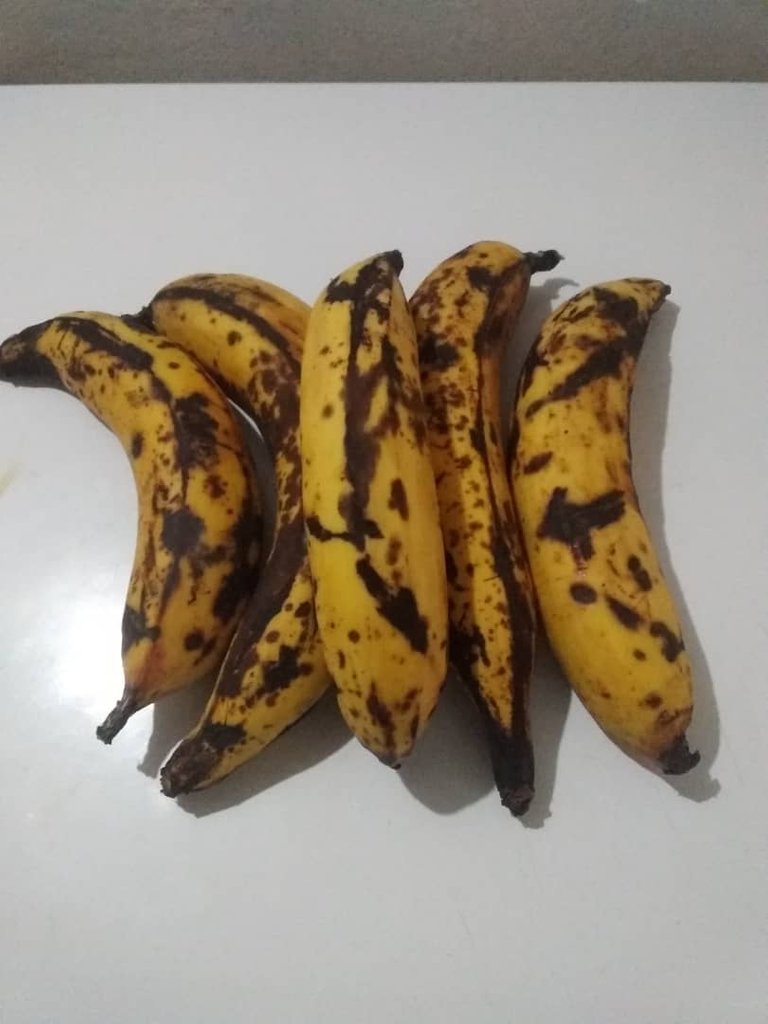 El plátano es un alimento con alto contenido de potacio, magnecio, antioxidantes, hierro, vitaminas además de fibra y fitoquímicos que protegen de enfermedades como: el cáncer, colon, gastritis, problemas cardiovasculares, hepáticos y calambres.
Nos ayuda a combatir enfermedades,como el cáncer, además es excelente aliado para bajar de peso.
The banana is a food with a high content of potassium, magnetium, antioxidants, iron, vitamins, fiber and phytochemicals that protect against diseases such as cancer, colon, gastritis, cardiovascular problems, liver and cramps.
It helps us to fight diseases, such as cancer, and it is also an excellent ally for weight loss.
Plátanos al caramelo | Bananas with caramel
Ingredientes | Ingredients
5 plátanos maduros
100 gr de azúcar
Agua
5 ripe bananas
100 gr of sugar
Water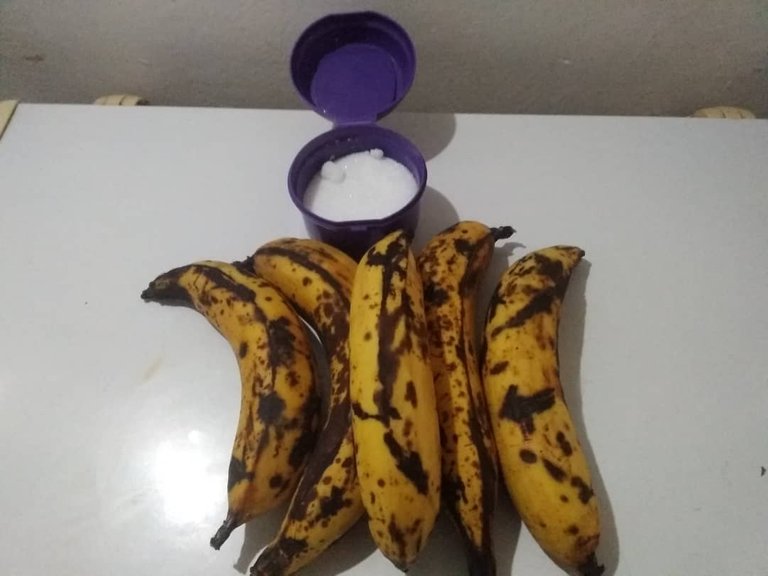 Paso a paso | Step by step
Pelamos los plátanos y los colocamos en una sartén, con el azúcar y 50 mililitros de agua para ayudar a la cocion, en la hornilla a fuego muy lento.
Peel the bananas and place them in a pan, with the sugar and 50 milliliters of water to help cooking, on the stove over very low heat.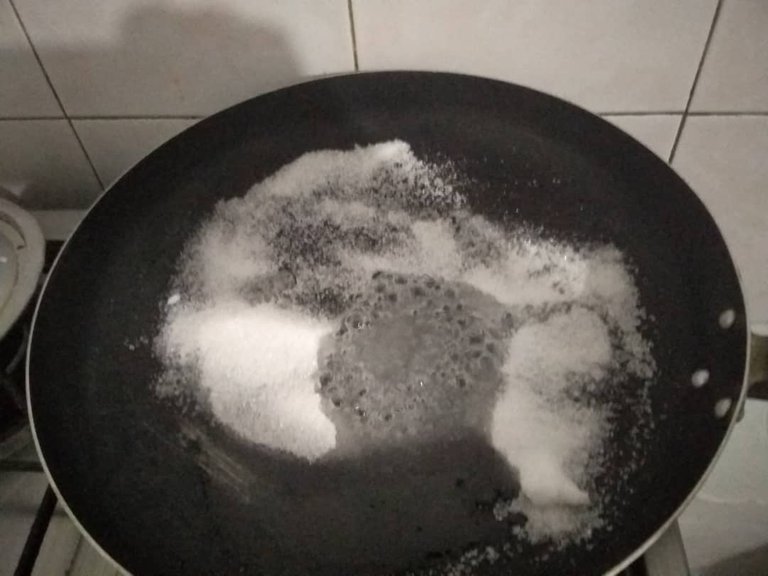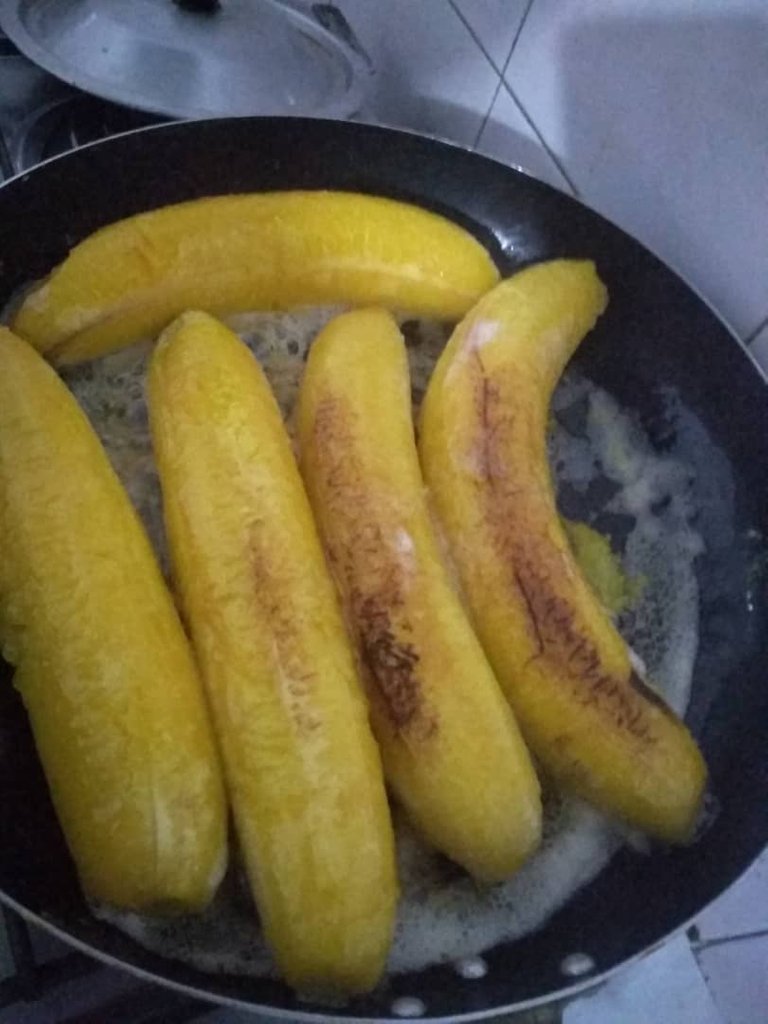 Cuando comience a hervir comenzamos a dar vueltas en varias sesiones seguidas para que los plátanos se cocinen bien.
When it starts to boil, we begin to turn it in several sessions in a row so that the plantains cook well.
Después de diez minutos el caramelo comienza a aparecer y allí no podemos descuidarnos porque es necesario continuar dándoles vueltas a los plátanos para que vayan dorando.
After ten minutes the caramel begins to appear and there we cannot be careless because it is necessary to continue turning the bananas so that they brown.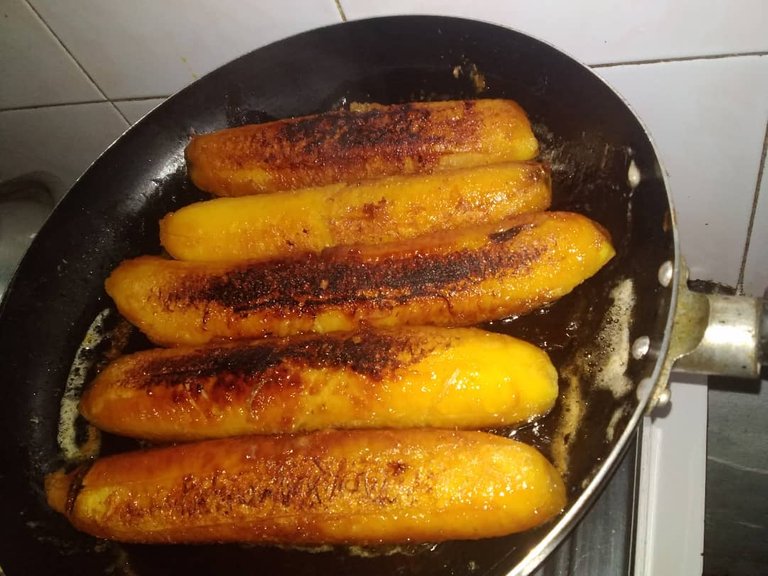 Una vez estén dorados, apagamos servimos con queso rayado o como acompañante de nuestro almuerzo.
Once browned, turn off and serve with grated cheese or as an accompaniment to our lunch.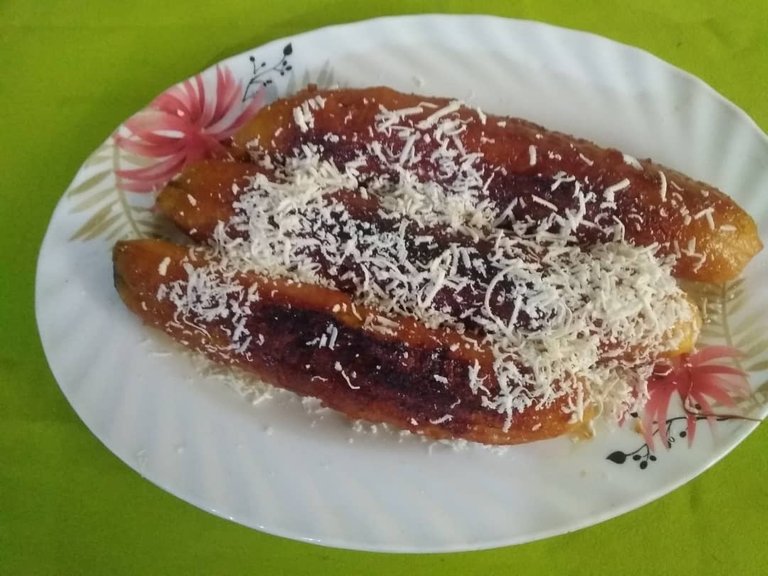 Espero que te guste mi receta, plátanos acaramelados sin horno.
Te invito a visitar mi blog la cocina de la abuela, antes déjame tus comentarios, opiniones y sugerencias.
I hope you like my recipe, caramelized bananas without oven.
I invite you to visit my blog la cocina de la abuela, before you leave me your comments, opinions and suggestions.
Gracias por leer apreciada colmena, hasta la próxima, espero hayan disfrutado. Agradezco sus interacciones.
---
Traductor usado DeepL.com
---
Las fotografías son tomadas por mi, y editadas en la aplicación Canva.
---
Bendiciones