Receta de rica chicha andina venezolana / Rich Venezuelan Andean chicha recipe
Hola mis amigos de la comunidad, les saluda el Drhueso.
Hello my friends in the community, Drhueso greets you.
Para el día de hoy les traigo una receta que para muchos va a oler a navidad, "Chicha Andina Venezolana" esta es una bebida tradicional de Venezuela y en muchas regiones es muy común tomarla en todas las casa en la época navideña; y en otras regiones como en los andes venezolanos es una bebida de diario.
For today I bring you a recipe that for many will smell like Christmas, "Chicha Andina Venezolana" this is a traditional drink of Venezuela and in many regions it is very common to take it in every home at Christmas time; and in other regions such as the Venezuelan Andes it is a daily drink.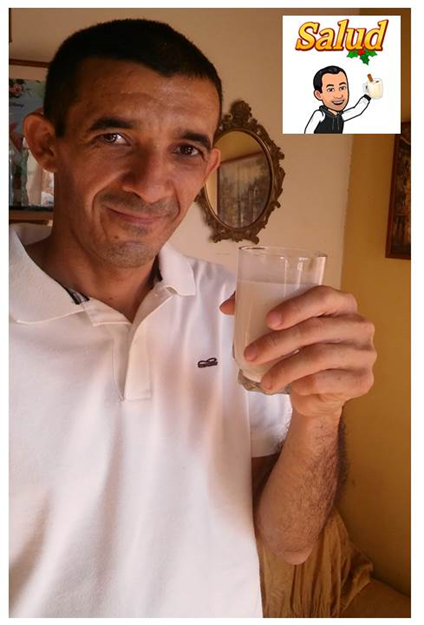 En mi caso prefiero ser como los andinos y tomarla en cualquier época del año, a mis hijos les encanta y al más pequeño Juan Andrés se la toma en su tetero muy placenteramente, a pesar de ser un poco fuerte por el sabor a piña.
In my case, I prefer to be like the Andean people and drink it at any time of the year, my children love it and the youngest Juan Andrés takes it in his bottle very pleasantly, despite being a bit strong due to the pineapple flavor.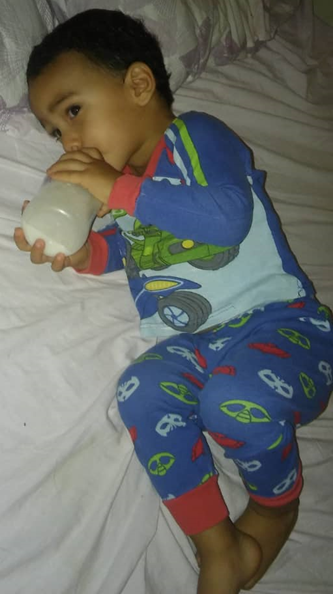 Ingredientes a utilizar:
Corteza o conchas de piña.
1 taza de arroz blanco.
300 gramos de azúcar.
1 cucharada de vainilla.
Ingredients to use:
Pineapple rind or shells.
1 cup of white rice.
300 grams of sugar.
1 spoon of vanilla.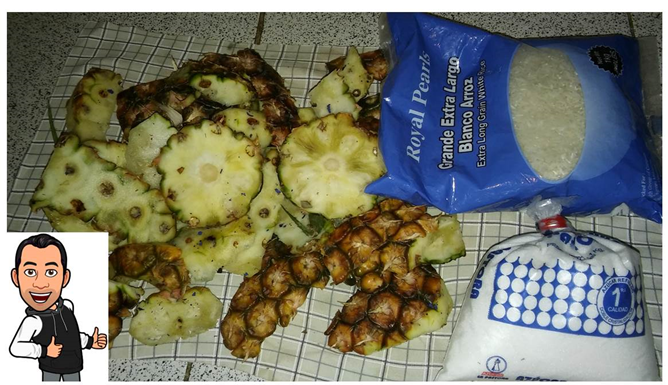 Preparación:
Para su preparación debemos pelar la piña y poner a remojar las conchas en 1 litro de agua, deben permanecer tapadas por aproximadamente 10 días, dependiendo de qué tan borracha la prefieras; en mi caso como es para mis hijos solo la dejo por 10 días para extraer el sabor de la piña y que este no sea tan fuerte, solo para que este perfecto y muy agradable al paladar.
Pasados los 10 días, cocinamos una taza de arroz con abundante agua hasta que esté bien blando. Cuando ya esté listo procedemos a colarlo y dejar reposar.
Por otra parte destapamos las conchas y colamos el agua de piña ya fermentada, el aroma que saldrá será delicioso.
Ahora colocamos el arroz y el agua de piña en la licuadora y licuamos hasta que el arroz se forme homogéneo, luego colamos esta mezcla para evitar posibles grumos del arroz.
Teniendo lista esta mezcla endulzamos y por último colocamos una cucharadita de vainilla.
Preparation:
For its preparation we must peel the pineapple and soak the shells in 1 liter of water, they must remain covered for approximately 10 days, depending on how drunk you prefer it; In my case, as it is for my children, I only leave it for 10 days to extract the flavor of the pineapple and that it is not so strong, just so that it is perfect and very pleasant to the palate.
After 10 days, we cook a cup of rice with plenty of water until it is very soft. When it is ready we proceed to strain it and let it rest.
On the other hand, we uncover the shells and strain the already fermented pineapple water, the aroma that will come out will be delicious.
Now we place the rice and the pineapple water in the blender and blend until the rice is homogeneous, then strain this mixture to avoid possible lumps of the rice.
Having this mixture ready, we sweeten and finally we place a teaspoon of vanilla.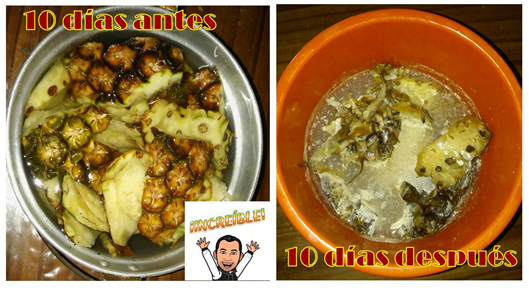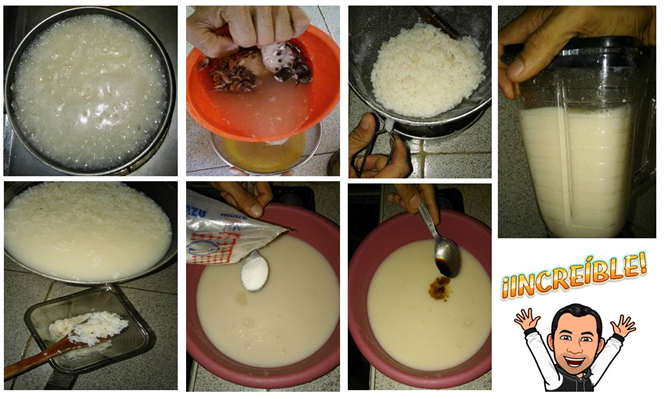 Vertimos en una jarra y metemos al enfriador, para que los sabores se unan bien y hagan lo suyo; esta es una bebida que debe servirse bien fría (no congelada) para poder degustar mucho mejor la concentración de sabores, veras que vas a conquistar los más delicados paladares. Esta receta rinde para aproximadamente 2 litros de chicha.
We pour into a jug and put in the cooler, so that the flavors come together well and do their thing; This is a drink that should be served very cold (not frozen) to be able to taste the concentration of flavors much better, you will see that you will conquer the most delicate palates. This recipe yields approximately 2 liters of chicha.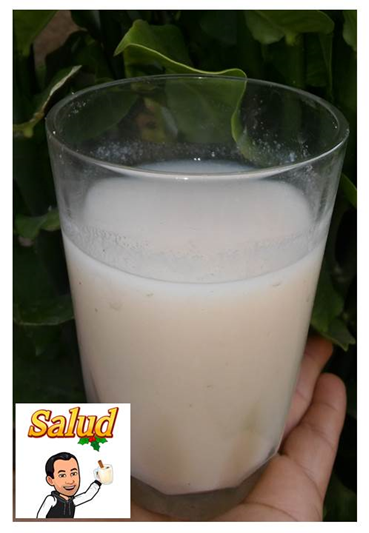 Si tienes en casa un poco de canela bien sea en palo o en polvo se la puedes colocar y el sabor será excepcional, esta vez se me olvido comprarla pero te recomiendo se la coloques antes de refrigerar.
If you have a little cinnamon at home, either on a stick or in powder, you can place it on it and the flavor will be exceptional, this time I forgot to buy it but I recommend you put it on it before refrigerating.
En casa esta es una bebida que disfrutamos todos, desde los más viejos hasta el pequeño Juan Andrés, para los mayores trae muchos recuerdos y comienzan a hablar de sus madres, esposas o abuelas ya que ellas siempre nos esperaban en navidad con un vaso de esta deliciosa chicha.
At home this is a drink that we all enjoy, from the oldest to little Juan Andrés, for the older ones it brings many memories and they begin to talk about their mothers, wives or grandmothers since they always waited for us at Christmas with a glass of this delicious chicha.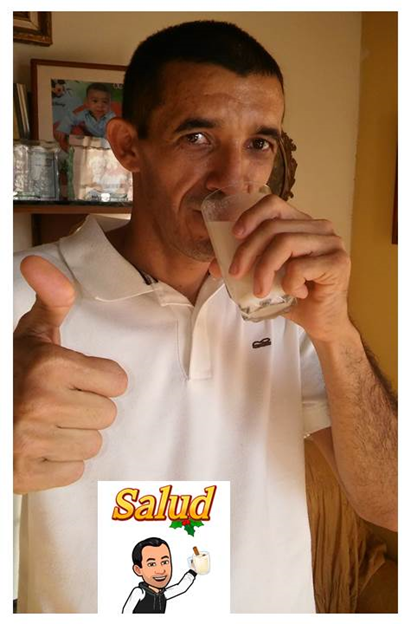 Yo aprendí hacerla junto a mi esposa, ya que nos encanta y preguntamos cómo se hacía, así que hace algunos años juntos nos aventuramos a probar y logramos recrear la receta, hoy en día la realizamos muy a menudo ya es muy fácil de hacer; muchos de nuestros familiares llegan a casa y preguntan hay chicha. Jaja
I learned to make it with my wife, since we love it and asked how it was made, so a few years ago we ventured together to try it and we managed to recreate the recipe, today we make it very often and it is very easy to do; many of our relatives come home and ask is there chicha. Ha ha
Espero les guste e intenten prepararla en casa, con solo sentir el olor en casa al prepararla van a quedar fascinados y mucho después cuando disfruten un vaso de esta rica chicha, se despide de ustedes su amigo el Drhueso.
I hope you like it and try to prepare it at home, just by feeling the smell at home when preparing it you will be fascinated and much later when you enjoy a glass of this delicious chicha, your friend the Drhueso says goodbye to you.
Las imágenes son de mi propiedad, fueron tomadas con mi teléfono celular marca LG y editadas en Power Point / The images are my property, they were taken with my LG brand cell phone and edited in Power Point
Traductor utilizado Google / Translator used Google Imagen
---
---