I'm one of those annoying people who are at their best first thing in the morning. My best, however, doesn't extend to thinking up glamorous and varied breakfast foods. Which is probably why I've eaten the exact same breakfast for my entire life. Cold cereal and milk. Even with a choice of fancier breakfast fare, I would rather eat this simple meal to start my day. Of course, I set out to make my own.
I hit upon a combination of crunchy, nutty, sweetness that is just right. The beauty of this recipe is that it is endlessly adaptable: make it gluten-free, take out the sugar, use different dried fruits, add nuts. . . the possibilities boggle the mind. I don't think I'll ever go back to boxed cereal!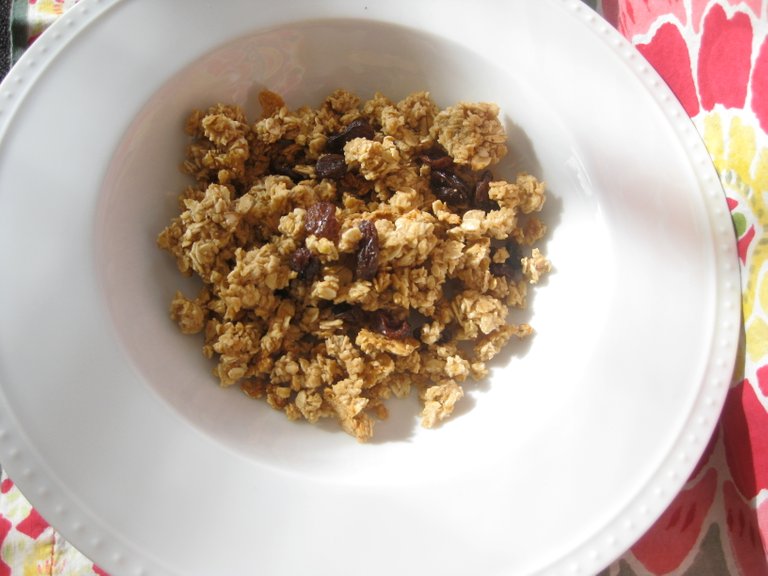 Homemade Granola Recipe
2 1/2 cups quick oats
2 1/2 cups old fashioned oats
1 1/2 rice puffs, roughly crushed
1 tbsp organic ground cinnamon
1/2 tsp ground cloves
1 1/2 tsp sea salt
3/4 cup applesauce
1/2 cup organic brown rice syrup
1/2 cup dark brown sugar
2 tbsp canola oil
1 tbsp pure vanilla extract
1 cup organic raisins
Mix the dry ingredients together in a large bowl: oats, rice puffs, cinnamon, cloves, and sea salt. Mix the wet ingredients in a large mixing bowl: applesauce, rice syrup, brown sugar, oil, and vanilla. Pour the dry ingredients into the large bowl and mix thoroughly until combined.
With WET hands, spread the mixture in a thin layer onto 2 silpat-lined baking sheets.
Gently form the mixture into small clumps, leaving space in between. Bake in a 300F oven for 20 minutes. Flip the mixture over a few times on the baking sheet, then bake for 30 more minutes.
Add the raisins and store in an airtight container up to a week in a cool, dry place.
Want to make this Granola Cereal Gluten-Free? Substitute a combination of Gluten-Free Quick Cooking Oats and Gluten Free Steel Cut Oats for the oats in the recipe and you're good to go!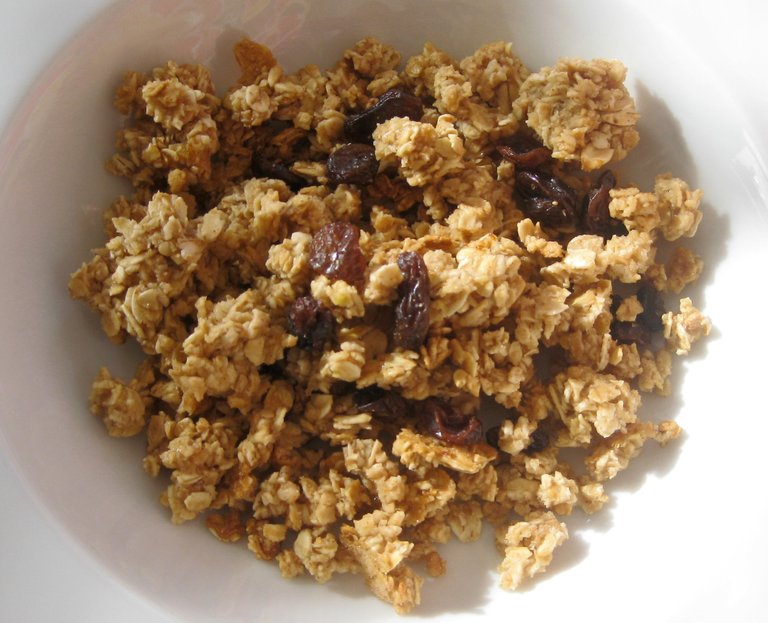 Some other fun adaptations:
Use cranberries instead of raisins, add 1 tsp almond extract and add 1 cup slivered almonds in the last ten minutes of baking
Substitute banana puree (or heck, even baby food) for the applesauce
Add 3 tbsp flaxseed or wheat germ before cooking to bump up the health benefits
Add 1/2 cup dried coconut to the dried ingredients (before baking) and chopped, dried mango or pineapple as a mix-in for a tropical treat