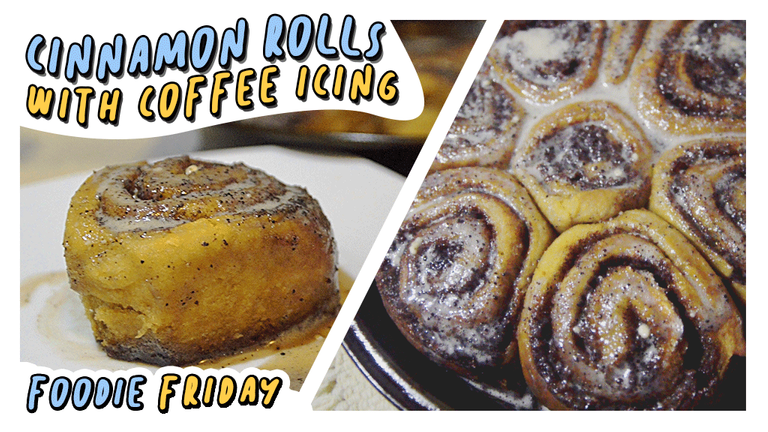 Greetings to all the Foodies, welcome to #FoodieFriday, the space where I will be sharing videos, photos, recipes and anything related to the world of gastronomy.
This time I bring you a recipe to prepare Cinnamon Rolls, a dessert that I really like and that I have been wanting to prepare for a long time.
I confess that this is the first time I venture to make them, and although I had a little mistake there (which you will see later), I still liked the result so I thought it was perfect to share it with you on this #FoodieFriday (which came on a Saturday this time but the intention is what counts haha😅) I hope you enjoy it!
Un saludo a todos los monchosos, bienvenidos a #FoodieFriday, el espacio donde estaré compartiendo videos, fotos, recetas y cualquier cosa relacionada al mundo de la gastronomía.
En esta oportunidad les traigo una receta para preparar Roles de Canela, un postre que me gusta mucho y que tenía tiempo queriendo preparar.
Les confiezo que esta es la primera vez que me aventuro a hacerlos, y aunque tuve un pequeño error por ahi (que verán mas adelante), igual me gustó el resultado así que me pareció perfecto compartirlo con ustedes en este #FoodieFriday (que llegó un día sábado esta vez pero la intención es lo que cuenta jaja😅) ¡Espero lo disfruten!
---

Cinnamon Rolls with Coffee Icing👩‍🍳👌
Roles de canela con glaseado de café
Ingredients
For this recipe you will need:
2 and 3/4 cups all-purpose flour
1/4 cup sugar
1/2 teaspoon salt
2 and 1/4 teaspoons of instant yeast
1/2 cup whole milk
1/4 cup water
3 Tablespoons unsalted butter
1 large egg
Ingredientes


Para esta receta se necesita:

2 y 3/4 tazas de harina de trigo todo uso
1/4 de taza de azúcar
1/2 cucharadita de sal
2 y 1/4 cucharaditas de levadura
1/2 taza de leche entera
1/4 taza de agua
3 cucharadas de mantequilla sin sal
1 huevo grande
---
Procedure | Procedimiento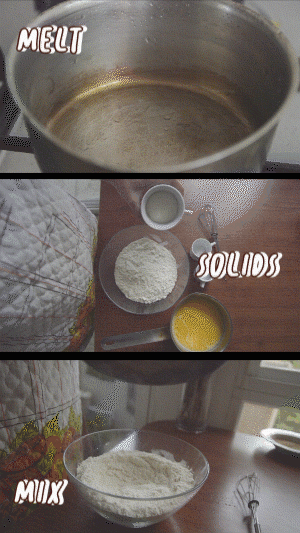 - Step 1 -
First heat the butter, milk and water, mix the dry ingredients and add the butter mixture and the egg.
As I told you, this is the first time I prepare roles and I had a hazing incident: I forgot to add the egg! 🤣 They were still very tasty, but be careful not to make the same mistake and add the egg hehe😅.
- Paso 1 -

Primero calienta la mantequilla, la leche y el agua, mezcla los ingredientes secos y añadeles la mezcla de mantequilla y el huevo.

Como les comenté, esta es la primera vez que preparo roles y me ocurrió una novatada: ¡olvidé añadir el huevo! 🤣 Aún así quedaron muy ricos, pero ustedes esten pendientes de no comenter el mismo error y coloquenle huevo jeje😅.
---
- Step 2 -
Knead the dough with your hands or a mixer. When you finish kneading, cover the dough and let it rest for a few minutes for the gluten to settle.
Next, roll out the dough into a rectangle and spread the butter evenly over it.
- Paso 2 -
Amasamos con las manos o una batidora la masa. Cuando termines de amasar, tapa la masa y déjala reposar unos minutos para que el gluten se asiente.
A continuación, extiende la masa en un rectángulo y embadurnalo con la mantequilla por encima de manera uniforme.
---

- Step 3 -
Sprinkle cinnamon and sugar over the entire surface and wrap the dough into a roll, then cut into medium-sized pieces about two fingers thick.
- Paso 3 -
Espolvorea canela y azúcar por toda la superficie y envuelve la masa en forma de rollo, y luego corta en trozos medianos de aproximadamente dos dedos de grosor.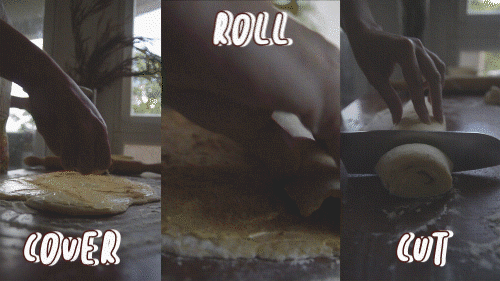 ---
- Step 4 -
Place the cinnamon rolls in a greased round baking pan and let them rest for 60 minutes, after which time the rolls will be well puffed, preheat the oven to 190°C (375°F) and bake them for 25-30 minutes until lightly golden brown.
- Paso 4 -
Coloca en un molde redondo engrasado los rollos de canela y déjelos reposar durante 60 minutos, transcurrido este timpo verá los roles bien hinchados.Ahora precaliente el horno a 190°C (375°F) y hornéelos durante 25-30 minutos hasta que estén dorados.
---
- Step 5 -
Make the icing | Hacer el glaseado
Whisk the sugar with the ground coffee and the dairy cream, is that simple. Sprinkle it on top of the roles and that's it!
Bate el azúcar con el café molido y la crema de leche, asi de facil. Rocíalo encima de los roles ¡y listo!
---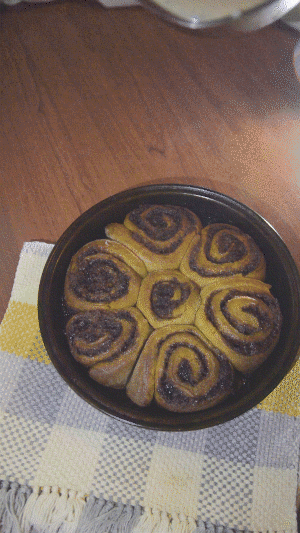 These cinnamon rolls were great, even though I forgot to add the egg, they were still delicious, I imagine that without that mistake the texture would have been fluffier or something like that, but the truth is that everyone at home was pleased with the result. I hope you are going to try this recipe and remember that the comment box is open, tell me what did you think about this #FoodieFriday? 🍪
Next Friday I'll be back with a new recipe, so if you're a fan of #cooking stay tuned. Good vibes!
Estos roles de canela quedaron mundiales, pese a que olvidé echarle el huevo igual quedaron deliciosos, imagino que sin ese error la textura hubiese quedado más esponjosa o algo por el estilo, pero la verdad que todos en casa quedamos complacidos con el resultado.Espero se animen a probar esta receta y recuerden que la cajita de comentarios esta abierta, cuéntenme ¿Que les pareció este #FoodieFriday? 🍪

El próximo viernes regreso con una nueva receta, así que si eres fanático de la #cocina mantente atento. Good vibes!

m o r e - p o s t s

⚡️ Hey ⚡️
También puedes seguirme en mis redes
⚡️ Hey ⚡️
You can also follow me on my social media

---
O R I G I N A L ° C O N T E N T
Gifs made on Adobe Premiere Pro.
All footage shot on Nikon D3200
Thumbnail and splitters by @cronosclocks
Icons by Plus Math icon and Icons8