Saludos queridos Hivers amantes de la buena comida, hoy quiero hablarles de la dulcería del Medio Oriente, unas verdaderas joyas dentro de la gastronomía.
Hace unos días tuve la oportunidad de visitar un local de dulces árabes los cuales datan de tiempo antiquísimo, mucho antes del inicio de las pastelería como arte culinario por allá en Italia en la época del Renacimiento.
Hi dear Hivers, lovers of good food, today I want to talk to you about the sweet shop of the Middle East, true jewels within the gastronomy.
A few days ago I had the opportunity to visit a place of Arab sweets which date back to ancient times, long before the beginning of the pastry as a culinary art there in Italy in the Renaissance.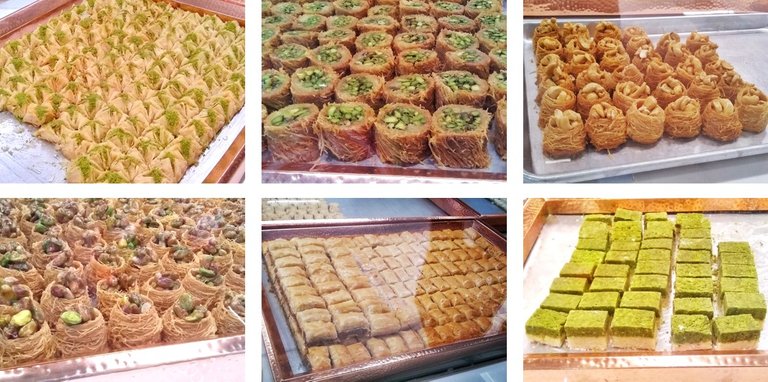 Son dulces que tienen como característica común el uso de frutos secos como pistacho, almendra, anacardos (merey), nueces, piñones y algunas frutas deshidratadas como dátiles e higos; están endulzados con miel, son a base de masa filo, otros a base de sémola lo que los hace a éstos muy densos. Pueden ser aromatizados con agua de azahar o rosa, cardamomo y canela. Estas delicias son consumidas en territorios del Líbano, Siria, Palestina, Egipto, Marruecos, Turquía, Grecia y Armenia. Muchos de ellos tienen origen en la civilización Sumeria quienes en un inicio elaboraban postres como ofrendas a sus deidades.

Estos dulces al ser preparados con masa filo, tienen la propiedad de ser muy suaves, no necesitan masticarse mucho, son una caricia al paladar, sin embargo son muy dulces por lo cual la porción es de tamaño bastante pequeña con respecto a los dulces occidentales. Su método de cocción puede ser el horneado aunque hay algunos que se hacen fritos.
They are sweets that have as a common characteristic the use of dry fruits like pistachio, almonds, cashews, nuts, pine nuts and some dehydrated fruits like dates and figs; they are sweetened with honey, they are based on phyllo dough, others are based on semolina which makes them very dense. They can be flavored with azahar or rose water, cardamom and cinnamon. These delicacies are consumed in territories of Lebanon, Syria, Palestine, Egypt, Morocco, Turkey, Greece and Armenia. Many of them have their origin in Sumerian civilization, who in the beginning prepared desserts as offerings to their deities.

These candies, when prepared with phyllo dough, have the property of being very soft, do not need much chewing, and are a caress to the palate; however, they are very sweet, which is why the portion is quite small with respect to Western candies. Its cooking method can be baking although there are some that are fried.

Una curiosidad de la elaboración de la masa filo es que se trata de una masa de ardua preparación y cuyo grosor es tan delgado que parecen unas hojas de papel cebolla y para dar cuerpo a dulces tan emblemáticos como la Baklava hay que colocar 35 láminas de esta masa para poder disfrutar de un dulce de dioses.

Hay que destacar también que para preparar algunos de estos dulces a base de masa filo o pasta Kataifi, y obtener un producto de color dorado y suave, han de impregnarse de forma generosa con ghee o mantequilla clarificada, lo que junto a la miel y frutos secos los hacen bocados de altísimo contenido calórico, pero todo tiene su motivo ya que éstos son usados a veces para romper en ayuno en los días del Ramadán.

A continuación les dejo unas imágenes de algunos dulces emblemáticos del Medio Oriente:
A curiosity of the elaboration of the phyllo dough is that it is a dough of arduous preparation and whose thickness is so thin that it looks like onion paper sheets and to give body to sweets as emblematic as the Baklava you have to place 35 sheets of this dough to be able to enjoy a sweet of gods.

It should also be noted that to prepare some of these sweets based on phyllo dough or Kataifi paste, to obtain a golden and soft product, have to be generously impregnated with ghee or clarified butter, which along with honey and nuts make them bites of high caloric content, but everything has its reason as they are sometimes used to break the fast in the days of Ramadan.

Here are some images of some emblematic sweets from the Middle East: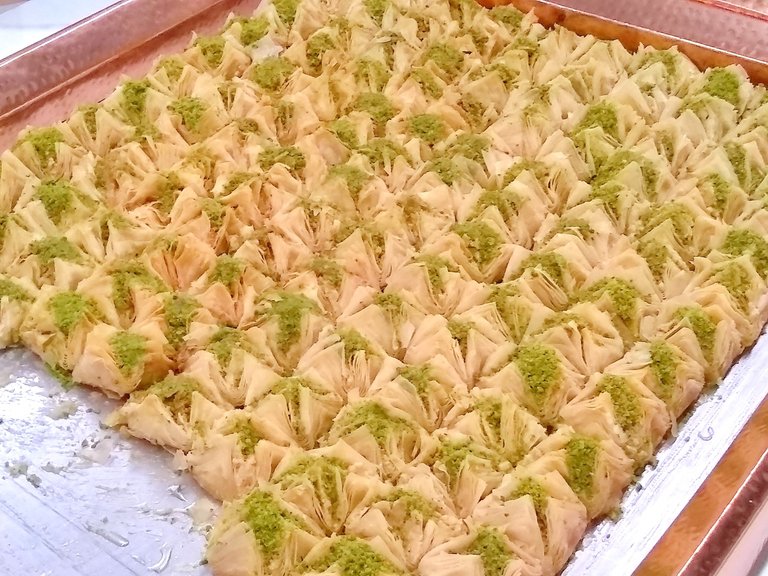 Bukaj de pistacho
(Masa filo horneada rellena con de pistacho triturado, bañado con almíbar de miel y agua de azahar)
---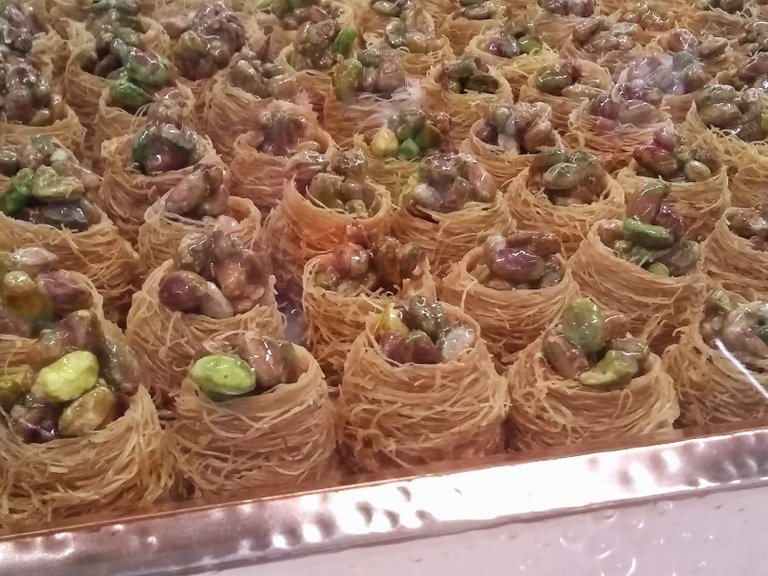 Ouch el Boulboul (Nidos de Ruiseñor)
(Pasta kataifi horneada rellena con mazapán y pistacho)
---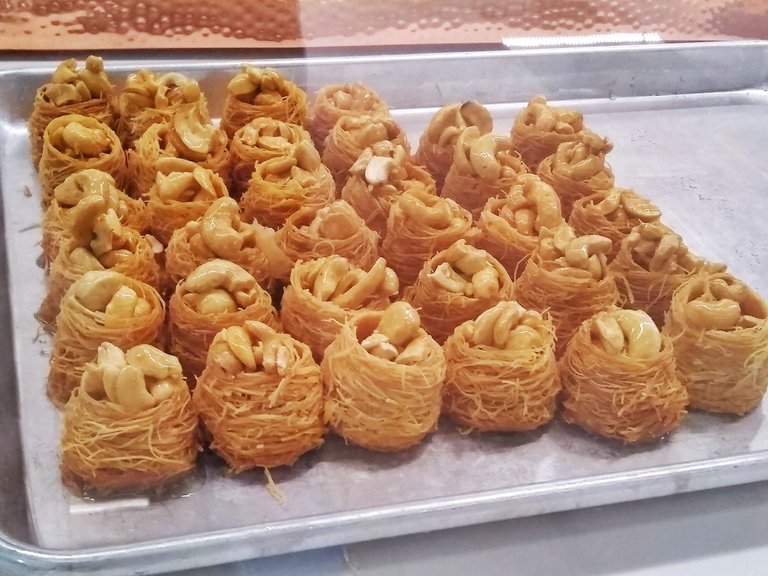 Ouch el Boulboul (Nidos de Ruiseñor)
(Pasta kataifi horneada rellena con mazapán y anacardos)
---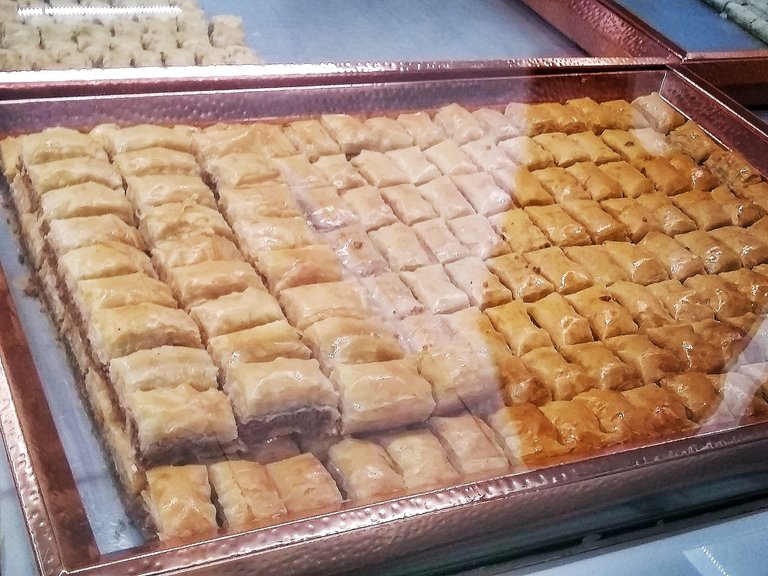 Baklava
(Masa filo horneada, rellena con pasta de pistacho y nueces, bañado con almíbar de miel
y agua de azahar)
---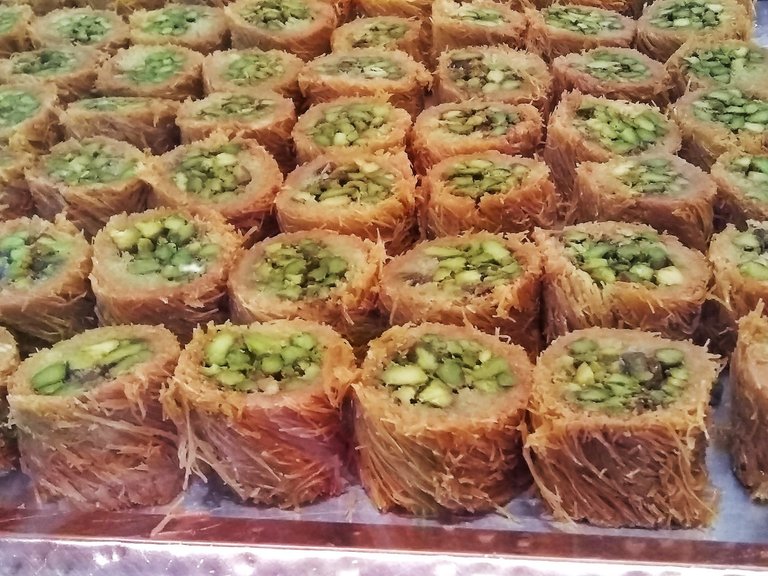 Bourma de pistacho
(Pasta kataifi horneada rellena con pistacho)
---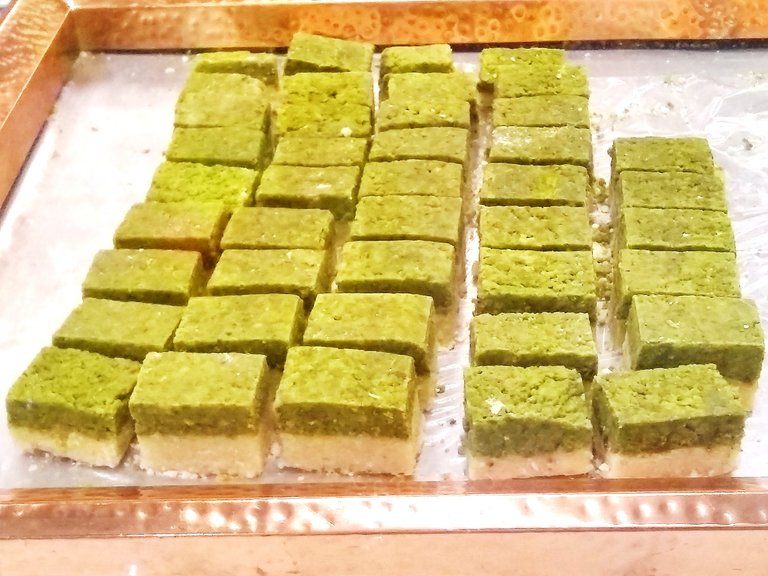 Basbousa de almendra y pistacho
(Bizcocho de sémola con harina de almendra y harina de pistacho)
---
Como pueden observar se trata de dulces que son elaborados con la minuciosidad y paciencia de un artista donde la gracia visual y su elegancia reposa en la uniformidad entre las miles de unidades que se preparan. Les confieso que como maestra pastelera es todo un reto tratar de incursionar en este tipo de dulcería. Veremos si algún día me atrevo a realizar alguno de estos manjares y les comparto en este blog mi experiencia.
Gracias por leerme, para mi es un placer poder compartir con ustedes este tipo de contenido y poder mostrarles el amplio y maravilloso mundo de la gastronomía.
As you can see, these are sweets that are made with the thoroughness and patience of an artist where the visual grace and elegance lies in the uniformity among the thousands of units that are prepared. I confess that as a master pastry chef it is a challenge to try to make an incursion into this type of sweet. We will see if one day I dare to make some of these delicacies and I will share my experience in this blog.

Thank you for reading me, for me it is a pleasure to be able to share with you this type of content and to be able to show you the wide and wonderful world of gastronomy.

Todas las fotos son propiedad de la autora.
La traducción al idioma inglés se realizó con Deepl.
All photos are property of the author. Traslated with Deepl.