Existen sabores y recetas que, a pesar de que los años pasen, de que muchas familiares ya no estén con nosotros. A pesar de que las cosas cambien, de que no estemos en el mismo lugar, ni siquiera en el mismo país, siguen teniendo el mismo valor sentimental para nosotros. Son simplemente tradiciones familiares.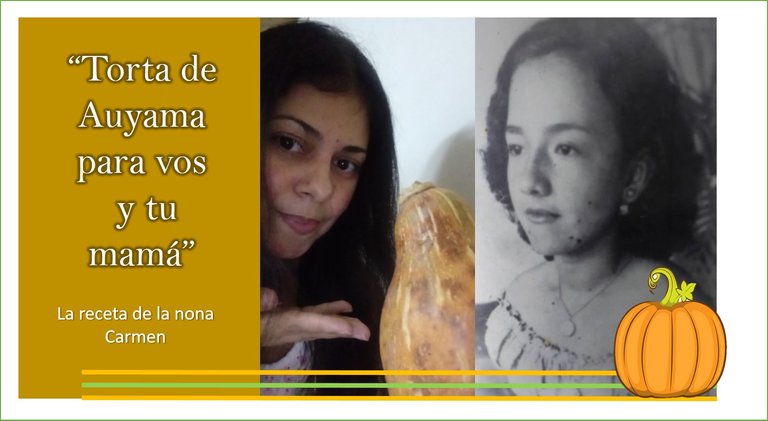 Hoy quiero compartir la receta de mi nona Carmen de la "Torta de auyama para vos y tu mamá", como ella solía decir. Que se acostumbra en mi familia para el día de la madre y que y será siempre mi postre favorito. La auyama o calabaza tiene increíbles propiedades que son beneficiosas para la salud, además de ser muy deliciosa para preparar dulces. Entonces ¡Empecemos!

Ingredientes:
300 gr de auyama o calabaza
3 huevos
1 cucharada de mantequilla
1 cucharadita de polvo de hornear
100 gr de azucar
2 cucharadas razas de harina de trigo
100 gr de queso criollo
100 gr de bocadillo o dulce de guayaba en barra

Preparación:
-Lo primero que debemos hacer es partir la auyama o calabaza y retirar las semillas. Reservamos las semillas. Cortamos la auyama en cuadros grandes y la cocinamos en la olla de presión durante 15 minutos.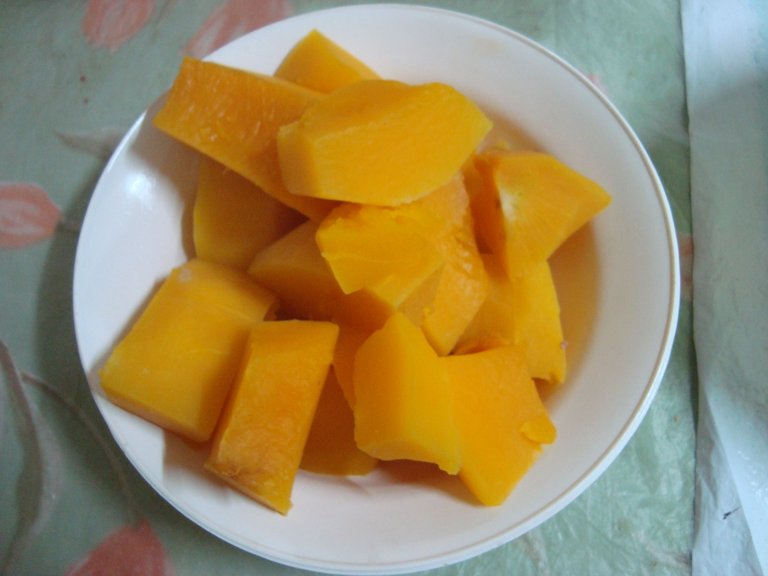 -Una vez que este cocida, retiramos la cascara y dejamos enfriar. Con un tenedor trituramos bien.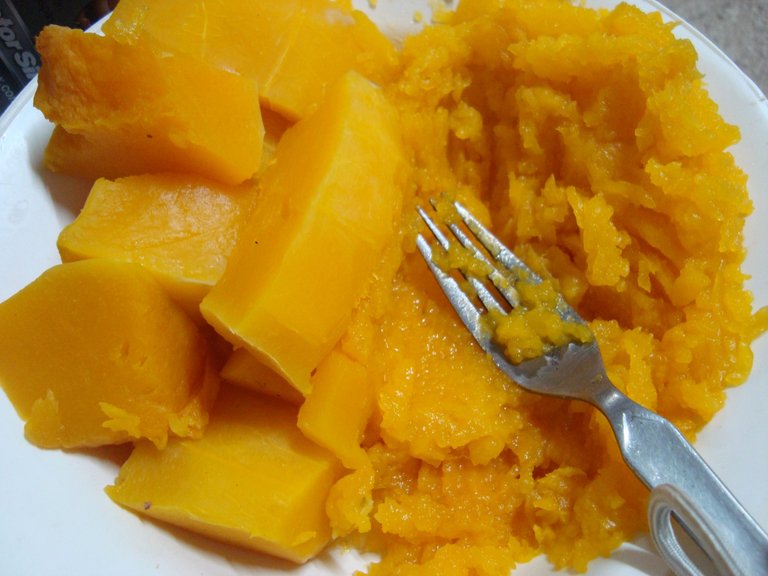 -Separamos las yemas de las claras. Batimos hasta tener las claras a punto de nieve.

-Agregamos las yemas a las claras, el polvo para hornear, el azúcar, la mantequilla, la auyama, la harina y vamos revolviendo contantemente hasta que quede todo bien mezclado.


-Luego enmantequillamos el molde para que no se pegue. Y ponemos la mezcla.
-Ponemos los pedacitos de queso y bocadillo sobre la mezcla y tratamos de empujarlos hacia abajo con un cuchillo. El exceso de queso lo podemos rayar y ponerlo por encima para que se gratine nuestra torta.



-Llevamos al horno por 15 minutos. A un fuego medio. Cuando pinchemos con un cuchillo y salga limpio quiere decir que ya esta lista nuestra torta.
¡Y Listo! Una deliciosa receta familiar que lleva mas de 60 años en mi familia.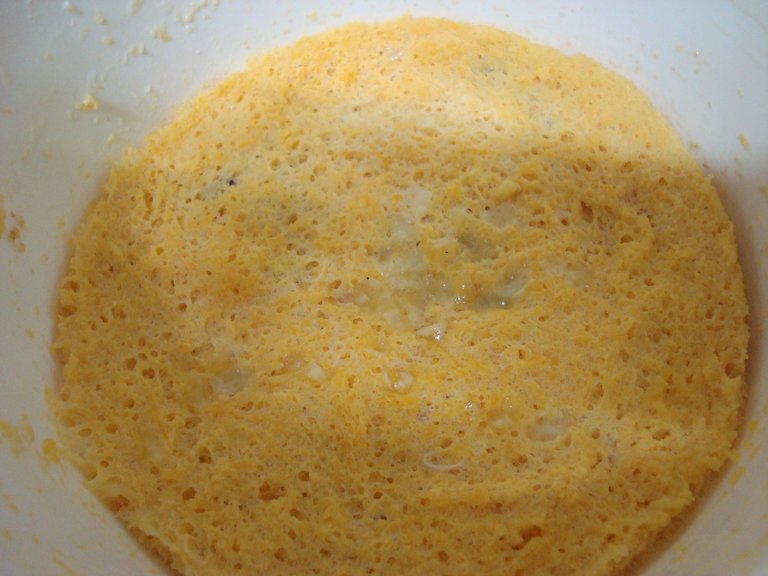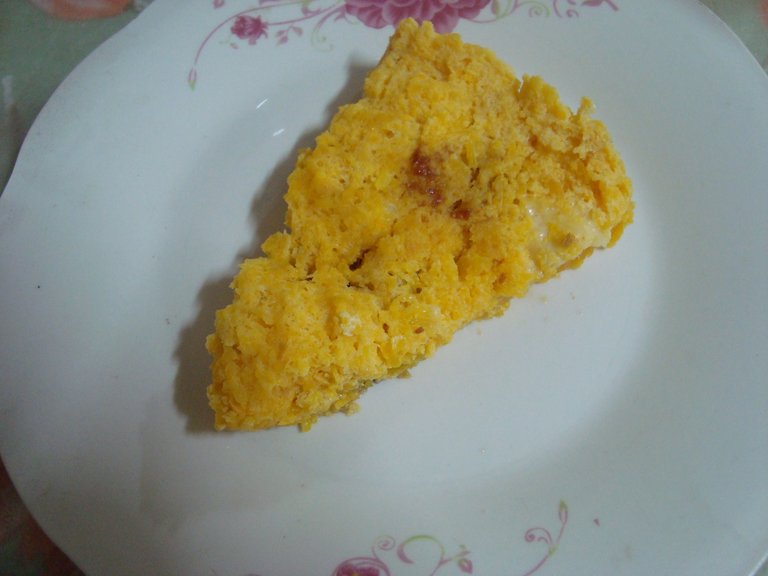 Espero que les guste y que se animen a prepararla…Muchas gracias por leerme. Hasta una próxima oportunidad.
---


Versión en Ingles:
There are flavors and recipes that, even though the years go by, even though many family members are no longer with us. Even though things change, even though we are not in the same place, not even in the same country, they still have the same sentimental value for us. They are simply family traditions.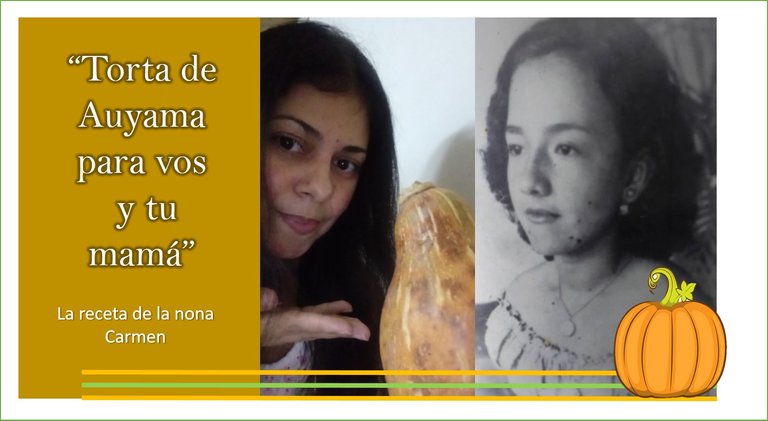 Today I want to share my nona Carmen's recipe for "Torta de auyama for you and your mom", as she used to say. It is customary in my family for Mother's Day and it will always be my favorite dessert. The auyama or pumpkin has incredible properties that are beneficial for health, besides being very delicious to prepare sweets. So let's get started!

Ingredients:
300 gr of pumpkin or squash
3 eggs
1 tablespoon butter
1 teaspoon of baking powder
100 grams of sugar
2 tablespoons of wheat flour
100 grams of Creole cheese
100 gr of guava snack or sweet guava bar

Preparation:
-The first thing to do is to split the pumpkin and remove the seeds. Reserve the seeds. Cut the pumpkin into large squares and cook it in the pressure cooker for 15 minutes.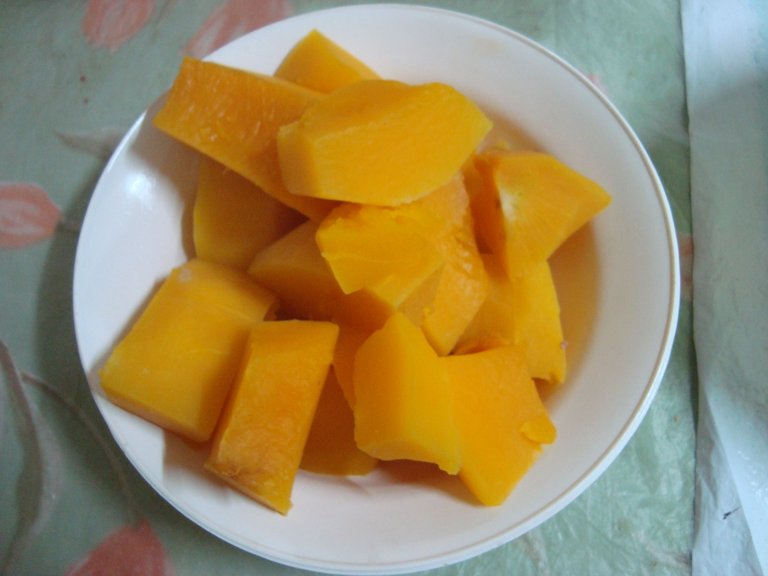 -Once cooked, remove the peel and let it cool. Mash well with a fork.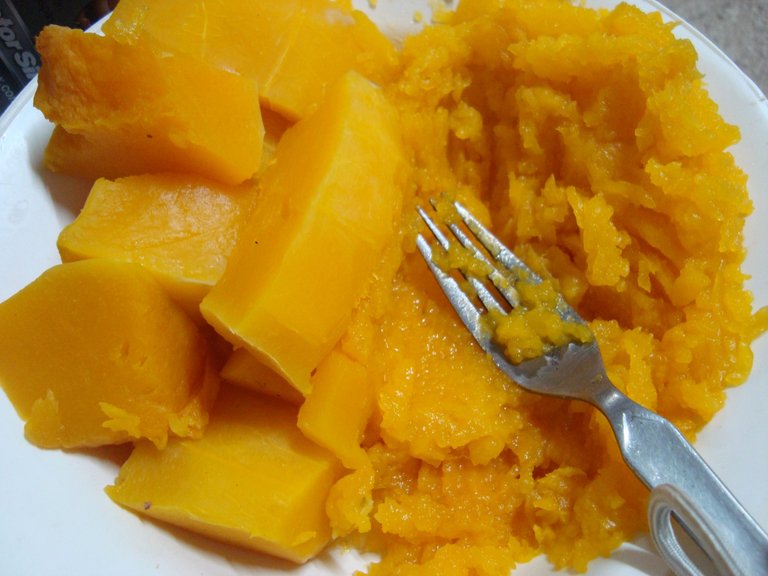 -Separate the yolks from the whites. Beat until the egg whites are stiff.

-Add the yolks to the egg whites, the baking powder, the sugar, the butter, the pumpkin, the flour and stir constantly until everything is well mixed.


-Then we butter the mold so that it does not stick. And we put the mixture.
-We put the pieces of cheese and sandwich on top of the mixture and try to push them down with a knife. We can grate the excess cheese and put it on top to gratinate our cake.



-Bake in the oven for 15 minutes. At a medium heat. When we prick with a knife and it comes out clean it means that our cake is ready.
And that's it! A delicious family recipe that has been in my family for more than 60 years.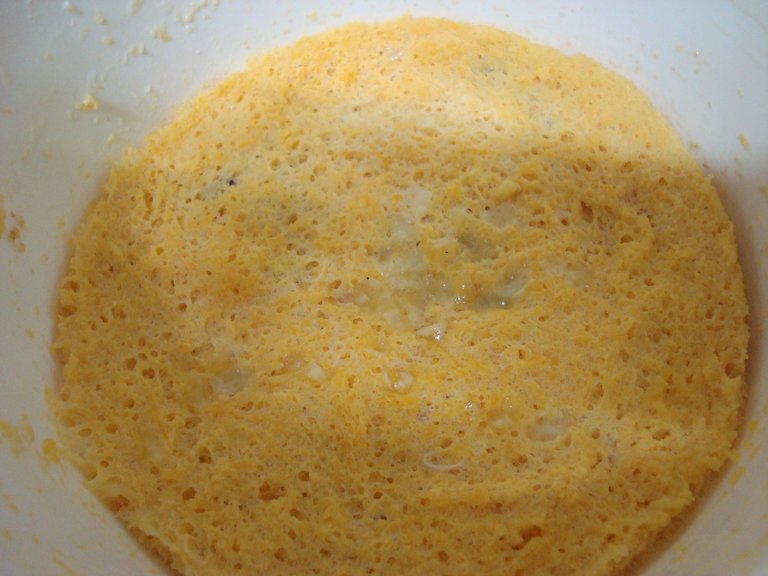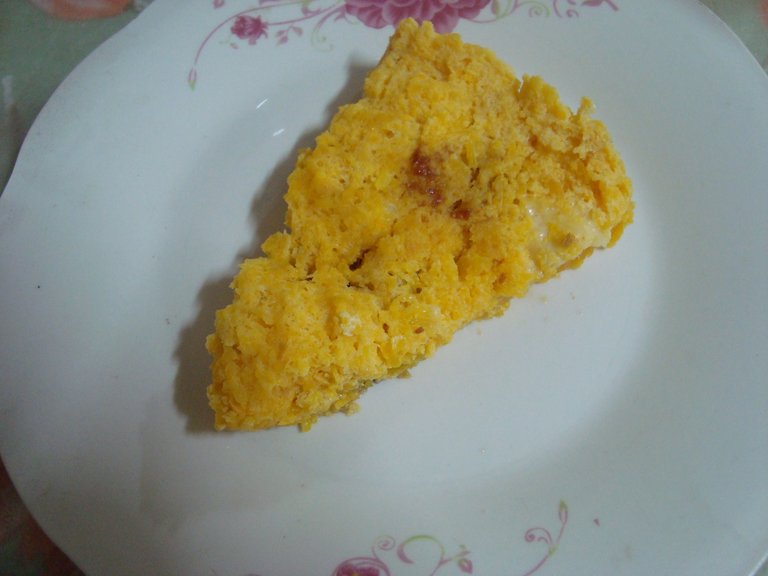 I hope you like it and that you are encouraged to prepare it...Thank you very much for reading me. See you next time.
---