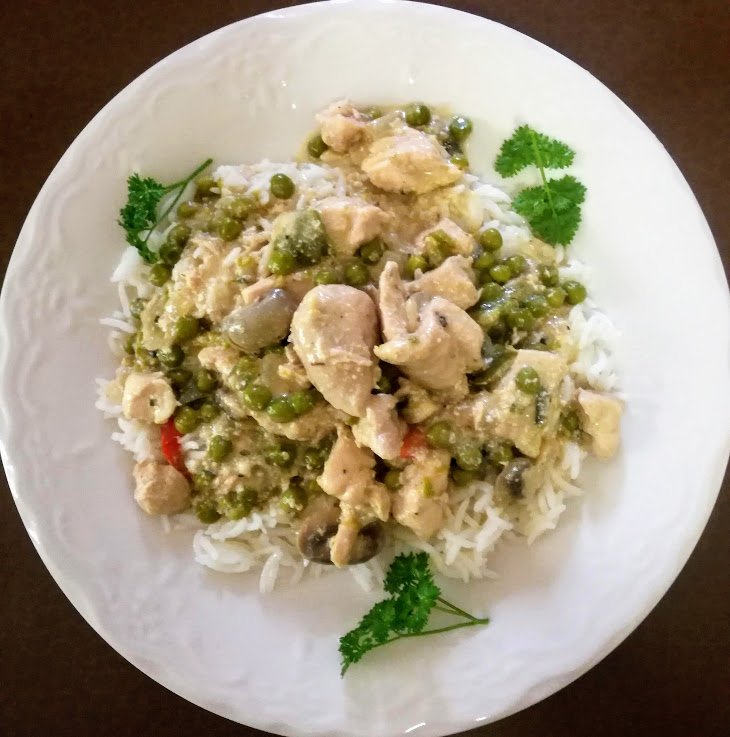 I had one of those days where I just didn't know what to do for dinner. I had chicken breasts in the freezer and wondered what I would do with them, they can be quite dry some times.
I haven't made Chicken a la King for decades. So I decided to casually make it the way I remember my mom making it. I will call it "Casual Chicken a la King", It's a very simple recipe, no fringes, or fancy trimmings attached, just a simple week night casual family dinner that I decided to share with you.
I always thought that the Chicken a la King recipe was French.
It is believed that the recipe was created by a Chef George Greenwald of the Brighton Beach Hotel in the 1890s, he apparently liked preparing new dishes for his favorite customers. Thanks to Old George, we can enjoy the the delicious dish "Chicken a la King".
I like it because of the creaminess and the different flavors from the green peppers and mushrooms.
I won't show you pictures of chopping onions and garlic, or green peppers, we all know how to do that.(Just don't feel like taking photos......wink wink)No! seriously, I think it's unnecessary.
Any way, here is the recipe.
Ingredients
1 medium onion
1 green pepper
1 red pepper
1 red chilly (optional)
1 pun of button mushrooms
200ml fresh cream
chicken stock cube
1 cup of frozen peas
5 to 6 chicken breasts
2 cups of Rice of your choice
salt and pepper to taste
Fry the onions garlic and green peppers in a little oil on medium heat, mix chicken stock cube with half a cup hot water and mix into onion mixture.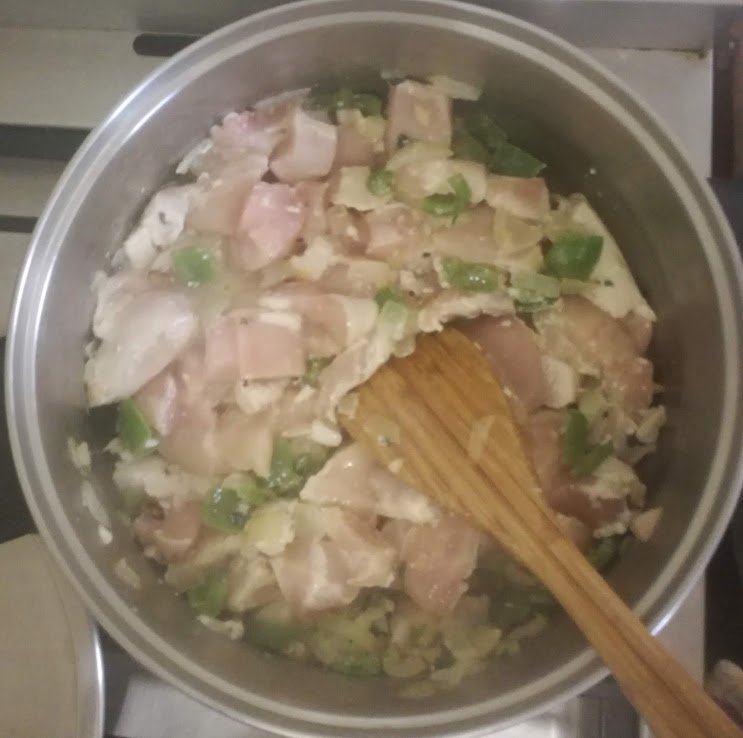 Then add the chopped up chicken breasts into sautéed onions, garlic and green peppers let simmer for a few minutes then add the mushrooms and peas.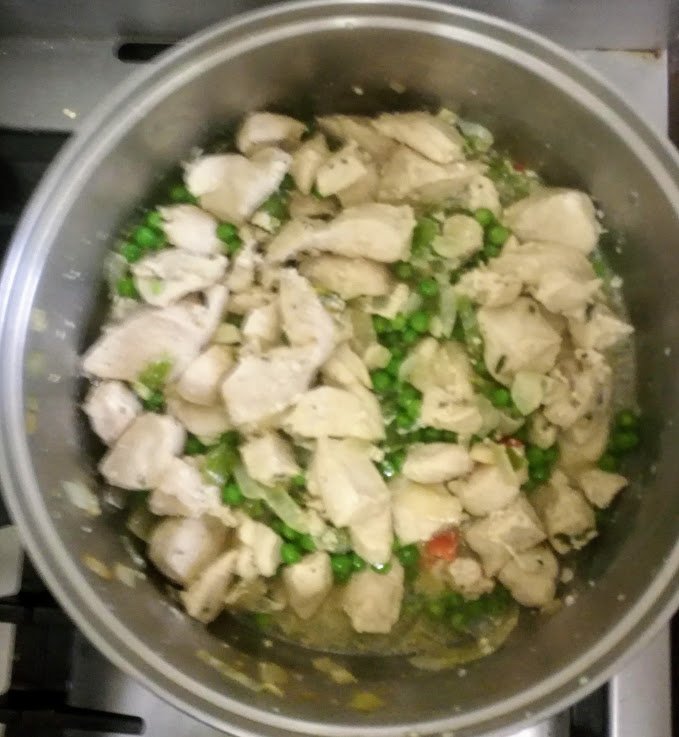 Simmer for around 5 minutes then pour in cream, simmer on medium heat until chicken is cooked.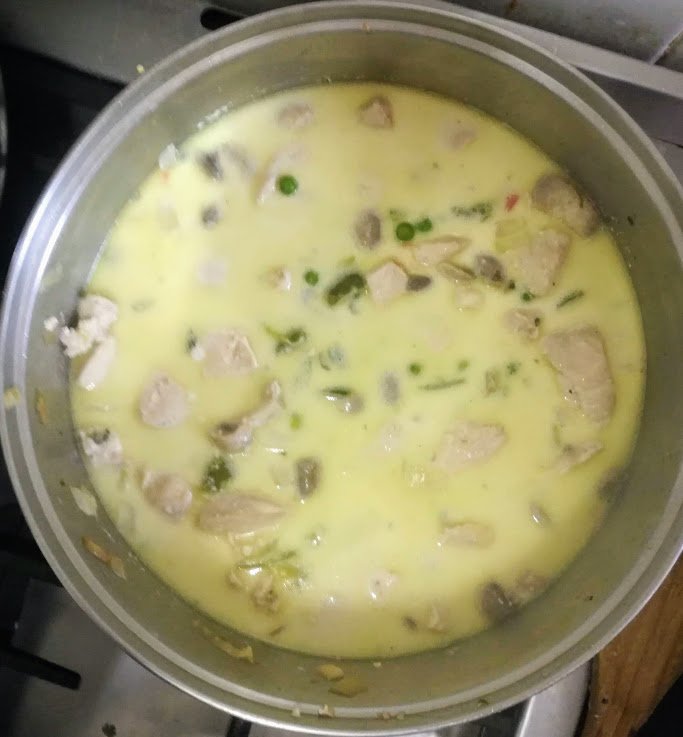 Serve on a bed of your favorite rice, mine is Basmati with a little sprinkle of parsley on top. You can even use pasta instead of rice. If you want to be more ambitious, you can make a puff pastry and create a delicious chicken a la pie.
If you find the sauce to thin, thicken with a bit of corn flour to the thickness you desire.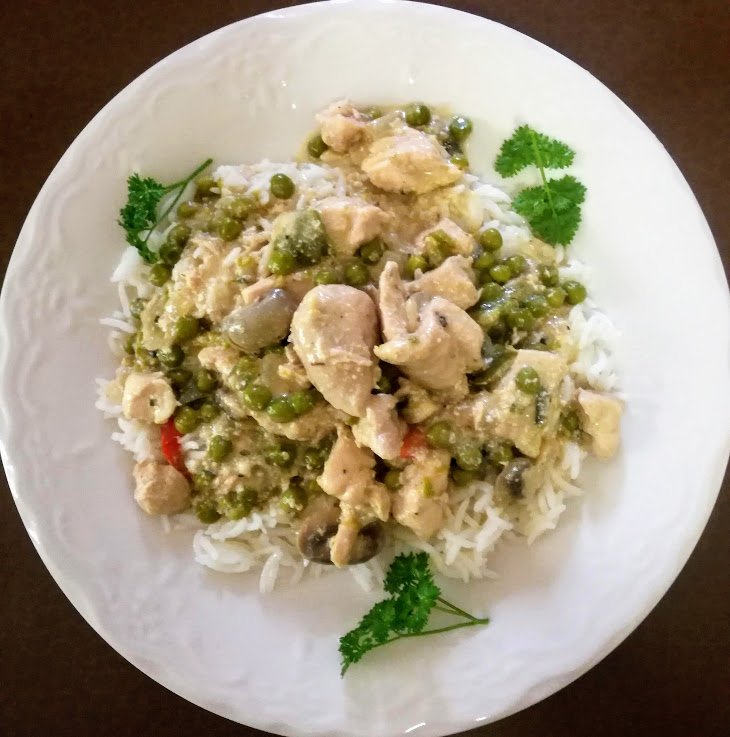 It is a very easy and quick dish to make, very delicious and filling for those hungry tummies.
That is my casual dish for the day, hope you enjoyed it.
Bon Appetit.

HIVE SILVER BLOGGERS SUBSCRIPTION LINK:
If you're between the ages of 40 and 100 and have a passion for blogging and cryptocurrency plus have some wisdom to share, please stop by and subscribe to the new exciting Hive Silver Bloggers Community that is already attracting some of the best talent here on Hive.

Thank you for stopping by.

All photos property of @artywink
Original content by @artywink