Provoca un bizcocho bien esponjoso, pero con alguna crema dulce y además con toque de cítrico. No tan solo para mi (no soy tan glotona jajaja). Aunque para muchos sería una idea genial comer tal postre solo (Que triste es ese escenario). Yo disfruto en donde se pueda multiplicar el pan... Todo inició en base a un compartir entre amigos. Esos vecinos que no dudan en darte una mano amiga. Mi forma de retribución es un postre que endulzará los corazones.
It causes a very fluffy sponge cake, but with some sweet cream and also with a touch of citrus. Not just for me (I'm not that gluttonous hahaha). Although for many it would be a great idea to eat such a dessert alone (How sad that scenario is). I enjoy where bread can be multiplied ... It all started on the basis of sharing among friends. Those neighbors who do not hesitate to give you a helping hand. My form of retribution is a dessert that will sweeten hearts.
Entonces con que se puede endulzar esos lindos y cálidos corazones: Casi que por medio de una votación, Lo escogido a preparar fue un BIZCOCHO DE VAINILLA CUBIERTO Y RELLENO DE MERENGUE DE PARCHITA.
So with what can you sweeten those beautiful and warm hearts: Almost that by means of a vote, what was chosen to prepare was a VANILLA CAKE COVERED AND FILLED WITH MERENGUE DE PATCHITA.
Les apetece probarlo y con la satisfacción de haberlo preparado por ustedes mismos. Entonces iniciemos enseguida.
You want to try it and with the satisfaction of having prepared it yourself. So let's get started right away.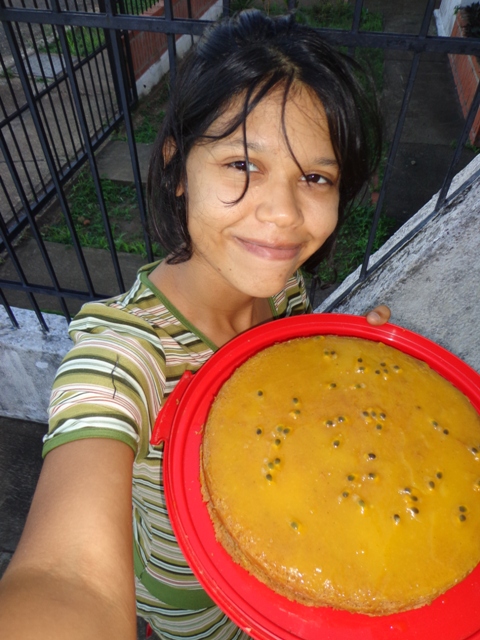 Fotografía tomada por @artmedina.
Es momento de buscar en la alacena todo lo necesario para hacer realidad este postre tan delicioso.
It's time to search the cupboard for everything you need to make this delicious dessert come true.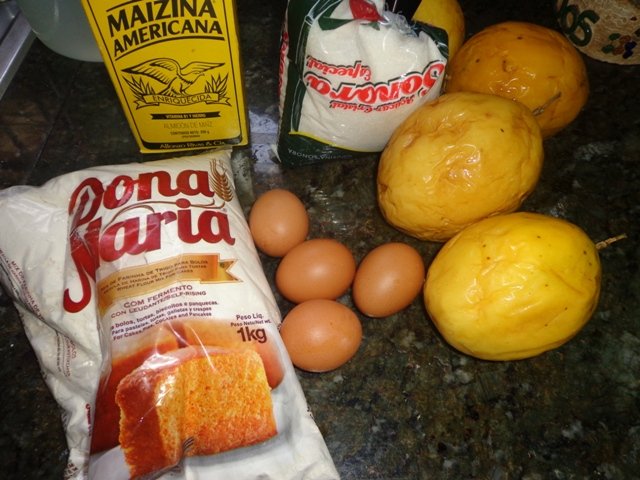 Fotografía tomada por @artmedina.
BUSCA LOS SIGUIENTES INGREDIENTES:
- 1 TAZA DE HARINA DE TRIGO LEUDANTE.
- 4 HUEVOS GRANDES
- 3/4 TAZA DE AZÚCAR (PARA LA PREPARACIÓN DEL BIZCOCHO).
- 1/4 TAZA DE AGUA.
- 1 CUCHARADA DE POLVO DE HORNEAR.
- 2 CUCHARADAS DE VAINILLA.
- 1 PARCHITA GRANDE.
- 3/4 TAZAS DE AZÚCAR (PARA LA PREPARACIÓN DEL MERENGUE)
- 4 CUCHARADAS DE MAIZINA.
LOOK FOR THE FOLLOWING INGREDIENTS:
- 1 CUP OF LEUDING WHEAT FLOUR.
- 4 BIG EGGS.
- 3/4 CUP OF SUGAR (FOR THE PREPARATION OF THE CAKE).
- 1/4 CUP OF WATER.
- 1 SPOON OF BAKING POWDER.
- 2 SPOONS OF VANILLA.
- 1 BIG PATCH.
- 3/4 CUPS OF SUGAR (FOR THE PREPARATION OF MERINGE).
- 4 SPOONS OF CORN.


Fotografía tomada por @artmedina.
Separamos las claras y la yemas de los 4 huevos. en envases diferentes.
Empezamos a batir las claras de huevo. Luego añadimos la cantidad de azúcar ya mencionada. Batir hasta lograr el punto de nieve. Una consistencia ligera, blanquecina y no se botará ni que voltees el envase alreves.
We separate the whites and the yolks of the 4 eggs. in different packages.
We start to beat the egg whites. Then we add the amount of sugar already mentioned. Beat until stiff. A light, whitish consistency and will not drop or turn the container upside down.


Fotografía tomada por @artmedina.
Pasamos a batir con otro batir las yemas de huevo con las cucharadas de vainilla mencionadas con anterioridad.
We go on to beat with another beat the egg yolks with the aforementioned tablespoons of vanilla.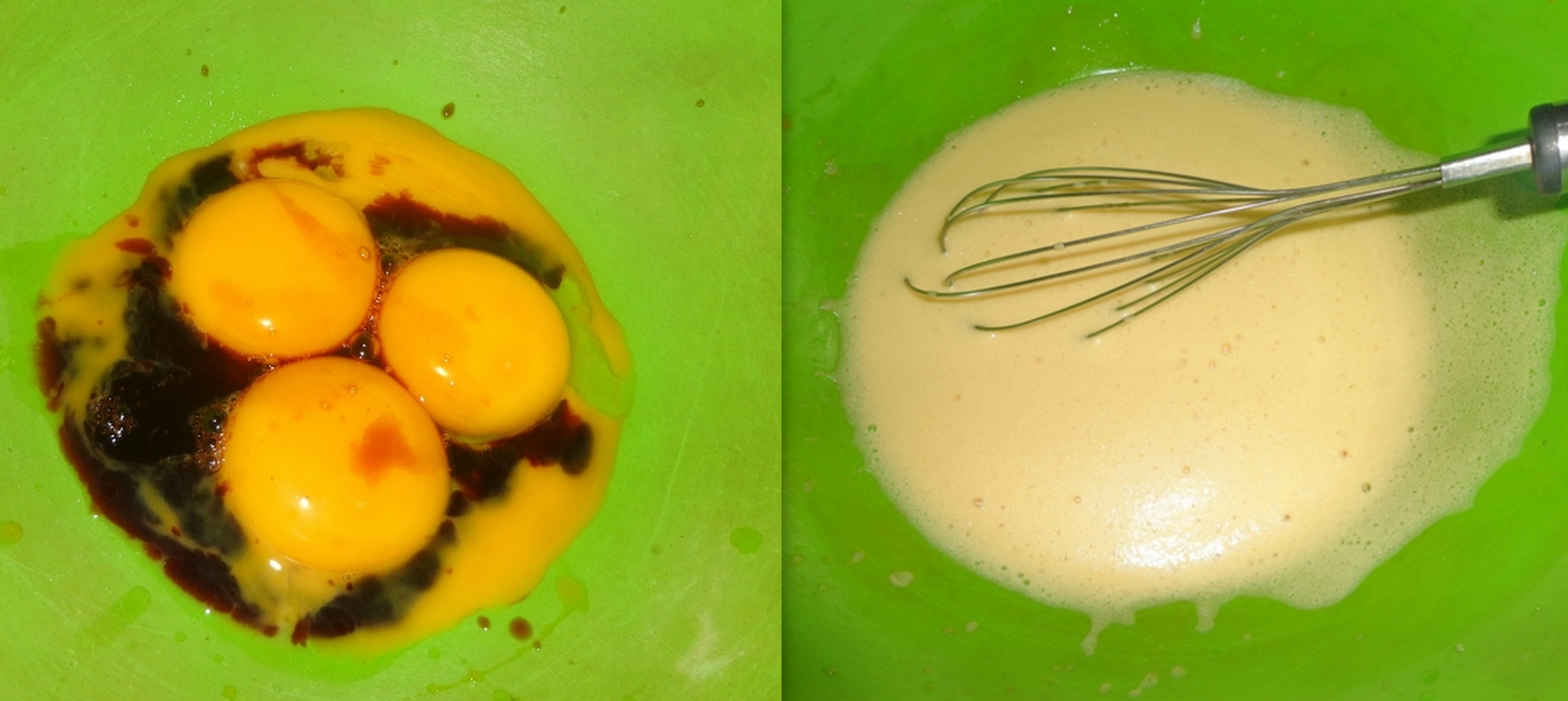 Fotografía tomada por @artmedina.
Ahora si, Lo que batimos por separado es el momento de unirlos. Agregamos las yemas con vainilla batidas al envase en donde esta las claras batidas. Girando de forma envolvente.
Now yes, what we beat separately is the time to unite them. Add the beaten vanilla yolks to the container where the beaten egg whites are. Spinning in an enveloping way.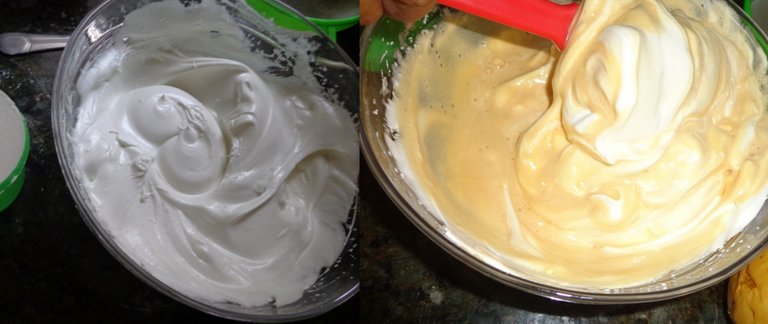 Fotografía tomada por @artmedina.
Tamizamos la cantidad de harina de trigo y la cantidad de polvo de hornear. Vamos girando en forma envolvente.
We sift the amount of wheat flour and the amount of baking powder. We are spinning in an enveloping way.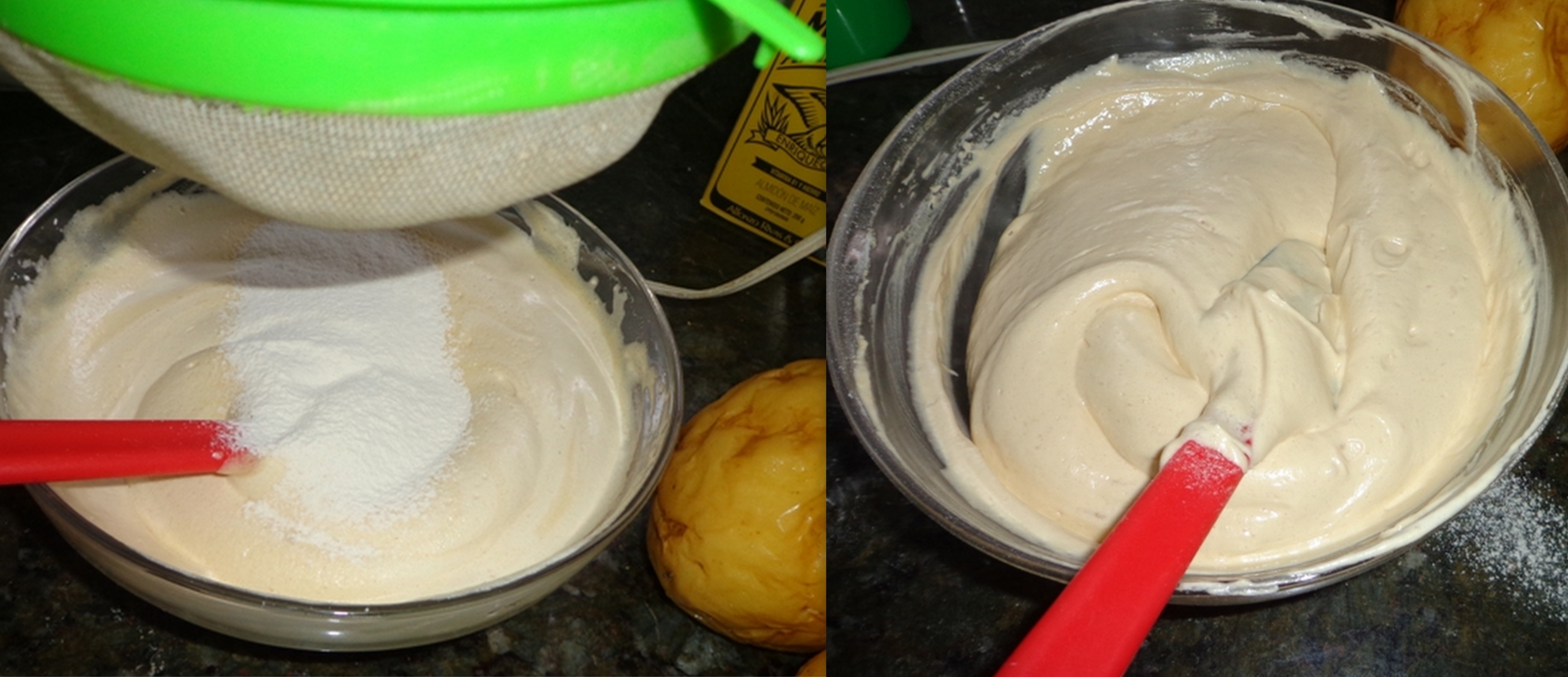 Fotografía tomada por @artmedina.
Teniendo listo la bandeja en donde se horneará el bizcocho. Cubriendo con mantequilla los bordes y espolvoreando harina de trigo.
Si de casualidad la bandeja tiene historial de pegar ciertas esquinas de las tortas. Puedes colocar papel encerado.
SI NO LO TIENES (COMO ES MI CASO) Agarra dos hojas de cuaderno, mide y corta el patrón circular y unta con mantequilla. Ya tienes un papel encerado improvisado.
Having ready the tray where the cake will be baked. Butter the edges and sprinkle with wheat flour.
If by any chance the tray has a history of sticking certain corners of the cakes. You can put wax paper.
IF YOU DON'T HAVE IT (AS IS MY CASE) Take two notebook sheets, measure and cut the circular pattern and spread it with butter. You already have a makeshift wax paper.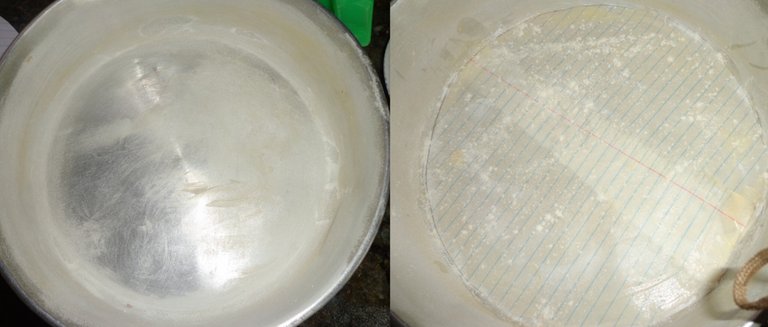 Fotografía tomada por @artmedina.
Agregamos la mezcla en la bandeja y dejamos cocinar por 25 a 30 minutos a 200 grados centígrados.
Dejamos reposar un par de minutos y desmontamos el bizcocho. Retirando con cuidado el papel encerado improvisado.
Add the mixture to the tray and cook for 25 to 30 minutes at 200 degrees Celsius.
Let it rest for a couple of minutes and disassemble the cake. Carefully removing the makeshift wax paper.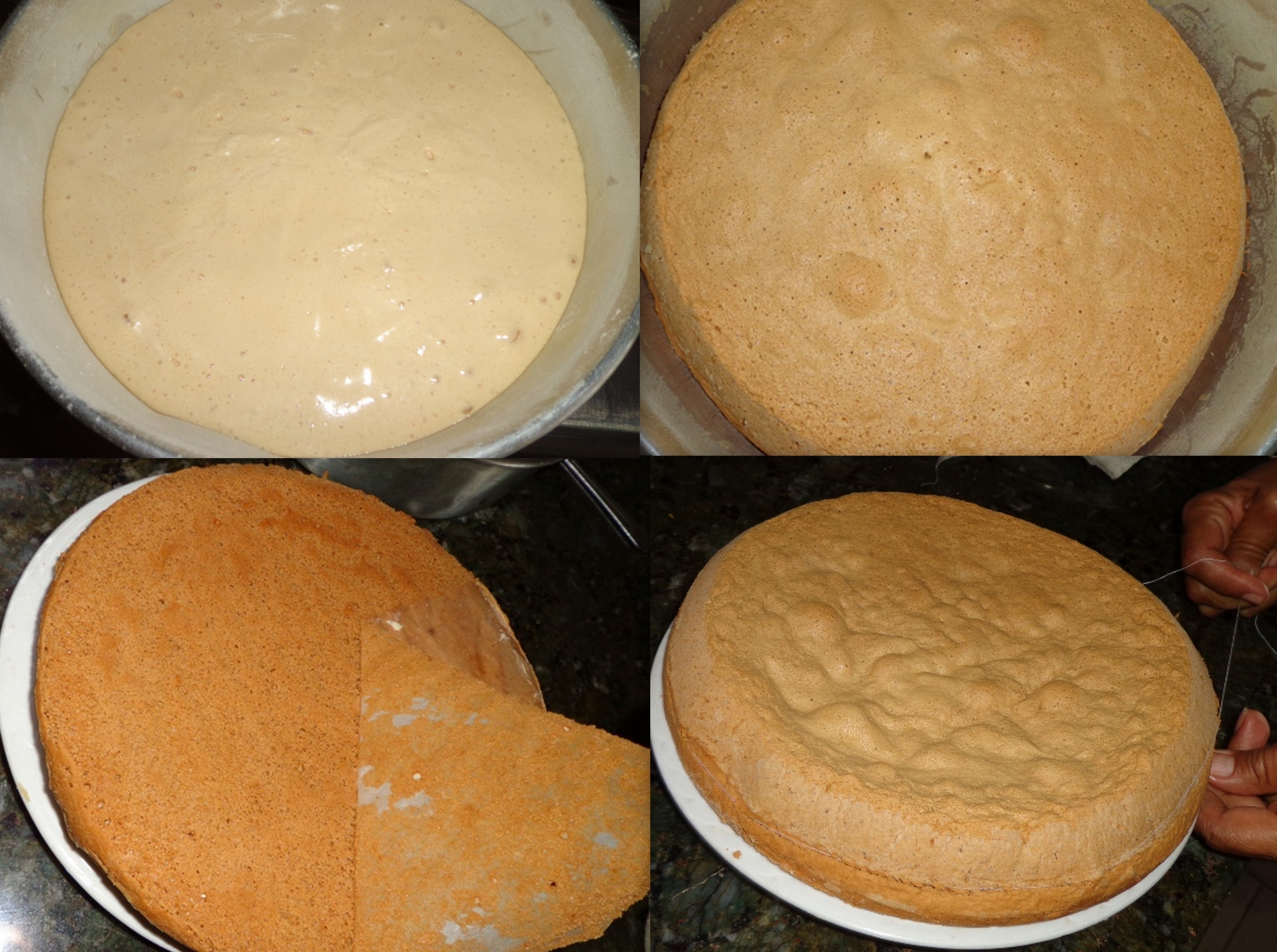 Fotografía tomada por @artmedina.
Empezamos a preparar el merengue. Sacamos toda la pulpa de la parchita. Separamos una cantidad mínima de la misma para motivo de decoración. El resto se licua.
We start to prepare the meringue. We remove all the pulp from the passion fruit. We separate a minimum amount of it for decoration purposes. The rest is liquefied.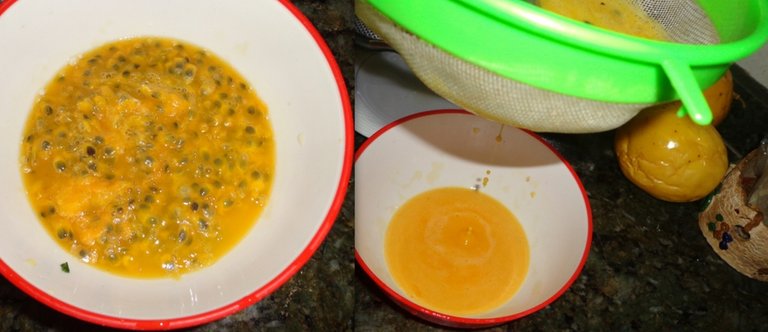 Fotografía tomada por @artmedina.
Ya después de haber colado toda semilla de la parchita. Añadimos el azúcar y vamos cocinando a fuego lento.
Already after having strained all the seeds of the passion fruit. Add the sugar and cook over low heat.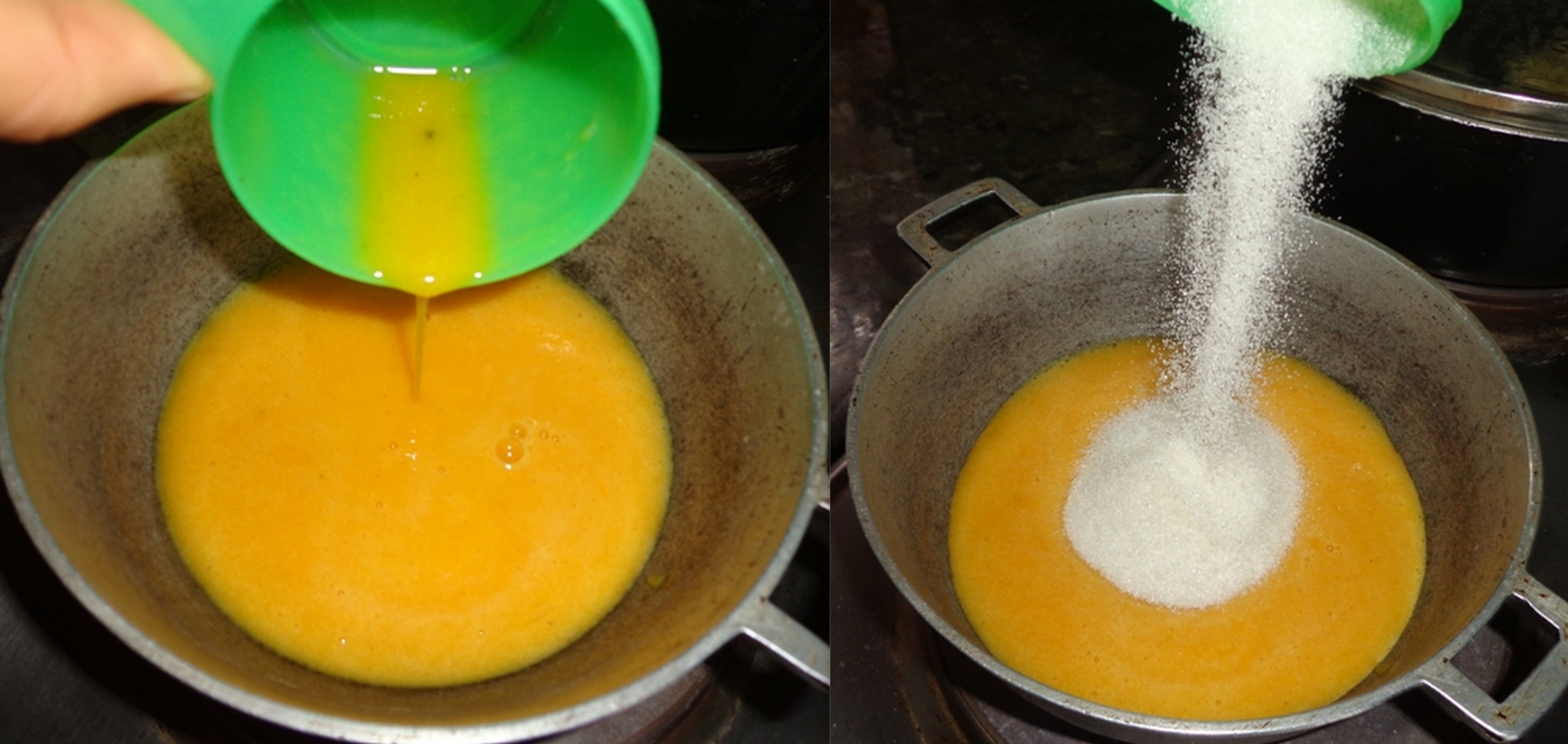 Fotografía tomada por @artmedina.
Diluimos con un poco de agua la cantidad de maizina y agregamos a la mezcla. SEGUIMOS BATIENDO.
We dilute the amount of cornstarch with a little water and add to the mixture. WE KEEP BEATING.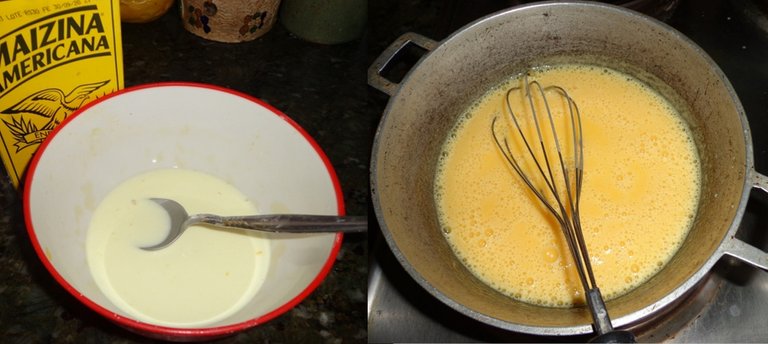 Fotografía tomada por @artmedina.
Solo estará en cocción un par de minutos, solo hasta obtener esta consistencia final.
It will only cook for a couple of minutes, just until it reaches this final consistency.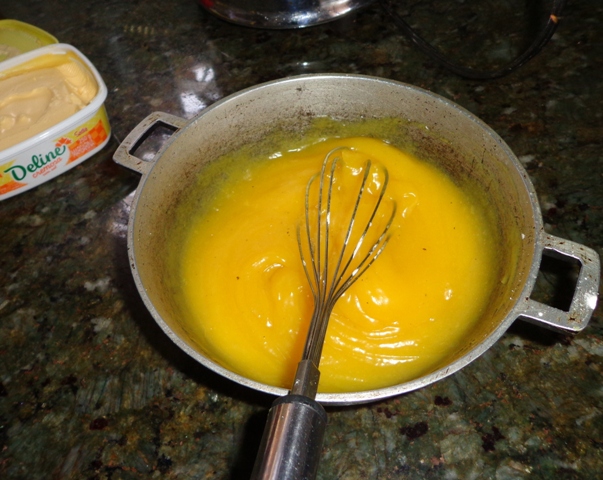 Fotografía tomada por @artmedina.
Que bonito quedo las dos partes del bizcocho. Agregue un sirope azucarado y con esencia de naranja. ¡Para humedecerlo y que forma tan deliciosa de hacerlo!
How beautiful the two parts of the cake are. Add a sugary, orange-scented syrup. ¡To moisten it and what a delicious way to do it!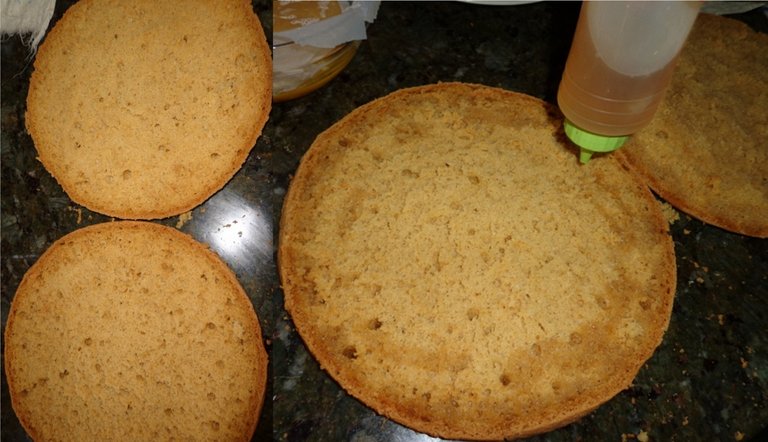 Fotografía tomada por @artmedina.
Rellenamos y cubrimos con el merengue de parchita. Por último colocamos el poco de pulpa que habíamos separado y guardado, para decorar por encima del bizcocho.
Fill and cover with the passion fruit meringue. Finally we put the little pulp that we had separated and saved, to decorate on top of the cake.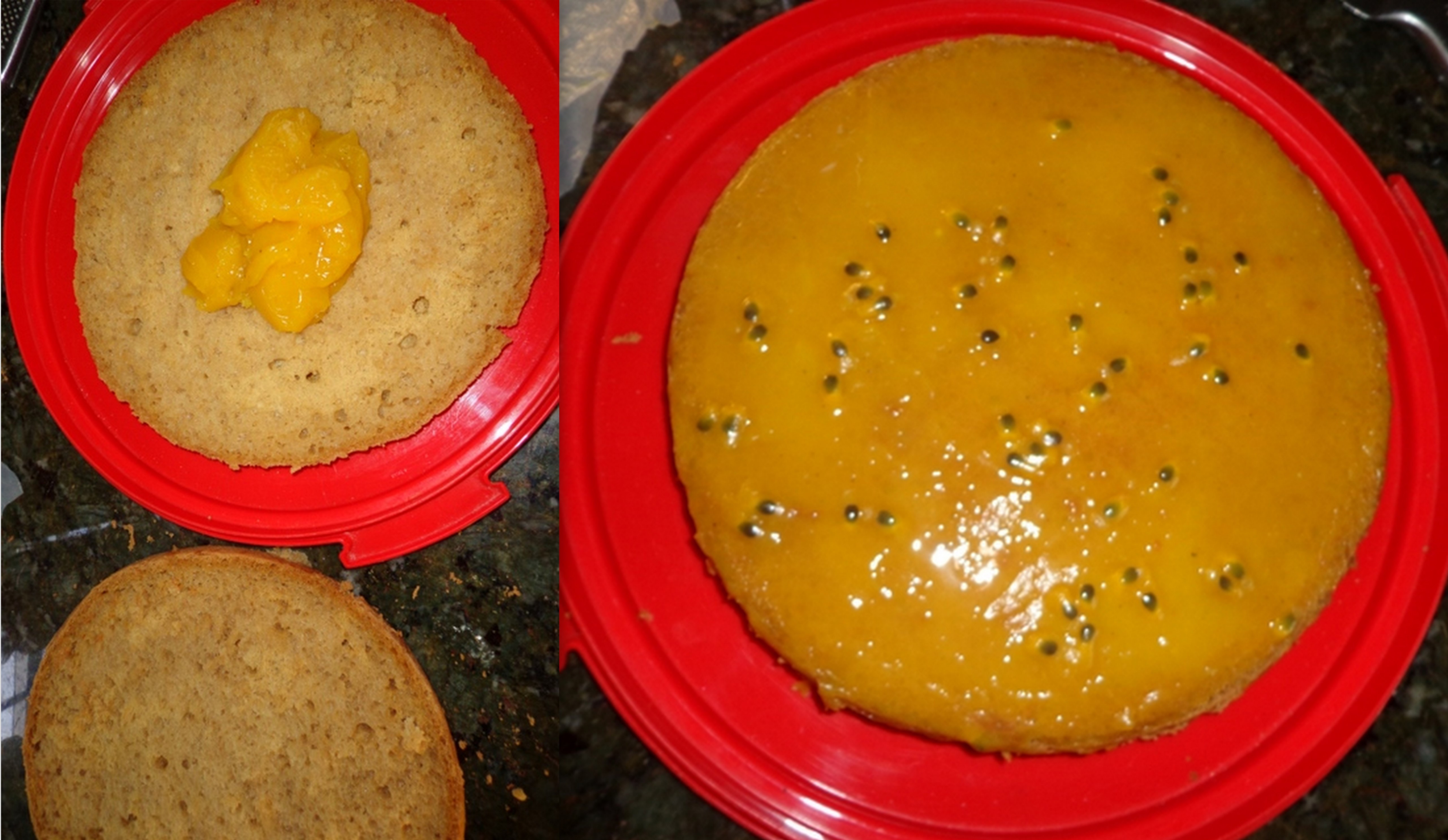 Fotografía tomada por @artmedina.
¡Genial! puede degustar a temperatura ambiente o refrigerado. Yo hice un esfuerzo sobrehumano de esperar por lo menos 30 minutos en la parte más fría de la nevera. Valio la pena la espera.
¡Es hora de servir en el compartir en honor a la amistad!
Great! You can taste it at room temperature or refrigerated. I made a superhuman effort to wait at least 30 minutes in the coldest part of the fridge. The wait was worth it.
It's time to serve in the sharing in honor of friendship!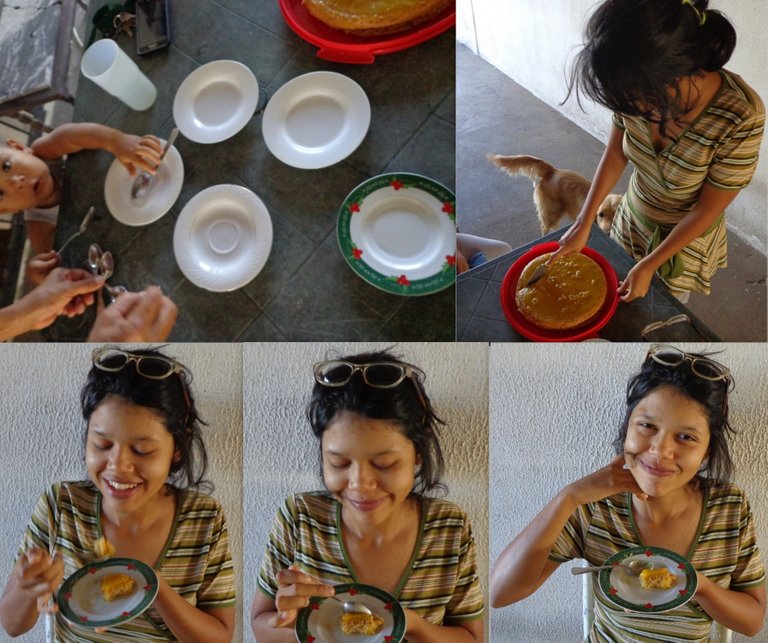 Fotografía tomada por @artmedina.
ESPERO QUE LES HAYA GUSTADO ESTA PUBLICACIÓN ¡BENDICIONES!
I HOPE YOU LIKED THIS PUBLICATION BLESSINGS!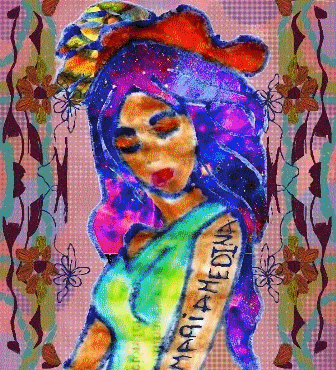 I hope you like it.
See you in the next post.
¡GRACIAS!
Copyright @artmedina - All rights reserved