---
A Plant-Based Pudding Recipe
Step by Step Cooking Tutorial with Food Photography
---
Jelly pudding is a mainstay dessert for many families because it saves money and is easy to make for sure.
For the jelly dish, here I use "AGAR-AGAR POWDER". It's a type of gelatin but a plant-based version made from seaweed. Thus, the "Agar-agar" dish which is chewy like jelly is believed to be good for digestive health.
The advantage of "Agar-agar" is that it is easy to mix with ingredients and tasteless so that the final taste of the dish will follow the other main ingredients. In my area available "Agar-agar" powder with a variety of color choices.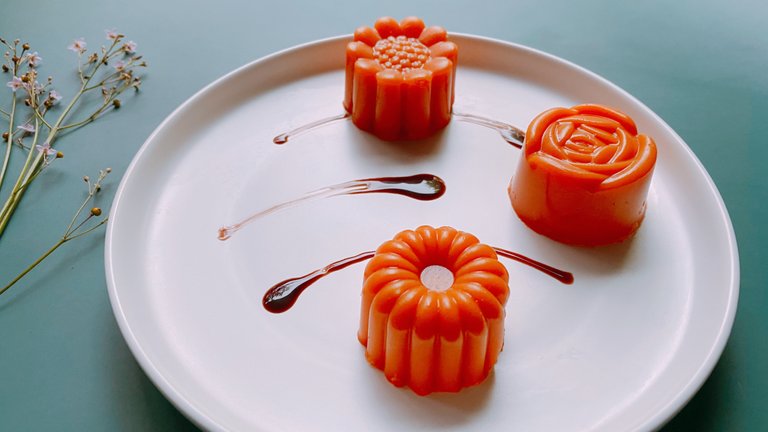 The colorless ""Agar-agar" powder is chosen if you want to highlight the main ingredient of the pudding. But choose other colors such as red, yellow, green, and so on to create a new color that you want, or to strengthen the color of the main ingredient of the pudding.
---
---
---
SWEET POTATO JELLY PUDDING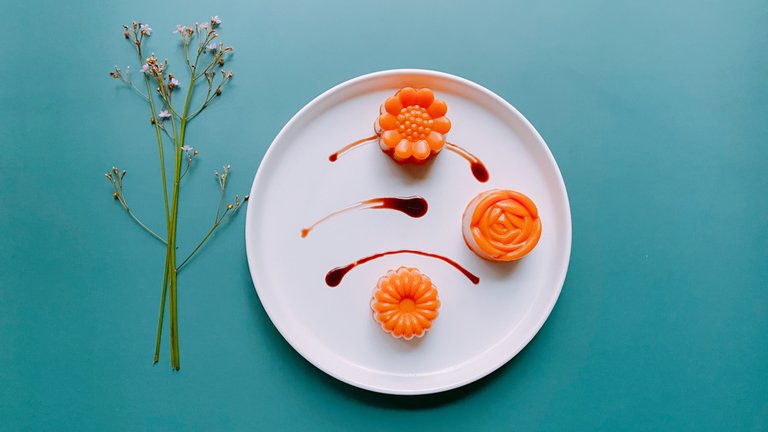 In this dessert recipe, I tried something new. As usual. To increase the collection of food recipes that are easy to make and save money.
For "Agar-agar" powder, I use red powder. It's like an accident. It's because I ran out of stock of white powder. Then the result made me happy beyond my expectations.
The Sweet Potato Jelly Pudding has a lighter color as if showing the original color of the orange sweet potatoes I used. From that accident, I finally learned something useful in the future.
---
---
---
THE INGREDIENTS
300 grams of boiled sweet potatoes
500 ml of coconut milk
50 grams of sugar, or depending on your taste.
7-10 grams of "Agar-agar" powder
A pinch of salt
1 teaspoon vanilla
---
---
---
COOKING INSTRUCTIONS
- Step 1
Boil or steam sweet potatoes that have been peeled and washed.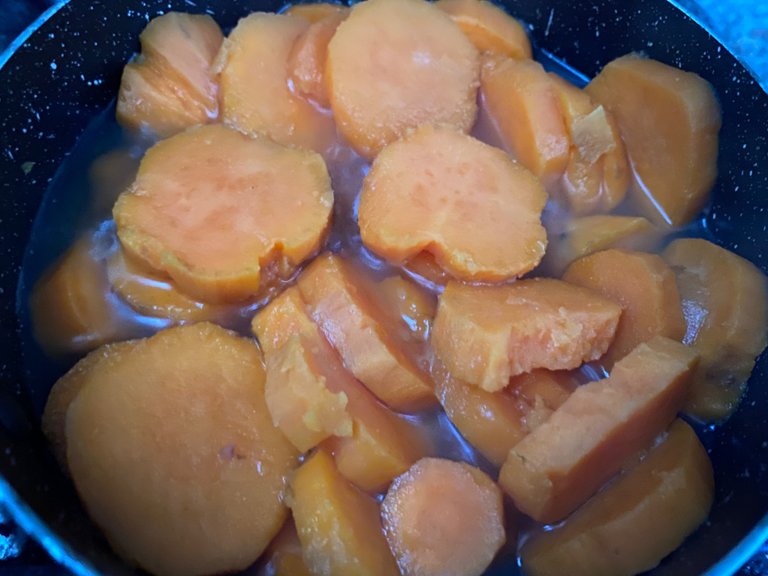 ---
---
---
- Step 2
Blend boiled/steamed sweet potatoes along with coconut milk and salt.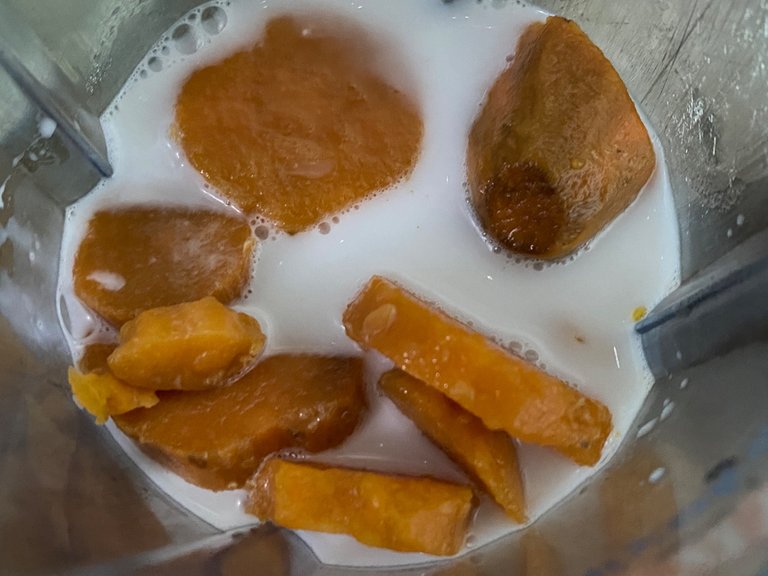 ---
---
---
- Step 3
Transfer the sweet potatoes blend to a cooking pan. Add "Agar-agar" powder, sugar, and vanilla.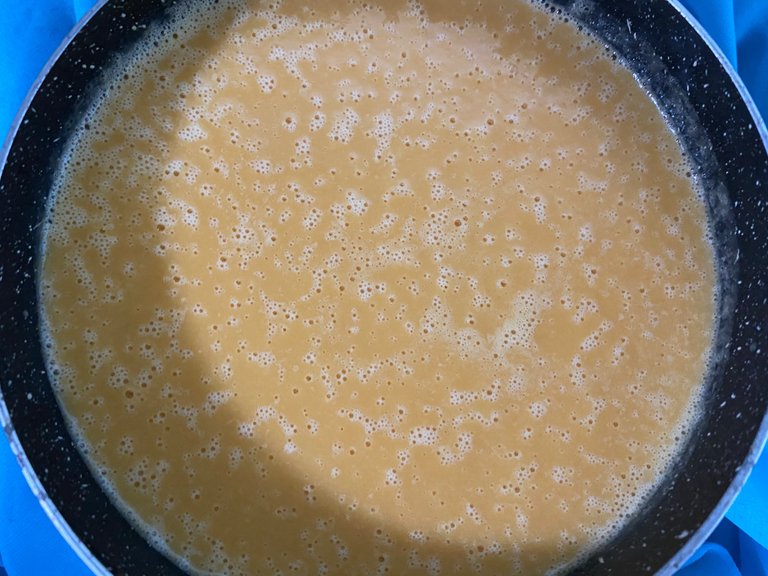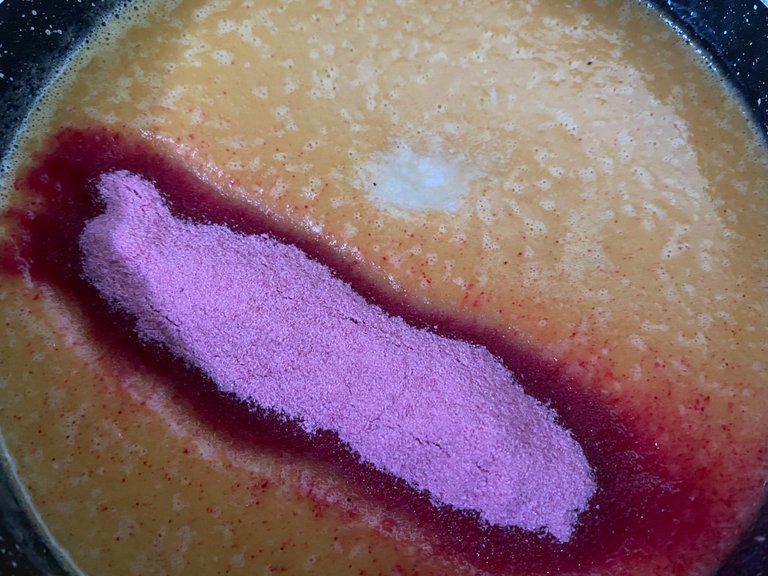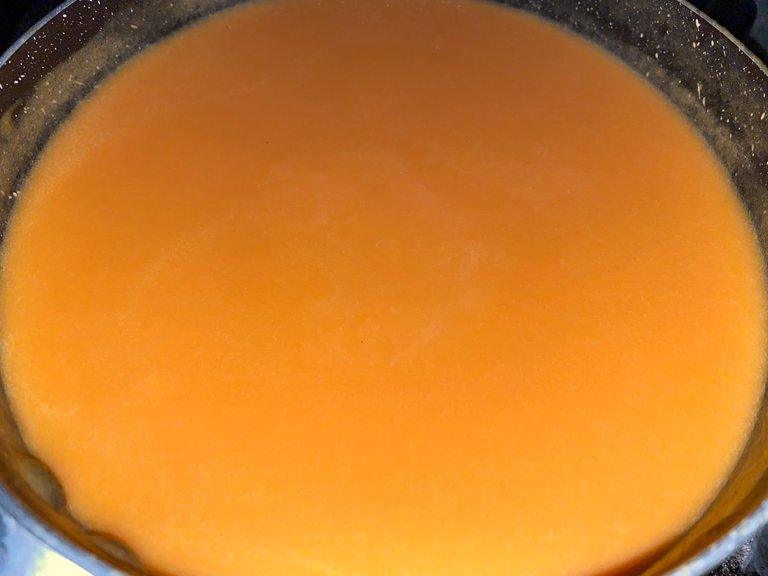 ---
---
---
---
- Step 4
Cook over medium heat, stirring constantly. Bring it to a boil until bubbles appear on the surface.
If the "Agar-agar" powder mixture is not cooked to a boil properly, it will cause the "Agar-agar" mixture to fail to form into a jelly-like shape.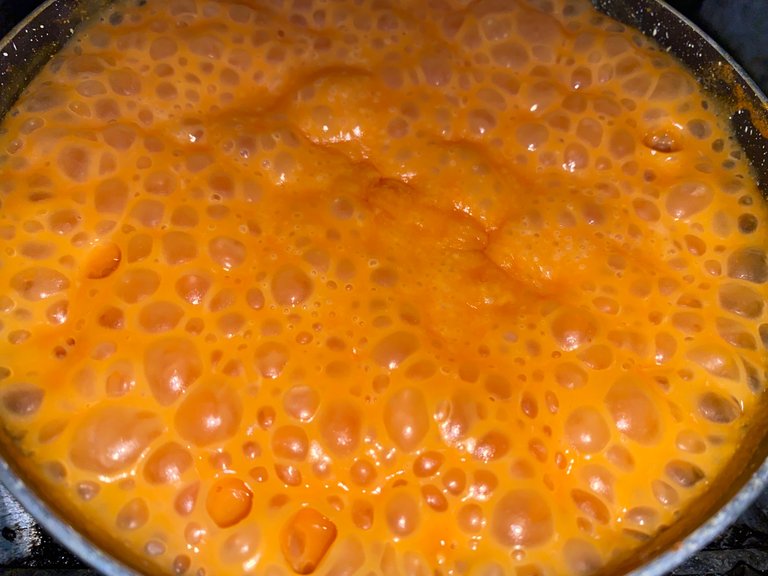 ---
---
---
- Step 5
Remove the "Agar-agar" mixture then put it in the pudding mold. Wait for it to cool, then store it in the refrigerator at least 2 hours before serving.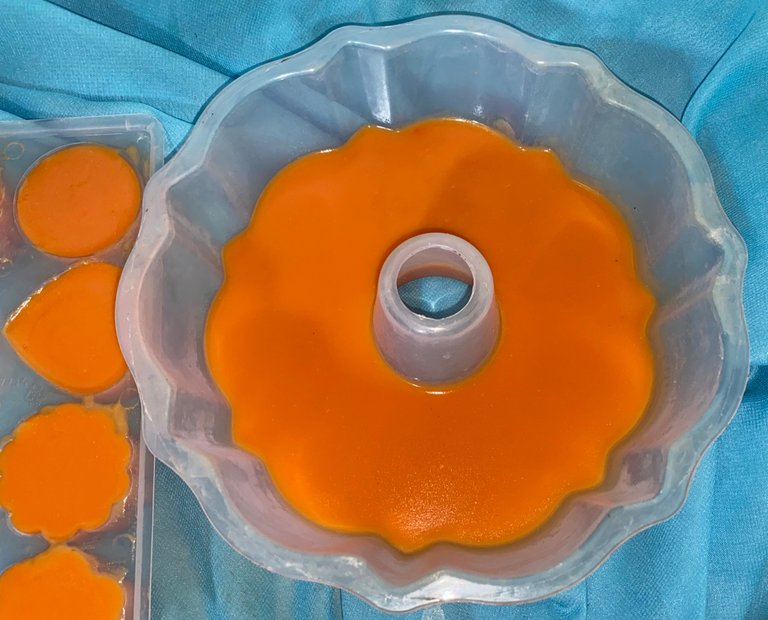 ---
---
---
Sweet Potato Jelly Pudding is ready to be served.
---
---
---
PLATING
A good time and improve my mood. Plating!
Since my Sweet Potato Jelly Pudding uses molds in the shape of several types of flowers, it's not difficult to present them in the simplest way.
Here I present two different versions of plating. Hope you guys like it.
---
Decorated with Chocolate Sweetened Condensed Milk and Fruits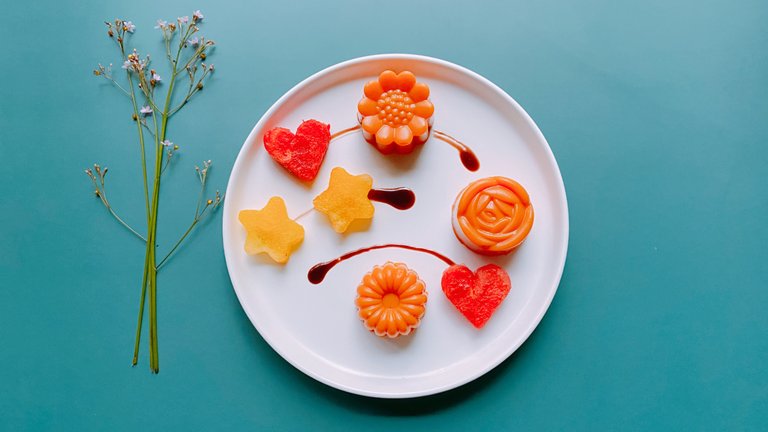 I use a white serving plate so using chocolate-sweetened condensed milk can be an interesting advantage.
I formed a long comma-like chocolate-sweetened condensed milk.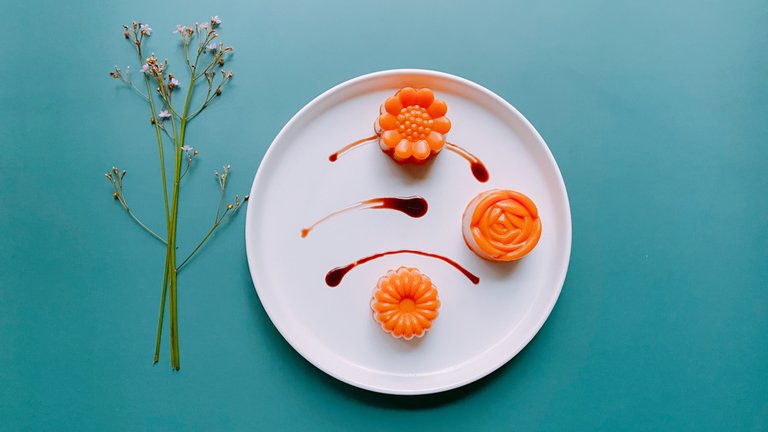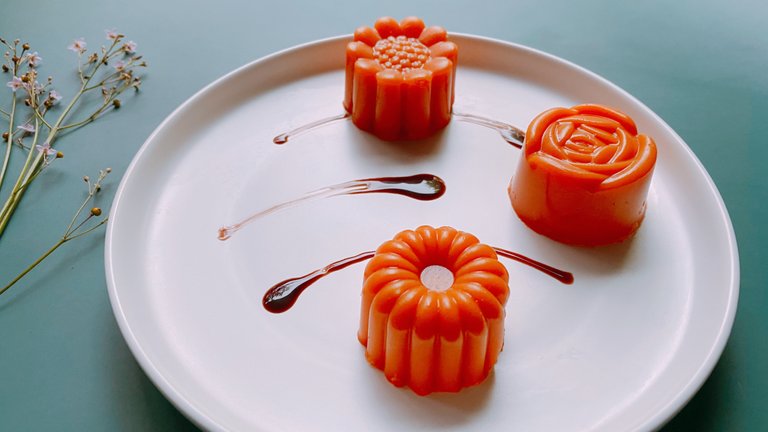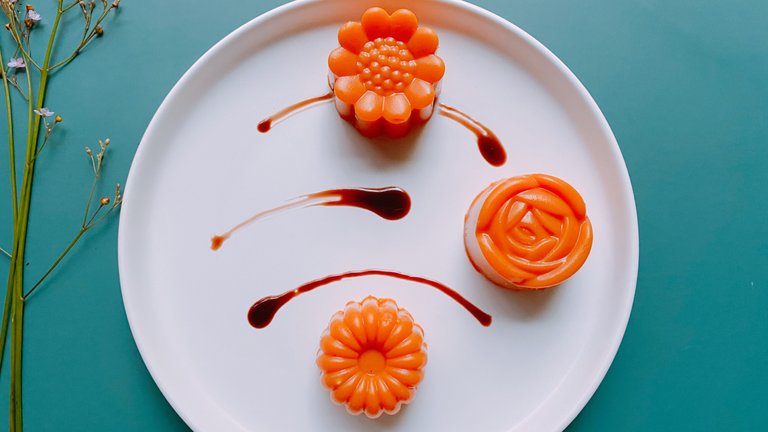 ---
I pay attention to the results. It looks very simple, but stunning.
---
---
---
Then I tried to add a little detail with the formed fruit.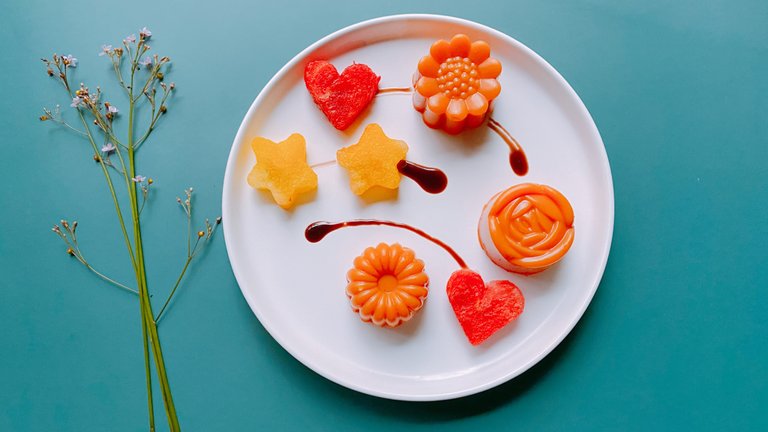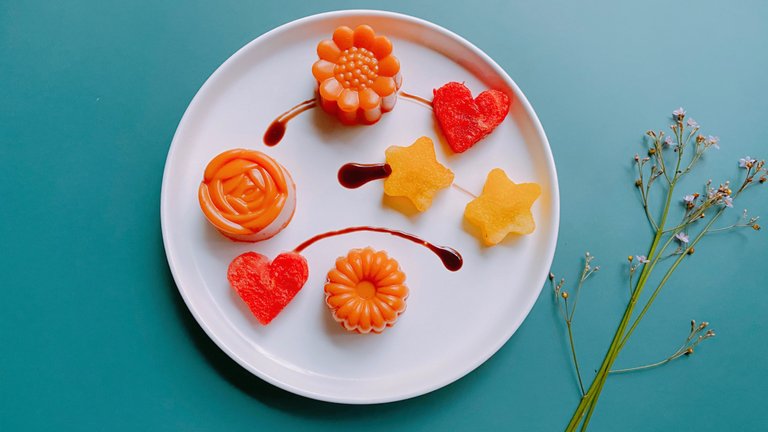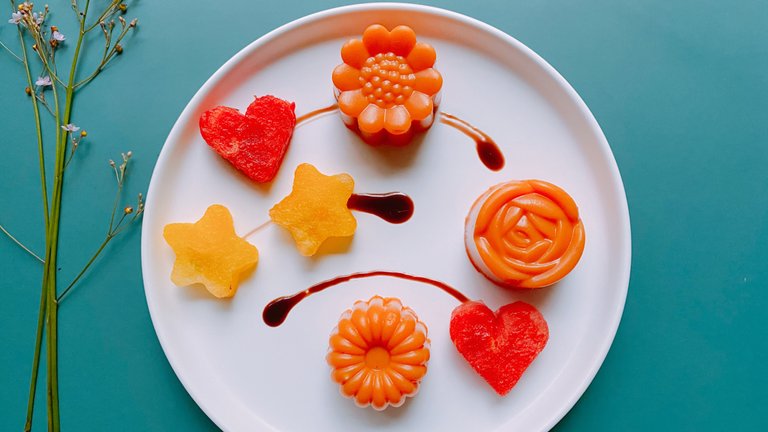 ---
I added a red watermelon and a yellow watermelon which I shaped to resemble a star shape and a heart shape.
---
---
---
Added Coconut Bowl
When making Sweet Potato Jelly Pudding, I made coconut milk manually using the traditional grater tool. So I have a coconut shell which I grate the coconut meat to make coconut milk.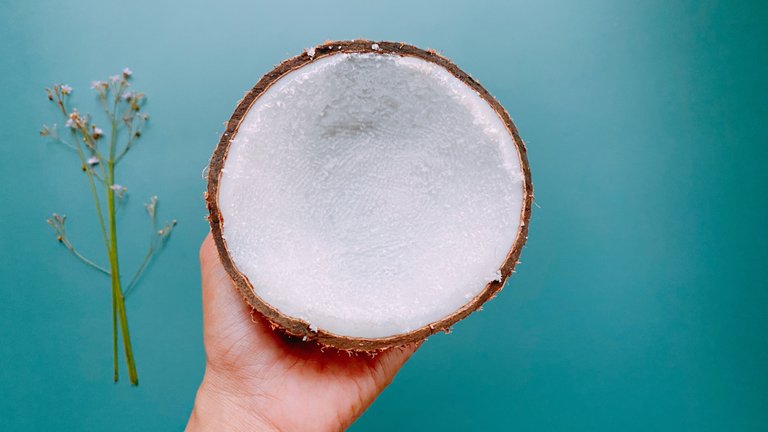 This is a coconut bowl that is still fresh and still leaves a little mature coconut meat.
The results seem to be enough to increase the aesthetic value of the food that I made in a simple way.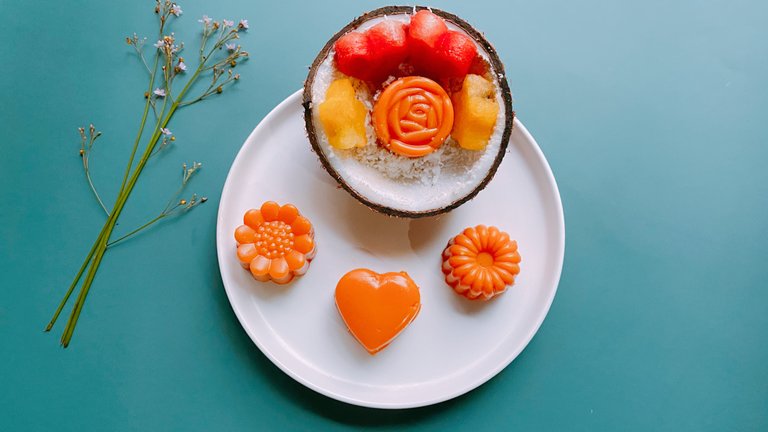 ---
---
---
ABOUT THE TASTE AND TEXTURE
Because my "AGAR-AGAR" dish this time is a type of pudding that uses coconut milk, the texture is not as chewy as usual jelly. The texture of Sweet Potato Jelly Pudding is smooth and has a sweet taste.
I didn't expect Sweet Potatoes to make such a delicious pudding dessert. I hope you can try this recipe in the future.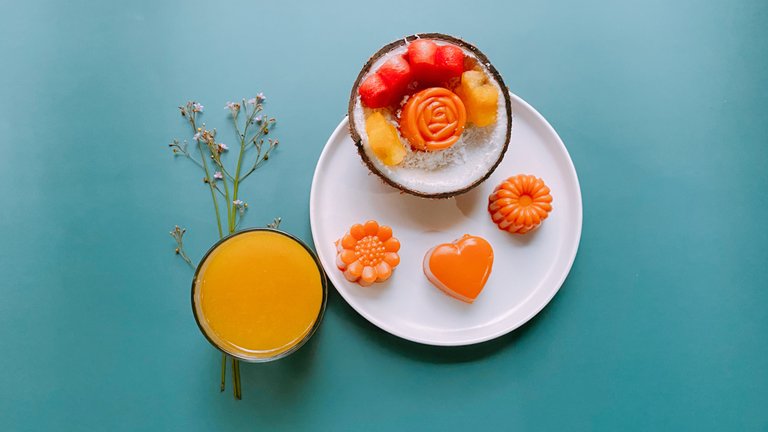 ---
---
---
Best Regards,
Anggrek Lestari
---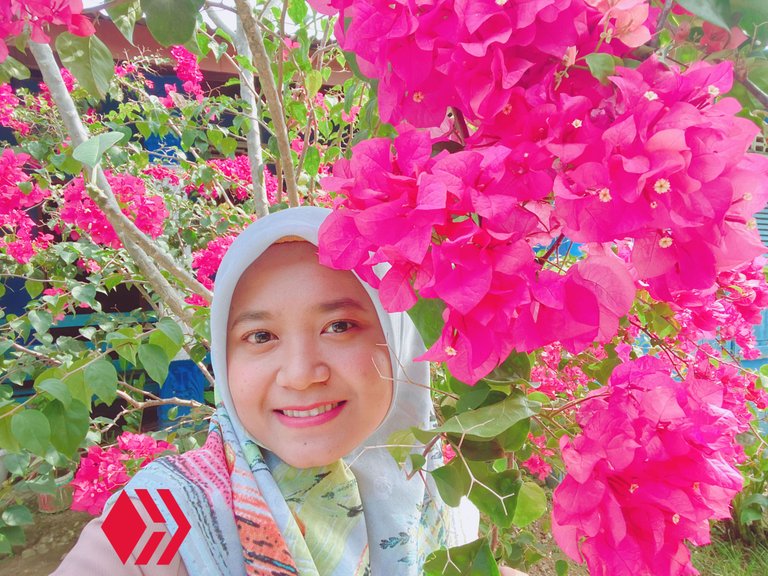 Who is Anggrek Lestari?
Anggrek Lestari is an Indonesian fiction writer who has published two major books. Now She is a full-time content creator. She has a goal to share food content that makes others happy and can get inspiration for foods that are easy to make and contain elements of health.
Make sure you follow her blog as well for some interesting discussions about life other than food.
If you need a copywriter for your projects, Anggrek Lestari will be ready to help you.
Contact Person: authoranggreklestari@gmail.com
Discord: anggreklestari#3009