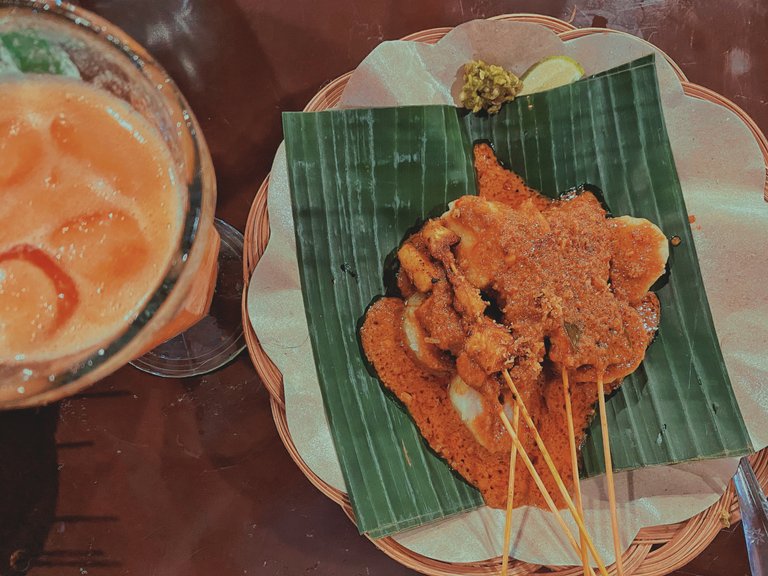 This fun journey of taste will bring you to an authentic taste of Indonesia. I have visited a local cafe in my city, with my mother to celebrate Mother's Day in Indonesia.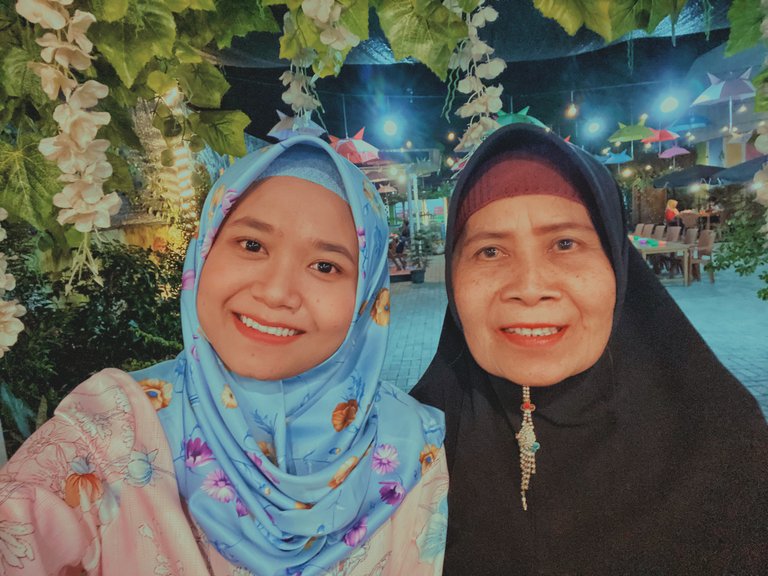 The cafe is called "Mak Nyuus". The name of the cafe means "delicious" in Indonesian slang.
I've been to this cafe tonight, and I think it's even better. But if you want to visit during the day, that's fine too. I just prefer lots of lights and my mother has something in common with me. We are seekers of the beautiful night lights.
Let's start this taste journey. Stay tuned!
---
About the Cafe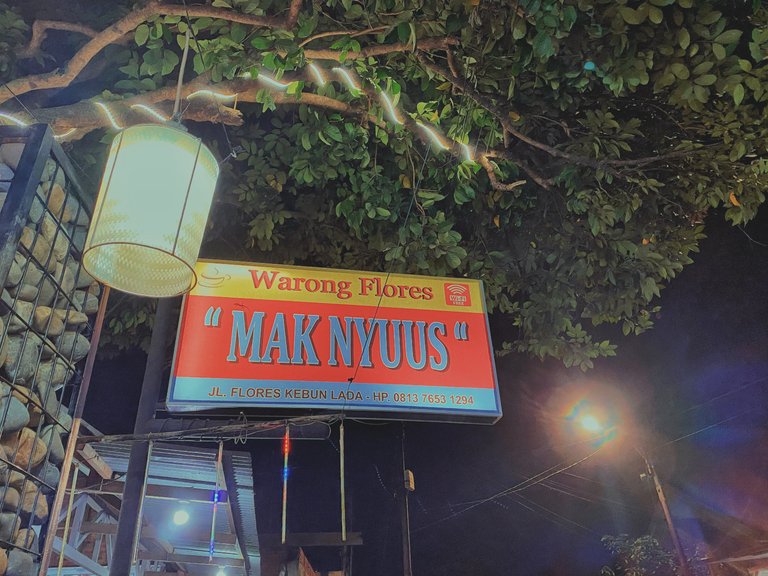 This cafe is located in a small town, North Binjai city, North Sumatra Indonesia, which has quite a large area of ​​land.
"Mak Nyuus" cafe carries the concept of family warmth. So we can see that the location is designed to be friendly for children.
There are many children's play spots, so this cafe is perfect for culinary tourism with family. Kids can play if the parents are having an important chat at the dinner table, so the kids don't get bored.
The cafe "Mak Nyuus" wants to provide an inexpensive entertainment venue for villagers. It is also marked by the foods they serve, comfort food for the local people.
---
Place Decoration
Let's start at the cafe front area. The front area of ​​the cafe has less space for cars and more parking for motorbikes.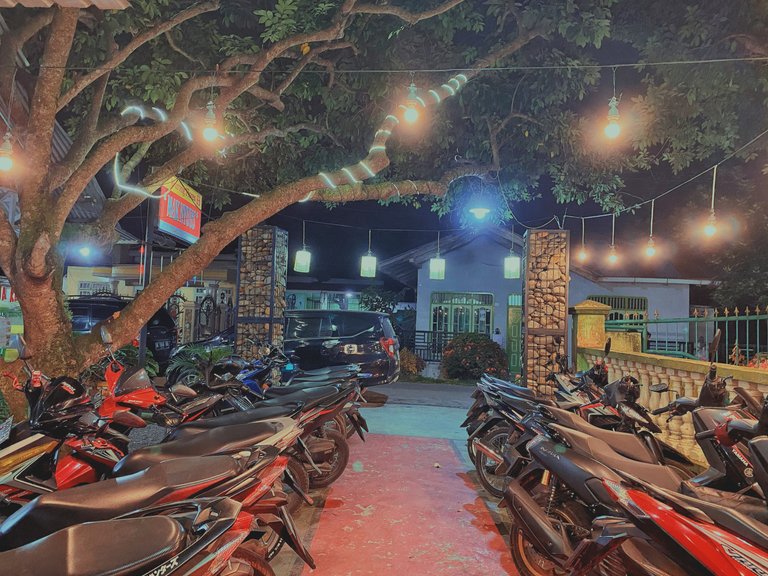 The parking lot is in an area in the same direction as the main entrance gate. So visitors don't waste time walking in the same direction.
At the top of the parking lot, we see a lot of lighting arrangements which make this cafe nice at night and warm.
"Mak Nyuus" carries the concept of semi-outdoor decoration. Visitors will sit in an area that has a roof, but without walls. Visitors can also sit in an area without a roof.
Visitors will have a broad and unlimited view. On the open ceiling, there are many brightly colored umbrellas to accentuate the cheerful impression, so that the children will feel comfortable in this place.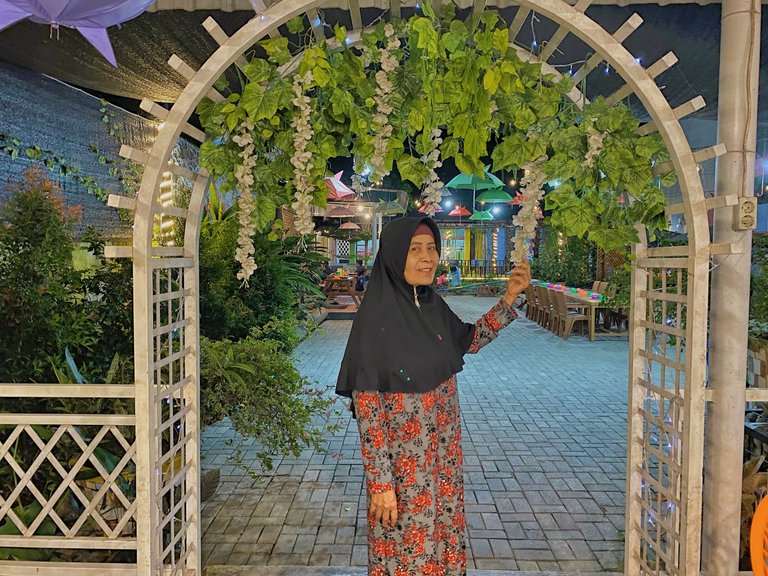 In various corners and entrances, there are also many flowers that are suitable as photo backgrounds for visitors who like to take pictures.
---
Food Provided
The cafe "Mak Nyuus" provides Indonesian specialties, such as satay, meatballs, and fried rice. For the drink, there are various juices from local fruits.
Let's take a look at the food we ordered at that time.
---
Chicken Satay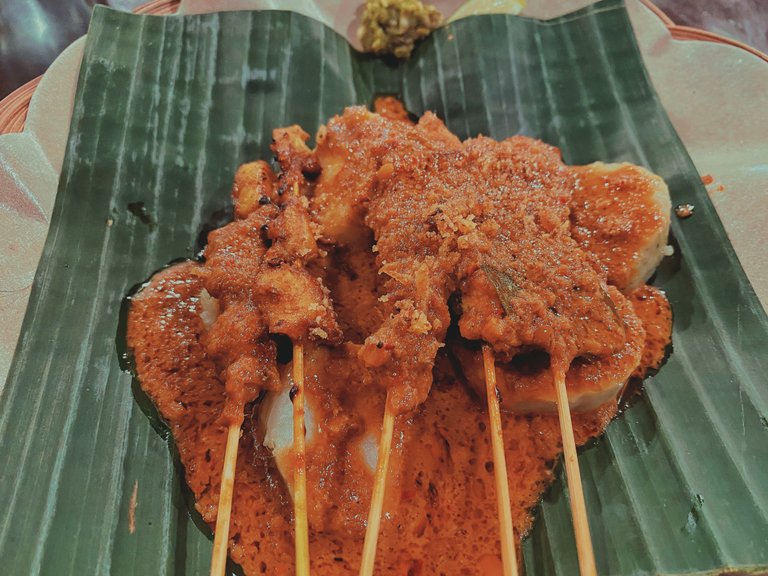 This is the chicken satay that I ordered. My mother and I chose the same menu at that time. Because we have the same taste.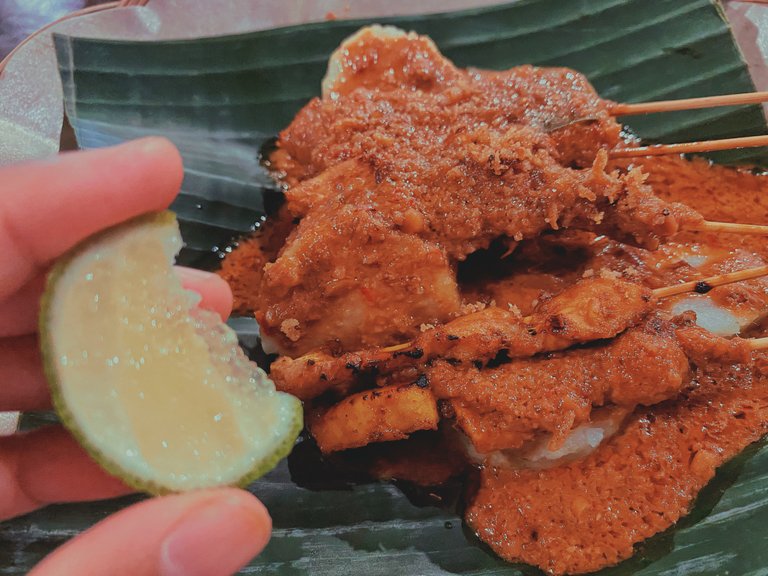 Chicken satay served with rice cakes (in Indonesia called Lontong), which is doused with peanut sauce.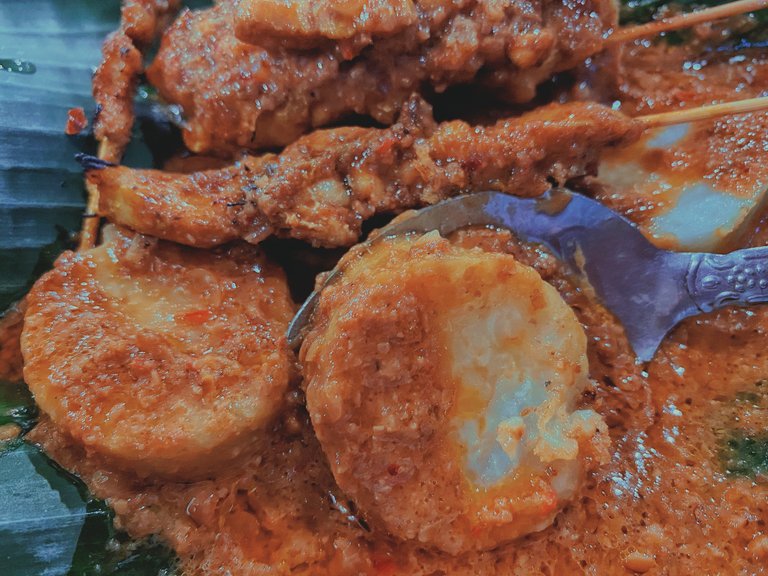 For the choice of satay ingredients, we can choose chicken or beef.
The taste is quite good but not very good in its class. But there's nothing to complain about this satay.
---
Grilled Meatballs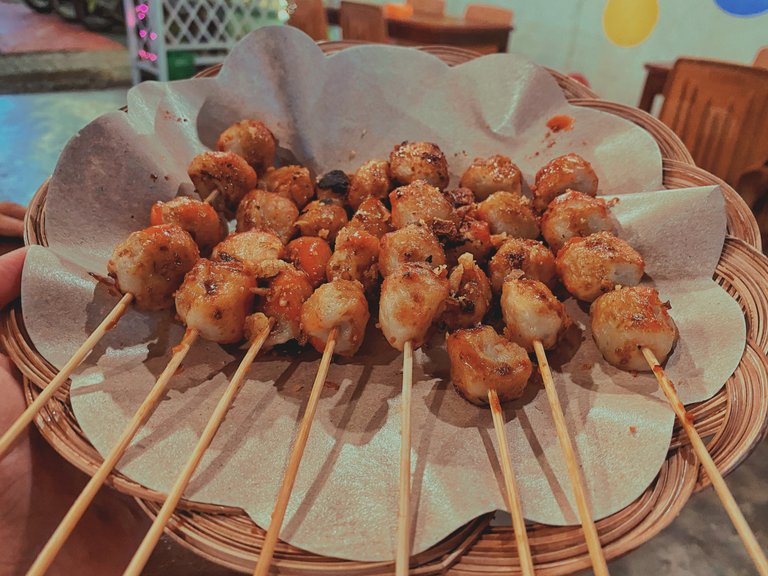 We also ordered a grilled meatball snack at that time. The texture of the meatball is chewy and has a spicy taste, a popular taste here.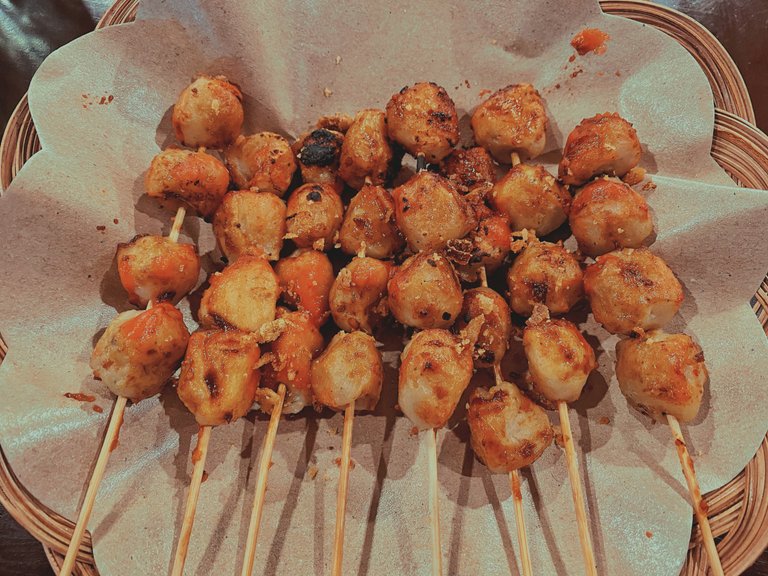 There is a sprinkling of tasty and fragrant fried onions on top of the grilled meatballs that are served.
---
---
---
Tamarillo and Passion Fruit Juice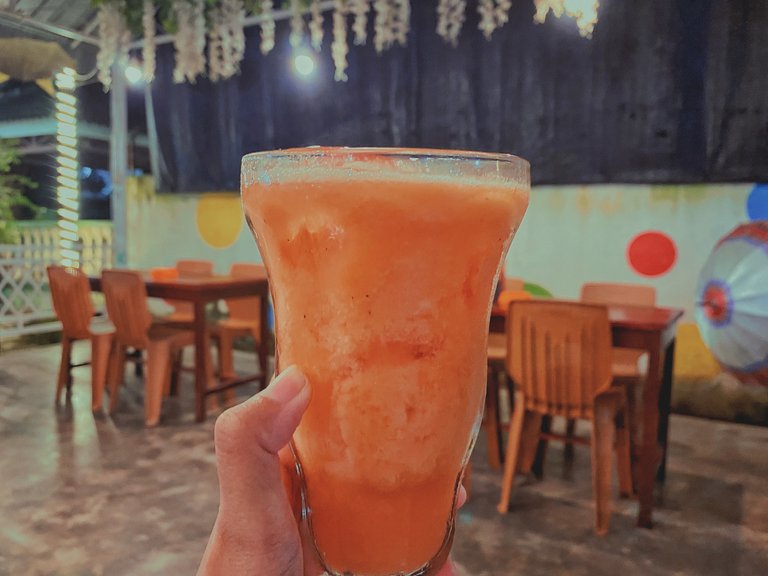 For drinks, at that time we ordered Tamarillo with Passion Fruit Juice. This type of juice is popular in our city. The North Sumatra region is famous for the good quality of Tamarillo and Passion fruit.
---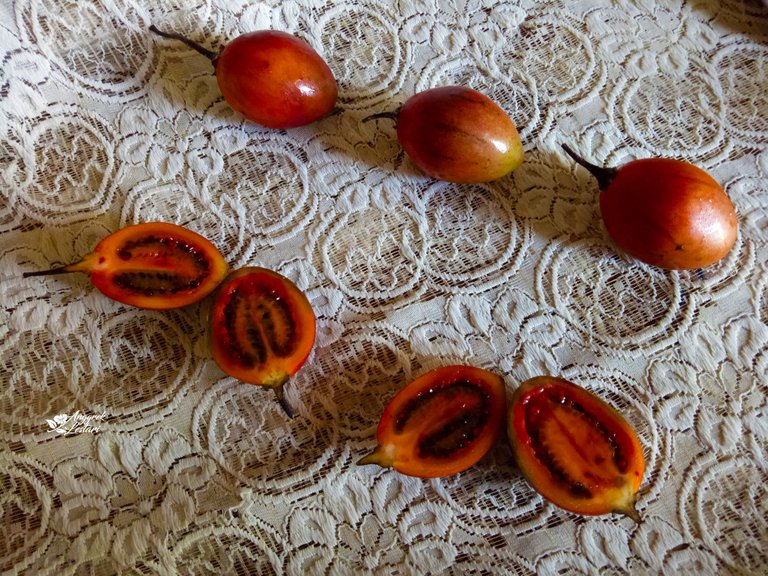 This is the Tamarillo fruit from my personal documentation.
---
Tamarillo is popular as a juice and can be mixed with other fruits that have the same antioxidant elements, such as plums, tomatoes, oranges, or peaches.
Tamarillo is quite exotic with its sexy fresh taste! Worth a try if you find this fruit in your area.
Tamarillo is also delicious juiced without a mixture of passion fruit. However, I recommend Tamarillo mixed with passion fruit for the perfect juice.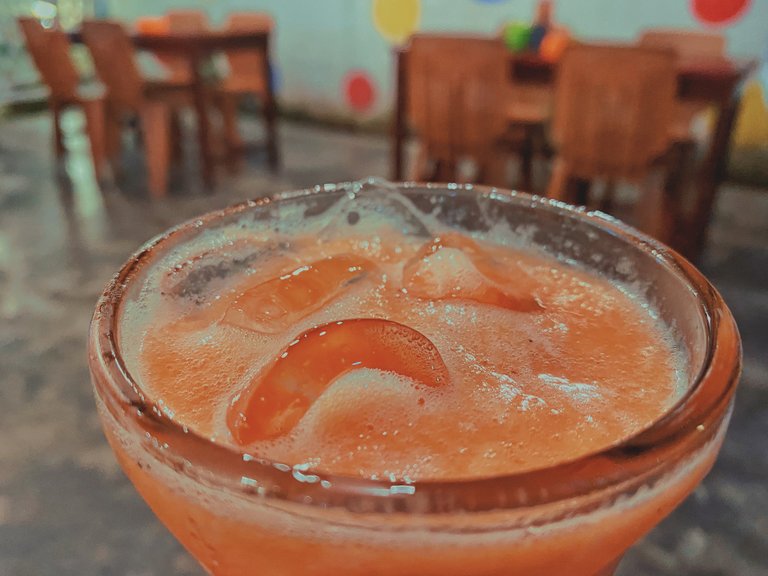 These two fruits will be perfectly fresh when combined together. A fresh sour taste and a little sweet. But you can add more sugar to better balance the sour taste to be acceptable to the tongue.
---
End of Step
We love to visit The cafe "Mak Nyuus" which is close to our house. We were able to celebrate Mother's Day at that time in a simple but fun way.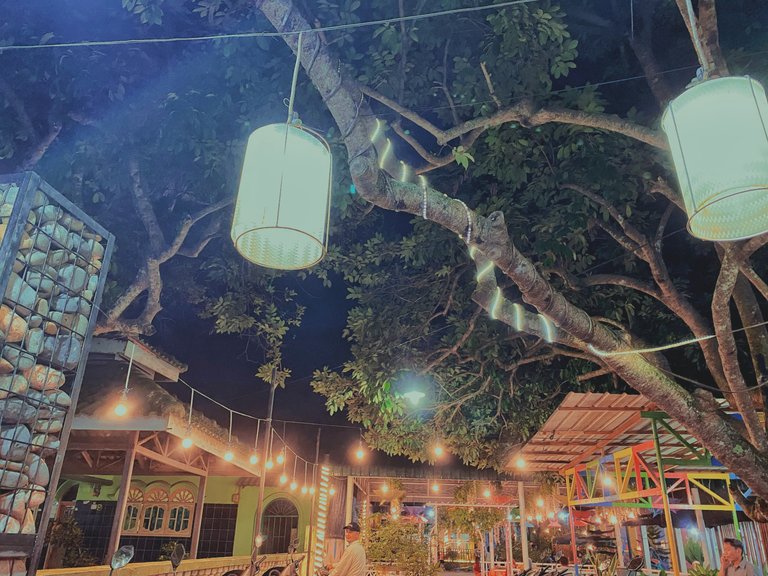 The cafe "Mak Nyuus" is also suitable for reservations as a location for large family gatherings. Its wide and quiet location makes this place easier for your business with your family or with your co-workers when you need a meeting place.
---
That was my taste journey at The cafe "Mak Nyuus", North Sumatera Indonesia. I think my journey will not stop here. Keep up with my food blog.
LOCATION
Warung Flores
Mak Nyuus, Binjai, North Sumatera, Indonesia.
---
Regards,
Anggrek Lestari.
---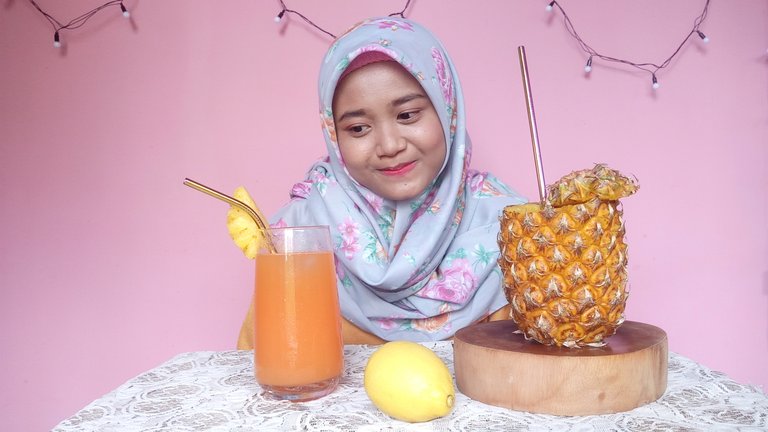 If you like my food content and want to support me at the next level, you can send me BTC or ETH or even HIVE/HBD. Thank you so much!
BTC Address: 1JkuWUJvK6bjkm6D3ZhtEdpaeSQUn7YLuU
ETH Address: 0x42bb580e4660daa7f578c2741027abc6f062ef46