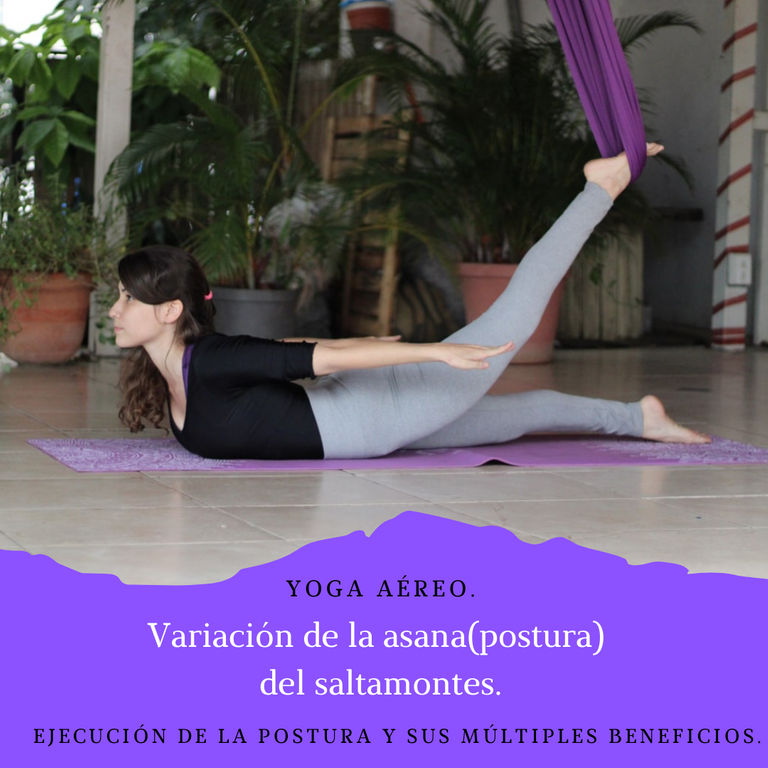 SIGNIFICADO DE SALABHASANA.
En sanscrito:
Salabha: saltamontes o langosta.

Asana: postura.
---
Se le llama saltamontes porque la postura es similar a la de este insecto. Los yoguis de hace siglos e incluso milenios, que a menudo elegían los nombres inspirándose en la Naturaleza, pusieron este nombre a la asana.
It is called grasshopper because the posture is similar to that of this insect. Yogis of centuries and even millennia ago, who often chose their names based on Nature, gave this name to the asana.

SALABHASANA
POSTURA DEL SALTAMONTES.
Beneficios de la asana(postura):
La Salabhasana tiene múltiples beneficios.
Favorece la digestión y alivia los trastornos gástricos y la flatulencia.

Flexibiliza la columna vertebral.

Fortalece los gluteos, las piernas, los abdominales. la columna vertebral y los brazos.

Mejora la postura.

Alivia el estres.
Benefits of the asana (posture):

The Salabhasana has multiple benefits.

Promotes digestion and relieves gastric disorders and flatulence.
Makes the spine more flexible.
Strengthens the buttocks, legs, abs. the spine and arms.
Improves posture.
Relieve the stress.

Paso a paso:/ Step by Step:
Acuéstate boca abajo con la quijada en el suelo, apoya empeines sobre el columpio. Lleva los brazos extendidos hacia atrás y las palmas de las manos apuntan hacia el suelo. Eleva la cabeza, parte superior del tronco y brazos, manteniendo los pies en el columpio. Levanta los brazos paralelos al suelo empujando hacia arriba y extendiendo desde las puntas de los dedos. Junta los omóplatos a la espalda y extiende los hombros.
Lie face down with your jaw on the ground, support your insteps on the swing. Bring your arms extended backwards and your palms point towards the ground. Elevate your head, upper body, and arms, keeping your feet on the swing. Raise your arms parallel to the ground by pushing up and extending from your fingertips. Bring your shoulder blades to your back and extend your shoulders.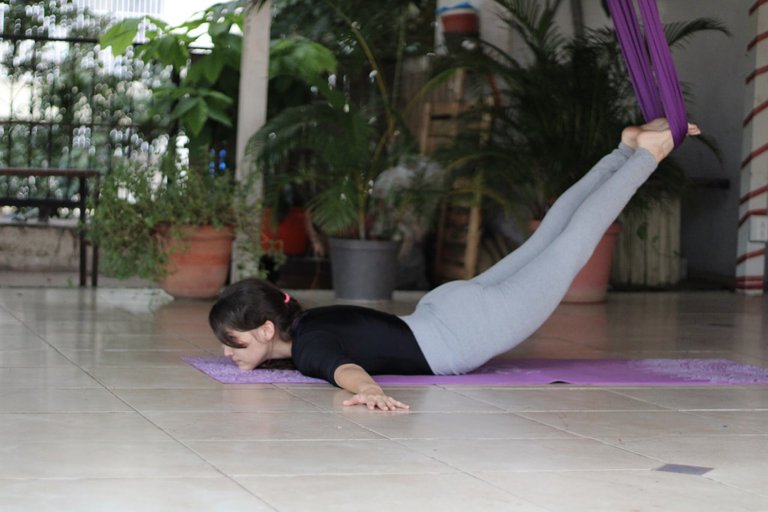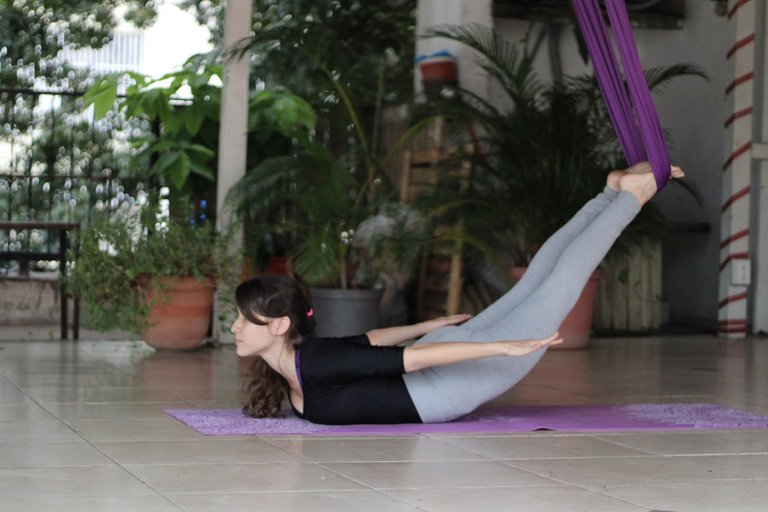 VARIACIÓN ARDHA SALABHASANA./
MEDIA POSTURA DE SALTAMONTES.
Paso a paso:/ Step by Step:
Acuestate boca abajo, con la quijada apoyada en el suelo. Eleva una sola pierna y apoya el pie sobre el columpio. Simultaneamente eleva los brazos, el pecho y la cabeza.Junta los omóplatos a la espalda. y extiende los hombros.
Lie face down, with your jaw resting on the floor. Raise one leg and rest your foot on the swing. Simultaneously raise your arms, chest and head, bringing your shoulder blades to your back. and spread your shoulders.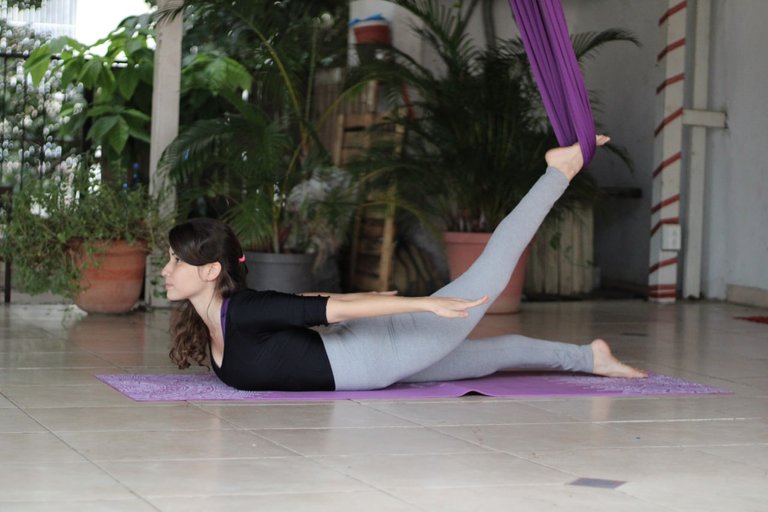 Contraindicaciones:
Si estas embarazada no realizar esta postura.

Hernia discal o de hiato.

Dolor o lesión en la espalda: como se elongan los músculos de la misma y las vértebras hacen un esfuerzo.

Dolor de cuello o de cabeza.
Contraindications:

If you are pregnant, do not perform this position.
Herniated disc or hiatus.
Back pain or injury: as the back muscles stretch and the vertebrae make an effort.
Neck or headache pain.