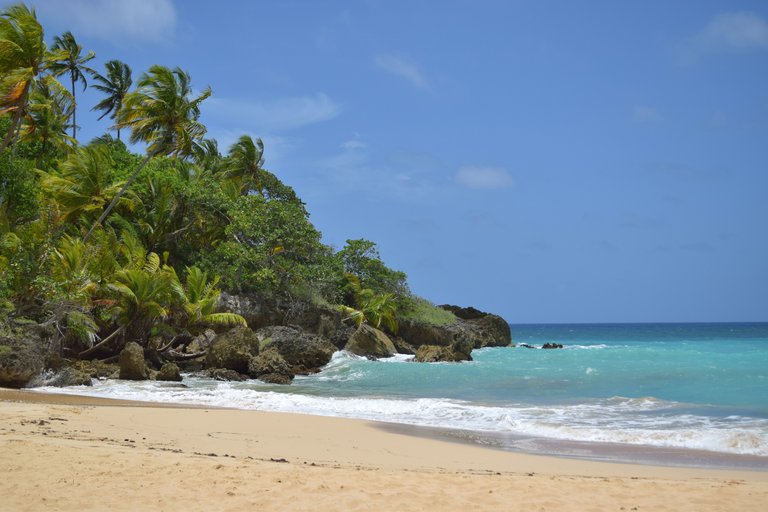 Playa Preciosa beach, Dominican Republic. Taken with Nikkon 3300: f/5 1/1250sec ISO-100.


My before sleep meditation
I'm not going to tell you that i practice this every day before going to bed because i would be lying, but i can say that i have within my goals to do meditation before going to bed and a daily yoga session in the morning. But at the moment i only meditate when i can't sleep, or i need to relax to rest.
In my case, i'm relatively new to this world, iI've only been practicing for a year and the truth is that i recommend it to anyone. Both yoga and meditation help us to find inner peace and to empty our minds. Many people say that yoga is for quiet people, but it's the opposite... we troublemakers are the ones who most need to learn to control our emotions and release our energies.
For this reason i leave you with my meditation ritual, in case it can work for you too.

Mi meditación antes de dormir
No te voy a decir que lo practico todos los días antes de acostarme porque estaría mintiendo, pero si puedo decir que tengo dentro de mis metas realizar meditación antes de acostarme y una sesión de yoga diaria en la mañana. Pero por el momento solo medito cuando no puedo dormir, o necesito relajarme para descansar.
En mi caso, soy relativamente nueva en este mundo, tengo solo un año practicando y la verdad es que se lo recomiendo a cualquiera, tanto el yoga como la meditación nos ayudan a encontrar paz interior y a vaciar la mente. Mucha gente dice que el yoga es para gente tranquila, pero es todo lo contrario... nosotros los revoltosos son los que más necesitamos aprender a controlar nuestras emociones y liberar las energías.
Por esta razón te dejo mi ritual de meditación, por si te puede funcionar a tí también.
---
Video from Cassio Toledo. Source
Click on the video, set the volume to your preference and lie down in a comfortable place, preferably your bed.
Imagine that you are on a beach in the Dominican Republic, there is only the sand, the waves of the sea and you lie in a hammock.
Suddenly you see a small flash of light that comes out of the sand and approaches your feet, you don't get scared because you know that it is the flash of peace that comes to help you. You feel it tickling the soles of your feet, it goes through your toes one by one relaxing them, goes up to your ankles and all your attention is there. If you have any thoughts in your mind right now delete them and concentrate on the flash. It frees your ankles and relaxes them. Then keep going up your legs and turn your calves over, feel it reach your knees and stop, they seem to be tight, release them. It continues its journey up your thighs relaxing your legs completely, it reaches your waist and you feel its presence, before you had not paid attention to it but now you realize that it is tense, for that reason the flash is agitated so that you release all that tension until your legs are totally released.
It follows its path towards your abdomen and tickles you to release the pressure you're putting on it, suddenly it jumps to your right hand, it draws attention to your fingers, if your hand is upside down, it invites you to put it upside down. Jump from your thumb to the index finger, then move to the middle finger, followed by the ring finger and ends in the little finger, now everyone is relaxed, so go up to the wrist, feel all the pressure you have there and with a brief tickle releases you. It continues its journey up the forearm, slowly until it reaches the shoulder, here it asks you to relax the shoulder, your neck does not leave it so it moves you to lower your shoulders and release them. The flash jumps to your chest, finds your lungs, and asks you to take 3 strong breaths with it...
Breathe in for a few seconds... one... two... three. Hold your breath for a few seconds... one... two... three. Exhale until your lungs are empty... one... two... three.
And we repeat, inhale... one... two... three. Hold your breath... one... two... three. Exhale... one... two... three.
Once again, inhale... one... two... three. Hold your breath... one... two... three. Exhale... one... two... three.
Excellent, you are already aware of your lungs and you have released them, the flash continues its way, goes through your neck again, reaches your chin and the loose one, goes through your mouth to your nose, releases your cheeks and the back of your neck, reaches your eyes and if you are squeezing them it softens them. Finally it reaches your forehead and enters your brain, leaves you a message of good night and in that moment you know that the flash of peace helped you and is inside you.
The idea is that you memorize the tour and practice it with your eyes closed for a better experience.
And well, that's all for now. Thank you so much for joining me in this little tripode corner, i hope to see you soon... and remember, good vibes always.


Created with Adobe Illustrator