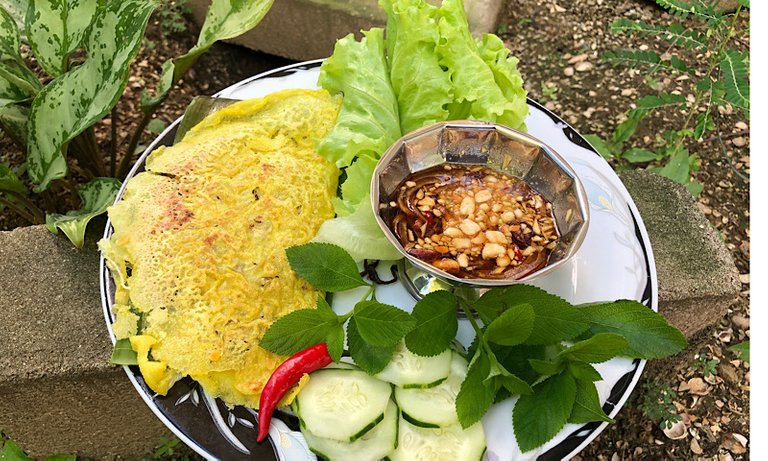 Happy Monday to everyone, today I will to share my recipe for favorite food in my country.
All people in Cambodia like to eat it very much, we like to make eat it special when we meet family or friend's together. This recipe is for...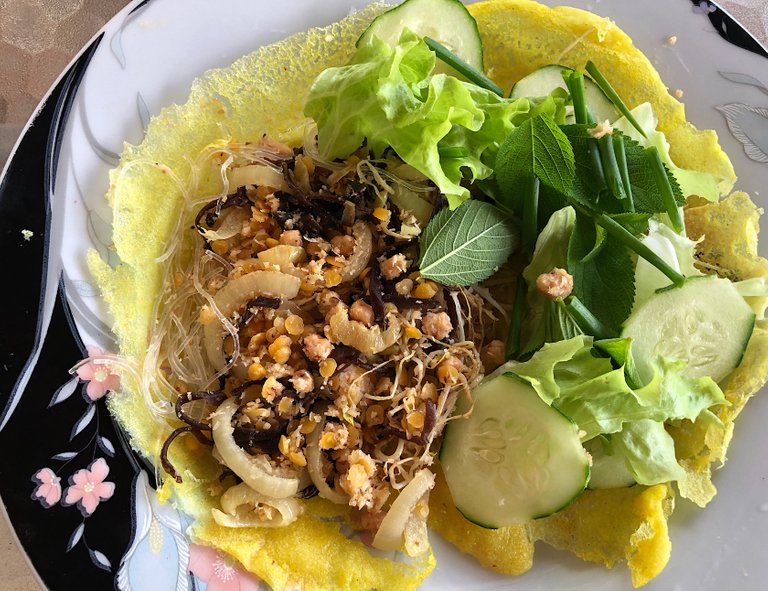 My country make it with pork, chicken, shrimp. I made it a style myself because our family eat Ital vegan.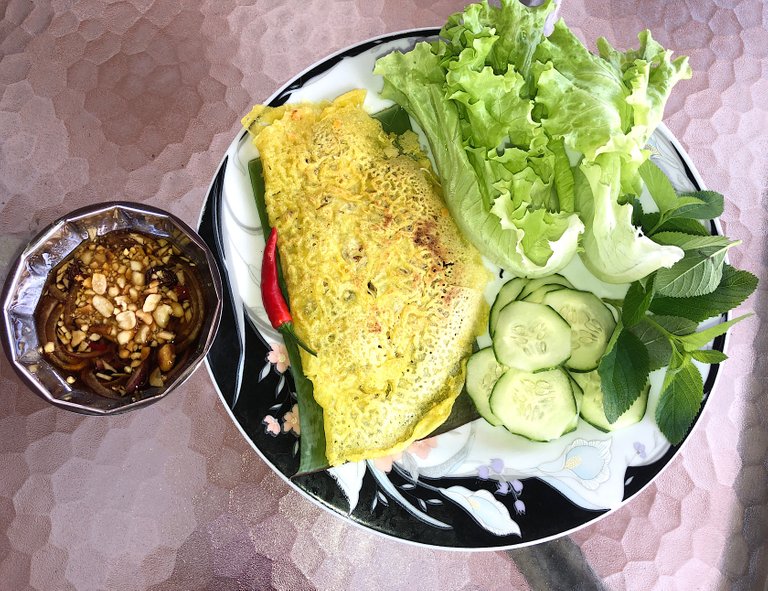 This is rice pancakes with sweet sauce and fried peanut hit.

Num Banh Chav Recipe

🥥Ingredients For Filling 🧅
1 onion, sliced
1/2 cup soya chunks or not use
1/2 cup meat coconut
1/2 cup lentils (steamed)
wood ear fungus (handful)
1/2 tsp salt or to taste
200 grams bean sprouts
bean thread noodles (soak 10 minutes)
* You can put carrot, it makes beautiful, I not have now.
Num Banh Chav Ingredients
1 1/2 cup rice
2 cups water
1/2 tsp turmeric
1/2 tsp salt
* You can use coconut milk too, now I not have. You can make it with rice powder from bag it's more easy.
Salads For Eat With Pancakes
cucumber
lettuce
basil, mint and culantro
banana leaves for use it put pancakes

👨‍🍳 Cooking Method 👩‍🍳

FILLING

Step 1

Heat oil in pan put coconut meat fry it until aromatic.

Step 2

Then put onion fry it, and put soya chunks, wood ear fungus, steamed lentils, salt fry it a few minutes.

Step 3

Made already.
NUM BANH CHAV

Step 1

Soak rice a few hours.

Step 2

After three hours clean wash the rice two more times, drain. Blend it with water a little one time then put turmeric salt great again.

Step 3

Blend it until very well then you can put all water blend it again or stir it.

👨‍🍳 Cooking Method 👩‍🍳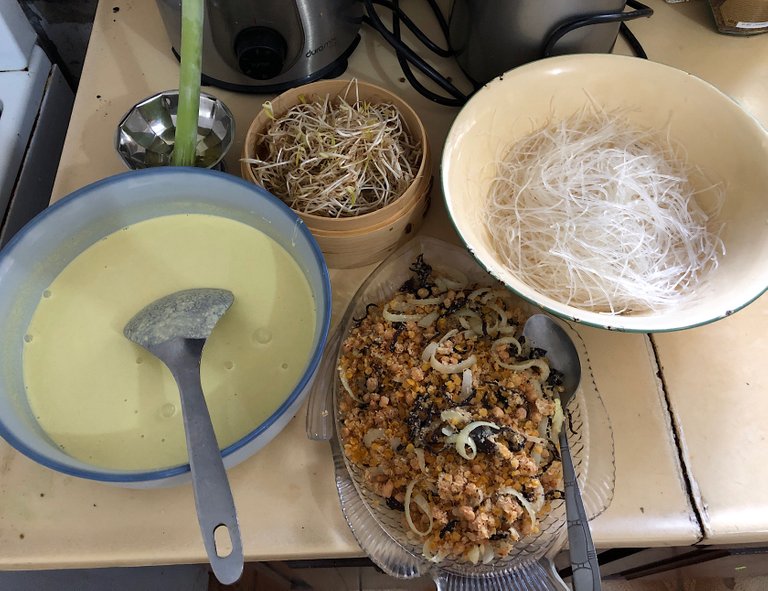 Step 1

Spread small amount of oil like this in hot pan.

Step 2

Pour batter in the pan then rotate pan looks like that .

Step 3

Then put bean sprouts a little, put filling two spoons, noodles a little, everything put as you like.

Step 4

Close the pan one minute low heat.

Step 5

After 1 minute open the pan and fold like this.

Step 6

Then take banana leaves do like this.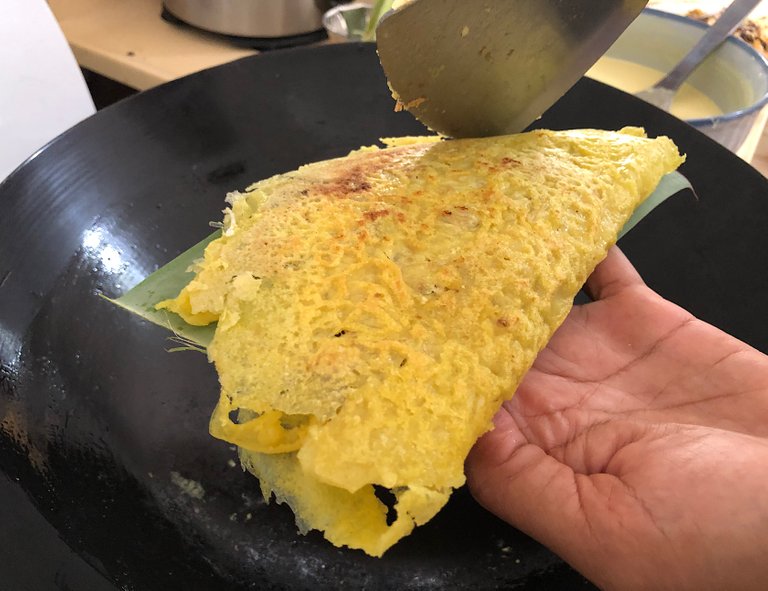 Finally, do like this is already. I do the same until finish all.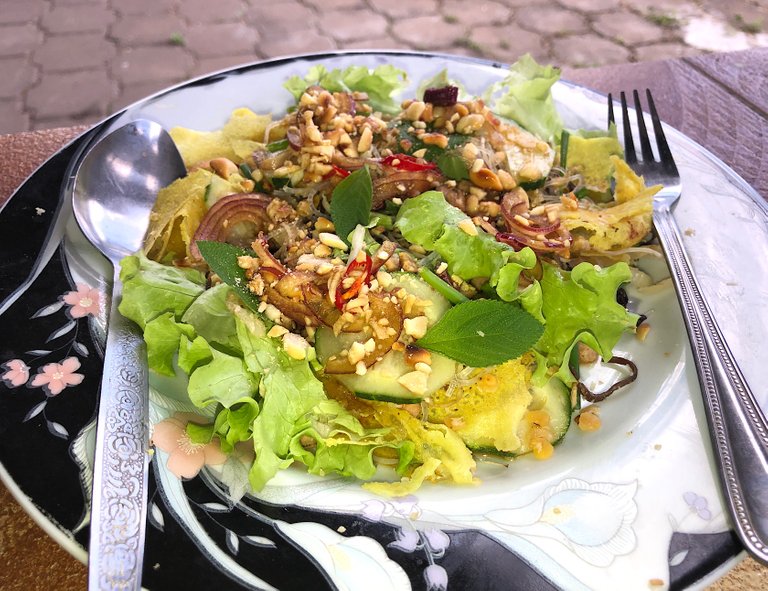 Put sweet sauce on pancakes and salad. Suriname not have veggies like in the Cambodia for we eat with rice pancakes. You can eat it with spoon.
You can eat by your hand, for me eat by hand then more yum.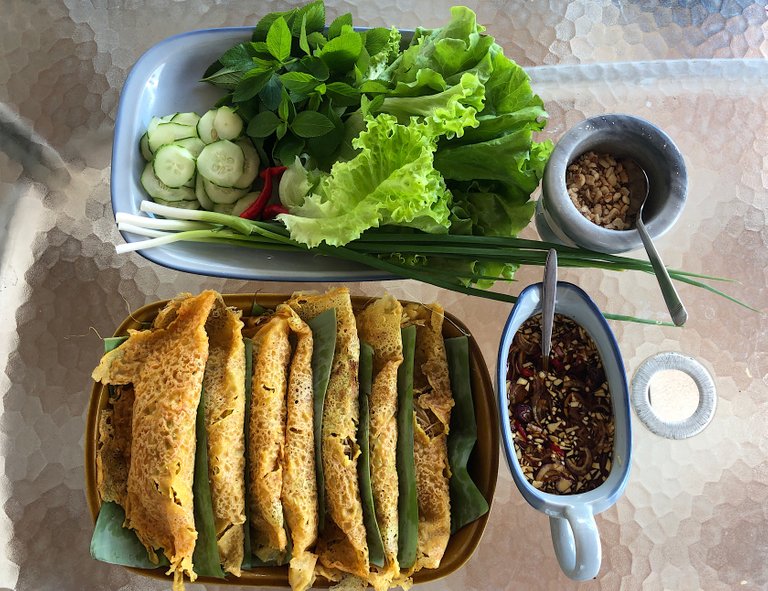 I am sorry, I don't show about recipe make sauce for eat with pancakes because this post so big already. I made this post, I am very tired.
But don't worries I will to show you soon. And my recipe vegan sweet sauce this, we can eat with fresh spring rolls with fry spring rolls and fry short noodles and more.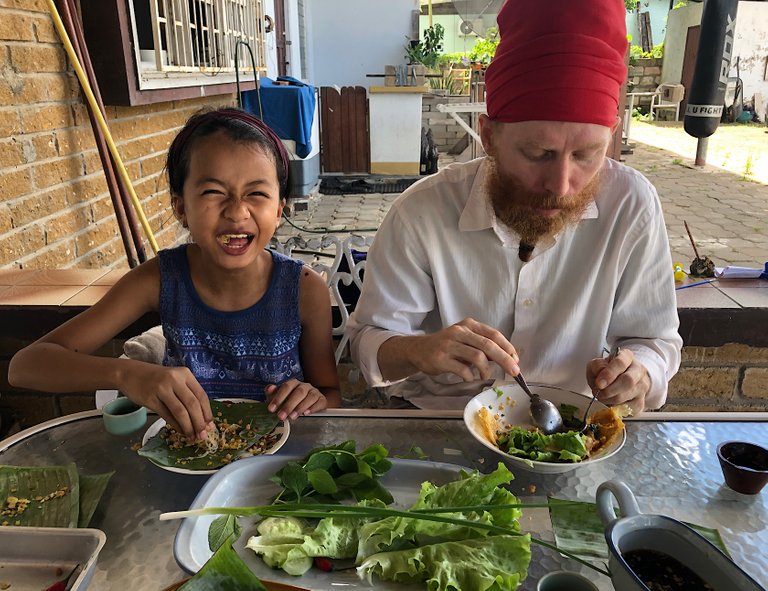 My daughters eat it by her hand like my country but my husband eat by spoon because big beard. 😁
The people in my country, they make rice pancakes with an egg. We use eggs for make not stick to pan and softer to eat, but no eat egg for Ital life. Have a great day to you all. 🤗

🙏 THANKS FOR READING 🙏
If you enjoyed this post, please upvote and reblog.

WE PROUDLY SUPPORT