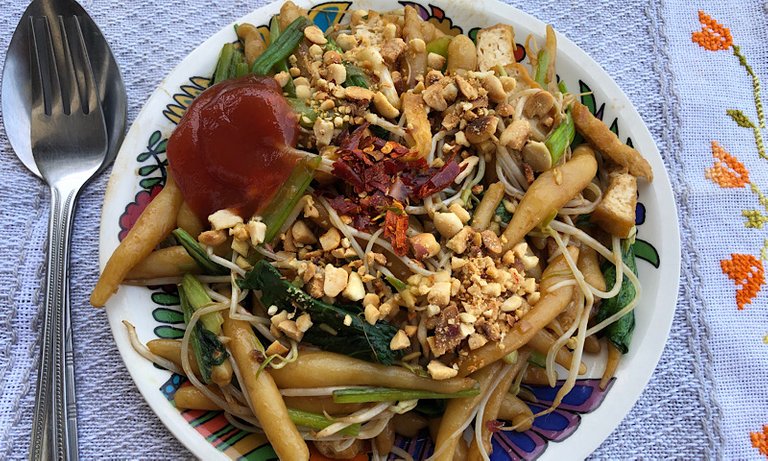 Hi there, I have another vegan recipe to share with you all today. This is Lort Cha or Cambodian Fried Short Noodles. 🍜
This food is very normal in my country, some people sell them in the market and near the street.
When I lived in Cambodia I never make short noodles by myself, I buy them from the market for cook. The people make this noodles for sell every day, so it's easy to buy and cook. But normally people buy them to eat.
Lort Cha has a cheap price. A plate has one egg with a little pork or beef, only 2000r to 3000r (50 cent to 75 cent). If have more meat in the plate maybe 5000r or $1.25. It's cheap and delicious and easy to buy.

👩‍🍳 Fried Short Noodles (Ital) Recipe 🔪
វិធីធ្វើលតឆាបន្លែរបួស

Sauce Recipe And Ingredients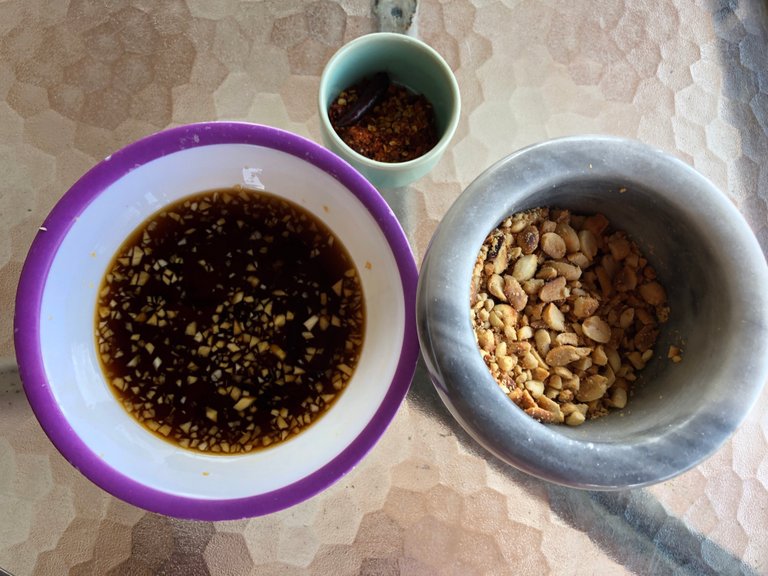 1/2 tsp salt
3 tbsp sugar
3 tbsp vinegar
3 tbsp soy sauce
2 cloves garlic minced
roasted peanuts as you like
chili as you like
Put salt, vinegar, sugar, soy sauce and garlic minced in the bowl and stir them very well.
Crush roast peanuts and chili for put on fried noodles when we eat.

Noodles Recipe And Ingredients
2 cups rice flour
1 cup tapioca flour
1/2 tsp salt
1 1/2 cups hot water
1 1/2 tbsp black soy sauce
Step 1

Put rice flour, salt, tapioca flour, mix up and put hot water, use spoon stir it very well and use our hand knead it very well.

Step 2

Then make them like this.

Step 3

After making boil them and put it in cool water.

Step 4

Then take it outside water strain it.

Step 5

Then put black soy sauce mixed up very well.

Fired Recipe And Ingredients
200g choy sum
50g bean sprouts
3 green onions
150 grams fried tofu
3 cloves garlic
1/2 tsp salt
1/2 tsp brown sugar
1 tbsp soy sauce
chili sauce as you eat
Normally, we're used chives flower or trees it but here not have them.
Step 1

Cut choy sum and chop garlic..

Then heat oil fry garlic until aromatic put choy sum fry it two minutes.

Step 2

Then put salt, sugar and soy sauce, fry it a little and put noodles, fry it a little, then put choy sum leaves fry it a few minutes.

Step 3

Then put fried tofu and bean sprouts and green onions, fry them a little.

Step 4

It's ready for eating now.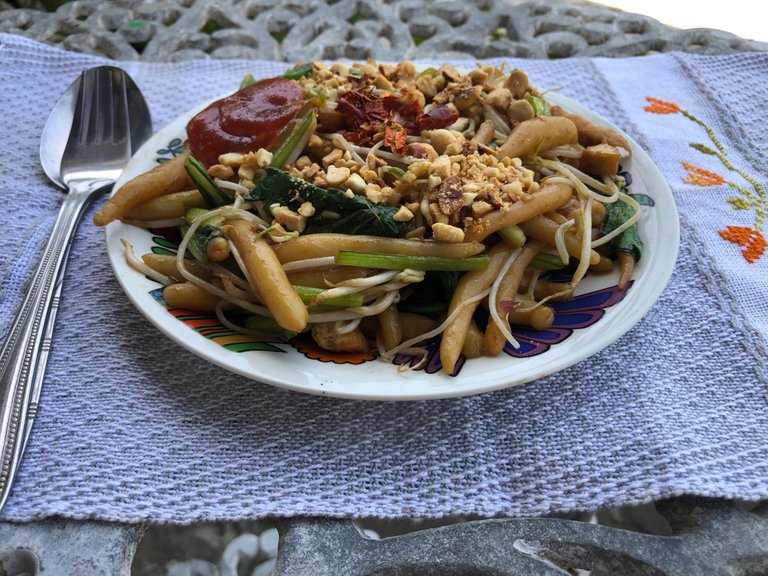 Finally, take it on the plate put three tbsp sauce or taste and put chili sauce as you eat and put peanuts crush, chili as you eat and mixed together and we can eat now.
I hope you all enjoyed with my vegan recipe and have a good healthy to everybody. Have a nice day to everyone from here in Paramaribo, Suriname.

THANKS FOR READING
If you enjoyed this post, please upvote and reblog.