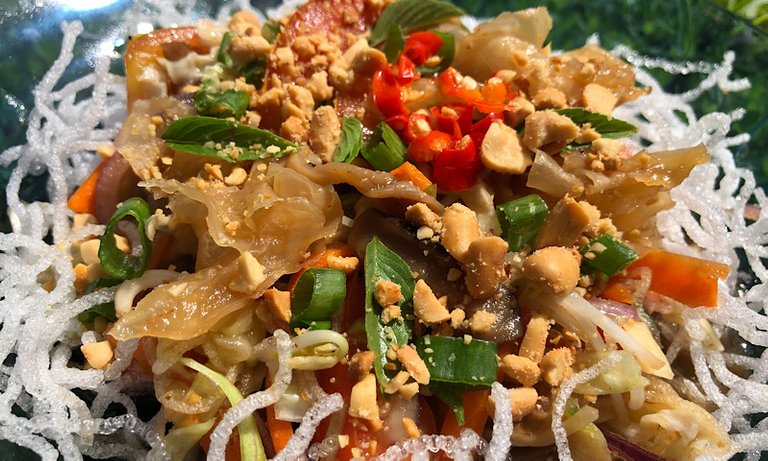 This is my entry for Hive Top Chef this week. I haven't cooked for Top Chef for a few weeks. I really miss doing it with you all in @qurator.
I saw the people posting so much this weekend, and I am happy to see everyone with your dish. I have crispy rice noodles with vegetable salad, an Ital recipe to share with you all.
This is a big salad recipe, and I shared it with our landlord here in Suriname also.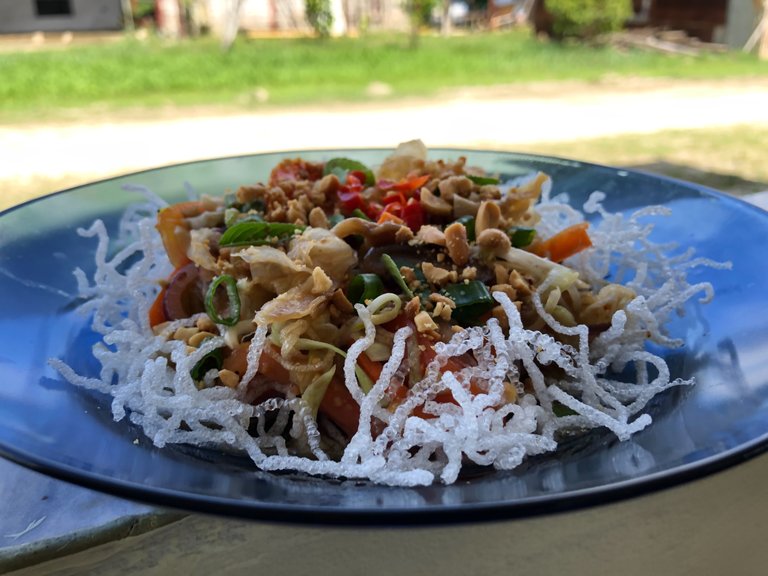 👩‍🍳 Deep Fried noodles & Snow Fungus Vegetables Salad (Ital) Recipe 🔪
វិធីធ្វើញាំមីសួបំពងផ្សិតត្រជៀកកណ្ដុរបន្លែ

Ingredients
50g glass noodles
1 snow fungus
3 black mushrooms
50g oysters mushrooms
1 big cucumber
1/2 of carrot
200g cabbage
1 green long pepper
50g bean sprouts
2 tomatoes
1 red onion
3 cloves garlic
crush roasted peanuts as you like
2 green onions
10 red chilies or as you eat
6 tbsp tamarind juice or taste
3 lime juice or taste
1 tbsp salt
6 tbsp brown sugar or taste
5 tbsp soy sauce
Soak snow fungus in cold water until soft, remove it from the water. Cut and take away its stem and cut it small or as you like.
Soak black mushrooms until soft then wash it 2-3 times remove water and cut it. The oysters mushrooms do it like small.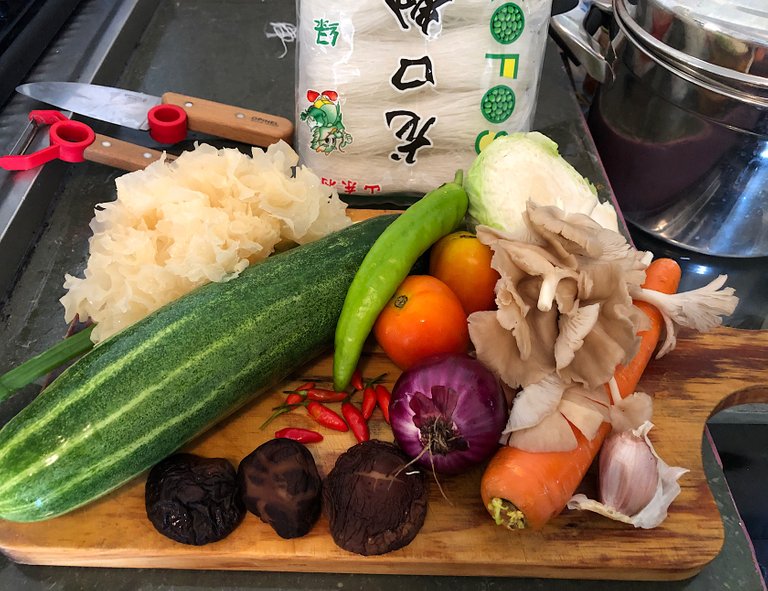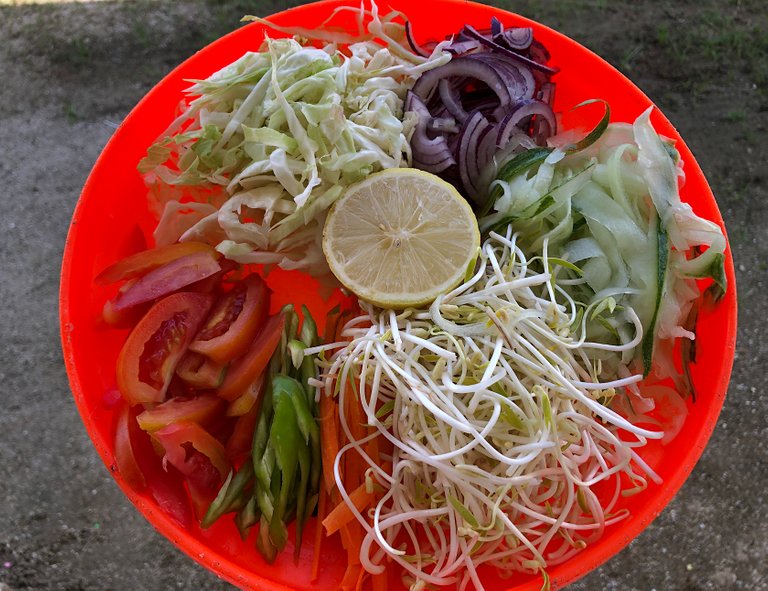 Wash all vegetables and cut all like small. The cucumber I don't use its middle because it's not delicious and it has so much water, not good for make this recipe.
Cut the glass noodles short and heat oil fry them and remove to put on the paper. Add more glass noodles and do it more time until there is no more for frying.
It's very fast when we did it, just put it in hot oil, and it's ready. Take it so fast outside oil, It's very crunchy.
Step 1

Heat oil and fry garlic until brown.

Step 2

Then put black mushrooms, oyster mushrooms fry it one to two minutes, then put salt, sugar, soy sauce fry it a little put tamarind juice fry it.

Step 3

Finally put snow fungus fry little it's ready.
I put all vegetables in the pot and mixed up together.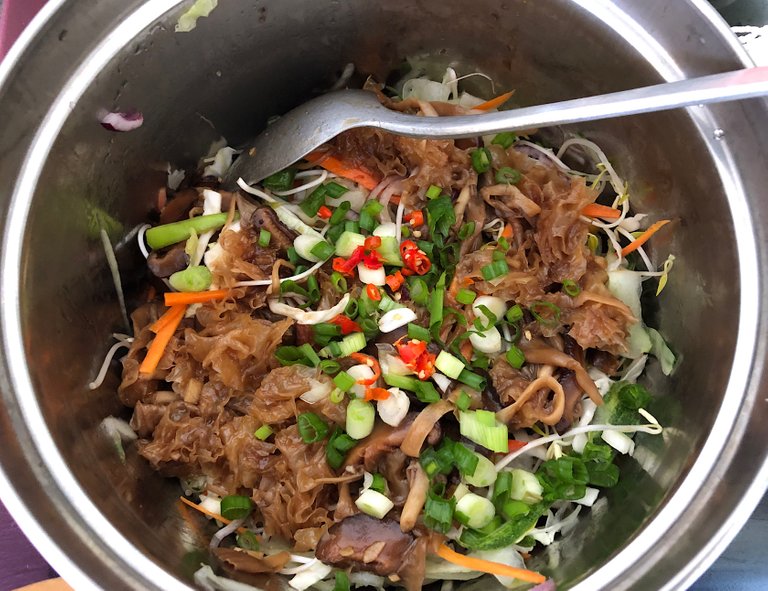 Then put fry mushrooms on it and put green onion, chili, lime juice mixed up then put roasted peanuts mixed up again and taste.
When we start to eat put fried glass noodles because it in water it's stop dcrunchy. This salad we can put basil and coriander leaves also, oh I like them so much but I not have them.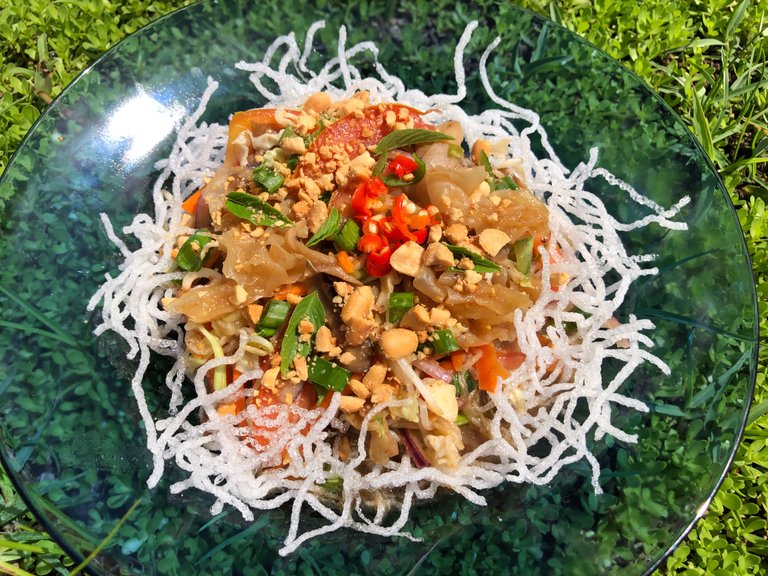 🙏 THANKS FOR READING 🙏
If you enjoyed this post, please upvote and reblog.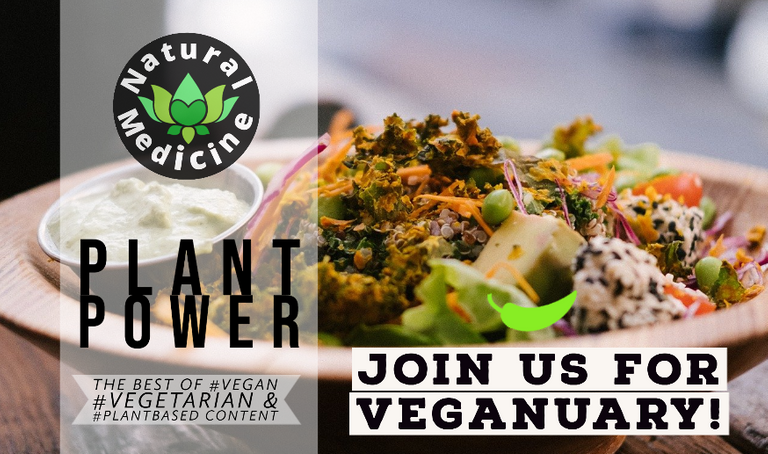 Check out the #plantbased tag on HIVE and this month's Veganuary challenge for the chance to win 100 HIVE, reblogs, OCD votes, tweets and more!
You don't have to be an all out vegan, or even pretend you are, but perhaps share with us your #plantbased experiments and thoughts on this topic. Or maybe you could just go all out and give it a go, see how you feel at the end of it!