A week ago, my family and I traveled to Medan City, in North Sumatra Province. We stayed at Cambridge Hotel which is located at the heart of the city. The hotel is five star, with a great hospitality. Apart from the room and swimming pool, I really love its restaurant. Once having breakfast, we could enjoy various dishes of menus, from local, oriental and international cuisines are served. However, among them, I was really happy when noticing various kind of jamu is also available at the restaurant.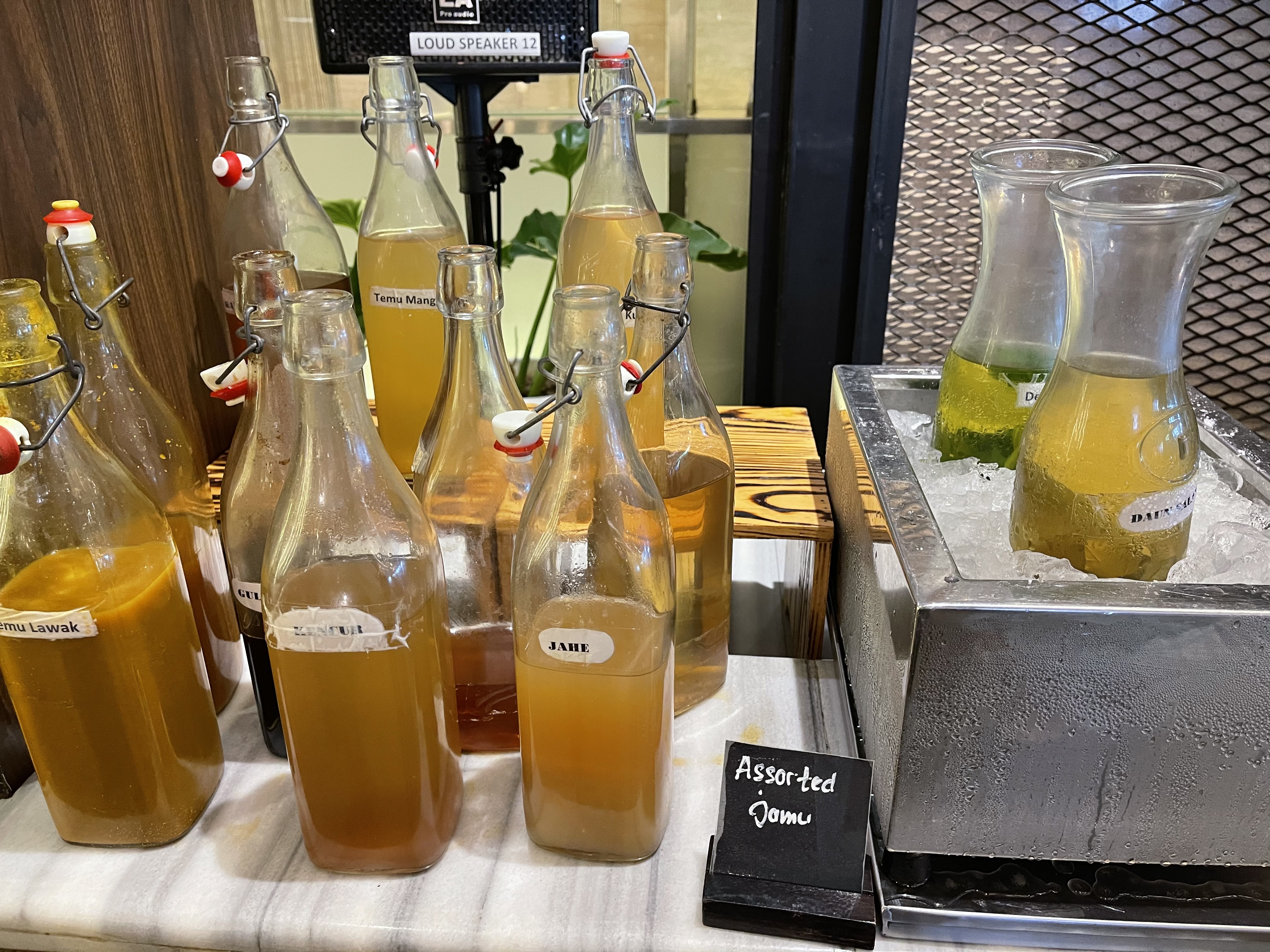 Jamu is a traditional medicine from Indonesia. It is predominantly a herbal medicine made from natural materials, such as roots, bark, flowers, seeds, leaves and fruits.1
Actually, Jamu is a Javanese word which is derived from two words, Java and ngeramu. Ngeramu is the acting of mixing or gathering ingredients. Jamu has been a traditional medicine in the society of Indonesia. Sometime, people just are just more believing the benefit of Jamu than modern medicines.
As a general internist, I often meet patients who have treated themselves with Jamu before visiting me to have help for their health problem. For me, no matter patient take Jamu for treatment as I know that jamu is a herbal medicine, that will not affect bad for health. I admit that it has a treatment benefit, however we can't just rely on Jamu to treat a disease. However, I suggest not to take herbal drink together with modern medicines as we haven't fully known the interactions among them.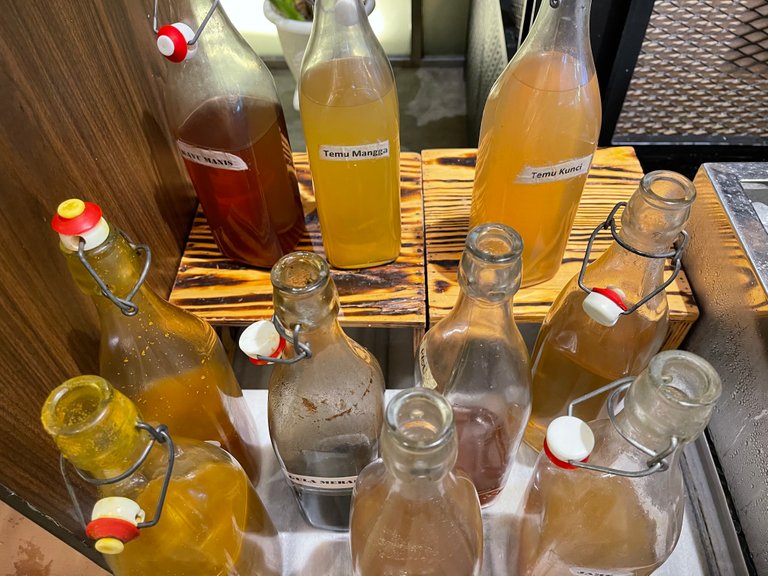 Various ingredients for Jamu is available at the restaurant. I really appreciated the hotel management that provide jamu corner at the restaurant. It's also the way to promote Indonesian cultural drink to foreign guests, as we have already known that jamu is one of Indonesia's cultural heritage. And the well-known benefits of Jamu is obvious for health, fitness, and prevention of many metabolic disease.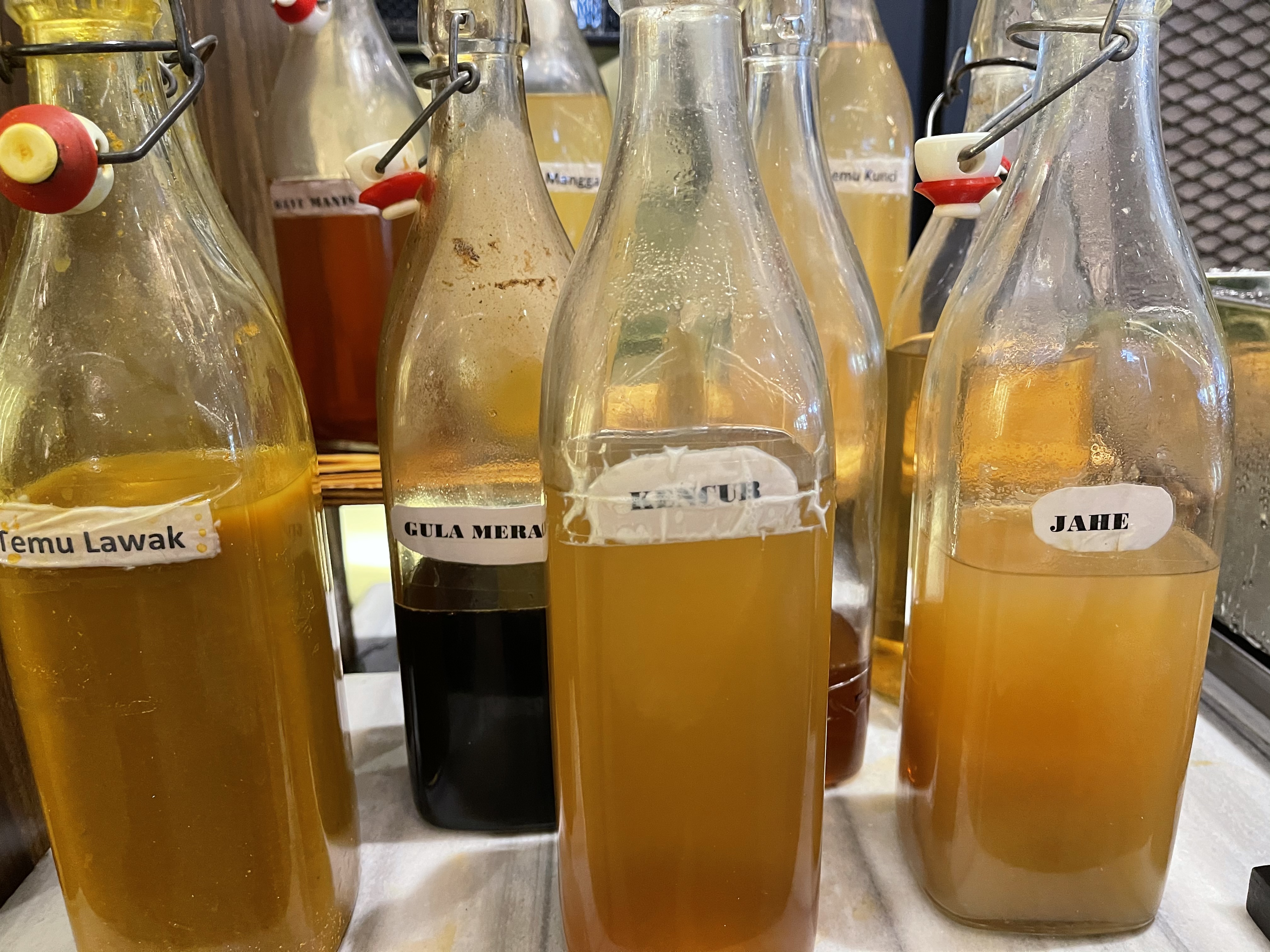 Many ingredients are provided in the bottles. They are the extracts of ginger, mango ginger, temulawak or Javanese ginger, cinnamon, liquid brown sugar, honey, fingerroot, kencur or aromatic ginger, daun salam or bay leaf and celery tea. To make a glass of Jamu, we could just mix the ingredients. We could mix some of them, even all of them. It depends on your preference. Frankly speaking, I didn't mix anything when in the restaurant. I just take a glass of bay leaf tea and celery tea. Both them are placed in a stainless ice box.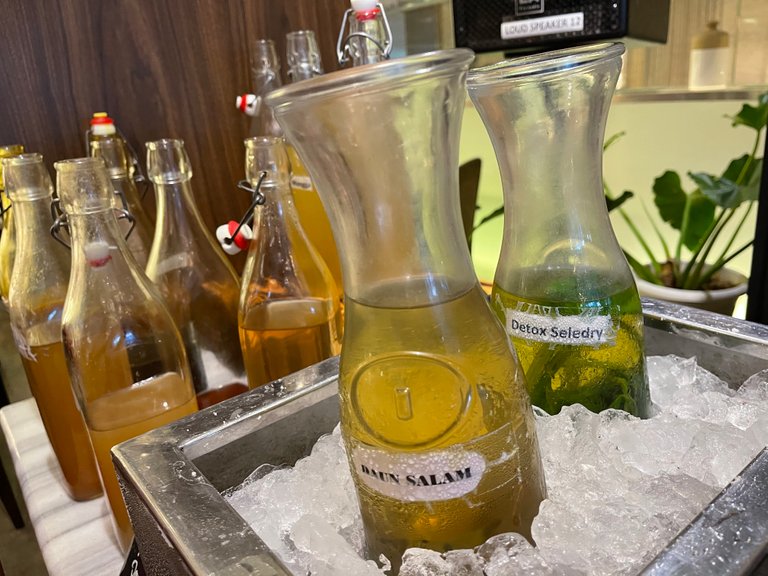 I am pretty sure that bay leaf and celery tea have some good benefit for health. So, I were interested to drink both them, one glass each.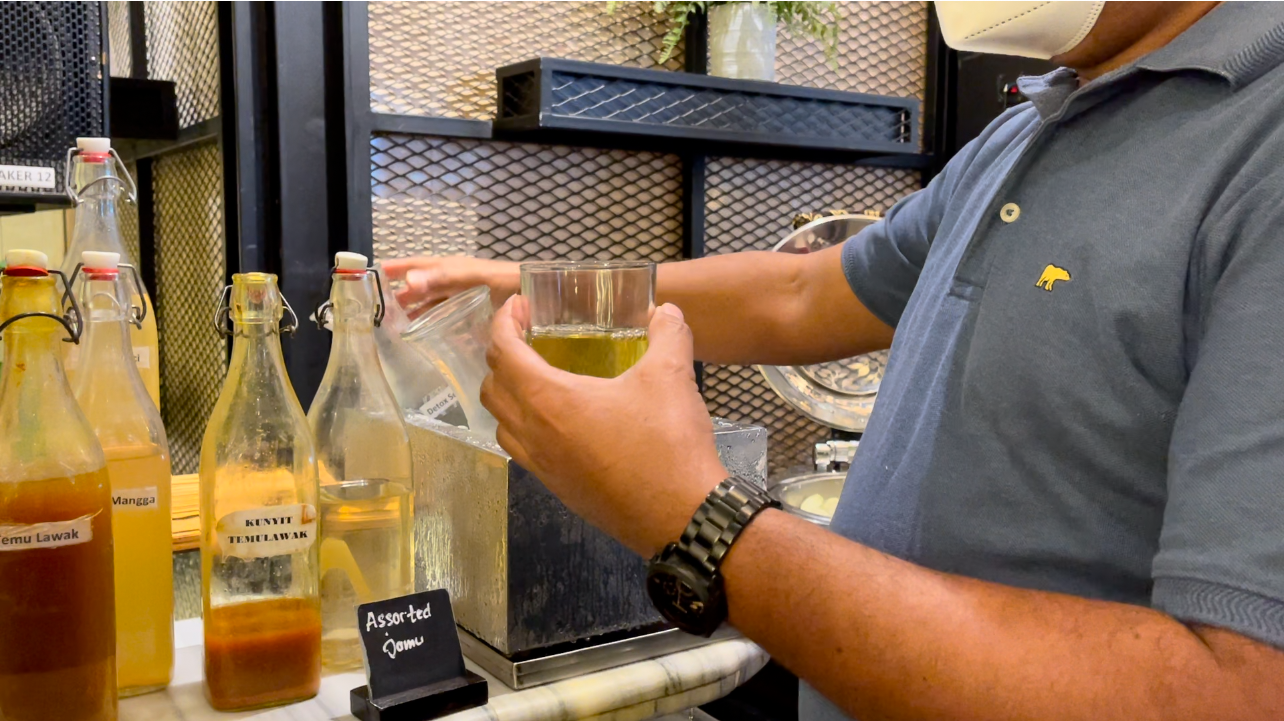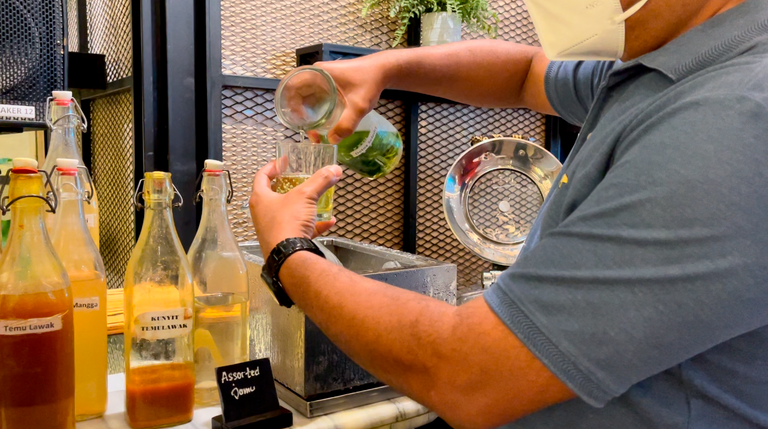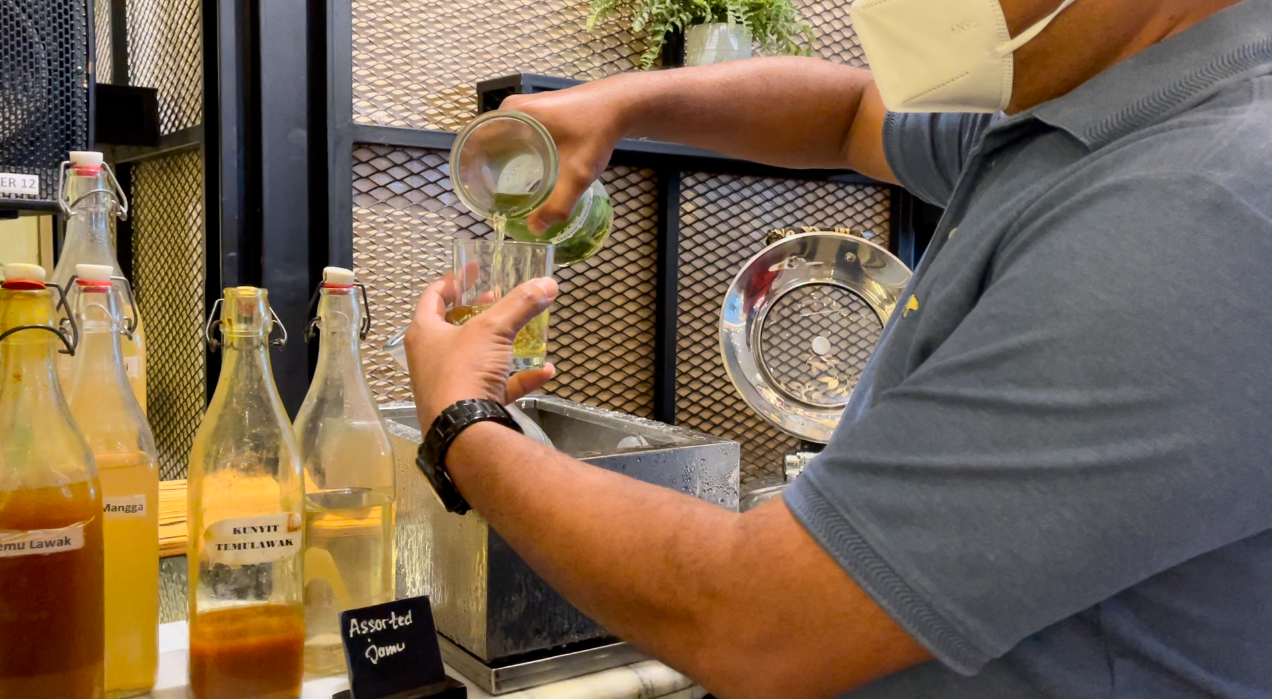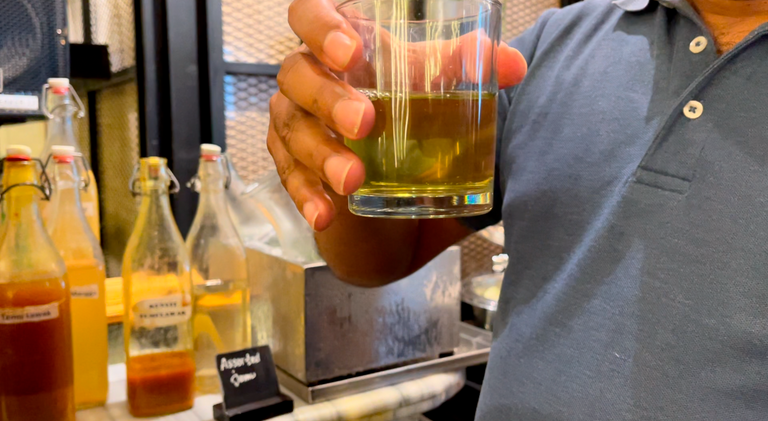 It was really joyful to fill the ingredients into the glasses. My son took a video for me when I were filling my glasses with bay leaf and celery tea.
Some Benefits of Bay Leaf
Daun Salam or bay leaf has been used as ingredient of cooking since long time ago. I remember when my mother used bay leaf to make a flavor in her cooking, as it has good aroma. Bay leaf is not only used for cooking ingredient, but also has some benefit for health.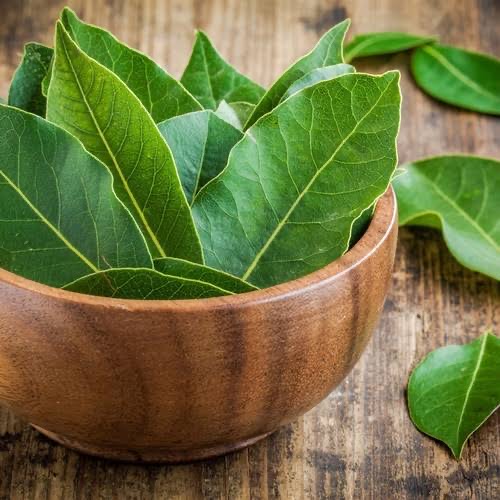 Source
Although it's just for supplement, it's known that bay leaf could reduce blood sugar level and LDL level, and may reduce the symptoms of stomach ache. According to WebMD, ground bay leaf twice a day is good for diabetic patients. They may take twice a day along with diabetes medicines. It means that the ground bay leaf can't replace the diabetes medication since there is no enough scientific evidence of bay leaf to support the uses for diabetes treatment. So, I think we could just take bay leaf tea or extract just for supplement for our healthy body. It's not that safe to take daun salam as the only treatment of diabetes, cancer or stomach ache because we still don't know how much the dose we should take, how long to take, what exactly its side effects, or how it could interact with other ingredients or medicines.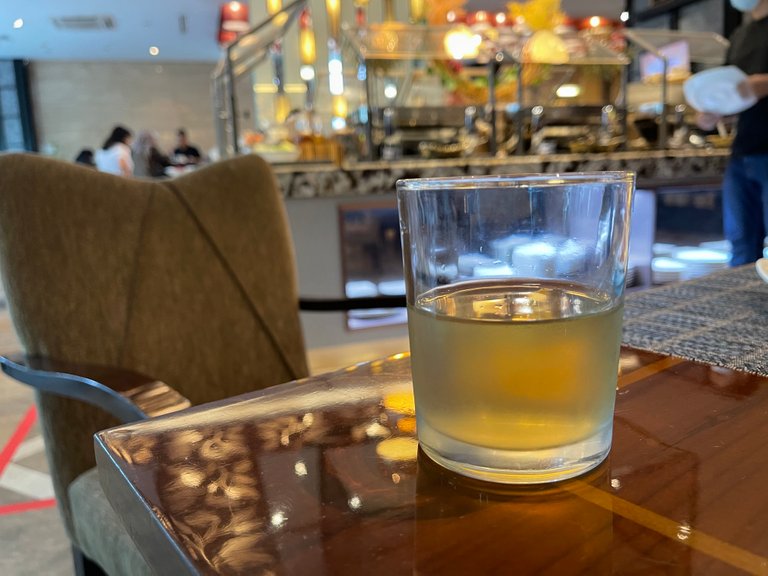 The picture above is mine. It's bay leaf tea. Its color is like honey or palm juice. I took it and I really love the taste and aroma of bay leaf. I think it worth to plan the bay leaf tree in our garden.
Some Benefits of Celery Tea
I think everyone has already known that celery is most common used in cooking. It's considered as a kind of vegetable. In our culture, celery is a must ingredient when cooking soup and Acehnese noodle dishes.
It's just like daun salam, celery has some benefits for health as well. It has anti oxidant substances, that is good forThe well known benefit of celery for health is to treat hypertension. There is a study that really show that its benefit to lowering high blood pressure. Apart from that, celery extract or tea could also reduce the symptom of rheumatoid arthritis.
Let's take a look at the picture below. It's mine: celery tea. The color is yellow-to-green. The taste is good with a daily aroma.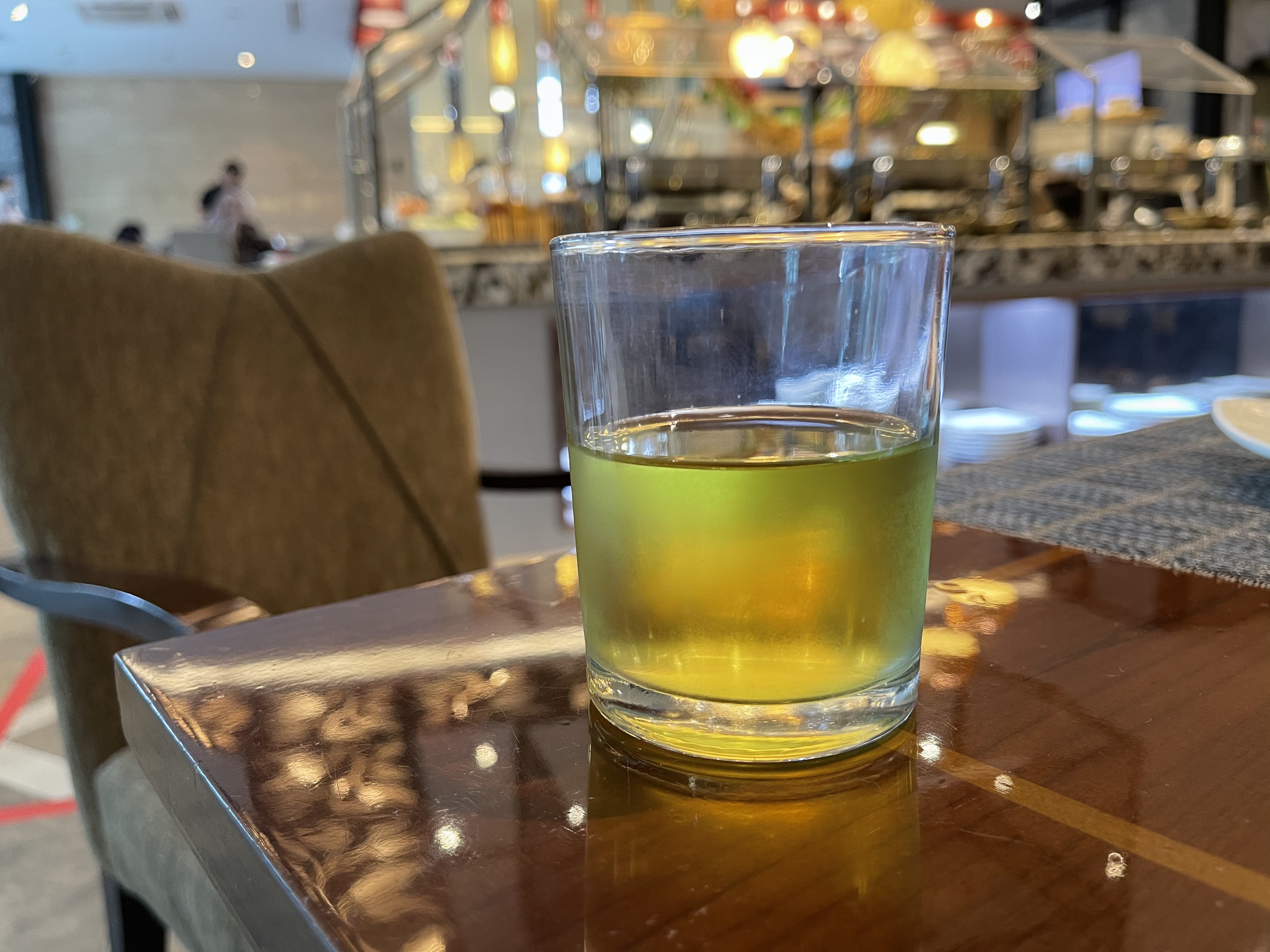 Conclusion
Jamu is just a traditional natural medicines in Indonesia, but it has some good effects that would appreciate the founder.