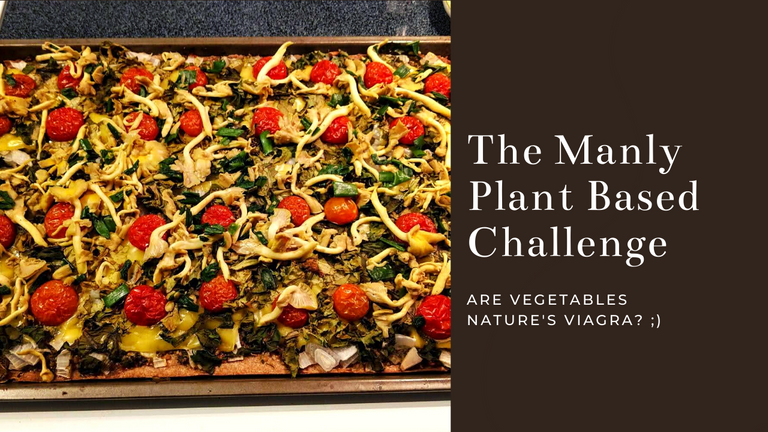 I thought it only fitting to use a cover image of a meal that my man made. A completely vegan, and deliciously loaded homemade pizza. Besides grilling (and slop), pizza has become his specialty. Any time we want to grab a slice, he sets to work in the kitchen making the dough (spelt is our fave) and chopping up veggies to load that bad boy up. I generally make the sauce, often a pesto full of herbs from the garden. For a treat I will sometimes buy vegan cheese to get more of an authentic feel, but I think he would agree with me that generally even without the cheese we both get stuffed sharing even just half a pan! Any veggie will do. That's kind of the dude way of cooking anyway, right? Just throw on whatever you've got and make it a meal.
When I saw the latest @naturalmedicine challenge in partnership with the Man Cave, I knew I had to jump in with some thoughts. Of course plant-based nutrition is right in my wheelhouse anyway, but it's always fun to have a specific prompt to run with. Just because it's a "manly" challenge doesn't mean the ladies don't get any say, especially as an athlete, I often eat as much or more than most men I know anyway. 😂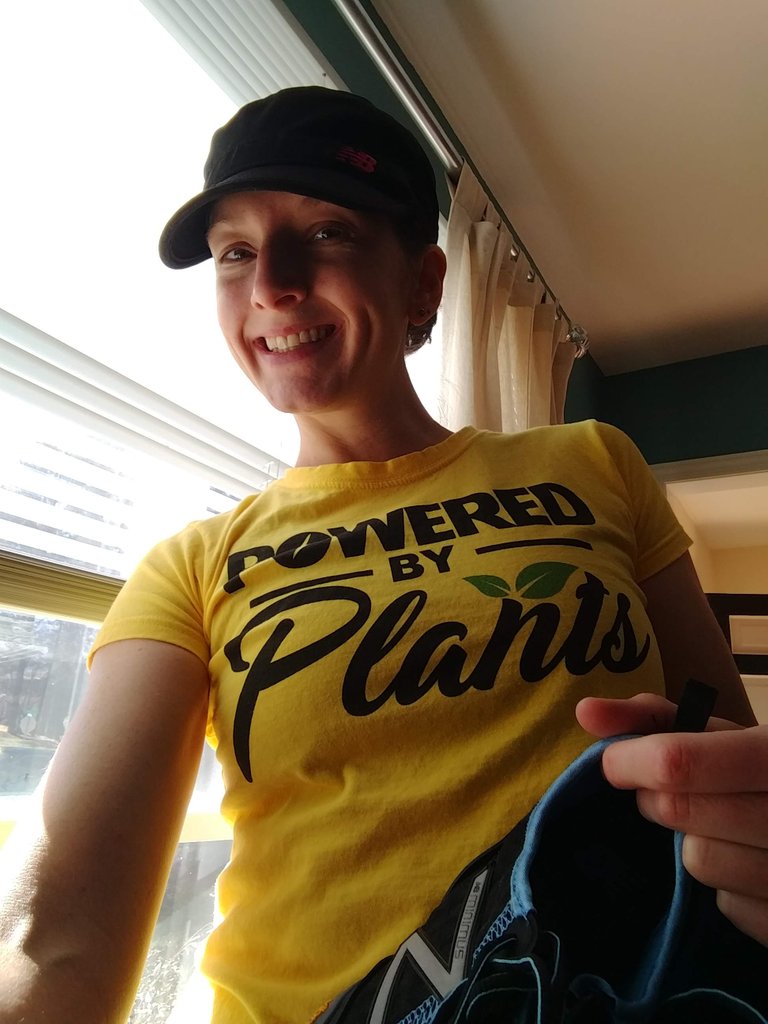 I really enjoyed reading @pavanjar's entry for this challenge as he hit on a lot of tips I often give anyone transitioning to a plant-based diet. One of my biggest lessons when I started cutting out animal products was making sure I filled my plate with plenty of other food to get in enough calories. I never ate a ton of meat, but when you are eating especially clean it can be a challenge to make sure you are taking in enough nutrients for your activity level or muscle mass. Since men tend to be bigger and more muscular than women, that can be especially true. Most plant-based foods (with the exception of nuts/oils/avocados/etc.) are less calorically dense than animal-based foods, so you may need to eat more to get in the same amount of calories. That's great if you are wanting to lose weight, but to maintain muscle mass you gotta eat!
I find it a little funny because so many people demonize "carbs" as the enemy as far as weight gain, when any man that I have known to go even 80% plant-based has lost weight! A whole foods, plant forward diet is generally full of complex carbs. Now there are many ways to do a vegan diet--you can still go low carb, even keto, if that's your thing, but in my research the best diet includes some starches (potatoes are life), whole grains and as much fruit as you like. If a man is omitting meat and dairy from his diet, whole grains and beans are great sources of fiber and protein to fill him up and keep that manly body fueled up!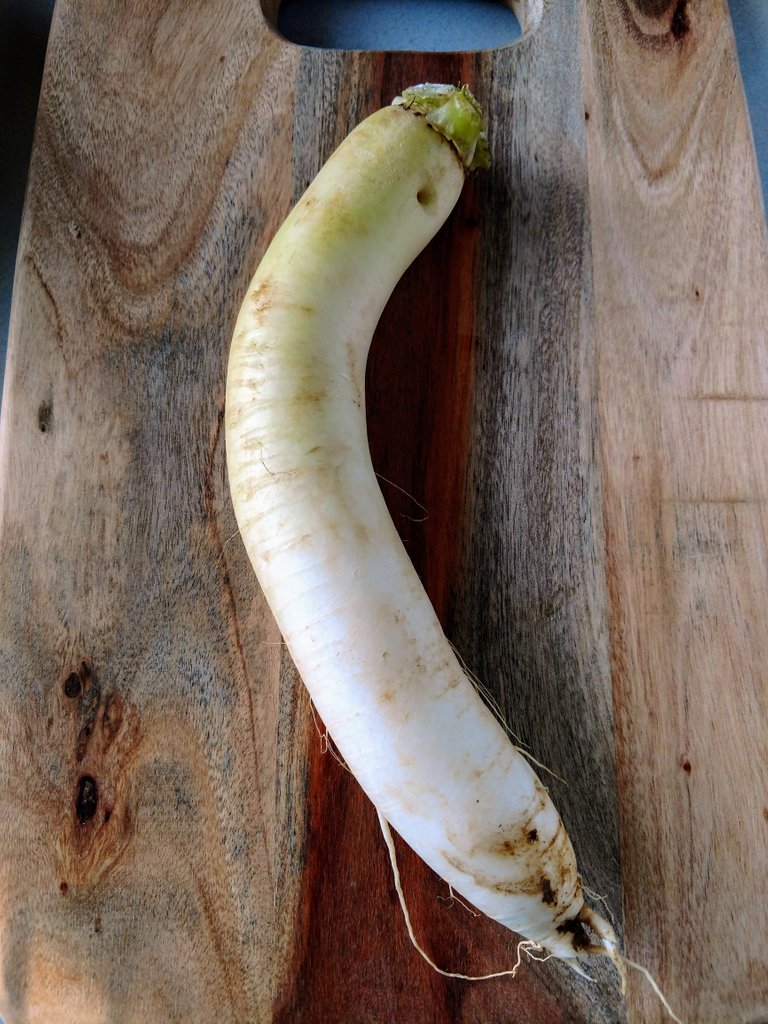 Of course we can't talk about men's health, without touching on a subject I alluded to in my cover post. According to this article Dr. Greger, 40% of men over 40 have problems with erectile dysfunction. That's almost half of you dudes! The crazy thing is that a big percentage of that can be prevented with a healthy diet, not surprisingly one full of plants and low in animal products. Perhaps there's a reason why so many fruits and veggies are shaped like a phallus? Who needs a blue pill when you can eat a banana. Or a daikon radish if you were wondering what that was.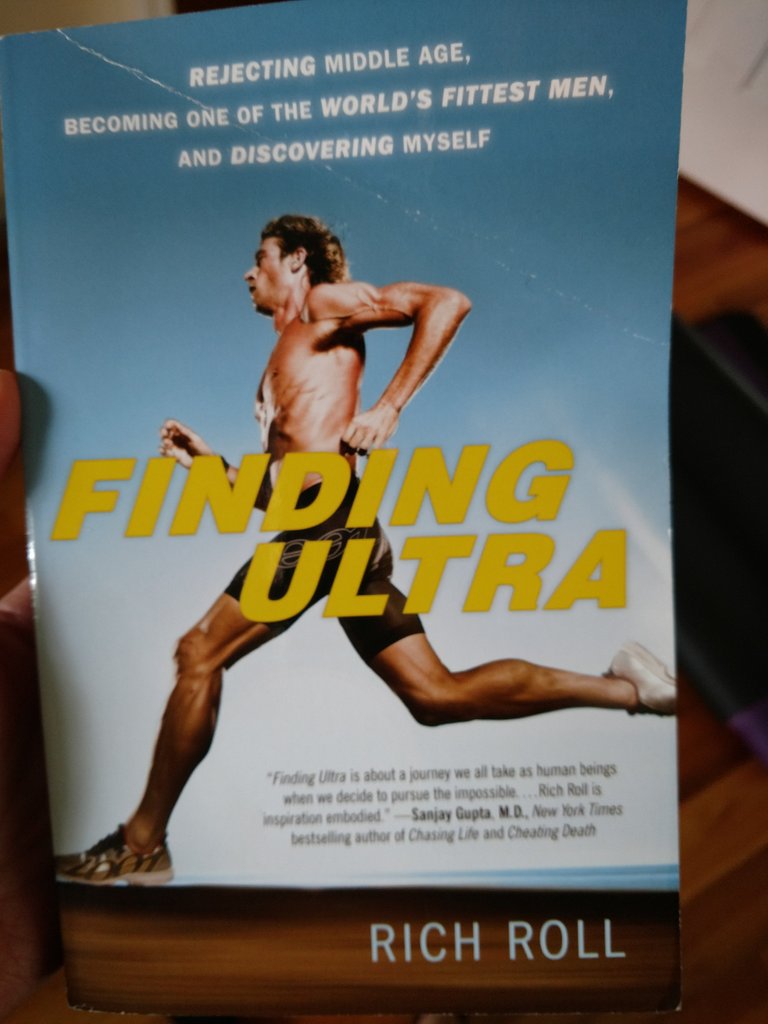 There are so many amazing male athletes out there now proving you don't need meat to perform at a really high level. I love following Rich Roll, not just for his athletic endeavors, but he always has some truly inspirational people on his podcast. Of course The Game Changers was such a huge film that influenced quite a few men I personally know to try to at least reduce their consumption of animal foods. I also really love the book Proteinaholic as it speaks to many questions men have about needing meat (which is not the only food with protein). There really is a plethora of information out there now, and while some is purely anecdotal, much is extremely well-researched and documented.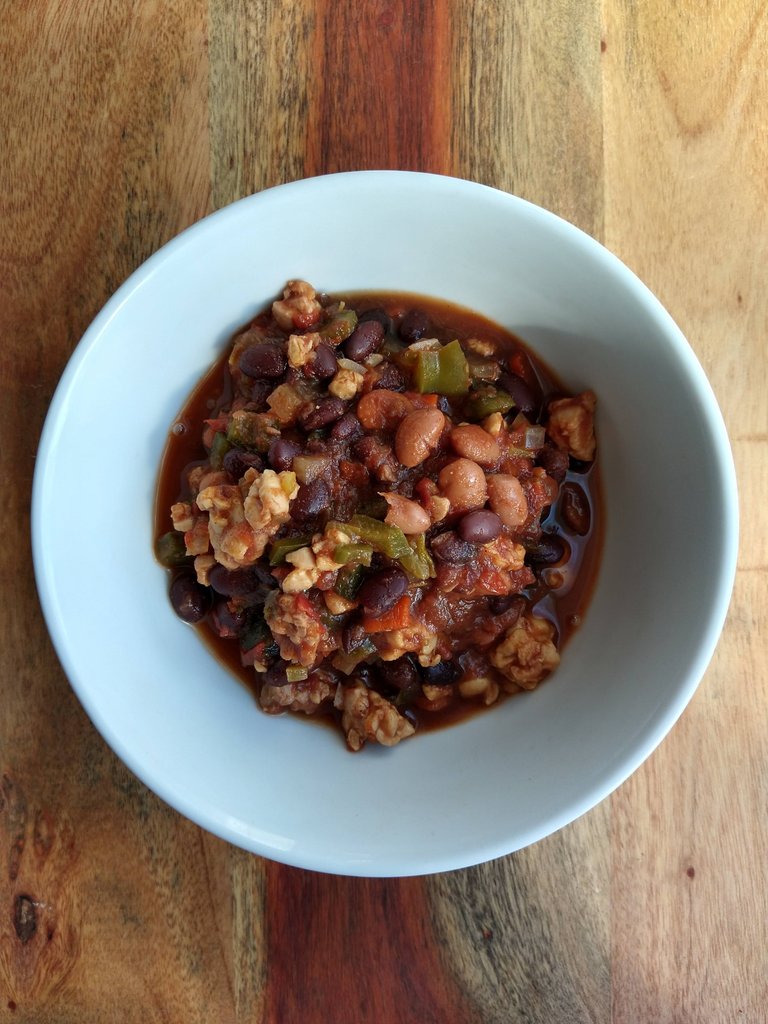 On the anecdotal side, my dad has had some awesome success regaining his health this year taking the plunge and finally listening to his middle daughter. He first was wooed to the idea of plant based eating when I made tempeh chili to share with the family years ago. Not long after he made a big batch when his buddy, who is 6'4" and generally weighs somewhere around 300 pounds, was in town along with a traditional ground beef version. Wanna guess which one got eaten first? Yep, the tempeh one was ravaged by both of the big guys. My dad is no small man either, and he has always enjoyed lifting weights. Back when I first transitioned to a plant-based diet he was happy for me and saw how I had no problem maintaining my own hard-fought muscle mass, but he always said he just had to have some meat (sound familiar?).
Fast forward to the beginning of this year and a not so good diagnosis of pre-diabetes. After a long conversation on the phone, he had a plan to cut out beer and beef, along with drastically reducing dairy, chicken, and fish. He also finally shook of the lethargy of the winter and got in a great lifting routine again with daily walks for low impact cardio. If I remember correctly, it only took three months to get his numbers back in the healthy range. To this day he still checks in at the end of the month with his stats on the meals he ate. The last check in was out of 93 meals for the month only 7 had meat, and the other 86 were meatless. It also included a shirtless photo with a much smaller midsection and more muscles in his upper body than most senior citizens have in their whole body. Also, tofu doesn't give you man boobs, but beer might.
I'm really proud of my pops for taking control of his health. And as he would tell you, he doesn't feel deprived in any way. He still enjoys a little bit of meat here and there, but when he does his portions are much smaller than they used to be and come in a meal with plenty of plants to balance it out. That really is the amazing thing about the vegan food industry and recipe creation now--anything you can eat, I can eat vegan. Cheese, ice cream, burgers, sausages, even fish sticks--you can find it all in plant-based forms. Not all of it is healthy, but if you are more focused on the ethical side, there really is no reason not to give the plant-based options a try. Some of it is almost too close to the "real" thing for my own liking after over 7 years without it! Though Chao cheese is the bomb and melts beautifully on a manly pizza, haha.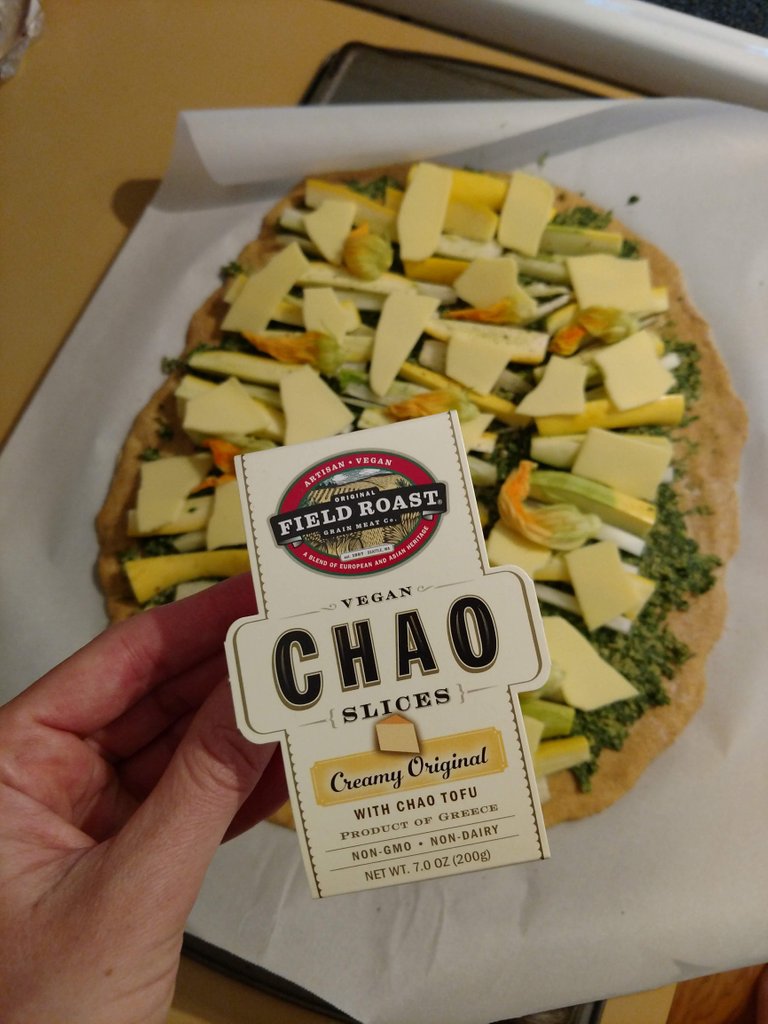 Ultimately we all have control over the food choices we make and figuring out what works best for our bodies. But it's about time we squash the myth that vegan men are weak or plant-based meals are bland and not filling. I think for the most part the word is out, but it's always fun to be a part of a challenge that gets new perspectives and makes people think a bit. I am happy to do my part helping the men in my life be the healthiest versions of themselves they can be, and perhaps inspire a few others along the way with my mouth-watering recipes, as well.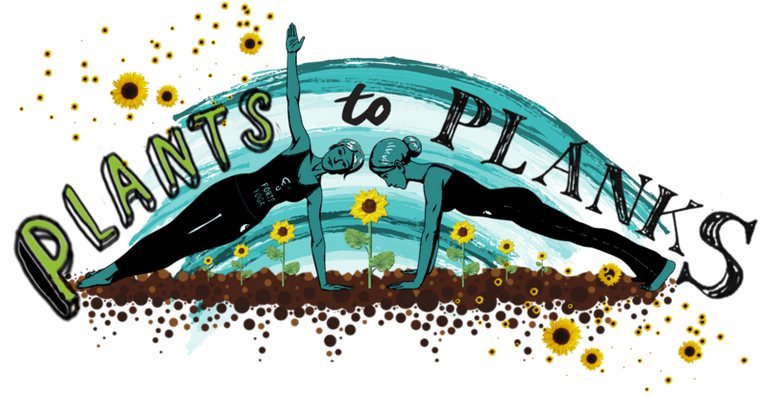 Banners by @woman-onthe-wing and @dksart

Join The Best Natural Health Community on Hive