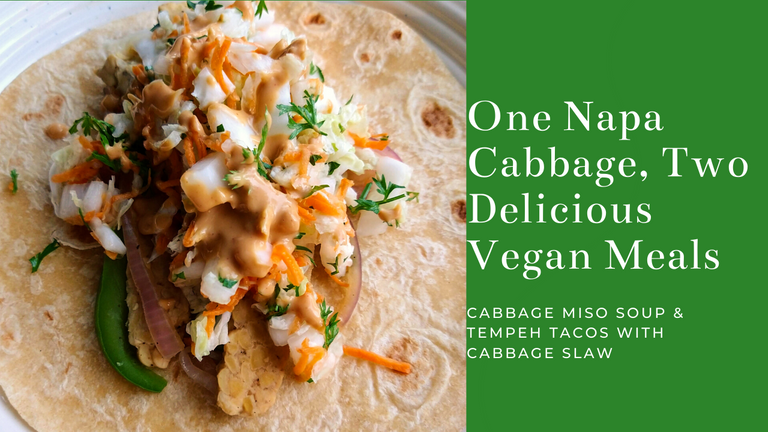 Hey everyone! I think this should just about round out my food posts for the first week of November. It was a productive start to the month, so I had plenty to share. This post is less of a recipe and more of an inspiration on how to use up some of the seasonal offerings at the farmers market. I know sometimes people are hesitant to get certain items when they're not sure how to use it, or some items are too big for one meal so two ideas is a great way to create less waste! The latter was definitely the case with my lovely Napa cabbage from Hearts of Harvest farm.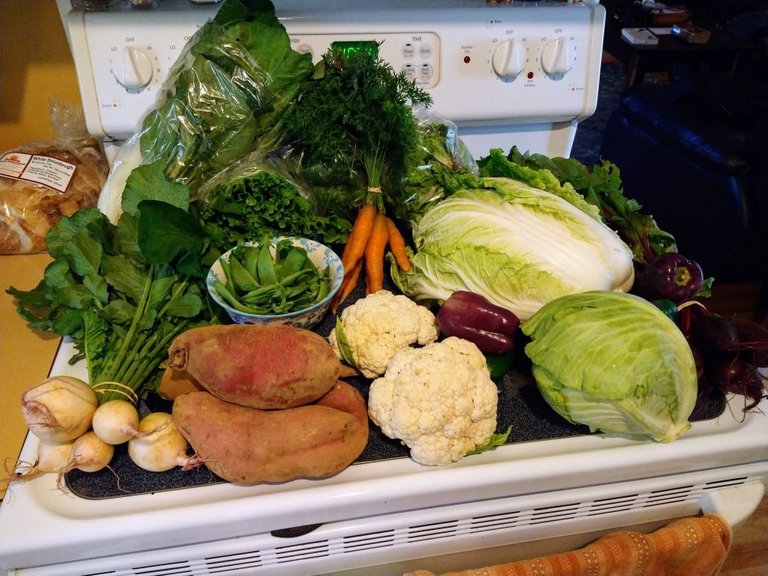 Cabbage is just hitting the season here in Georgia, but while the typical green or even red cabbage are commonly found, Napa cabbage (or Chinese cabbage) is a little bit more elusive sometimes. It has a slightly different flavor and lovely crunch that is great used in a raw slaw, but as I'll share below, it also works well in a soup preparation if you're just not feeling a cold dish. Of course if you want to venture out from the usual sauerkraut I shared in one of my last posts, you can make the Korean version of fermented cabbage--Kimchi.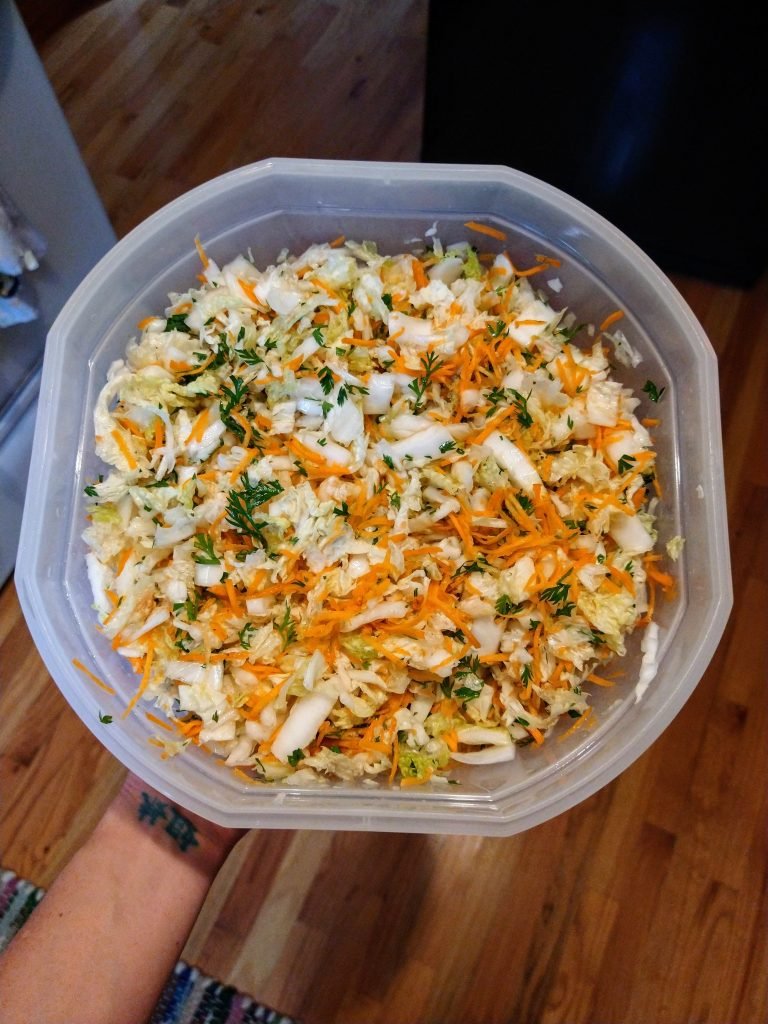 Since my cabbage was such a heft specimen, I knew it would be plenty to use in two different dishes. I had in mind an Asian-inspired taco, so slaw is always a great topper for that. I tend to go pretty simple and classic in most of my slaws. This just had chopped cabbage, shredded carrots, the carrot greens, lime juice and a drizzle of flavored balsamic. I used Cucumber Melon for a lightly sweet flavor to balance out the savory tacos, but you could also use plain rice wine vinegar, as well.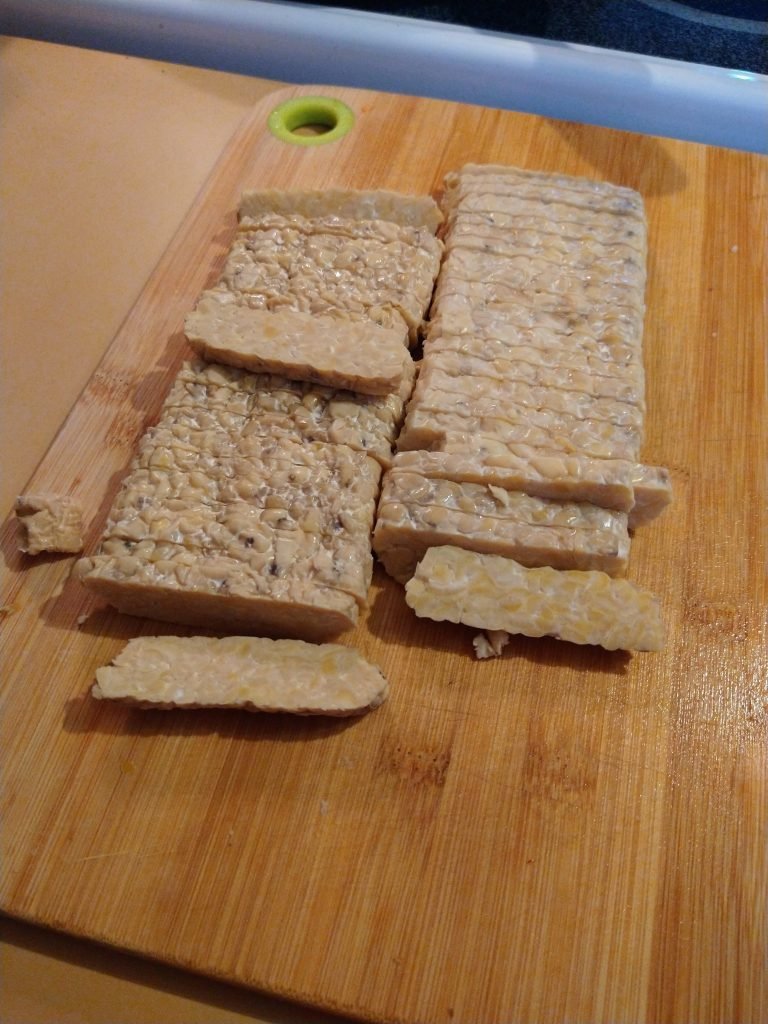 I made the slaw first then tackled the filling for my tacos. Tempeh was my protein of choice. I sliced up red onion, bell peppers and a few hot peppers to start sautéing in a pan. After they started to soften I added my tempeh and just a little bit of adobo seasoning and a splash of tamari.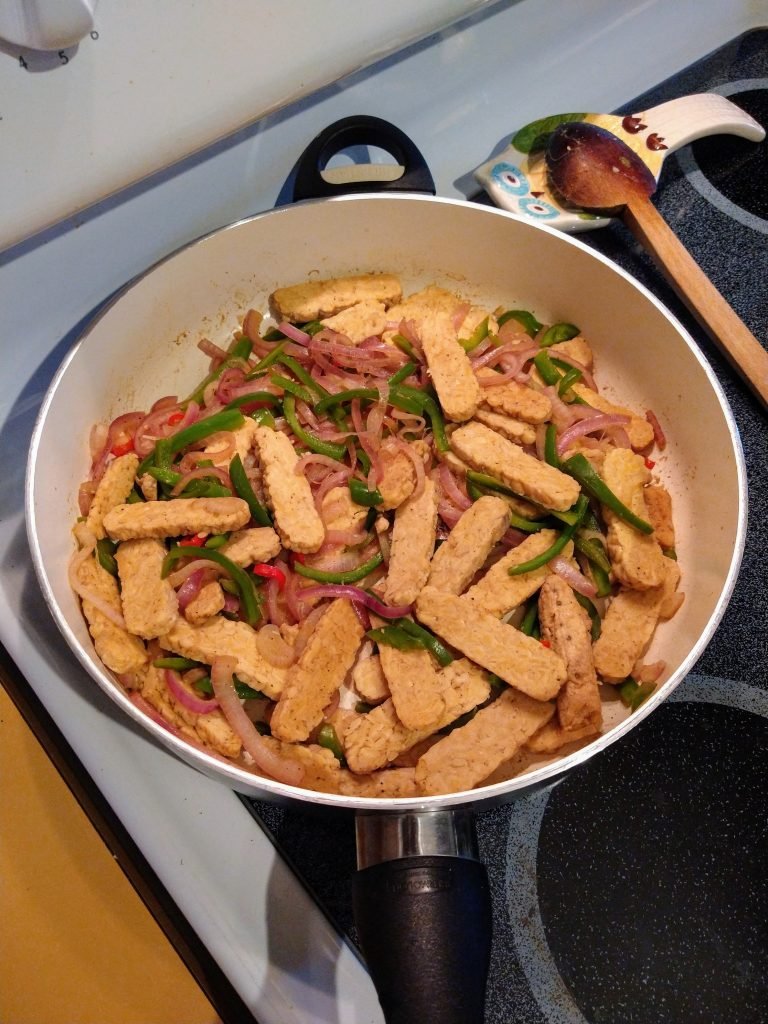 To finish it off I whisked together plain peanut butter with a bit more tamari, garlic and rice wine vinegar for a delicious sauce to drizzle over top of our tacos. I really should have made my own wraps, as well, but at this point I was running out of steam in the kitchen. I had made a lot of other stuff throughout the day, and this was the final bit of my meal prepping.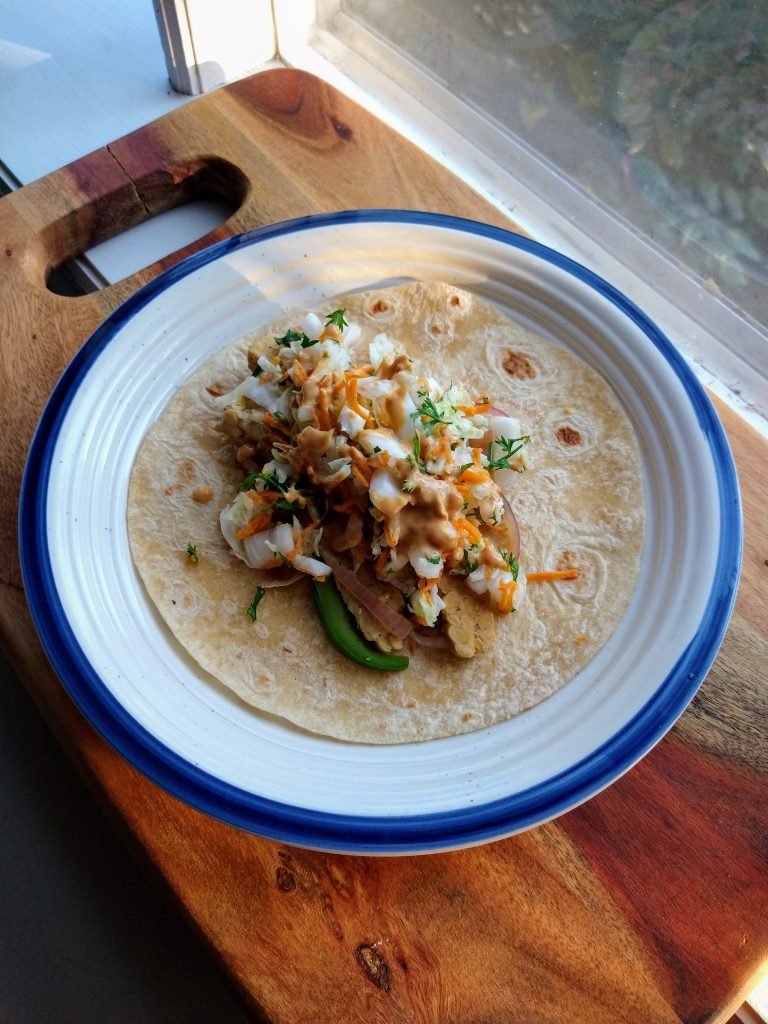 Wrapped up in a whole wheat tortilla, all those fillings were absolutely delicious! The warm filling with the crisp, cool slaw all tied together with that nutty sauce. We both most certainly went back for seconds. Especially since I'm trying to get back in my running groove. Gotta fuel my training!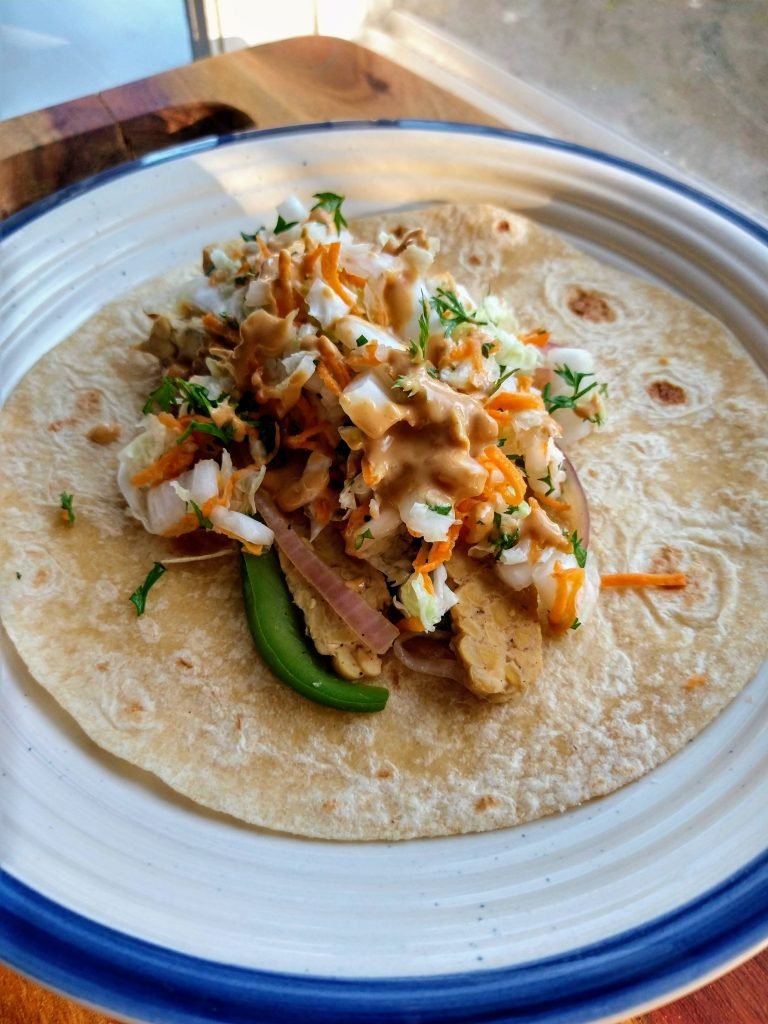 Now tell me that isn't some gorgeous cabbage? 😜
---
My soup was definitely a little less "sexy" to photograph, but it was no less filling and provided a big bowl chock full of veggies in one meal. This time of year, soup is almost always on the menu plan. Especially since it is such a good way to use up some extra or slightly wilted produce that might be slightly past its prime.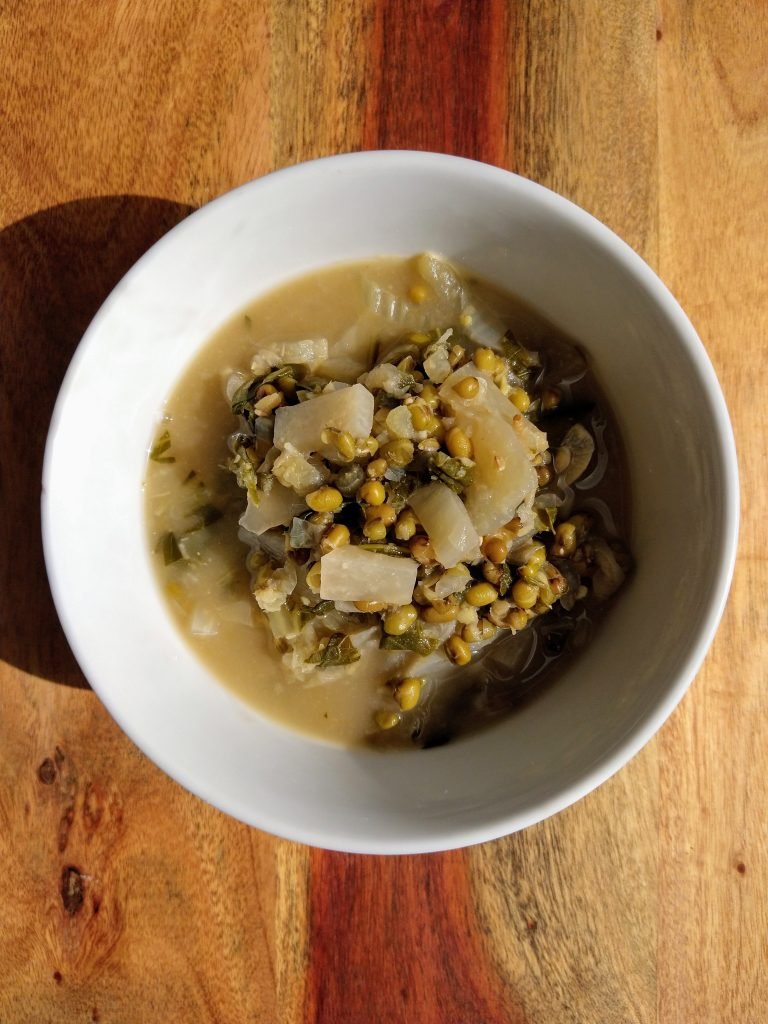 I have been known to over-buy at the farmers market, so it is not all that surprising to end out the week with a few extra odds and ends that I didn't get a chance to use from the previous market visit. That happened this past trip when I came home with my new loot, but still had some kohlrabi left from the week prior. One of the good things about fall vegetables, though, is that they do tend to last longer than some of the spring and summer varieties. Kohlrabi tends to hold up pretty well in the refrigerator for a week or two, though it might lose some of its crispness if left unattended too long.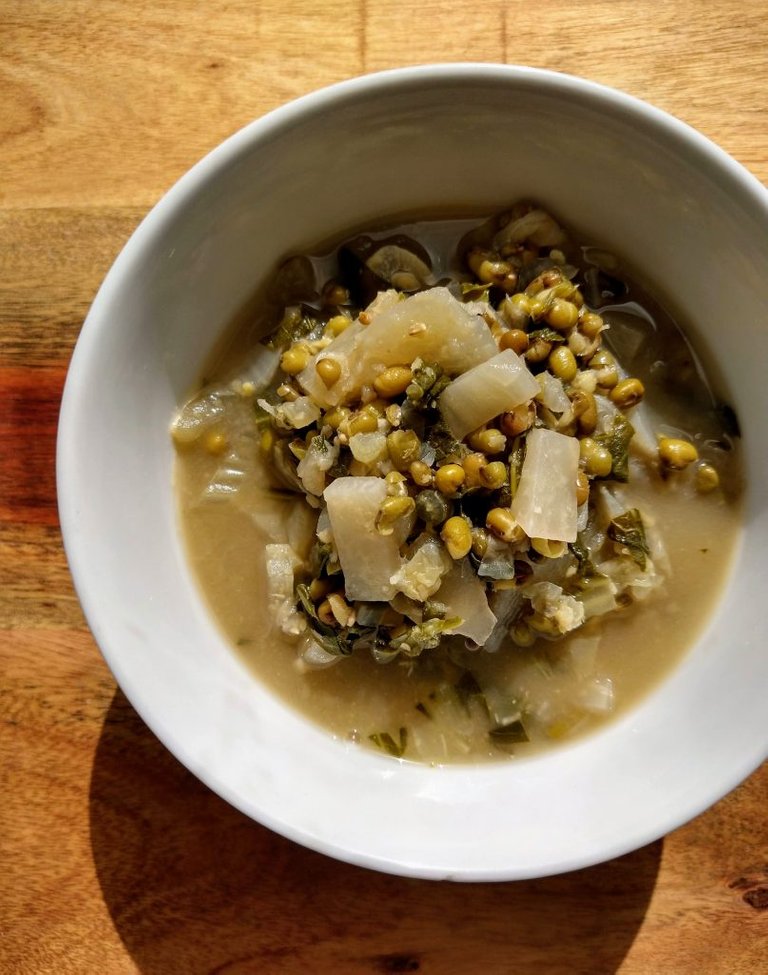 I also had a few fennel bulbs since my farmer Lynn from Straight from the Backyard Farm always loads me up when I buy some. That formed the initial flavor base for my soup. I sautéed the chopped fennel in the stock pot before adding in some fennel seeds and dried oregano to amp up the flavor, two bulbs of chopped kohlrabi, and the sliced thick stems of the fresh bok choy I bought from the market, as well. I let that cook for about 5 minutes before finally adding the remainder of my Napa cabbage (about 3 heaping cups) and about 4 cloves of sliced fresh garlic to cook for a few more minutes.
Once the cabbage had wilted down just a bit, I added a few cups of dried, rinsed mung beans and 10 cups of vegetable broth. I brought the whole mixture to a boil, then reduced the heat and let it simmer for almost an hour to cook the beans through and soften up all the vegetables. Once the soup was just about done, I stirred in the leafy green tops of the bok choy to wilt in to the soup. Then I took out about a cup of the soup broth to mix with a few tablespoons of mild miso before mixing back in along with the juice of a lime for a nice hit of acid. It's not my prettiest bowl, but it was full of umami and completely satisfying on a few of the cooler days we had to start out the month.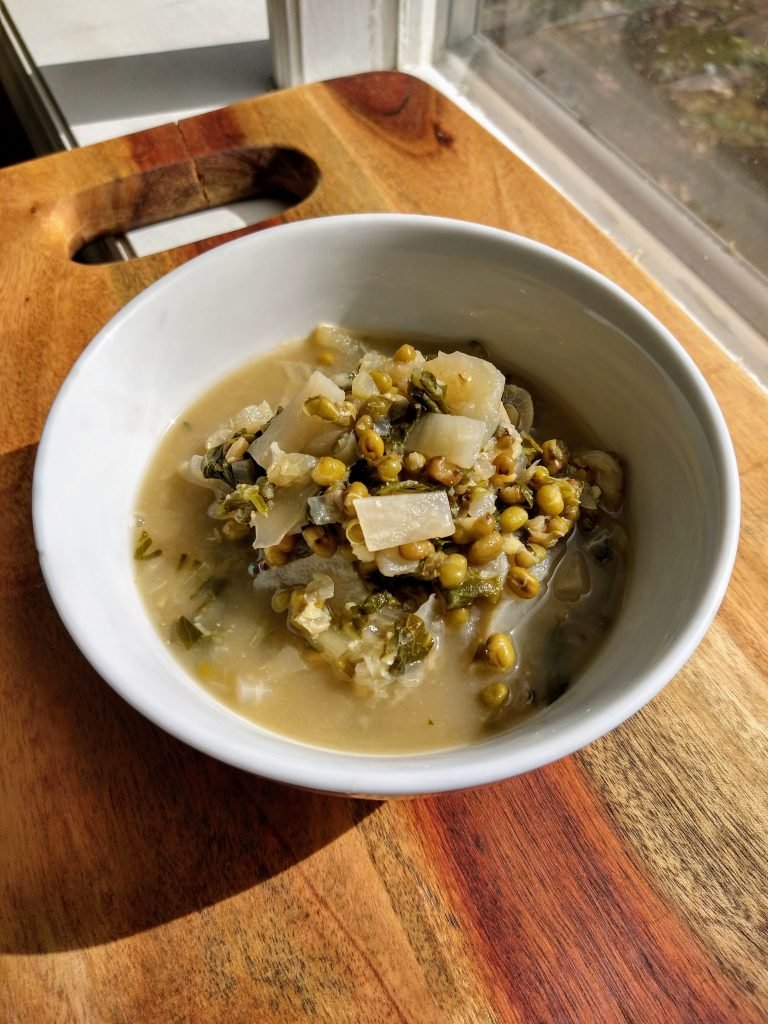 I often forget about mung beans other than to sprout them on occasion, but they are quite the lovely little pops of texture in a soup. If you have someone in your household who doesn't love the larger beans like navy beans or chickpeas, perhaps give mung beans a try!
---
Cabbage may not always be the belle of the ball of the vegetable world, but it is a fantastic work horse in the kitchen. So versatile and used in many cuisines. Plus, as a member of the brassica family, it is packed full of nutrients and prebiotic fiber to keep your gut flora happy and healthy. What is your favorite way to use this humble plant?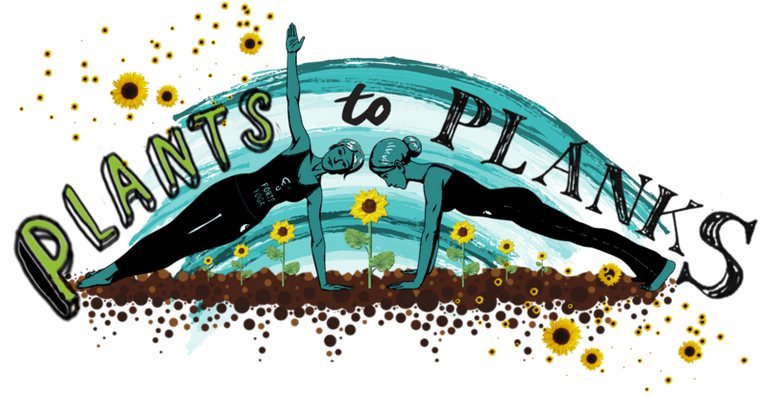 Banners by @woman-onthe-wing and @dksart

Join The Best Natural Health Community on Hive
---
Posted from my blog with Exxp : https://plantstoplanks.com/one-napa-cabbage-two-delicious-vegan-meals-tempeh-tacos-soup/
---