For the next week (until post payout) we're running a little side challenge to the main BUILD-IT/NATURALMEDICINE challenge that runs til the 21st of December (you can win 150 Steem and LOTS of tokens by entering that one!).
This challenge is a simple one, and an easy one. All you need to do is show us your natural medicine cabinet! We're aware not every one might have a 'cabinet' as such - it might be a shelf, a drawer, a box or the kitchen bench - or lots of places! We just want to have a sticky beak into what herbal medicines you use the most, how you organise them and what you might be playing with! Even if it's highly disorganised, or you're still building stocks, or just playing around with a few things, we want to hear from you! Maybe this is what you've been waiting for - a chance to tidy up your medicines to show off in a photo!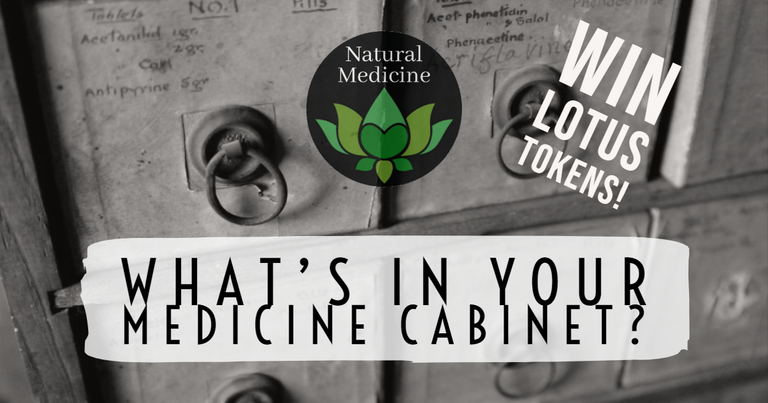 @riverflows and @nateonsteemit are hosting the challenge - you can check out their posts here:
Lotus Medicine Cabinet by @riverflows
My Herbal Medicine Cabinet, and Then Some by @nateonsteemit
Encouraging you all to enter - River and Nate will be sending the LOTUS from their personal coffers, but as an added incentive, LOTUSCOIN will issue equal amounts to @null.
The main rule is that you post from www.naturalmedicine.io - this is so your post immediately gets our attention. You'll also earn a little bit of LOTUS for doing so - and you'll need that, because in the new year we'll be charging LOTUS entry into these challenges and having BIGGER steem prizes!!
Looking forward to reading your posts!

Oh, and if you're wondering what tags to curate? Our curators look at most of these tags and much more! Check out www.naturalmedicine.io for a full list of supported tags.
| naturalmedicine | health | healing | yoga |
| --- | --- | --- | --- |
| spirituality | herbalism | homesteading | innerblocks |
| vegan | meditation | wellness | cbd |
| qi gong | keto | tai chi | herbs |
Thinking about writing a #naturalmedicine post this week? We have upvotes to burn and will resteem the best of you to nearly 1,000 followers! Go you! We're also resteeming on our @uplotus account, so go give that a follow too! That's the one where you'll see the LOTUS rewards.
All the curation and author rewards in LOTUS for this post will be burnt to help the ecosystem.

We need YOU! Please consider delegating to help keep this collective going. The minimum entry for membership is 20SP (free for members under 150SP), and helps give YOU upvotes, contests, meditation sessions, an awesome discord support group, and so much more!
50SPII100SPII200II300SPII500SPII1000SP