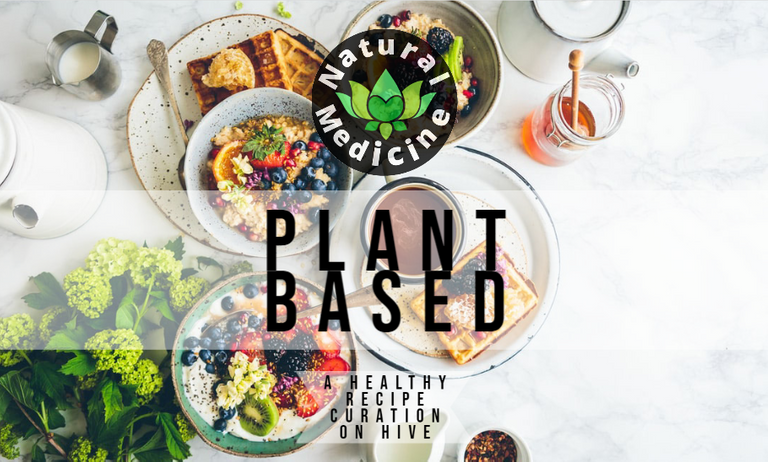 @JustinParke here once again with a delicious #plantbased recipe curation. With this weekly curation I do my best to pull together a collection of the finest vegan recipes from our community and beyond.
---
     Maybe it's world politics or the the slump in HIVE price, but this week there weren't a lot of #plantbased recipes to choose from. I stopped short of curating multiple posts from one author, but I did have to create a shortened curation post this week.
     Seeing there weren't many vegan recipes this week, I decided to share a corn masala I made for the family this week. Of course community chefs like @carolynstahl, @plantstoplanks, and @sreypov didn't fail to provide us with some delicious creations.
     The tempeh stack from @carolynstahl is absolutely beautiful, @plantstoplanks provided us with a delicious rice-less rice bowl, and @sreypov cooked up some shahi tofu, and I wouldn't mind to have all three on the same table. After that, there wasn't much in the community to curate, so I looked beyond into the greater Hive-osphere and discovered an amazing vegan chef.
     The vegan chef I speak of is @yanirauseche, who posts recipes only in Spanish from what I can see, but recipes are quite easy to follow despite any language barriers, especially ones with good photography. I have selected @yanirauseche as this week's winner of the 5% beneficiary, and I look forward to more receta veganas from her. I have also informed her of the #naturalmedicine community and tag, and how to earn LOTUS tokens with vegan recipes.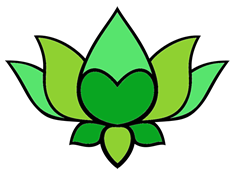 How to Be Curated by PLANT BASED
Use the tags #naturalmedicine #vegan or #plantbased
We don't mind what community you post in - although we prefer you post in the Ecotrain or Natural Medicine communities!
Ensure your recipes are plant based - although we don't preach any diets, this curation would like to focus on plants rather than dairy or meat additions to recipes.
Use clear, well focused photographs - and ORIGINAL content!
---
---
🍌 ¿Hablas Español? 🥄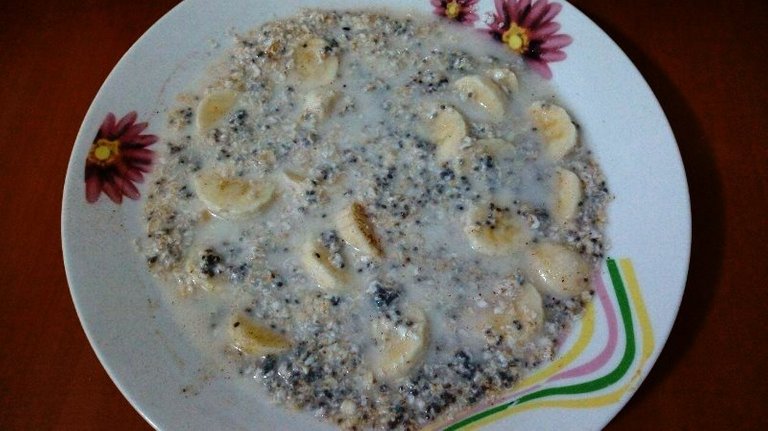 💛 OATMEAL WITH BANANAS 🍌 AND CHIA SEEDS 💛
by: @yanirauseche
     I haven't had oats for breakfast in a long time, and this simple but delicious recipe from @yanirauseche made me search for the oats. I can't believe I have been missing out on this Spanish speaker's vegan recipes. However, I turned the shortage of vegan recipes within our community into a positive thing by finding this new-to-me author.
     I always enjoy discovering a new Hive chef to follow, and I need to brush up on my Spanish too, so this is an excellent opportunity for me to drool over delicious food and improve my language skills. I look forward to future recetas veganas from this talented chef.
🌽 Cobs Out, Kernels In 🌽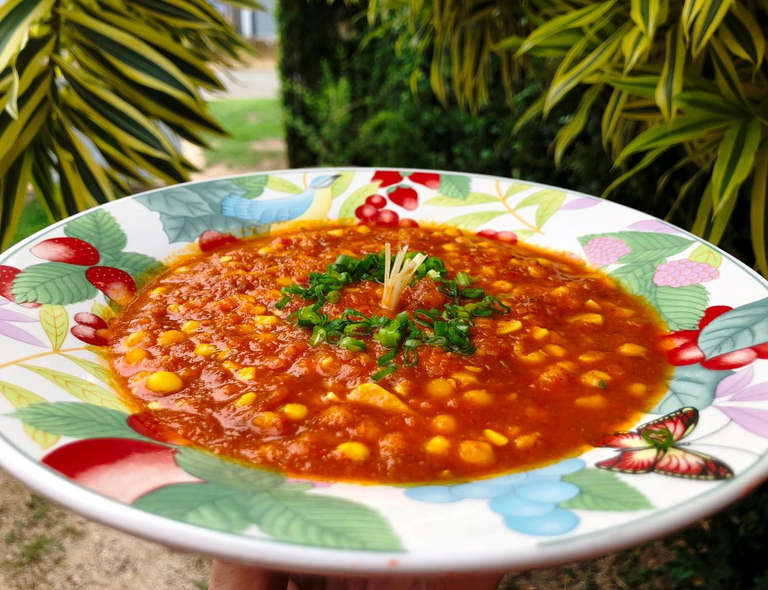 🌽 Ital Suriname Corn Masala 🍛 Ital Is Vital
by: @justinparke
     I guess I am tooting my own horn, something I normally wouldn't do if there was abundance of #plantbased recipes this week. Just as @plantstoplanks made an awesome recipe save from her doubleposting accident, I tried to turn a disastrous corn purchase into something positive and delicious.
     I grew up on a popcorn farm in Indiana, so I'm a bit of a corn connoisseur, eating nothing less than "choice" corn. Well, I failed miserably in Suriname, buying some half rotten corn that didn't impress. I did manage to make it into not only something edible, but something delicious with this corn masala.
🏗️ Layers And Layers 🧱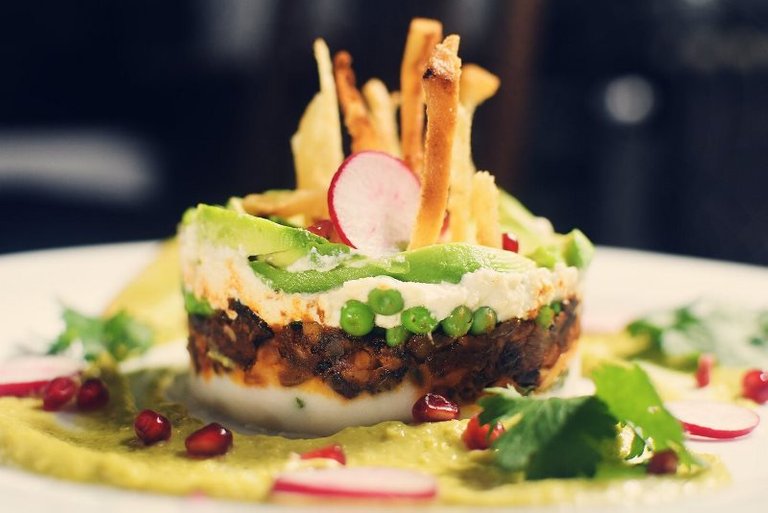 Vegan chorizo spiced mushroom tempeh stack with eddoe root mash
by: @carolynstahl
     @Qurator hosts fun weekly themed cooking challenges, and recently hosted a "Layers" cooking contest. Our super-duper talented chef @carolynstahl submitted this dish as her entry, and it is absolutely astonishing, almost too beautiful to eat, but I wouldn't dare let its beauty prevent me from devouring it.
     Tempeh, peas, eddoe root mash, mushrooms, avocados, and more, the list goes on and on. This dish has so much going on, it's hard to describe, so you should probably just visit her post and see this art, I mean dish, from several different angles.
🍠 Roast It 🔥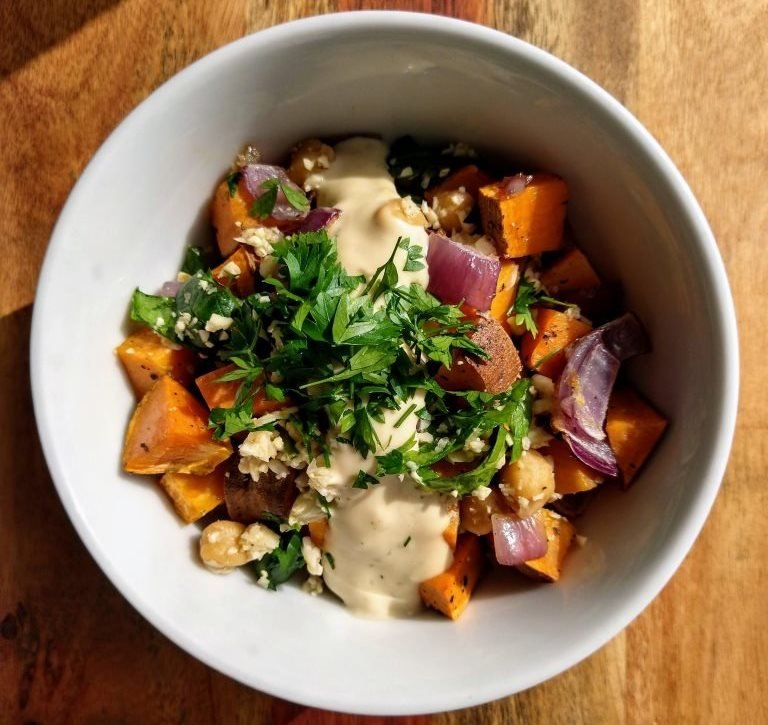 Cauliflower Rice Bowl with Roasted Vegetables & Tahini Dressing
by: @plantstoplanks
     I am not sure how mainstream it is yet, cause I've lived outside the USA for over 10 years, but cauliflower rice is something even my 70+ year old stepfather eats a few times a week, so I assume you've all heard of it.
     If you haven't, it's simply cauliflower grated or cut into shapes/pieces similar to the size of a grain of rice, and works as a fair substitute. Cauliflower rice is good for those watching their carb intake, but this dish is way beyond that, with tahini, roasted veggies, plenty of umami, and more.
🚫 No Paneer Necessary 🧀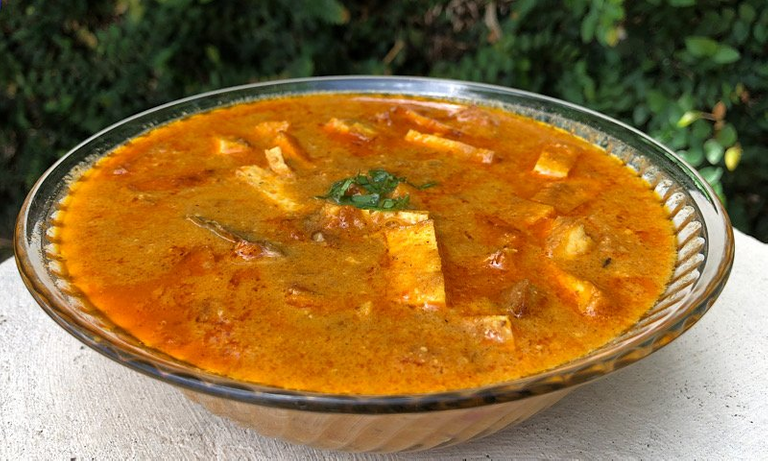 🍅 Shahi Tofu 🥜 An Ital Indian Recipe 🍛
by: @sreypov
     It's not hard to veganize most vegetarian Indian dishes, making it a very vegan friendly cuisine. @sreypov has learned to substitute ghee and paneer with #plantbased choices, and has made a vegan version of Shahi Paneer, a very common Indian restaurant dish.
     She's learned a few shortcuts to make this dish a little faster to prepare, but without any sacrifices to flavor. Shahi tofu is one of her favorite Indian dishes, and it's not available in Indian restaurants as tofu is not a traditional Indian ingredient.
---
We hope you get involved with posting lots of yummy #plantbased #vegan #naturalmedicine #ecotrain recipes! Both communities are now also supported by OCD, so good quality posts might also get a little bit of extra love. Stay healthy, stay safe, and stay happy!

Earn Instantly For Writing Good Natural Health Content
If you would like to earn rewards for sharing your natural health content on www.naturalmedicine.io, you can sign up for a free FREE account by emailing welcome@naturalmedicine.io. Read more about us on our Welcome Page. We support writers sharing about herbalism, TCM, yoga, meditation, vegan and other healthy diets, as well as earth centred practices such as foraging, permaculture and biodynamics.

Please consider delegating to help keep this collective going. For any questions, come ask in our friendly Discord here !