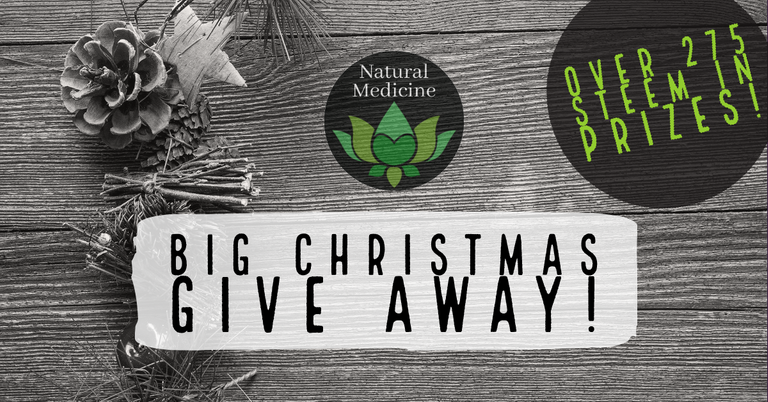 ONLY TWO MORE DAYS TO GO until Solstice! That means TWO more days for the chance to win over 275 Steem plus tokens. If you are hearing about this challenge for the first time, please read the posts below.
Challenge 1 - Buildit & Natural Medicine Makers Challenge
Challenge 2 - 12 Natural Medicines of Christmas Challenge
Only entries following the rules will be accepted. Please noye that for the Christmas challenge, we announced in Discord that the prizes will only be awarded if we receive over 10 entries. This is because these challenges are community engagement challenges. If we recieve less than 10 entries, all entries WILL receive a small amount of Steem and tokens,so it's a win win anyway!
Winners announced before Christmas.

Oh, and if you're wondering what tags to curate? Our curators look at most of these tags and much more! Check out www.naturalmedicine.io for a full list of supported tags.
| naturalmedicine | health | healing | yoga |
| --- | --- | --- | --- |
| spirituality | herbalism | homesteading | innerblocks |
| vegan | meditation | wellness | cbd |
| qi gong | keto | tai chi | herbs |
Thinking about writing a #naturalmedicine post this week? We have upvotes to burn and will resteem the best of you to nearly 1,000 followers! Go you! We're also resteeming on our @uplotus account, so go give that a follow too! That's the one where you'll see the LOTUS rewards.
All the curation and author rewards in LOTUS for this post will be burnt to help the ecosystem.

We need YOU! Please consider delegating to help keep this collective going. The minimum entry for membership is 20SP (free for members under 150SP), and helps give YOU upvotes, contests, meditation sessions, an awesome discord support group, and so much more!
50SPII100SPII200II300SPII500SPII1000SP