We talk about low self esteem, almost as if it's not a common thing, but really, I think nearly everyone has experienced it. Who hasn't doubted themselves and their abilities? Yet at what point does it become such an issue as to affect your life? After all, it's apparent that many manage to balance out those self depreciating habits and not let them spiral into something worse.
It's ironic that those with the biggest self esteem issues actually unwittingly behave in ways that compound their situation. Even introverts enjoy human company, yet their lack of confidence in approaching people can leave them seeming as if they are aloof, don't like people or don't want to interact with people. Fear that people are judging them badly or don't like them means that they might avoid acknowledging people or making eye contact, because they are unsure how to interact in a way that won't come across badly. They don't always know what to say to other people when they do interact with them and this can become hard work for the other person. They may believe themselves inferior and place everyone else above them, thus feeling intimidated by everyone and undeserving of attention, affection or friendship.
These things create a situation where the people around the introvert avoid interacting with them because they themselves then struggle to talk to someone who doesn't engage back with them. This then increases the introvert's impression that they are not likeable and so it continues to spiral downwards without intervention or them somehow realising what they're doing and being able to break the cycle.
Breaking this cycle involves stepping back and taking a look from an outside perspective. It can help to acknowledge that few people are as confident as they seem and that they are no more likely to be judging you than you are them. Okay, that's not entirely accurate, because we all make judgements. However, we don't generally dismiss someone entirely on those judgements.
In those people who are more outgoing they often come across as confident, but the way they build that confidence is by proving themselves to be the best at everything and/or the most victimised. They are usually either the hero or the victim and they will never admit to being wrong. If you've got a black cat, theirs will be blacker. If you've had a bad experience, they'll have had one worse. If you've done well in something, they'll have done better. You've likely encountered someone like this at some point, if not several people.
Sometimes it's obvious that they really aren't the best at everything and they can be laughed about behind there backs, but some of them go out of their way to prove themselves as better all the time. The problem with actually being the best at everything among friends, is that it doesn't leave anything for them to be able to feel like they have validity. So they reach the point where they will stop enjoying being around that person.
These types are what is commonly known as a narcissist and come across to others as being stuck up, selfish and uncaring. Meanwhile, the narcissist feels abandoned and wondering why no-one likes them when they have proved themselves as special or superior in many ways. After all, it's obvious that many are drawn to and admire talented and powerful people or they flock to sympathise with victims. Indeed, initially many people are drawn to them and find them charismatic, but there will be a point when the narcissist will start to feel threatened by them and need to regain control in their usual way by proving themselves or bringing the other down a peg or two. Ironically, they see in others and dislike the bad behaviour that they themselves display, but struggle to see it in themselves and their fragile self esteem really doesn't cope well with that behaviour being pointed out in them.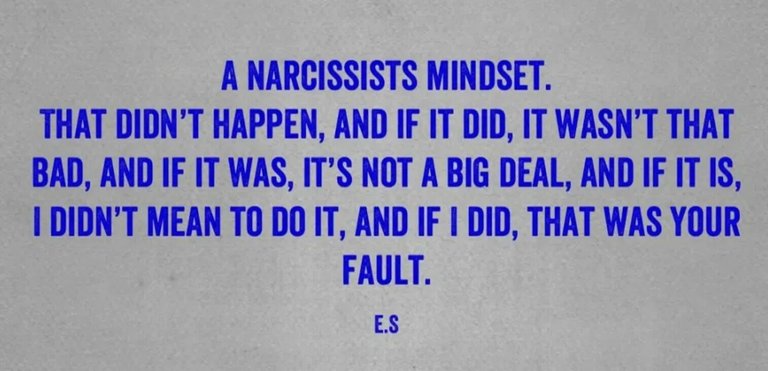 Anyone who has been in an abusive relationship will probably recognise this. It can range in severity from psychological manipulation to physical violence. Some do try to stop their cycle, but while they can improve there will often be signs of the patterns which stick with them.
What is particularly ironic with these types of people is that they are taking some of the very advice often doled out to help people overcome self esteem issues, but not necessarily in the best way.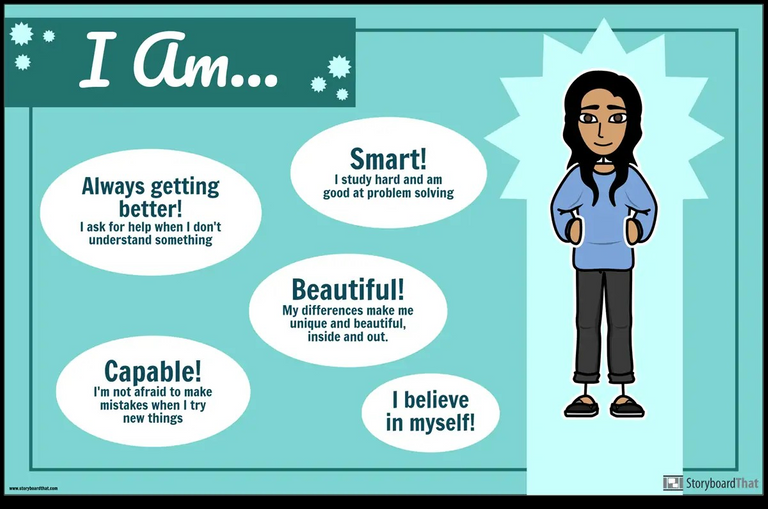 Image source
Sadly, the problem with this kind of self sabotage is that it doesn't just harm the one with self esteem issues, it harms those around them as well, often exacerbating self esteem issues in them too, another reason for them to cut ties with the narcissist for their own protection. It's one thing to realise that as a quiet person, you may be inadvertently keeping people away from you, but to accept that your behaviour is also harmful to others must be a much harder pill to swallow. Unfortunately, no changes can be made without acknowledging first that the problem might be yourself.
When it comes to solvable mental health issues, as opposed to actual psychiatric conditions, the road to improvement cannot be made by someone else for you. They can support you through it, but they cannot magically do it for you. They also can only support you and guide you if you accept that change is needed and choose to do what it takes to get yourself to a more stable place. I hesitate to say the word 'recover', because it can give the impression that you can completely leave low self esteem and the accompanying depression and anxiety behind, when none of us truly does. We can, however, find a better balance, but may still occasionally find ourselves taking steps back again.
So what sorts of steps can you take if low self esteem is causing real problems for you?
By stepping back and looking at yourself from the outside, you can gain a bit more awareness of how your actions might be affecting the people around you and their responses to you. Would you entirely dismiss someone on your behaviour and attributes if you were the one looking at yourself? If so, what about yourself do you find so deplorable or uncomfortable? Can you change that?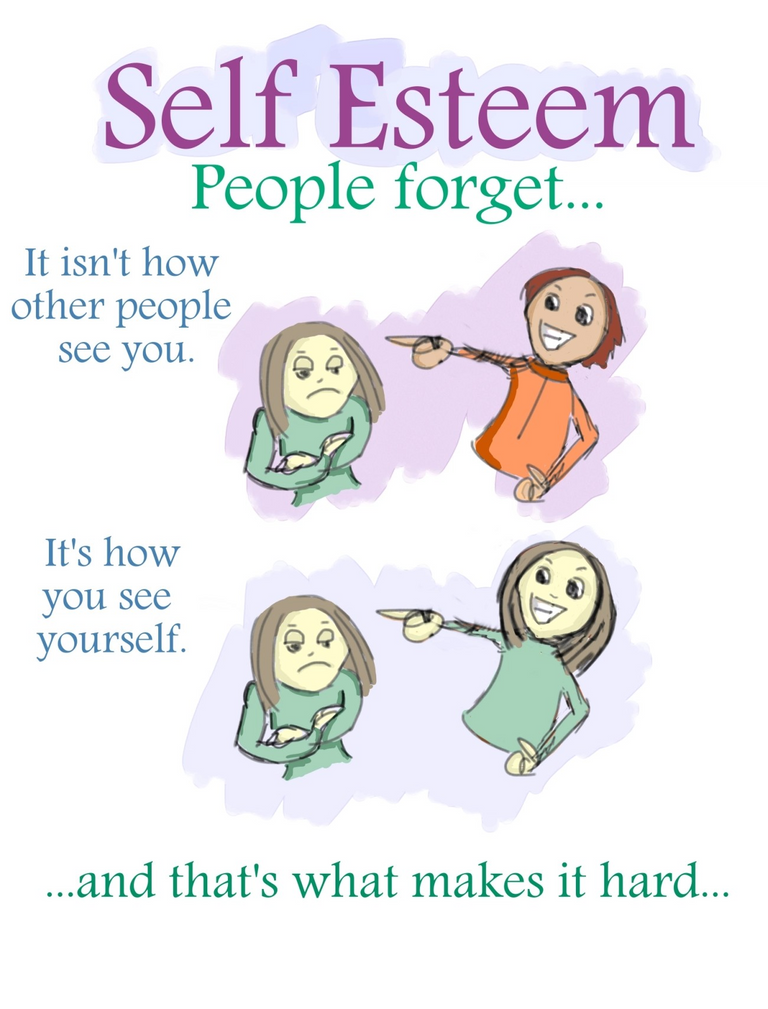 Image credit
Not everyone is going to connect with you as a friend. We all have different likes and dislikes, but we can still live with each other. I'm sure you are acquainted with plenty of people who seem to be nice enough people, but they aren't any more than passing acquaintances, because you may not have many interests in common. Do you judge them badly for not being your personal friend? Probably not and the chances are they don't judge you either. They are just getting on with their lives.
Another thing that can help is seeing things in others that you worry are off putting in yourself and assessing whether that actually does seem to put other people off them. Particularly as teenagers, we can tend to focus in on what we perceive as faults in our physical features. Perhaps our nose is larger than we think it should be for us to be found attractive. Then one day you might come across another person with an even bigger nose and you realise that, while you're glad yours isn't that big, they are not unattractive, because their nose is merely a part of a whole. When we look at others we don't focus on them as individual features, but as a whole. Faults are balanced out by other attributes and we all have good and bad.
So putting some emotional distance from ourselves can be a useful tool to start with. Asking for or accepting help is incredibly important as well, because while I've said that no-one else can make your journey for you, it's also true that it's going to be super hard to make it without help.
Expect it to be a lifetime journey. Your self esteem is with you for life, but it's up to you how you will let it impact your life. Nuture it as you would a child. It's not going to be an easy journey and it may even get worse before it gets better, but it will get easier.
~○♧◇♡♤♡◇♧○~