DIY - Rosemary Spritz

I think living on a Narrowboat lends itself to a lifestyle of self-sufficiency, and one of the things I'm looking forward to is creating a herb garden, to grow seasonal herbs and veggies.
To help me out till I get started, @diveratt drove many kilometers from south Devon, to enjoy the day with @scubahead and myself, as we were moored at a stunning location on the Coventry Canal, Tamworth UK.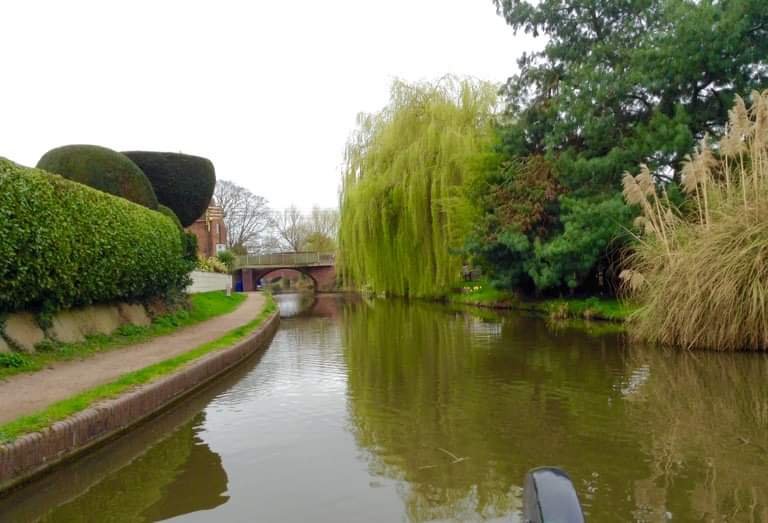 He brought me some stems of fresh Rosemary in a glass of water, and a bunch of fresh Oregano.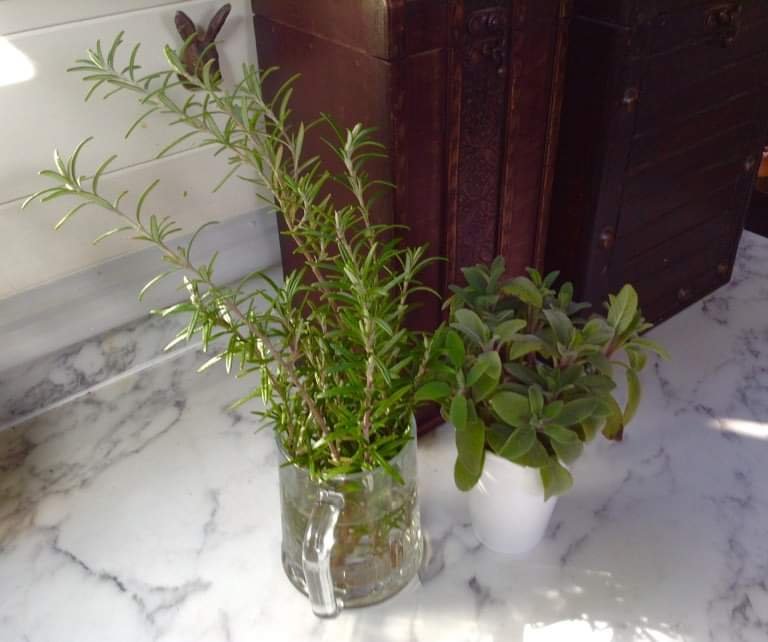 ---
My plan for the day, is to use a few stems of the Rosemary to make my own hair spritz.
On my list of ingredients are a combination of items already in my pantry.
Tools & Ingredients
Small sauce pan
Tap water
Spatula OR spoon for mixing
1 teaspoon
Fresh Rosemary Stems (3 stems for the size of my jar. Please add to preference.
Rose water
Extra Virgin Olive Oil
1 sealable Bottle or jar (I've recycled my hot sauce bottle)
1 spray Bottle (I've recycled my old hand sanitizer spray bottle)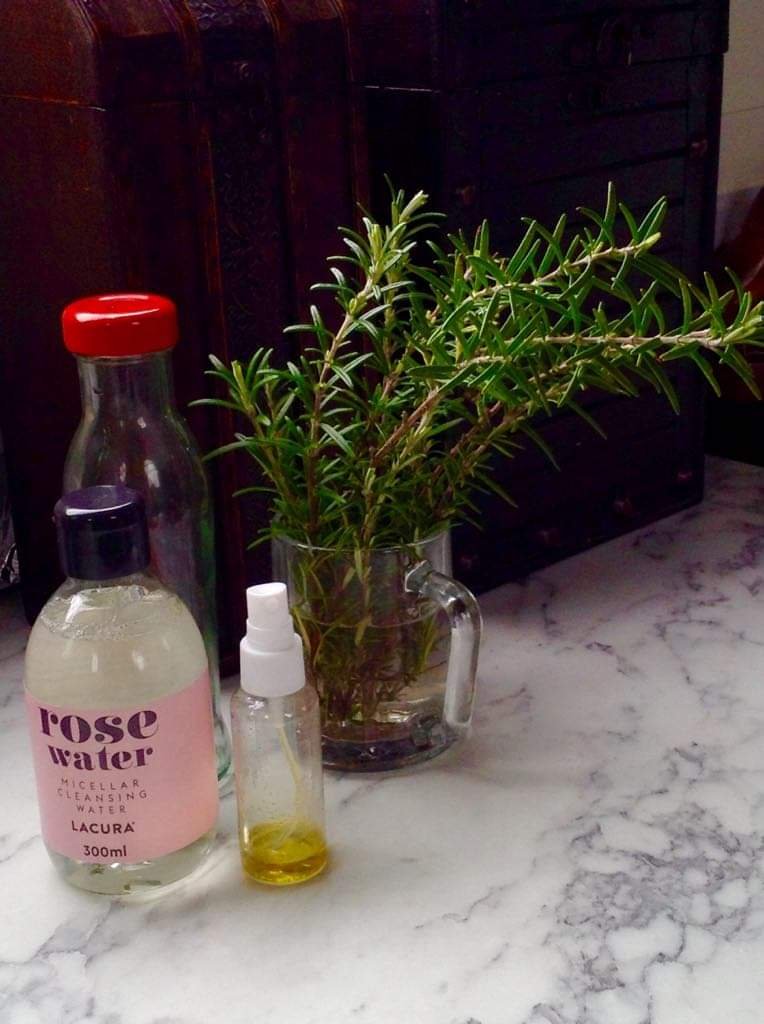 Steps
Rinse rosemary stems to remove any dirt
Place stems in sauce pan and fill with cold tap water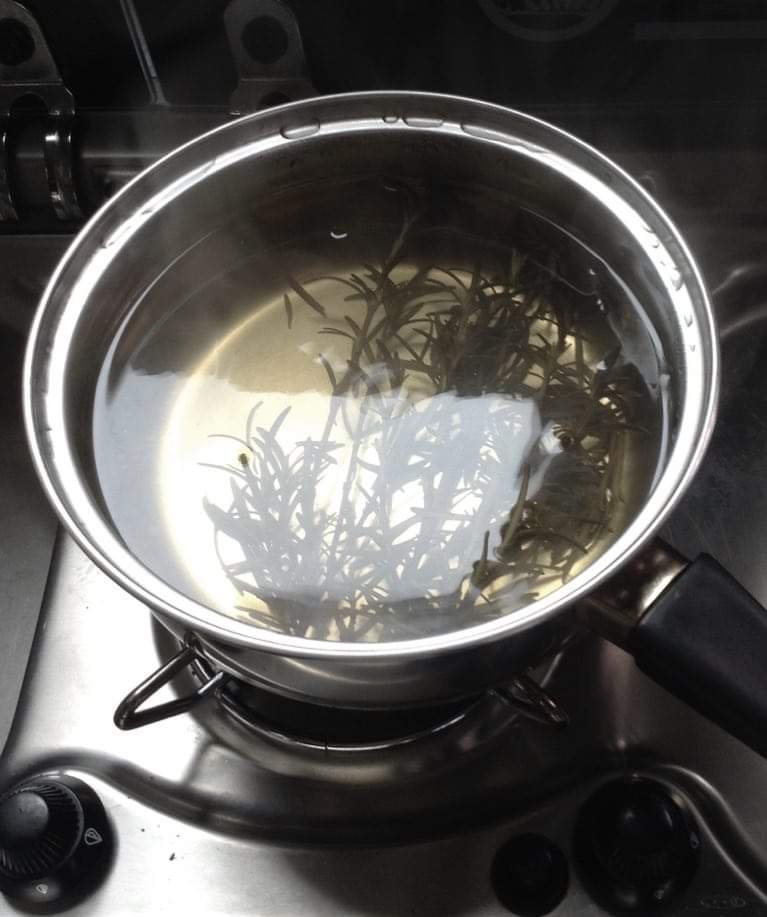 Bring to boil
Remove from heat and leave the stems in the water to infuse and cool.
The water should then look like this - a light brownish green color.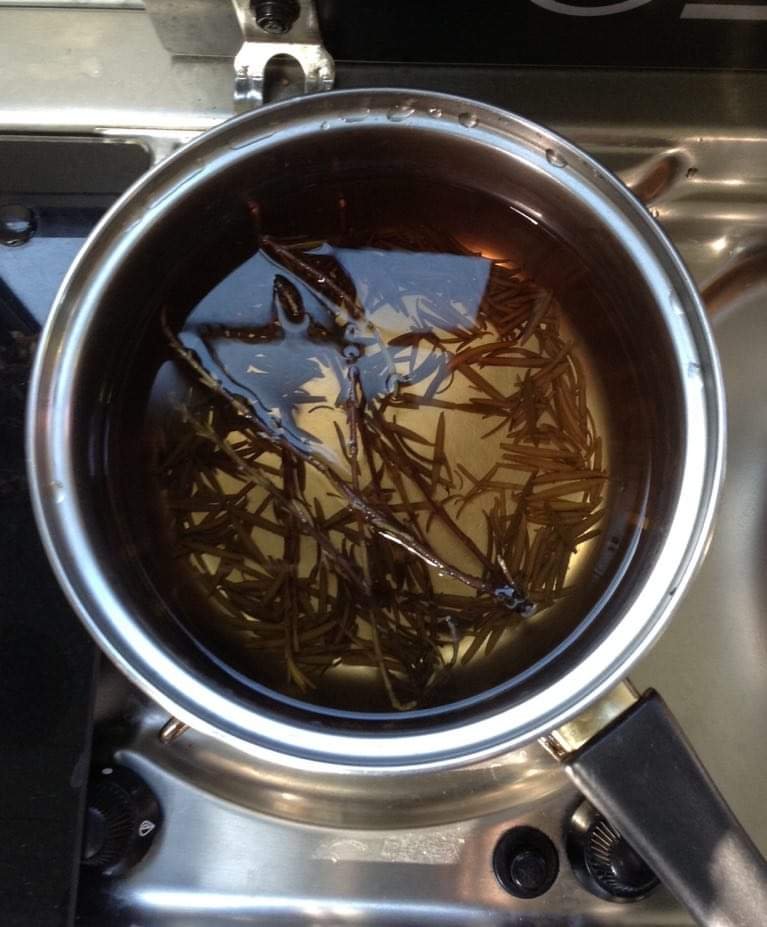 Pour the rosemary infusion in the airtight jar / or sealable bottle.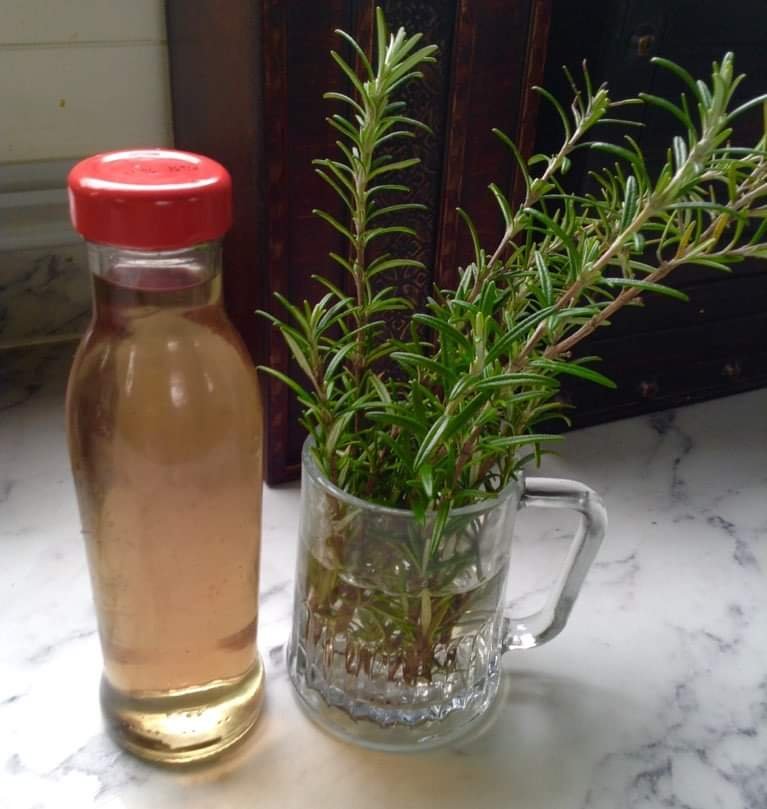 Add 1 tsp of extra virgin olive oil to your spray bottle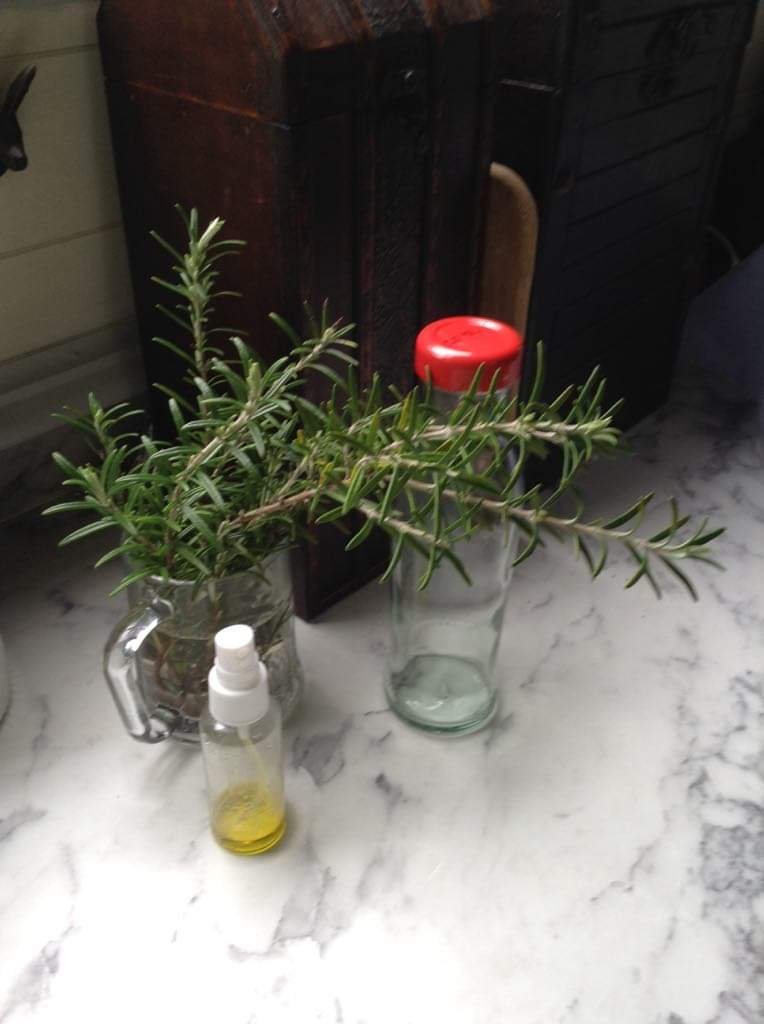 Add rosemary infusion, leaving space to add,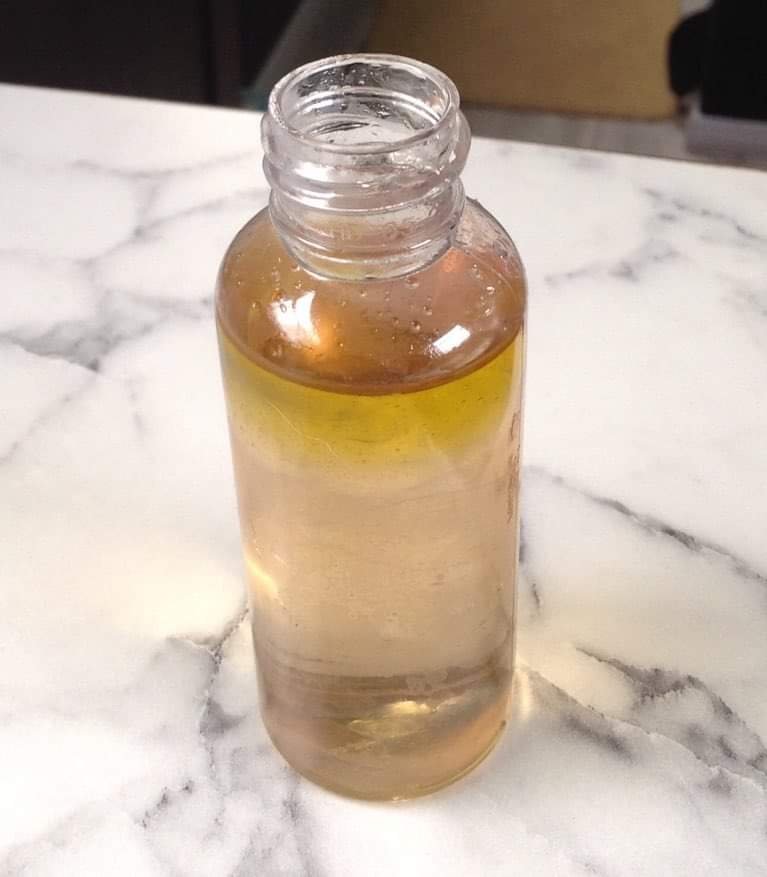 1 tsp Rose Water.
Shake spray bottle to mix all ingredients together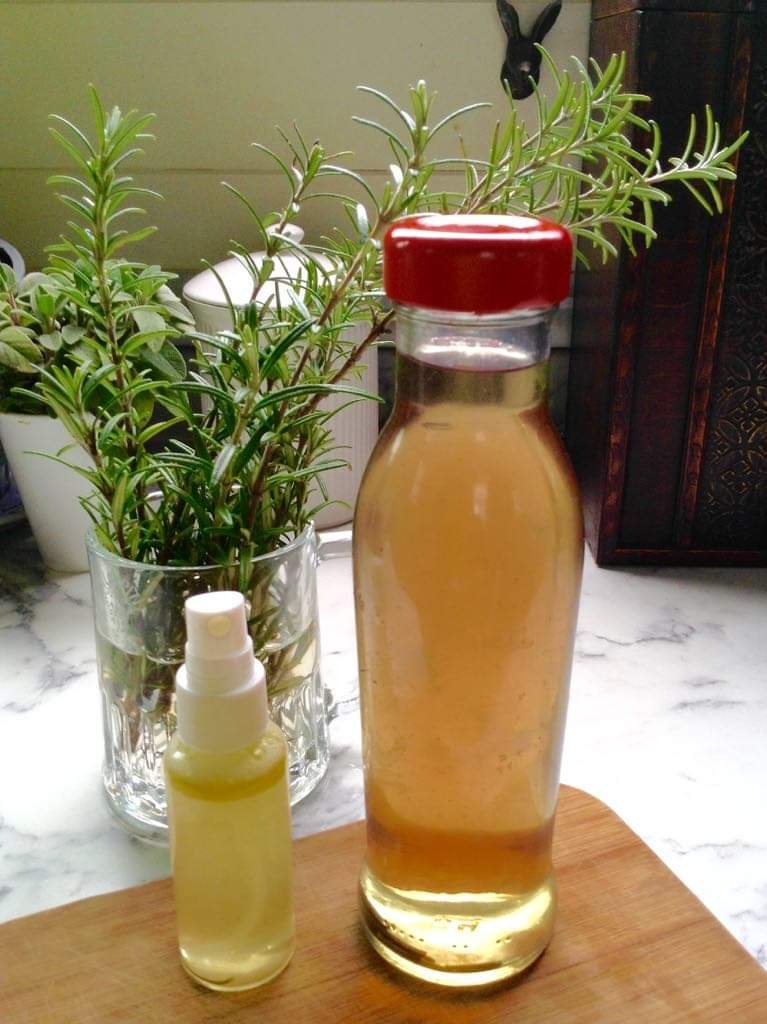 Spray mist on freshly shampooed hair, after conditioning, and leave-in hair.
Or you can spray on dry hair to freshen and moisturize your hair.
Left over portion of spritz can be stored in the refrigerator for up to 2 weeks.
Benefits of this combination
Rose Water
Is a mild astringent which helps to balance the oiliness and offers sheen
It has a nice fragrance which compliments the rosemary and enhances the mood
It moisturizes and helps to de-frizz the hair.
Olive Oil
Is a natural protein, which strengthens the hair follicles and promotes healthy growth.
Helps to prevent split ends as it softens and moisturizes the hair.
It is antibacterial and good for promoting a healthy scalp and prevents dandruff
Rosemary
Literature states that women have been using rosemary as a natural color enhancer from in the olden days, and I know why. It's like a miracle herb!
It smooths the cuticle of the hair and brings out the natural color of the hair.
Adds luster and a natural sheen to hair.
Great for opening pores on scalp which speeds the growth of new hit follicles.
Great fragrance which enhances the mood.
It Is nourishing and helps to stimulate blood circulation of the scalp and promotes hair growth.
---
The Rosemary spritz can be made plain without any other ingredients but Rosemary, however, my hair needs some specific products for its texture (afro), which will be available to purchase when all shops are reopened across the UK.
---
Rosemary is such a powerful and multi-functional herb. It's the very first herb I started using in my early twenties to help regrow my hair after losing much of it from anaemia. I would rinse my hair daily with the plain Rosemary infusion, and in no time my hair sprung back with strong healthy strands. It also brought out the natural reddish brown shade of my hair, which made my Trichologist confused. She thought I had colored my hair, and was perplexed because she inspected my strands and found that the hair shaft was intact, smooth, and strong. My Trichologist was pleased to learn that it was all herbal and natural ingredients that presented such amazing results.
Suitable for all hair types.
Traditionally used to enhance darker coloured hair such as auburn.
Give it a try and leave me some feedback about your results.
---
PS. I've used some of this spritz on my hands for dry skin, and the results are soft, supple and smooth looking skin!
---
---