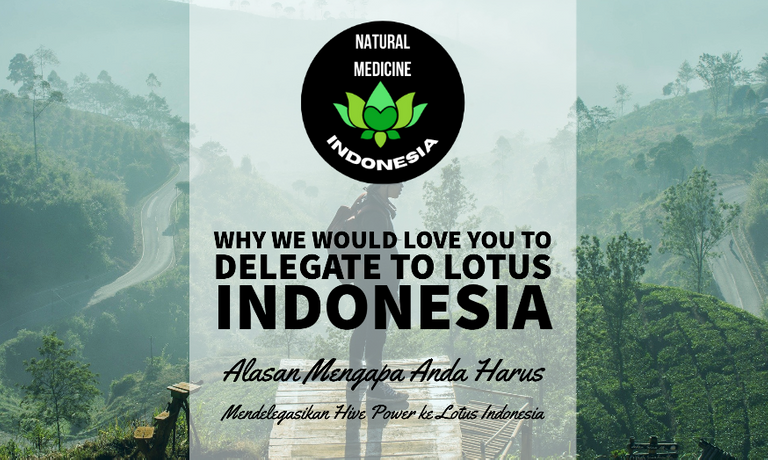 How are you hive lovers and lovers of Indonesian Natural Medicine?
I am @lotusindonesia would like to share with all of you some matters concerning the delegation.And according to the title of this post, why do you have to delegate to @lotusindonesia? Let's look at some of the main reasons.
What is lotusindonesia?
@lotusindonesia is a natural medicine community that was founded on requests and ideas from @moex-photogrfy,according to him, Indonesia is one of the countries that has the largest population, customs and culture in the world. So that this community can support Indonesian HIVE users in particular and all natural medicine lovers in general.
Why do you have to delegate for @lotusindonesia?
@lotusindonesia is a herbal medicine community that supports all HIVE users in general. This means that when you delegate power to @lotusindonesia, you are already supporting the development of HIVE around the world. Not only for the Natural Medicine community.
What benefits do you get?
From the delegation you give, of course you will get a bigger award than the delegation you give. That is, when there are more people giving delegations, the more power the @lotusindonesia account will have.
So that the resulting votes are also bigger than what you have, and you will get a few percent of the vote that is greater than the amount of power you delegate. In addition to your personal benefits, you have also helped all HIVE users whose power is insufficient, so that the @lotusindonesia account can support them with a large vote so that they can grow and be successful in HIVE.
I said that this is a mutual cooperation to grow together. that's great isn't it? Let's delegate to the @lotusindonesia account, because we will grow together with the motto: From us, to us, and grow together!

Earn Instantly For Writing Natural Health Content

Earn LOTUS and HIVE rewards for sharing your natural health content on www.naturalmedicine.io. If you don't already have a HIVE account, you can sign up for FREE here. We support writers sharing about medicinal plants and other healing practices written by Indonesian content creators. Read more about it here.

DelegateIICommunityIIDiscordIILotuschat