[ESP-ENG] || Mi Deliciosa Salsa de Berenjena Saludable || My Delicious Healthy Eggplant Sauce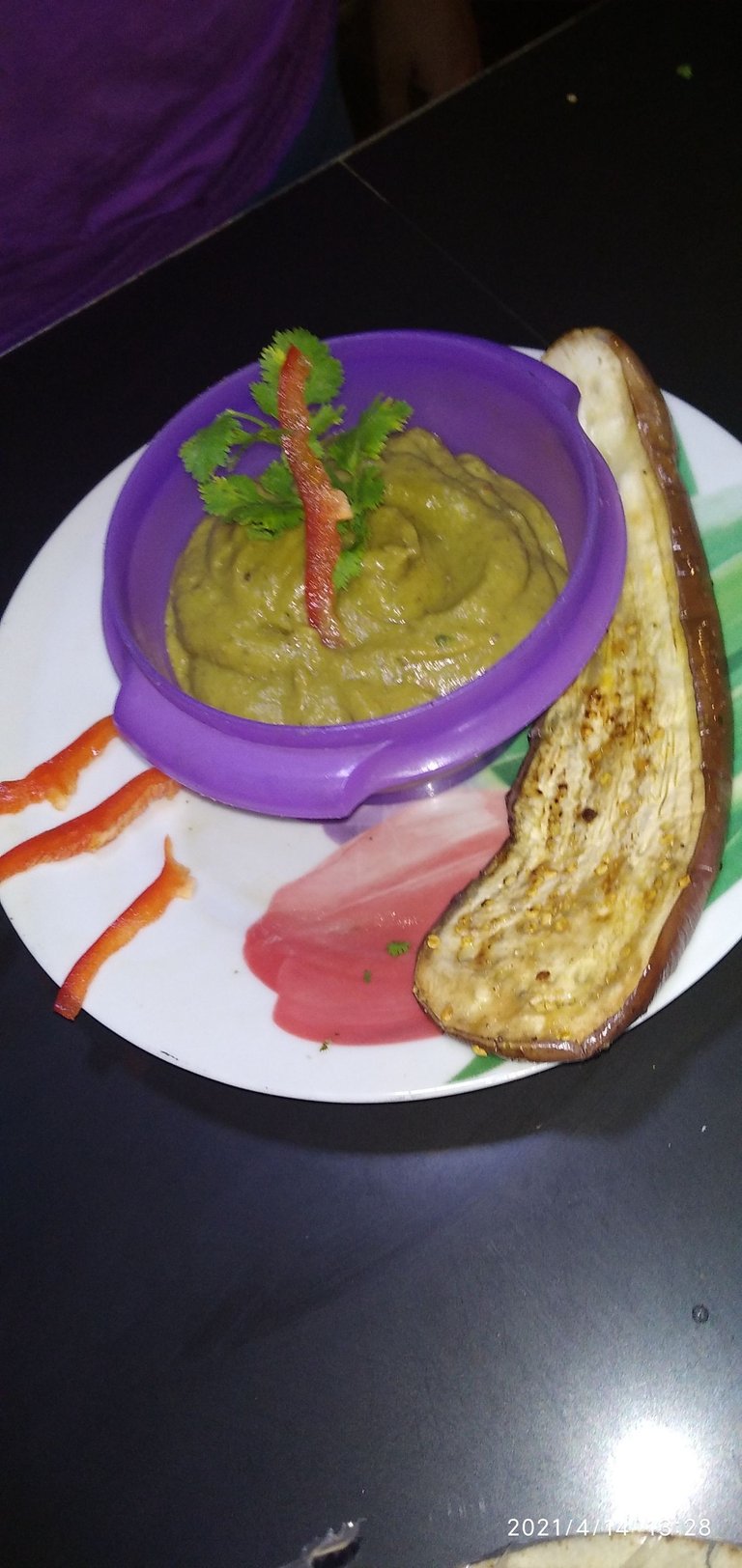 ¡Amable Saludo para todos!




Es para mí un placer presentar mi primera publicación en tan interesante comunidad donde he leído gran variedad de publicaciones, que tocan diferentes tópicos, donde el tema central y finalidad tiene un solo punto de encuentro: El bienestar de nuestra mente y cuerpo a partir del equilibrio de lo que comemos y lo que pensamos (comer sano, pensamientos positivos y espiritualidad).

Kind regards to all!




It is a pleasure for me to present my first publication in such an interesting community where I have read a great variety of publications, touching on different topics, where the central theme and purpose has a single meeting point: The well-being of our mind and body from the balance of what we eat and what we think (healthy eating, positive thoughts and spirituality).
Ocasionalmente hago actividades de cultura culinaria en casa, cuando relevo a mi esposa en el arte de cocinar, ya sea para otorgarle un merecido descanso o cuando ella tiene que hacer alguna diligencia fuera, por eso hoy quiero presentar una comida que realicé consumiendo productos de relativo origen saludable. En primer lugar para variar el menú y en segundo para aportar a nuestro organismo algunas vitaminas y minerales de manera natural, con lo que se puede sentir que es mejor recibido por nuestro cuerpo y organismo.
Personalmente me gusta mucho la berenjena y sus bondades, es una hortaliza muy versátil ya que podemos preparar múltiples platos e incluso sirve como contorno para acompañar nuestras comidas, a las que agrega sabor, colores y nutrición. Observen la siguiente preparación:
Occasionally I do culinary culture activities at home, when I relieve my wife in the art of cooking, either to give her a well-deserved rest or when she has to do some errands outside, so today I want to present a meal that I made using products of relatively healthy origin. Firstly to vary the menu and secondly to provide our organism with some vitamins and minerals in a natural way, so that we can feel that it is better received by our body and organism.
Personally I like aubergine and its goodness very much, it is a very versatile vegetable as we can prepare multiple dishes and it even serves as a garnish to accompany our meals, to which it adds flavour, colours and nutrition. Take a look at the following preparation:
Delicioso, sano, económico y nutritivo enrollado con crema y lonja de berenjena.
Ración para cuatro personas
Ingredientes: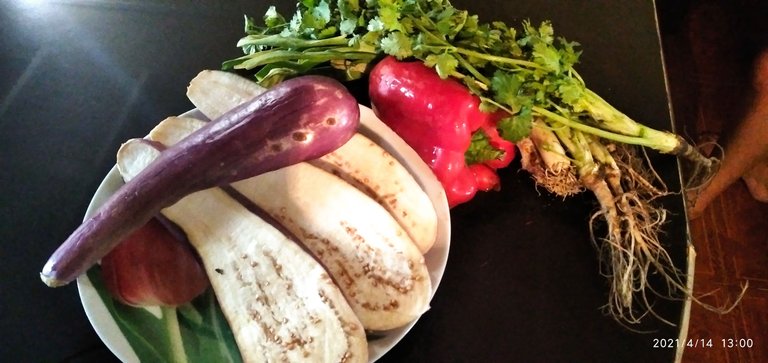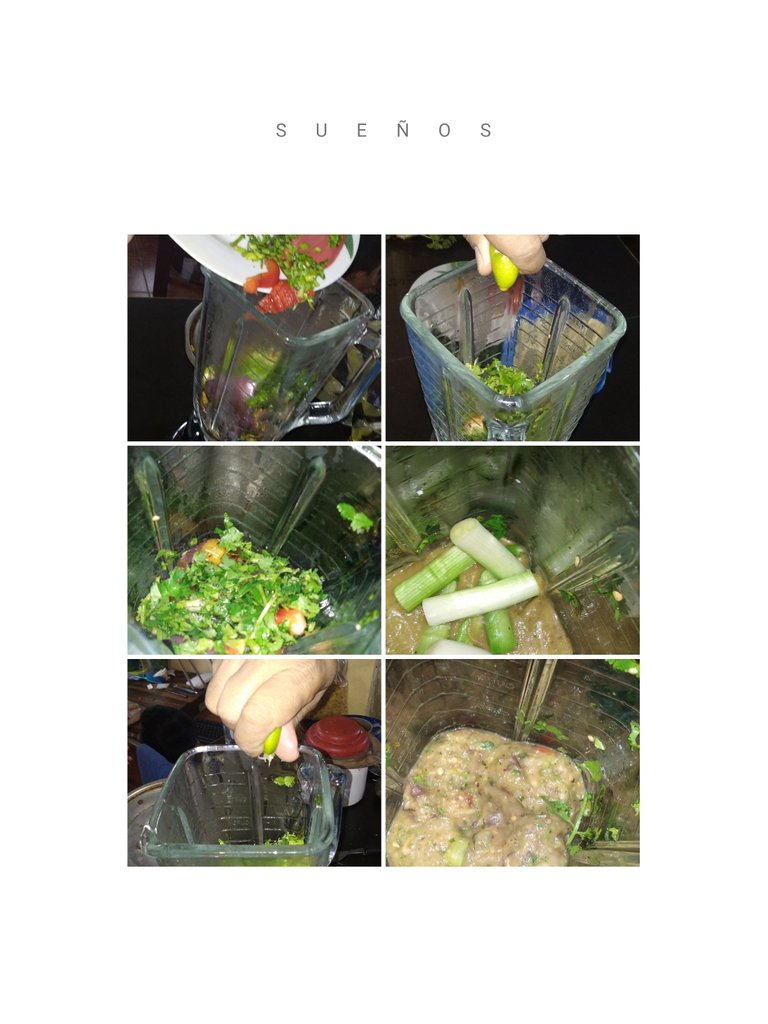 Una Berenjena grande y fresca.
Un Pimentón rojo.
Rama de Cilantro.
Rama de Cebollín.
Sal al gusto.
Pan Árabe.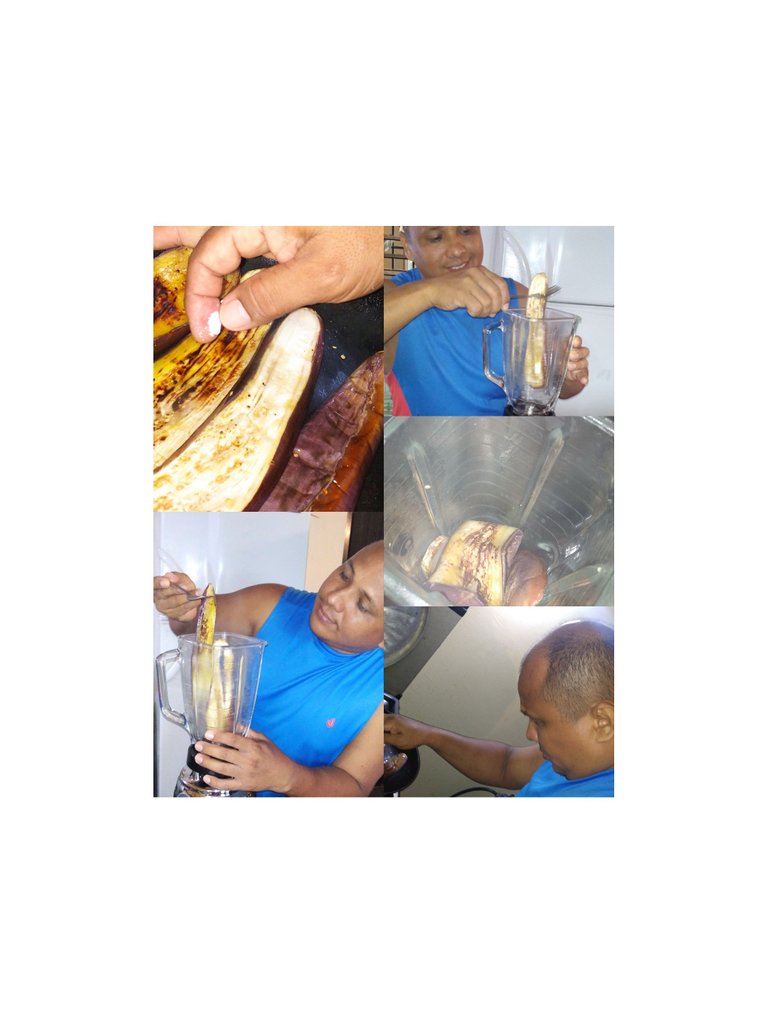 Preparación:
Como primer paso cortamos y marinamos las lonjas de nuestra berenjena, durante 10 minutos.
Picamos finamente el pimentón, cilantro y cebollín (previamente lavados con agua fresca).
Colocamos las lonjas de berenjena en una sartén precalentada, en mi caso, no utilizo aceite.
Licuamos el pimentón, cilantro y cebollín y agregamos la pizca de sal y una pequeña cantidad de vinagre (aproximadamente una cucharada), también me gusta añadir unas gotas de jugo de limón. Posteriormente colocamos las lonjas de berenjena y continuamos licuando hasta obtener la consistencia y textura característica de la crema.
Esta deliciosa y saludable crema de berenjena la aplico de manera generosa sobre mi pan sin levadura, a mis hijos les coloqué una lonja de jamón y queso amarillo, pero mi ración estuvo rellena con una lonja entera que aparté jajaja.
¡Buen provecho!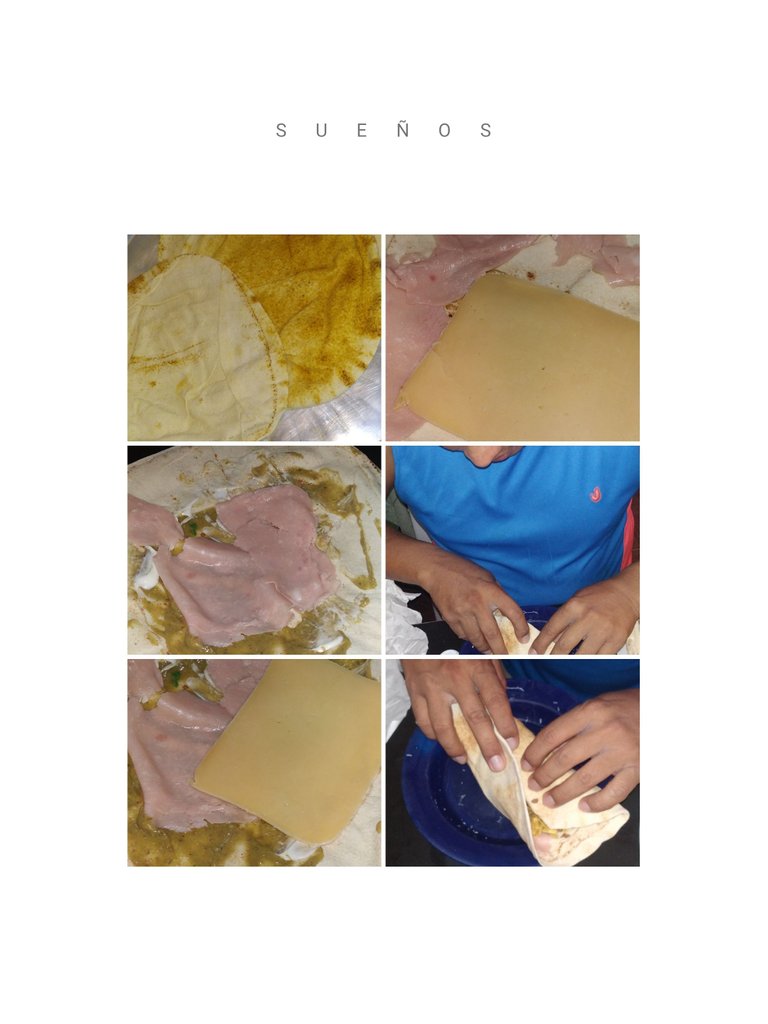 Delicious, healthy, economical and nutritious rolled up with cream and aubergine slices.
Serves four people
Ingredients:
One large, fresh aubergine.
One red pepper.
A sprig of coriander.
A sprig of chives.
Salt to taste.
Arabic Bread.
Preparation:
As a first step we cut and marinate the aubergine slices for 10 minutes.
Finely chop the paprika, coriander and spring onion (previously washed with fresh water).
Place the aubergine slices in a preheated frying pan, in my case, I don't use oil.
Blend the paprika, coriander and spring onion and add a pinch of salt and a small amount of vinegar (about a tablespoon), then place the aubergine slices and continue blending until the consistency and texture characteristic of the cream is obtained.
I apply this delicious and healthy aubergine cream generously on my unleavened bread, I put a slice of ham and yellow cheese on my children's bread, but my portion was filled with a whole slice that I put aside hahaha.
Enjoy your meal!
En concordancia con el hábito ocasional de comer sano, lo complemento con algo de meditación, a lo que le invierto unos 15 o 20 minutos sentado en el patio de mi casa, donde puedo escuchar el trinar de los pájaros que vienen a comer de mis guanábanas. Esta práctica se ha convertido en una verdadera terapia de relajación que ha significado de gran ayuda en estos tiempos de pandemia, de estrés por las vicisitudes por las que pasamos los venezolanos cada día para poder adquirir ya sea alimentos, medicinas, gas doméstico, combustible, dinero en efectivo, entre otros.
Por eso nos viene como anillo al dedo leer sus publicaciones conde combinan acertadamente ingredientes que traen diversos beneficios a nuestro sistema inmunológico para prevenir esa terrible enfermedad de la Covid-19, que ahora hace estragos con sus nuevas variables.
Nuestros pensamientos positivos, ayudados por un comer y vivir sanamente, nos da la fuerza necesaria para superar todas las enfermedades que nos asedian.
Estoy acá para aprender de ustedes y para aportar mi grano de arena.
In accordance with the occasional habit of eating healthy, I complement it with some meditation, to which I invest about 15 or 20 minutes sitting on the patio of my house, where I can listen to the chirping of the birds that come to eat from my guanábanas. This practice has become a real relaxation therapy that has been of great help in these times of pandemic, of stress due to the vicissitudes that we Venezuelans go through every day to be able to acquire food, medicines, domestic gas, fuel, cash, among others.
That's why it comes in handy to read your publications where you combine ingredients that bring various benefits to our immune system to prevent the terrible disease of Covid-19, which now ravages with its new variables.
Our positive thoughts, aided by healthy eating and living, give us the strength we need to overcome all the diseases that besiege us.
I am here to learn from you and to do my bit.
---

Imagénes de mi propiedad, tomadas por mi esposa @Marytp20 con mi teléfono Redmi 8a.

---
Pictures of my property, taken by my wife @Marytp20 with my Redmi 8a phone.

---

Texto Traducido en Deepl versión gratuita
Translated text in Deepl free version

---

---
---