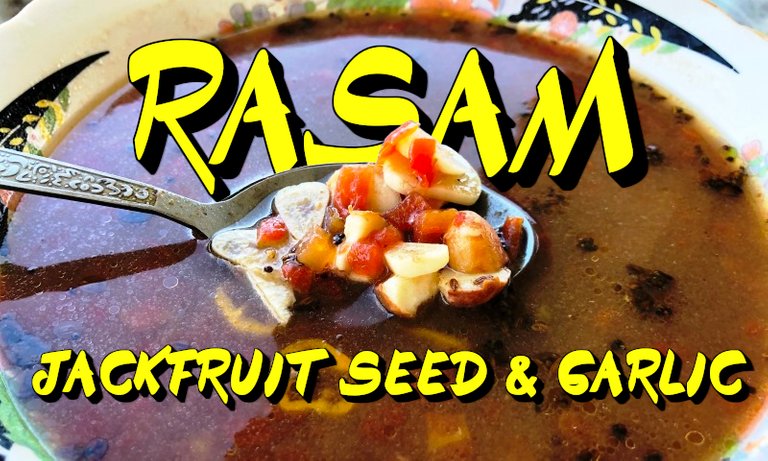 Veganuary is already halfway through, and it's only now that I've found some time to share a very special rasam recipe with you all.

🥣 RASAM IS JUST SO GOOD 🍚
     Rasama are my favorite soups without a doubt, and I find the combination of sour and spicy so refreshing. There are so many variations on rasam, and the soup lends itself well to experimentation, whether you want to feature roasted coconut, pineapple, or in this case, jackfruit seeds.
🙅‍♂️ DON'T THROW AWAY YOUR JACKFRUIT SEEDS, THEY'RE DELICIOUS!!
     Many people don't know jackfruit seeds are edible, but they do need to be cooked first before consumption.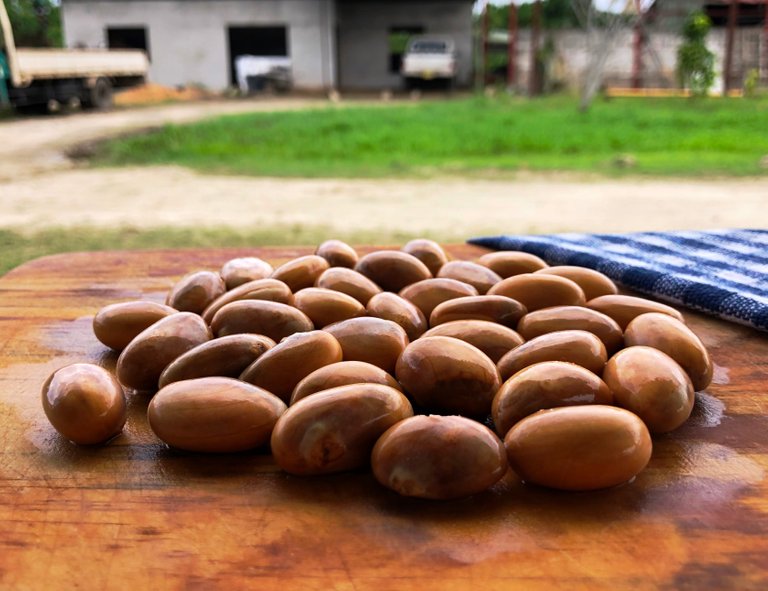 I put them in a pressure cooker with enough water to cover them, then cooked until the first whistle. After that I waited for the pressure cooker to cool, then drained the water and reserved the jackfruit seeds for this recipe.

Jackfruit Seed & Garlic Rasam Ingredients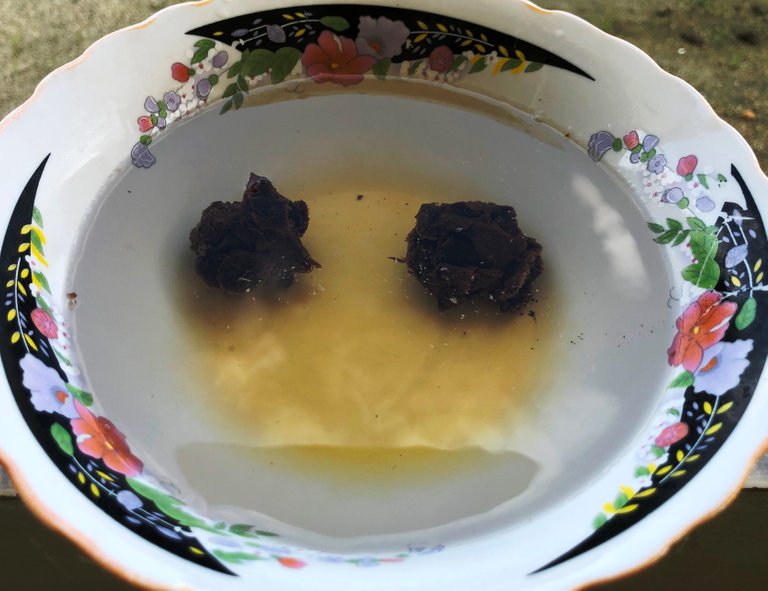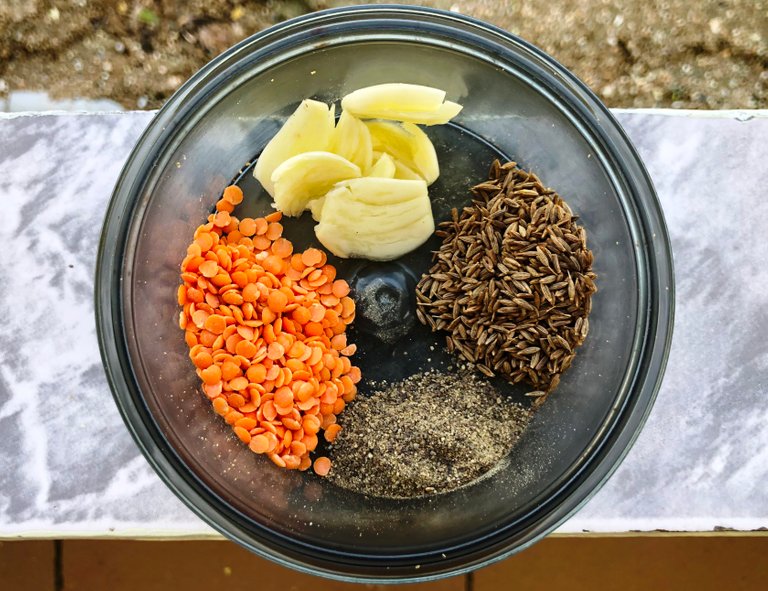 SOUP BASE
⋆ tamarind pulp (3 tbsp)
⋆ 12x garlic cloves (sliced)
⋆ 4x medium tomatoes (diced)
⋆ sea salt (to taste)
FOR GRINDING
⋆ black pepper (2 tsp)
⋆ cumin seeds (2 tsp)
⋆ masoor dal (2 tsp)
⋆ 2x garlic cloves (crushed)
FOR SEASONING
⋆ cooking oil (2 tsp)
⋆ mustard seeds (1 tsp)
⋆ cumin seeds (1 tsp)
⋆ 1x sprig curry leaves (didn't have any on this day)

👩‍🍳 Rasam Preparation Method 🔪

STEP 1
Let your tamarind pulp soak in 2 cups of hot water for 10-15 minutes, then pass through a strainer to remove pulp.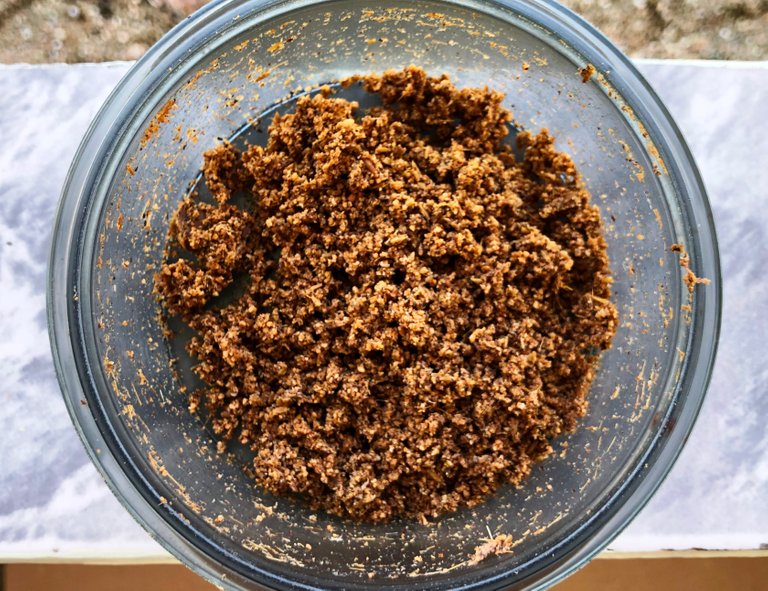 STEP 2
Coarsely grind black pepper, cumin seeds, masoor dal and 2 garlic cloves, and set aside.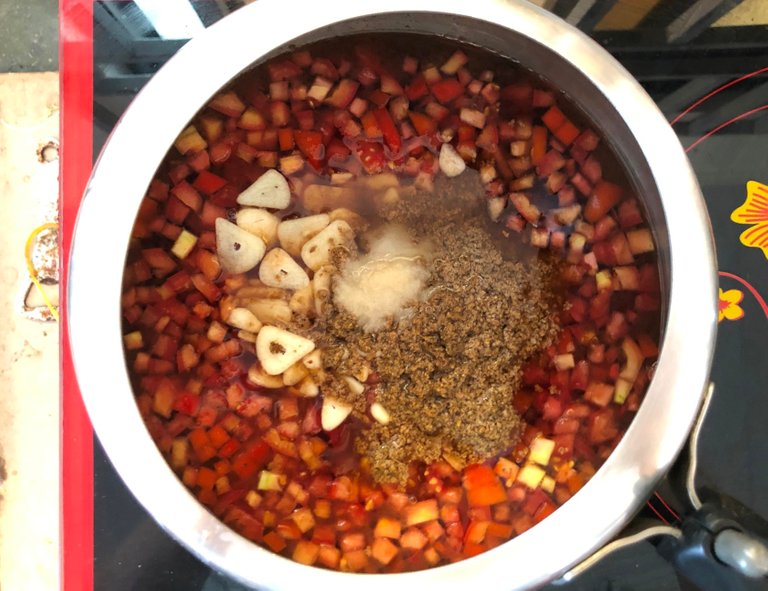 STEP 3
Put the tamarind water, diced tomatoes, coarsely ground spices, and sliced garlic in a sufficient pot, add salt to your liking, and bring to a low boil.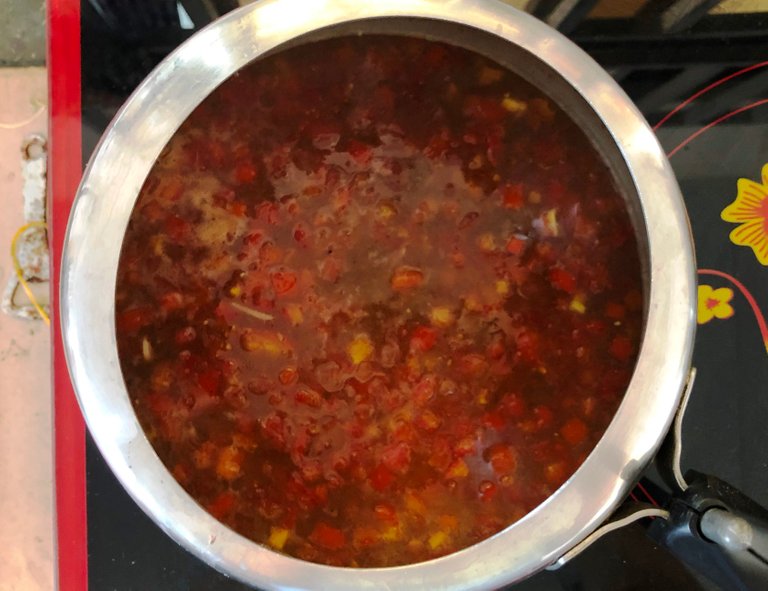 STEP 4
Reduce heat and bring to a simmer, and continue to simmer for 10-15 minutes until the raw tamarind taste is gone.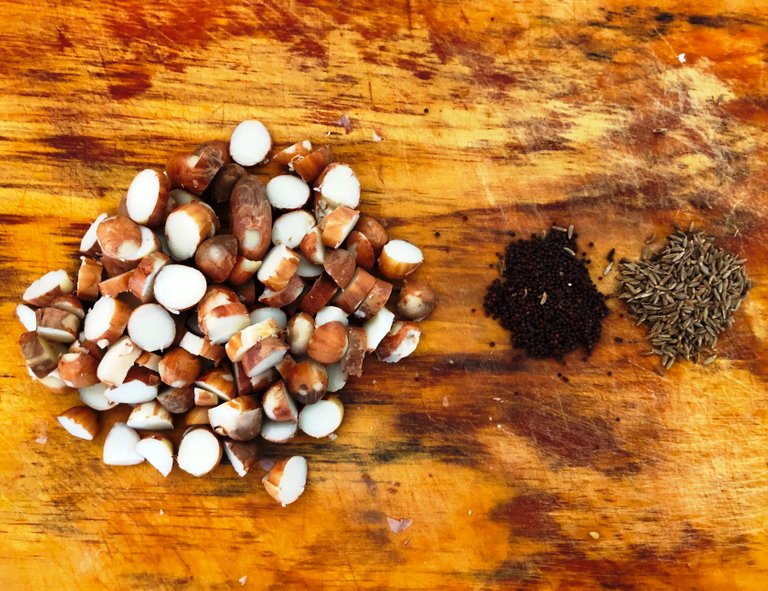 STEP 5
Now slice the pressure-cooked jackfruit seeds and keep them near the cumin seeds, mustards seeds, and curry leaves for quick access.
Note: We are currently in a curry leaf drought here in Suriname. Our new neighborhood has no curry trees, and Surinamers use a limited amount of ingredients in their cuisine, so we have yet to find someone in this neighborhood who even knows what they are, despite the massive Indian diaspora here.
STEP 6
Preheat your wok on a medium-high flame, then add the oil and quickly add the cumin seeds, mustard seeds, and curry leaves. Stir-fry for a few seconds until mustard seeds and curry leaves splutter.
STEP 7
Reduce heat a bit and quickly add the sliced jackfruit seeds, stir-frying until the jackfruit seeds are fragrant and have browned a bit.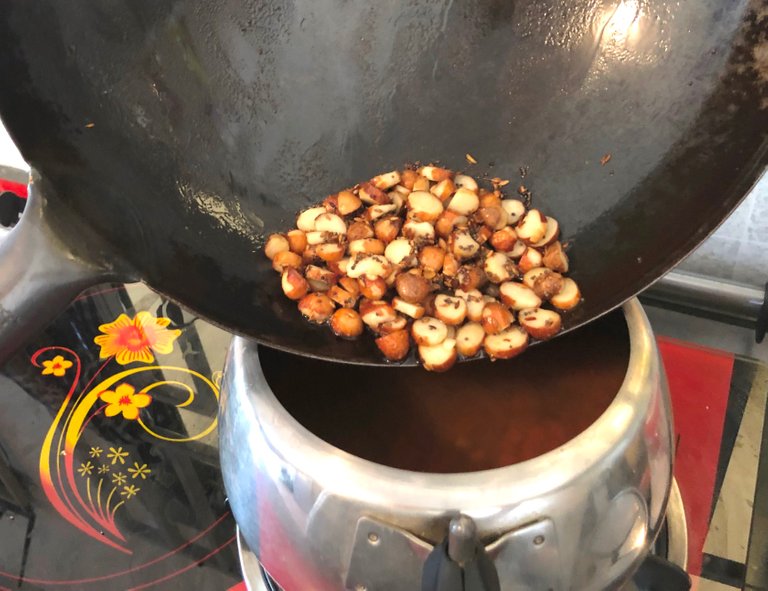 STEP 8
Add the jackfruit seed stir-fry mix to the rasam soup pot along with 2 to 3 cups of water, bring the rasam slowly back to a simmer and turn off the heat.
STEP 9
Your rasam is ready to eat. Garnish it with coriander, fresh chilies, green onions, or anything you like.

Time To Eat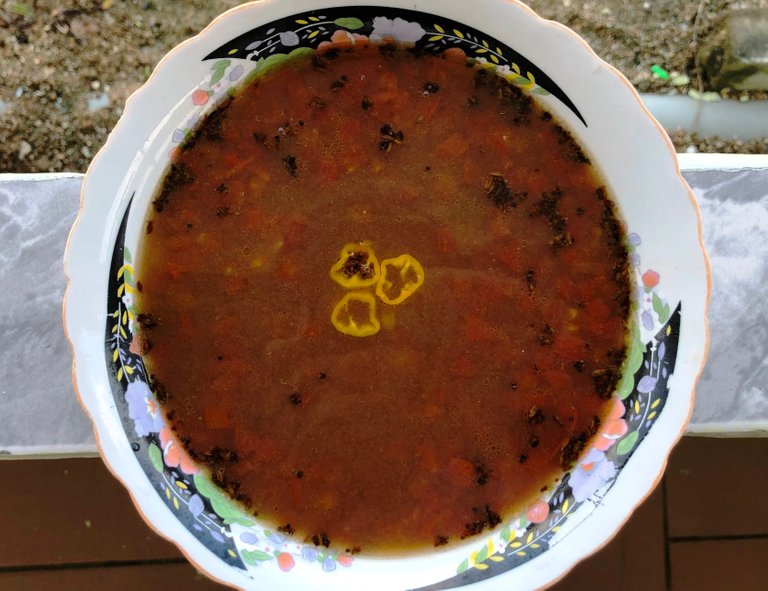 Not all rasams contain lentils, unlike sambar and dahl, and because this rasam has no pureed lentils in the soup base, all the goodies sink to the bottom, which doesn't make for great photography.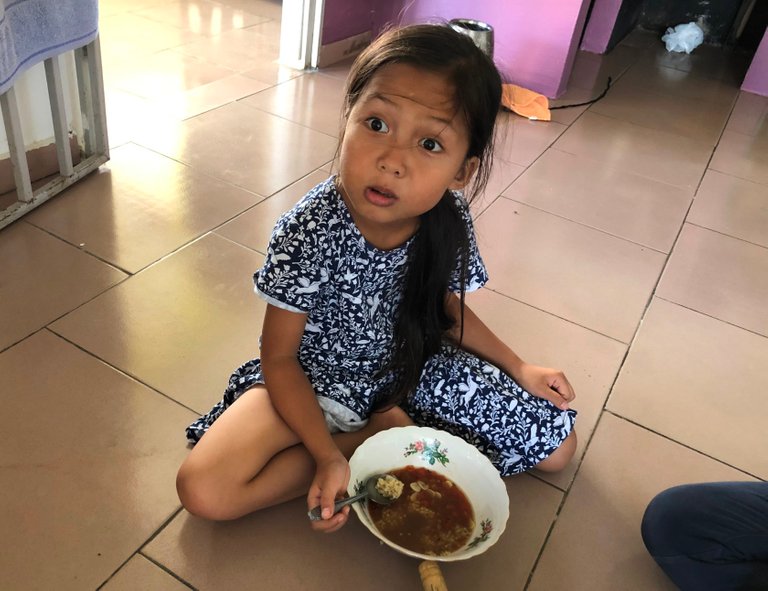 However, I can assure you this rasam is bursting with flavor, and the jackfruit seeds give it a little zing. I wouldn't recommend this rasam for a first date though, because your breath will reek of garlic and jackfruit seeds are known by Cambodians to increase fart activity.
---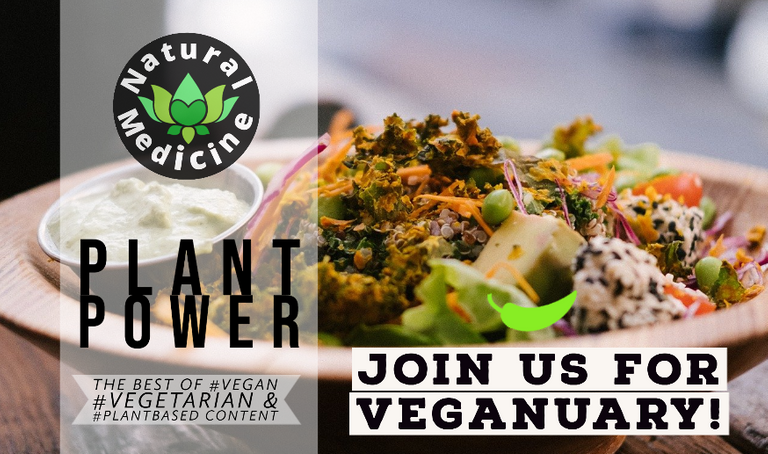 Check out the #plantbased tag on HIVE and this month's Veganuary challenge for the chance to win 100 HIVE, reblogs, OCD votes, tweets and more!
You don't have to be an all out vegan, or even pretend you are, but perhaps share with us your #plantbased experiments and thoughts on this topic. Or maybe you could just go all out and give it a go, see how you feel at the end of it!

🙏 THANKS FOR READING 🙏
If you enjoyed this post, please upvote and reblog.


---
Posted on NaturalMedicine.io