🥥🌶️ Ital Wax Pepper Curry 👨‍🍳🔪 ITAL IS VITAL ❤️💛💚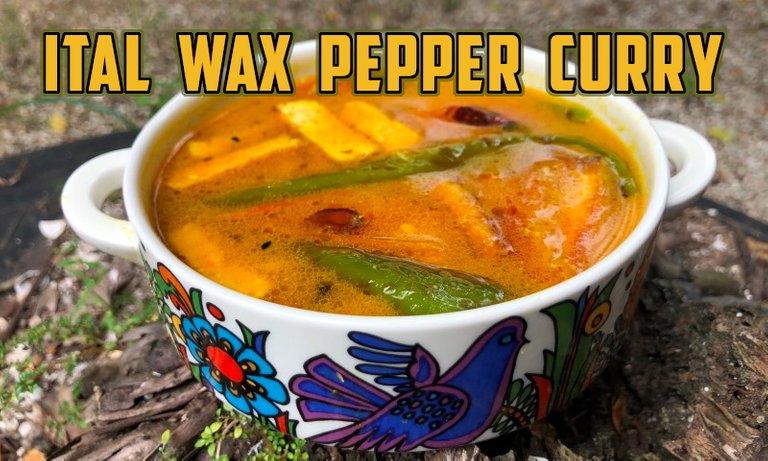 We scored some wax peppers recently, not something too easy to find in Suriname, so I made one of my favorite dishes. 🥘

🥥🌶️ Ital Wax Pepper Curry 👨‍🍳🔪
💚💛❤️ ITAL IS VITAL ❤️💛💚

     This dish is one of our family's favorites, especially Monkey-B, who loves the base of this soup more than anything else I cook, although she still won't eat the wax peppers.
     It is the perfect combination of heat, sour, salty and sweet, and was a staple on our menu at our restaurant in Cambodia, although wax peppers aren't too easy to obtain in Suriname.
     Any peppers that are big and not too spicy will work fine for this dish, but I prefer Anaheim or Hungarian Wax Peppers.

🥥 Ital Wax Pepper Curry Ingredients 🌶️

For Pan-Roasting

⋆ wax peppers - 8 to 10
⋆ tofu - ½ block
⋆ tomatoes - 2 small


For Sesame Paste

⋆ sesame seeds - 2 tbsp
⋆ raw peanuts - 3 tbsp
⋆ coconut meat - ¼ cup


For Tamarind Paste

⋆ tamarind pulp - 1 tbsp
⋆ ginger - 1 tbsp
⋆ turmeric powder - ½ tsp
⋆ chili powder - ½ tsp

Spices & Things

⋆ cumin - 1 tsp
⋆ mustard seeds - ½ tsp
⋆ kalonji - ½ tsp
⋆ besan - 2 tbsp
⋆ brown sugar - 1 tbsp
⋆ sea salt - 2 tsp
⋆ garam masala - ¾ tsp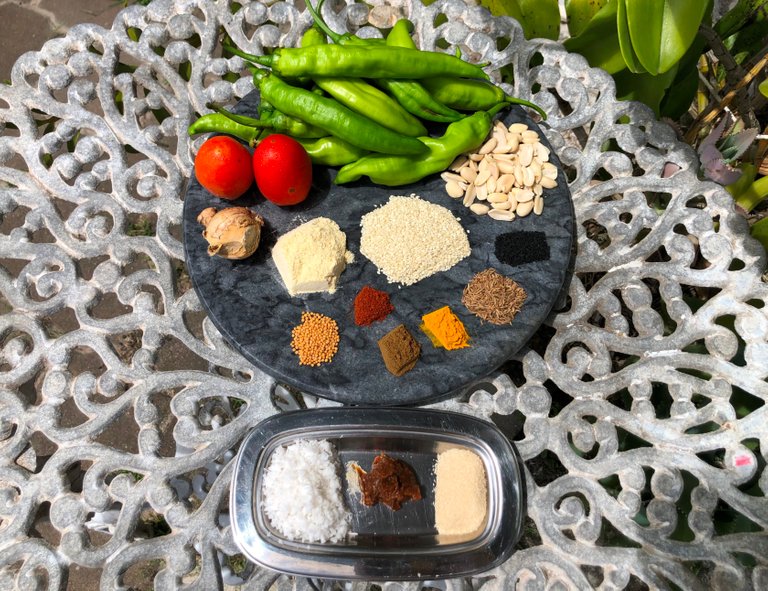 👨‍🍳 Cooking Method 🔪

STEP 1

     Slice your peppers lengthwise in half and remove the seeds.

     Heat a teaspoon of oil and stir fry the peppers until they are charred a blistered, set aside.

STEP 2

     Slice the tomatoes into quarters and fry them on all three sides until blistered and dry.

     Set the tomatoes aside for later use.

STEP 3

     Optionally, and for some extra protein, add a few spoons of oil after the tomatoes are done, and increase the flame a bit.

     Fry the tofu in small batches, allow to cool, and thin slice, set aside.

STEP 4

     Combine the minced ginger, tamarind pulp, turmeric powder, and chili powder with a 1/4 cup of water.

     Grind the sesame seeds, peanuts, and coconut meat until it becomes sticky, form into a ball and set aside.

     Arrange all remaining ingredients for quick and easy access.

STEP 5

     Bring a few teaspoons of oil in a pot to heat on a low flame.

     Add the cumin seeds and mustard seeds and fry until the mustard seeds splatter.

STEP 6

     Now add the kalonji and besan, and stir on low heat until besan is browned.

STEP 7

     Add the sesame paste ball and break it up while sauteing your spices.

     Saute for 2-3 minutes until your kitchen smells like sesame seeds, peanuts and coconut.

STEP 8

     Now add the tamarind paste and incorporate with the sesame paste.

     Saute for another 2-3 minutes until the tamarind is cooked.

STEP 9

     Add 3 cups of water and bring to a boil, then reduce heat and simmer 6-8 minutes.

STEP 10

     Add the tofu, wax peppers, tomatoes, garam masala, salt, and sugar.

     Stir and bring back to a simmer for a couple minutes, now it's ready to serve.
     Congratulations, you've finished your wax pepper curry. My family and I normally eat this with rice, as I like to prepare it a little runny.
     If you want to eat this with rotis or some kind of Indian bread, decrease the water to 2 cups and increase the besan to 3 tablespoons, reduce the salt a bit, and you will have a thicker curry more suitable for bread.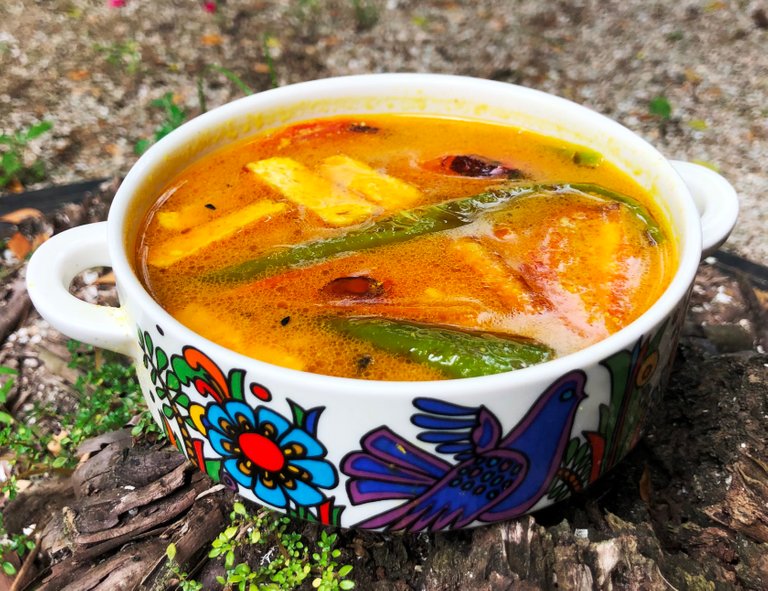 @Sreypov and I absolutely love this curry, and it was one of the customer favorites at our restaurant in Cambodia. The tomatoes and tofu are totally optional, and we often prepare this dish with only the peppers, and it's still a delicious treat.

🙏 THANKS FOR READING 🙏
If you enjoyed this post, please upvote and reblog.


---
---