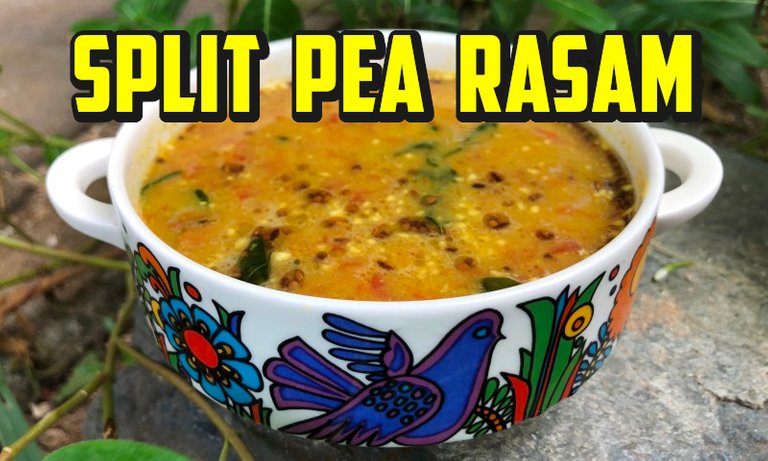 I made an experimental rasam because we recently came across some split peas, something not too common here in Suriname.

🍅 Hari Matar Ki Rasam 👨‍🍳 An Ital Recipe 🥣

     Suriname doesn't have a wide variety of pulses to choose from at the markets, so we always buy any out of the ordinary beans or lentils when we see them.
     A new arrival of split peas at the local corner shop peaked my interest, so I bought some and headed home to surprise the family with a new rasam.

🍅 Split Pea Rasam Ingredients 👨‍🍳

Rasam Base

⋆ tomatoes - 2
⋆ split peas - ¼ cup
⋆ tamarind pulp - ping-pong ball
⋆ curry leaves - 1 sprig
⋆ turmeric powder - ¼ tsp
⋆ hing (asafoetida) - ⅛ tsp
⋆ salt - ½ tsp

For Roasting & Grinding

⋆ coridander seed - 2 tsp
⋆ masoor dal - 2 tsp
⋆ Madame Jeanette chili - ½
⋆ grated coconut - 2 tbsp

Tempering / Chaunk

⋆ oil - 1 tsp
⋆ mustard seeds - ½ cup
⋆ cumin seeds - ½ tsp
⋆ curry leaves - 10 leaves

     Before we get started place your ping-pong ball of tamarind pulp into a cup of hot water. We'll strain it later when we prepare all the other ingredients.

👨‍🍳 Cooking Method 🔪

STEP 1

Wash the split peas and soak for 15 minutes in 1 cup of hot water.

Pressure cook for one whistle and allow to cool.

STEP 2

Heat the oil in a small pan and begin frying the chili.

When the chili begins to blister, reduce heat a little.

STEP 3

Add the masoor dal and coriander seeds, toast a few minutes.

When the spices are aromatic, add the grated coconut and toast a few more minutes.

Allow to cool to room temperature.

STEP 4

Grind the toasted ingredients into a coarse powder, set aside.

STEP 5

Puree the cooked split peas with the cooking water and strain the tamarind water.

Chop the tomatoes and combine the mustard seeds, cumin seeds and curry leaves.

STEP 6

Put the tamarind water, tomatoes, turmeric, hing, salt and curry leaves into the pressure cooker.

STEP 7

Light the stove and bring the pressure cooker to 1 whistle, then turn off the stove and allow to cool.

STEP 8

Relight your stove and reduce the flame as much as possible, as you don't want to boil your rasam.

Add the ground ingredients and stir to make sure there are no lumps.

STEP 9

Add the pureed split peas and gently stir to incorporate.

When the rasam is sufficiently hot, turn off the stove.

STEP 10

Heat a teaspoon of oil and the cumin seeds, mustards seeds and curry leaves.

After the mustard seeds and curry leaves finish splattering, turn off the stove.

STEP 11

Pour the tempered spices into the hot rasam and give thanks for life.
     Congratulations!! You've just made your own Split Pea Rasam. This turned out very delicious, and there's not too much I would change.
     I love rasam with steamed brown rice, but it's also delicious by itself. Rasam is also delicious with idlis, dosas and vadas.
     The decision was unanimous, the whole family likes this rasam more than any other version I've ever made. I think it's because of the toasted coriander seed and coconut.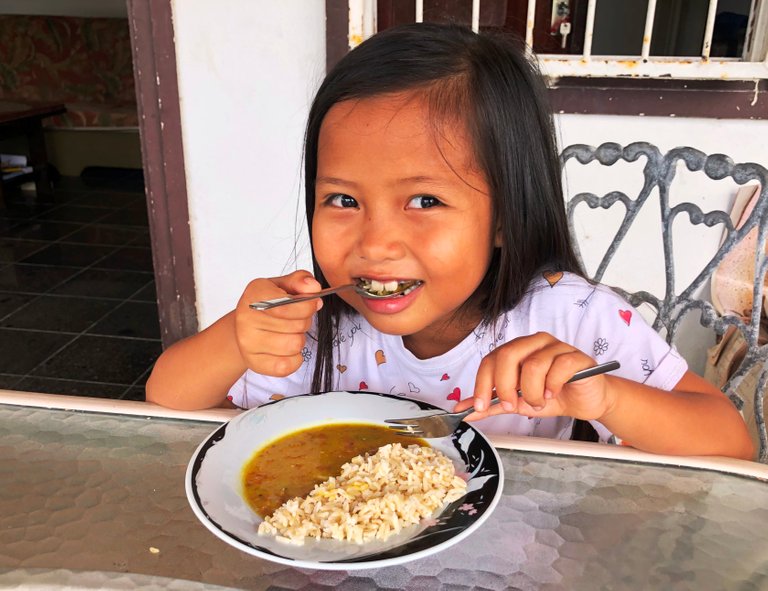 Monkey-B enjoys her rasam half and half style. The flavors only combine when the time is right.
     Feel free to add hot water and salt to your liking. Some folks like a thinner or thicker rasam, but there are no rules.

🙏 THANKS FOR READING 🙏
If you enjoyed this post, please upvote and reblog.