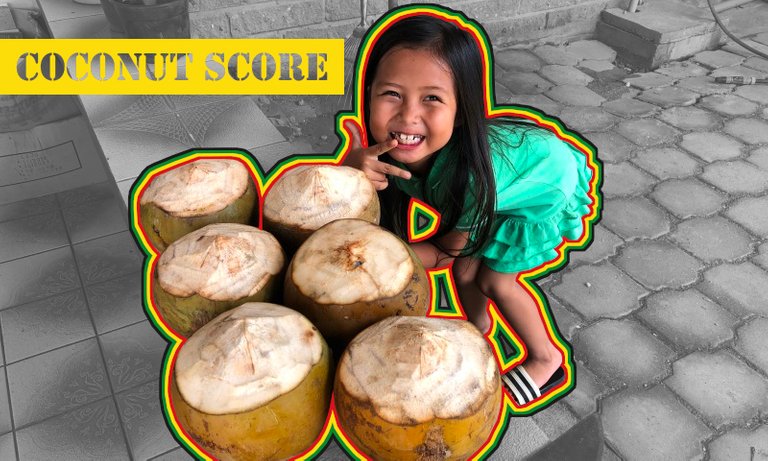 We used to eat coconut, jackfruit and dragonfruit nearly every day in Cambodia.
During our brief stay in Ecuador, we ate fruit often as it was relatively cheap just as in Cambodia.
ONE YEAR SINCE COCONUTS
     We shared a coconut once a week between the three of us during our brief exodus in Ecuador, and that was a nice treat. In Cambodia we drank 3 to 6 coconuts every day, so the "coconut-ness" of life can't be compared.
     In Suriname, coconuts are just way too expensive for us, and also not that common of an item sold on the streets. Bananas are really the only fruit we can afford here, and we buy them once or twice a week.
     You can see how uber-stoked Monkey-B was when her manual labor efforts paid off. She has been helping the landlord's handyman for over a week, and he was kind enough to pay her in coconuts, mangoes, a grapefruit and a breadfruit.
THE BOUNTY
     We haven't had a bounty of fruit like this since we left Ecuador over a year ago. It is such a momentous occasion we had to take a picture.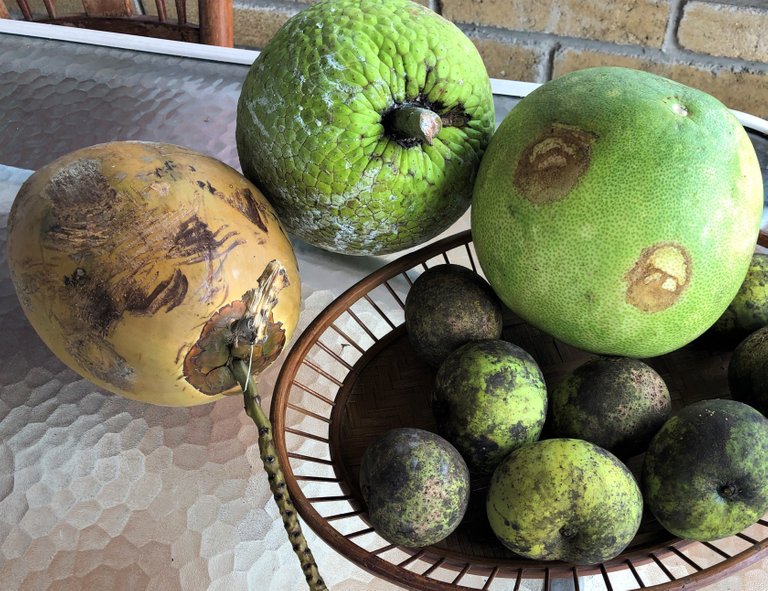 Also, the handyman, Theo, delivered some kind words to let us know he simply wanted to help fellow survivors of an unjust world, and this was the only way in which he knew how.
SUPPLEMENT, SUPPLEMENT
     Our recent roadtrip with fellow Hiver @faustofraser landed us an opportunity to buy a jackfruit for 40 SRD, a relatively affordable price.
     We've also been picking noni fruit from unrespected trees on the edges of private property around our neighborhood in Paramaribo.
     These treasures combined with Theo's fruit gifts have landed us a Suriname all-time high score as far as fruit possession goes.
GIVING THANKS
     Although it seems many things in life are beyond our control at the moment, it is nice to see some positive things come our way.
     At least fermenting noni juice again and chopping coconuts makes us feel in control of a few things. We wouldn't be in possession of a jackfruit if wasn't for Hive because we wouldn't have met @faustofraser, so I give Hive some credit where it's due.

🙏 THANKS FOR READING 🙏
If you enjoyed this post, please upvote and reblog.

WE PROUDLY SUPPORT