My Previous Post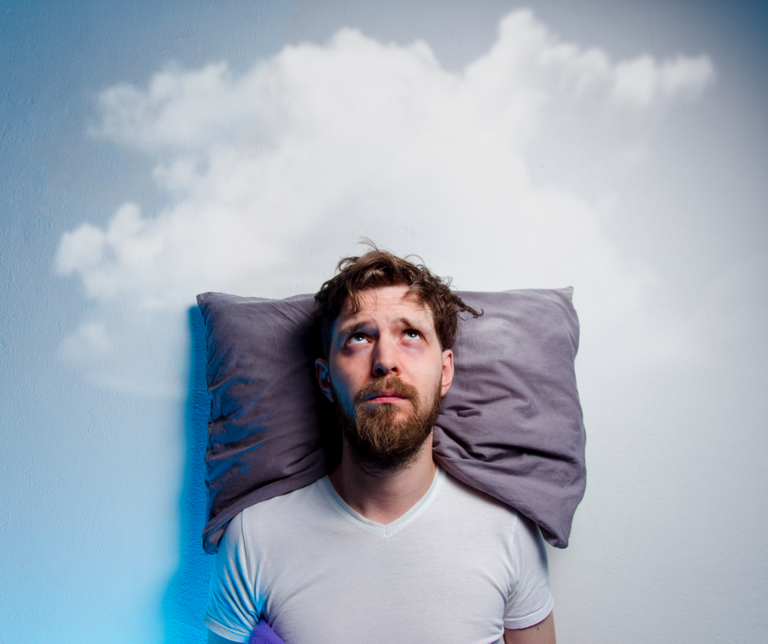 Photo by Phoenixns
A few months ago, I shared some sleep struggles I was having in a post, and asked other people for ideas on how they were able to overcome their individual sleep struggles.
https://peakd.com/hive-120078/@joshman/insomnia-sucks-or-what-have-you-done-to-fight-it
In response to this post, I received many great suggestions. Some of them were even in line with my own research.
---
Insomnia Coach?
During my research, I stumbled upon the YouTube channel of Martin Reed, called Insomnia Coach. I had no idea sleep coaches even existed, but apparently they are a thing. So much so that there are even industry certifications for it. Google never told me. It wanted me buy sleep hygiene products (more on sleep hygiene later). My doctor never told me. He wanted to give me sleep drugs like Ambien and anti-anxiety meds. Why didn't he suggest I talk to a sleep coach, instead of pharmaceuticals? What Mr. Reed offered was something I had never heard of before called Cognitive-Based Behavioral Therapy for Insomnia, or CBT-I.
---
CBT-I
Mr. Reed describes CBT-I in the following video.
The five elements of CBT-I are:
Sleep Education
Sleep Restriction
Stimulus Control
Relaxation Techniques
Sleep Hygiene
I have included a description and a short video from Insomnia Coach describing them.
---
Chronic Insomnia is a Systemic Issue
Chronic insomnia is telling you that your sleep system is out of whack. It's telling you your sleep drive is being suppressed some how. Chronic insomnia starts with a single night of bad sleep, which can multiply into months and sometimes years of bad sleep. During this time you can develop bad habits, such as spending extended periods in bed trying to catch some Zs, or taking prolonged naps during the day. Both of these bad habits mess with your sleep drive and contribute to continued insomnia. If you combine this with a racing mind or frequent anxiety, getting a good night's sleep can seem impossible.
---
1. Sleep Education
This one is a bit self-explanatory, but understanding your 'sleep system' can go a long way in helping you fix it when it is malfunctioning. This is less about searching for gimmicks, and more about understanding the core processes involved with sleep. You can learn a ton, just by seeking out public experts and consuming their content. Mr. Reed's YouTube channel (https://www.youtube.com/c/InsomniaCoach/videos) is a great example.
---
2. Sleep Restriction
Sleep restriction doesn't have the goal of restricting the amount of sleep you get, it restricts your time in bed to sleeping only. @justinparke actually alluded to this in his reply to my post.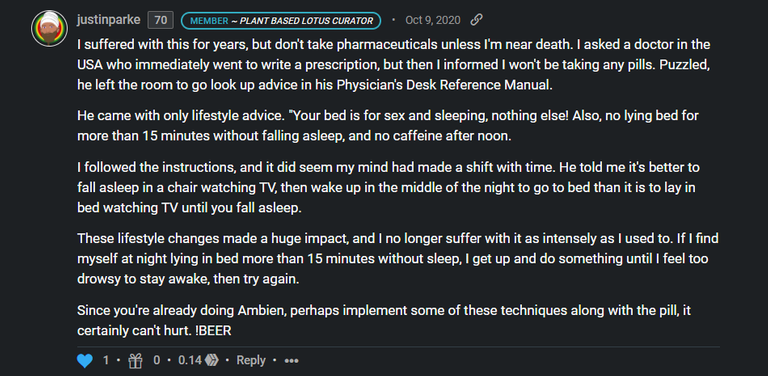 As part of sleep restriction, creating a fixed sleep window was the most powerful technique for me. It involves choosing a specific time to wake up every morning seven days per week, and working my way back from there. No matter what occurs during the night, you must stick with your sleep window. The time that you wake up in particular must be set in stone. This has the effect of building your sleep drive over time. Conventional wisdom suggests that if you sleep poorly, you should stay in bed or take an extended nap later on, which can really mess with your sleep drive. Even the prevailing wisdom with having a newborn baby, is to 'sleep when your baby sleeps'. If you have insomnia, this is terrible advice. I learned that the hard way.
---
3. Stimulus Control
CBT-I actually takes restricting sleep one step further. It suggests if you cannot sleep, to get out of bed and do something relaxing like reading a book, meditation, or stretching/yoga until you feel sleepy again. This technique enforces the subconscious notion that the bed is for sleep only.
---
4. Relaxation Techniques
@justinparke also linked me to an article by @nainaztengra called Yoga for Better Sleep (https://peakd.com/yoga/@nainaztengra/yoga-for-better-sleep). Relaxation techniques, such as yoga and meditation can help prepare you for sleep. The idea is to relax and not do anything that is overly stimulating for a couple hours before bed, to help prevent your mind from racing when your head hits the pillow.
---
5. Sleep Hygiene
When you search for sleep aids or sleep disorders on Google, what you get is a bunch of ideas to improve sleep. These could consist of manipulating your environment, or taking medications and supplements. These actions are referred to by experts as sleep hygiene. Let's compare sleep hygiene to something most everyone is knowledgeable about, dental hygiene. With dental hygiene, you brush and floss, and take other measures to maintain the current health of your teeth. Dental hygiene DOES NOT however, fix systemic issues with your teeth, such as cavities. No matter how hard you try, you cannot brush away a cavity! Now let's contrast that with sleep disorders such as insomnia. Sleep hygiene measures DO NOT fix systemic issues with sleep, but you shouldn't discount them altogether, because they can make the sleep you're already getting better. Quite a few replies to my post suggested some great sleep hygiene techniques.
---
In Conclusion
CBT-I has really helped me get back on track with my sleep. I recently purchased an Oura Ring, which does a great job of tracking my sleep patterns. They are still far from perfect, but I've come a long way by simply recognizing the systemic issues. I still have a ways to go ahead of me, but my progress has been reassuring.
If you regularly experience insomnia, I highly recommend Insomnia Coach/Martin Reed. He has plenty of free resources, and if you require a little extra help, he also offers direct coaching for a fee.