Hello creative gardeners...
I am encouraged to write on this subject, marveling at the beauties of nature, in the richness of vegetation that always makes its way above all things.
We have a very fertile land, where we recognize the goodness of the earth for food, nutrition , Saluy admiration of creation.
Hola creativos de la jardinería...

 Me animo a escribir sobre este tema,  maravillada de las bellezas de la naturaleza, en lo rico de la vegetación que siempre se abre paso sobre todas las cosas.

Tenemos una tierra muy fértil, donde reconocemos las bondades de la tierra para la alimentación, nutrición, saludo y admiración de la creación.


Plants in one form or another are always part of the home. There is always space to place a plant and take care of it with care.
I am also surprised how the city changes and in many of the green parts that used to exist, now there are streets, sidewalks, houses, buildings, man-made constructions.
However, as I said before, vegetation appears everywhere. Beautifying every corner.
Las plantas de uno u otra forma siempre son parte del hogar. Siempre hay espacio para colocar una planta y cuidarla con esmero.

Me sorprende tambien como  la cuidad cambia y en  mucha de las partes verdes que existían, ahora hay calles, aceras, casas, edificios, construcciones del hombre.

Sin embargó, como les dije anteriordmente la vegetación aparece en todos lados. Embelleciendo cada rincón.


I often go to a house near a residential area. There I had acupuncture therapies with my mother, there is a nice green garden there. With a lemon tree. Aloe plants, and some medicinal and ornamental plants.

Frecuentemente voy a una casa cerca de una zona residencial. Alli me realizó terapias de acupuntura con mi mama, alli tienes un lindo jardín  muy verde. Con un árbol de limón.   Plantas de sábila, y algunas plantas medicinales y ornamentales.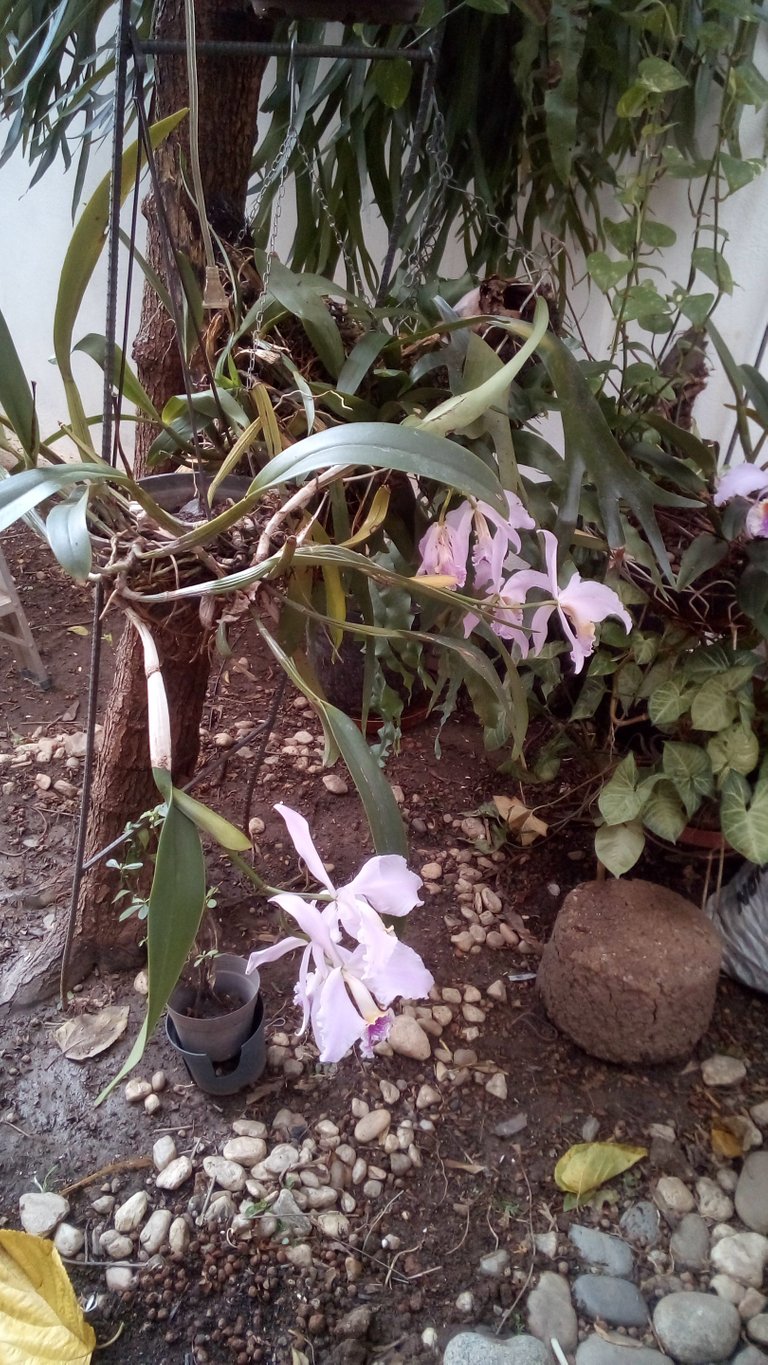 This time I was surprised to see the garden in bloom. A hidden garden. Among so many houses. With the arrival of the rains and the change of temperature, the garden was super green.
With beautiful purple flowers. This flower is the Orchid. A flower or two on each branch of the tree. With its irregular petals.
En esta oportunidad me sorprendí al ver el  jardín floreado. Un jardín escondido. Entre ta tantas casas. Con la llegada de las lluvias y el cambio de temperatura, estaba el jardín super verde.

Con unas flores hermosas, de color púrpura.  Esta flor es la Orquídea. Una flor  o dos en cada rama del árbol. Con sus pétalos irregulares.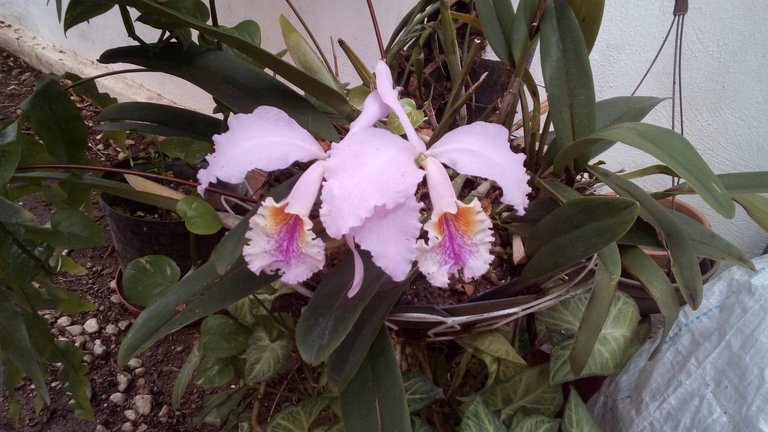 The May flower orchid
AThis flower is magically planted on a trunk or branch and it is able to cling to the trunk. Absorbing from it, the moisture it needs to grow and strengthen.
# La orquídea flor de mayo.

Esta flor es mágicamente plantada en un tronco o rama  y este es capaz de aferrarse al tronco. Absorber de el, la humedad que necesita para crecer


Millions of orchid species are known in Venezuela, but the most popular is the purple orchid, which has earned the title of the flower of May. As well as, the national flower.
Considering its beauty, its shape and its medicinal components. This is how this beautiful flower in infusions can help to dissipate muscular pains, respiratory difficulties and some beauty treatments.
It is a flower that gives light and color to gardens, attracts looks.
It reproduces very easily but requires a lot of attention to produce its growth, it requires a humid and warm place.
Likewise, it is used to decorate the religious festivities giving showiness, initiating the celebration of the holy week dressing the image of the Nazarene of San Pablo and the Cross of May in this way to honor its presence on earth, with it to give way to the month of May, month of the flowers, month of the mother.
Se conocen millones de especies de la orquídeas en Venezuela sin embargo la mas popular es la morada, quien se ha ganado el titulo de flor de mayo. Asi como, la flor nacional. 

Considerando su belleza su forma y sus componentes  medicinales. Es asi como esta hermosa flor en infusiones puede ayudar a disipar dolores musculares, dificultades respiratorias y  algunos tratamientos de belleza.

Es una flor que  da luz y color a los jardines, atrae miradas.

Se reproduce muy fácilmente pero requiere mucha atención para que se produzca  su crecimiento, requiere de un lugar húmedo y calido. 

Asi, mismo, Es utilizada para decorar las festividades religiosas  dando vistosidad,  iniciando la celebracion de la semana santa vistiendo  a la imagen del nazareno de San Pablo y  a la Cruz de mayo  ese 3 de Mayo  es  una  forma honrar su presencia en la tierra, con ella dar paso al mes de mayo, mes de la flores, mes de las madre.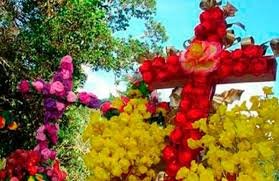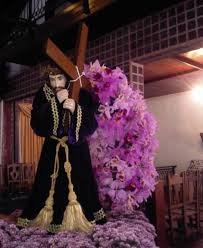 # ** A patriotic symbol**  23 of may of 1851

The orchid for its beauty and for being an emblematic flower in Venezuelan land became a natural patriotic symbol, along with arbol. The araguaney and the turpial.
A patriotic symbol represents the diversity of flora existing in the country, of easy cultivation. Many are the national and international events where orchids have been presented and this one has won a place of honor.


(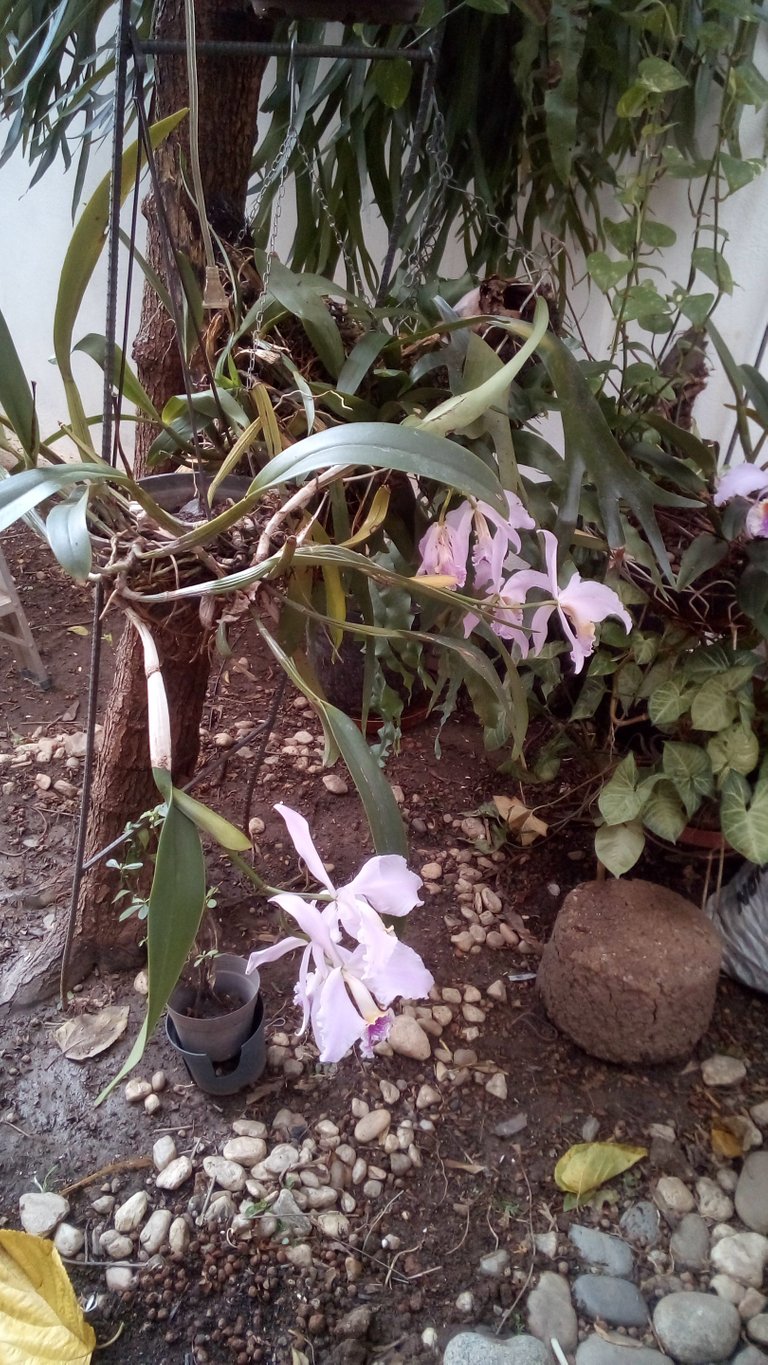 )
Un símbolo patrio el 23 de mayo de 1851.
La orquídea por su belleza y por ser una flor emblemática en tierra Venezolana se convirtió en un símbolo patrio natural, junto con árbol. El araguaney y ave, el turpial.
Un símbolo patrio representa la diversidad de flora existente en el pais, de facil cultivo. Muchos son los eventos nacionales he internacionales donde las orquídeas han sido presentadas y esta a ganado un puesto de honor.


 A garden requires dedication and love, care and attention, so that from it sprout the fruits of plants and flowers that beautify the place.

To contemplate a garden full of flowers is a blessing, to be thankful for and to value.  In it life is constantly developing.

In my own garden I have other flowers that I will tell you about later.... Thank you for reading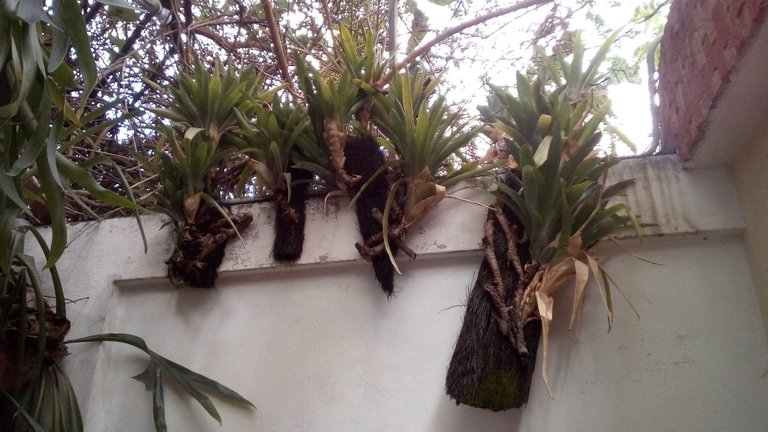 Un jardin requiere dedicación y amor, cuidado y atención, para que de el broten los frutos de las plantas y las flores que embellecen el lugar.
Contemplar un jardin lleno de flores es una bendicion, que se debe agradecer y valorar. En el se desarrolla la vida constantemente.
En mi propio jardin tengo otras flores de las que luego te hablaré... Gracias por leerme y cuentame cuales son las flores que tienes en tu jardín.