I absolutely LOVE pickles.
Or anything pickled, really. My pickling experience hasn't extended far beyond pickles themselves, but I plan to do more pickling in the future.
Are you tired of me saying "pickle" yet?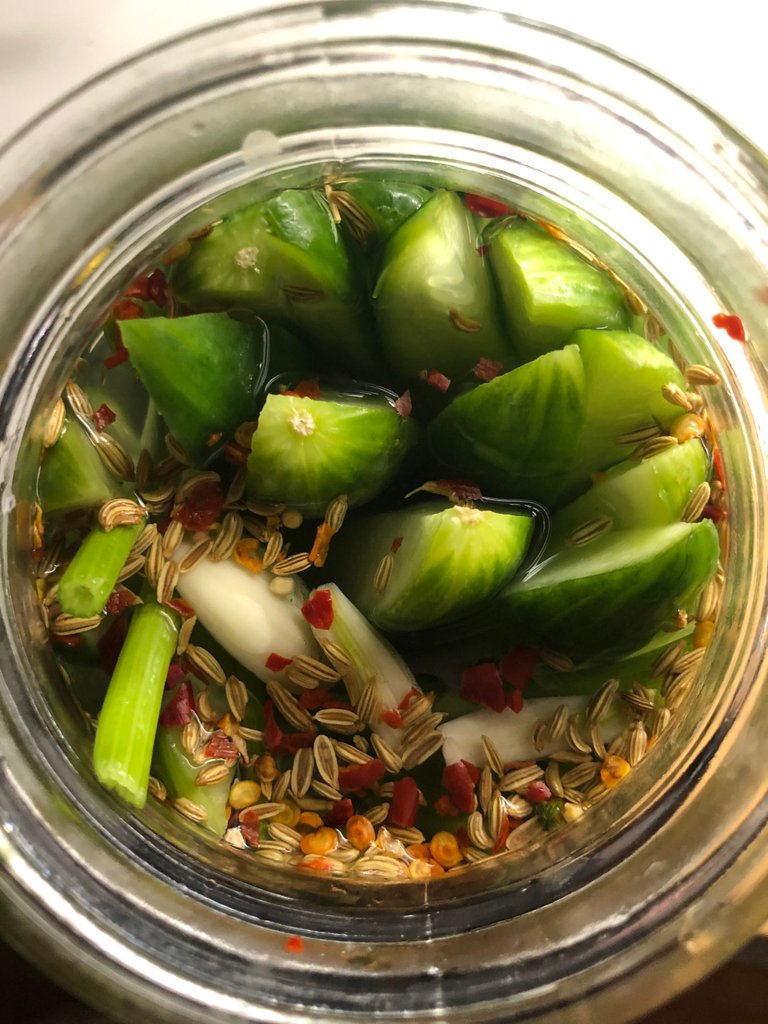 I bought these small cucumbers about a week ago with plans of pickling them. However, I ran into a strange issue. There was absolutely no dill anywhere in my area. It was the strangest thing to me. We have a large chain supermarket in our town along with a local family-owned grocery store with an absolutely mind-blowing produce section. Neither had dill.
I don't buy dill very often so I wasn't sure how uncommon this was. I checked periodically throughout the week, and finally found some yesterday. I was really relieved because the last time I bought mini cucumbers for this purpose I forgot about them in the back of the fridge and they spoiled. And for whatever reason, I couldn't bring myself to make pickles without dill. So, it was a big deal for me to finally find it!
Spicey Homemade Pickles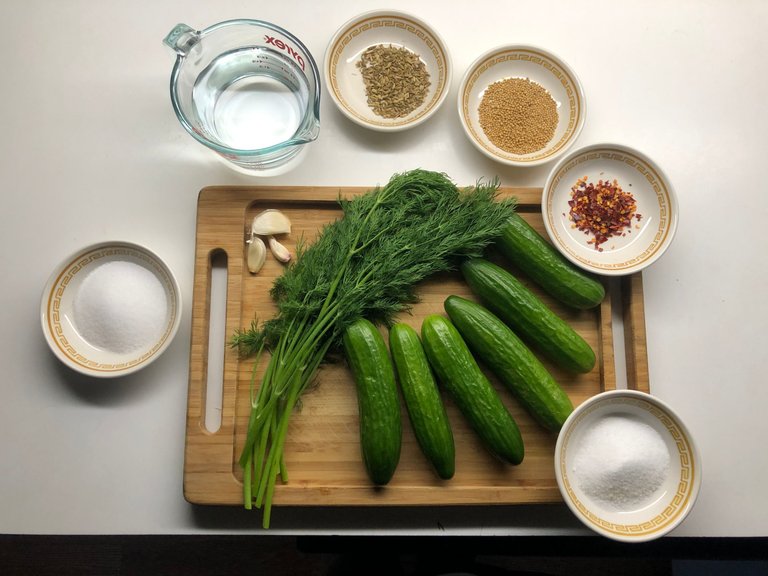 I made these yesterday but I wanted to give them 24 hours in the fridge first, try them, and then post the recipe. I made these slightly different than ones I've made in the past; so I wanted to make sure some of my new choices weren't going to ruin them. And they didn't!
Ingredients
6 mini cucumbers; or however many you'd please
One small bunch of dill
3 Cloves of garlic (more recommended; this was all I had left)
2 TBSP mustard seeds
1 TBSP fennel seeds
2 TBSP red pepper flakes
1 cup white vinegar
2 TBSP sugar
1 TBSP salt
Water
Pickles are super simple to make. Easy Peasy. And the best part is you can reuse the brine that you make if you plan to do it somewhat frequently. The only reason I ever would get rid of it is if I'm running out of room in the fridge.
You will need a stovetop, a large bowl, appropriate and clean sealing jars(close to the size of your desired pickle lengths; the jar I used here was much too large for what I needed but I could not find the jars I intended to use), a pot and something to stir(whisk preferred, but easily done without one). That's it!
Cut your cucumbers into your desired pickle shape. I really enjoy "spears", as pictured here. But, "chips" are just as good; especially if you're intending to use them with something like sandwiches. I don't really eat sandwiches, and tend to eat pickles on their own; hence the spears. For spears cut in quarters, lengthwise. For chips, cut them into slices.
Crush your garlic. I halved/quartered my larger pieces but that is not necessary.
Add your dill, fennel seeds, garlic, mustard seeds, red pepper flakes and cut cucumbers to your clean pickling jar. Usually I chop the dill but this time I decided to stick the full figs in there. I didn't see why not and thought the pickled stems could be good.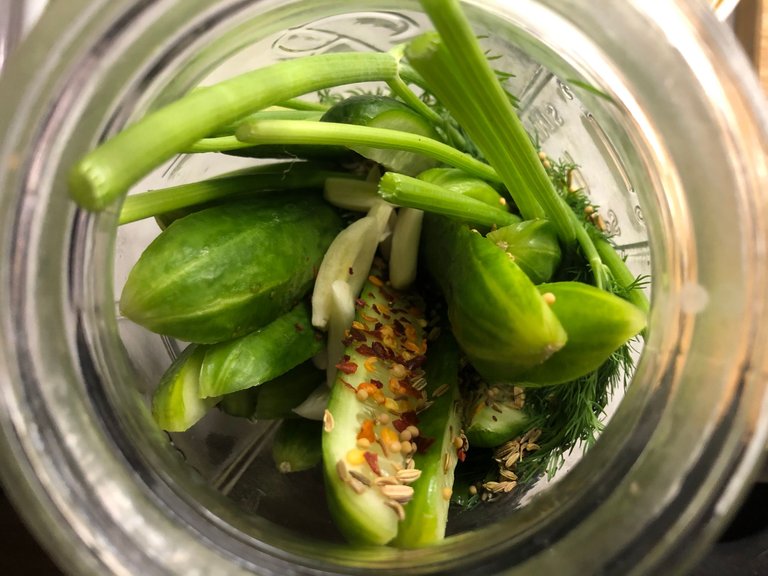 (4) On your stovetop, combine the vinegar, sugar, salt in a pot with two cups water. Once heated, whisk frequently(while keeping over heat), until the sugar and salt have dissolved. Remove from heat and pour into a large bowl.
(5) Add some cold water to the bowl. How much depends on the size of your jar. Given my large ball jar size, I used a few cups(and ended up needing more later). Let cool.
(6) Pour the vinegar mixture into your ball jar. Use enough to cover them. If your mixture doesn't cover the contents of your jar, just add more water. Put on the lid and put in the refrigerator for a minimum of 24 hours.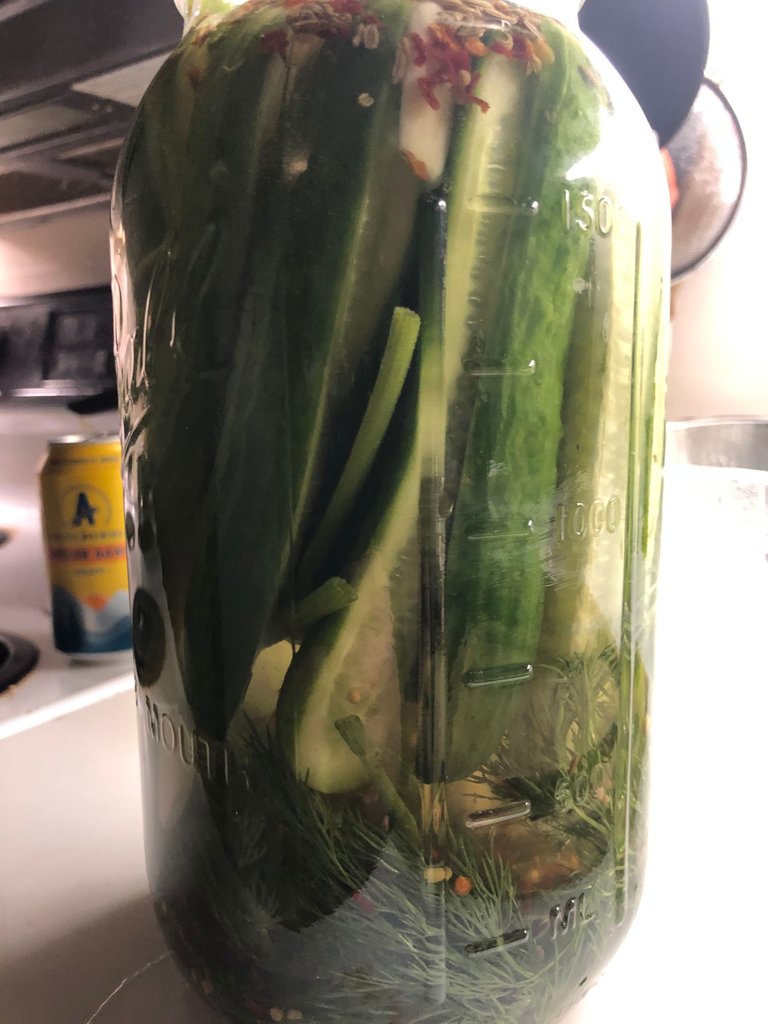 And you're done!
Real simple. Some afterthoughts on my own product- MORE spice. I thought these were going to be a little hotter. I should have added more red pepper flakes and maybe some jalapeno or chili peppers. It's been awhile, so I wasn't sure how much to add.
I was unsure about the fennel seeds but they actually added a nice little flavor! I wouldn't rush to the store to get some; but if you have some laying around, as I did, it makes a good, mellow addition.
I have yet to try the dill stems. I'll mention how they were in a future post :)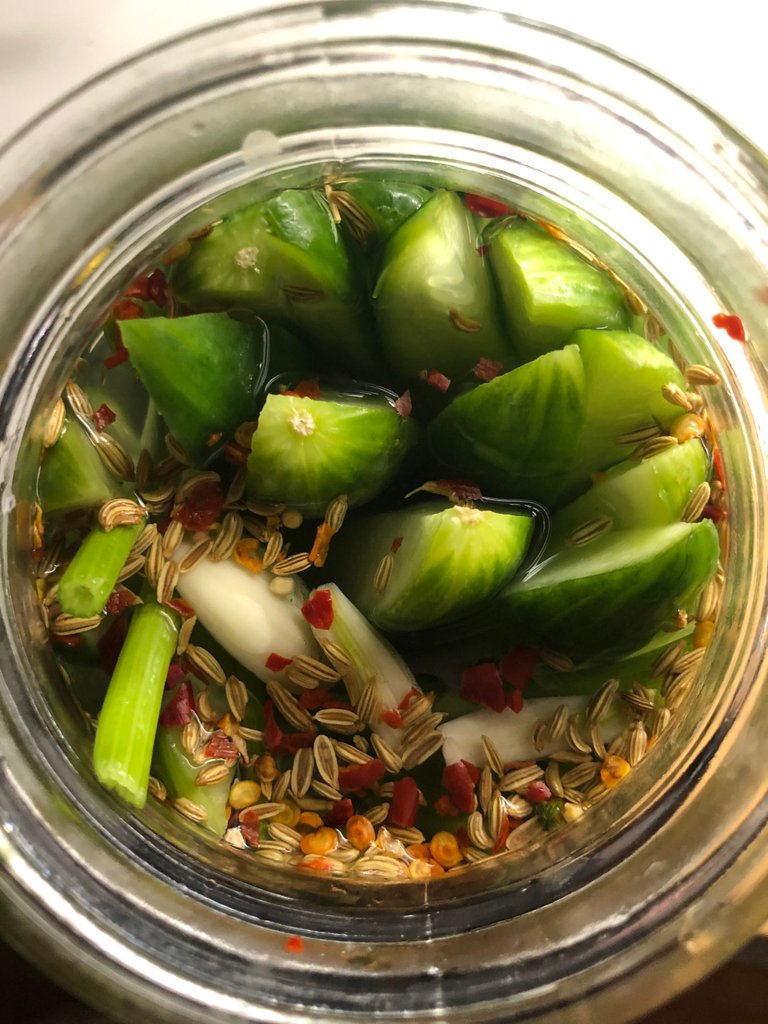 Thanks for checking it out! I know pickles are something everyone has their own take on. Mine is rather simple; yet you can't fail with a simple pickle recipe. If you've posted your own pickles here on HIVE, drop a link! I'd love to see others takes.
Happy HIVE'in y'all. Thanks for checking it out!