I'm not going to pretend to be super cultured when it comes to my cooking knowledge. I'm a decent cook; I'll give myself that; but I'd be lying if I said I even knew what Dhansak was before I made it, thanks to my (sometimes disappointing) vegetarian cookbook I rescued from a curbside pile of trash back when I lived in the "city".
This time though, the cookbook didn't let me down. It's pretty hit or miss. Of course, some of the things it called for were unavailable or unreasonably priced in my area so I had to make some substitutions. I'm not unhappy about my adaptation, at all, and really enjoyed this dish.
Vegan Mushroom Dhansak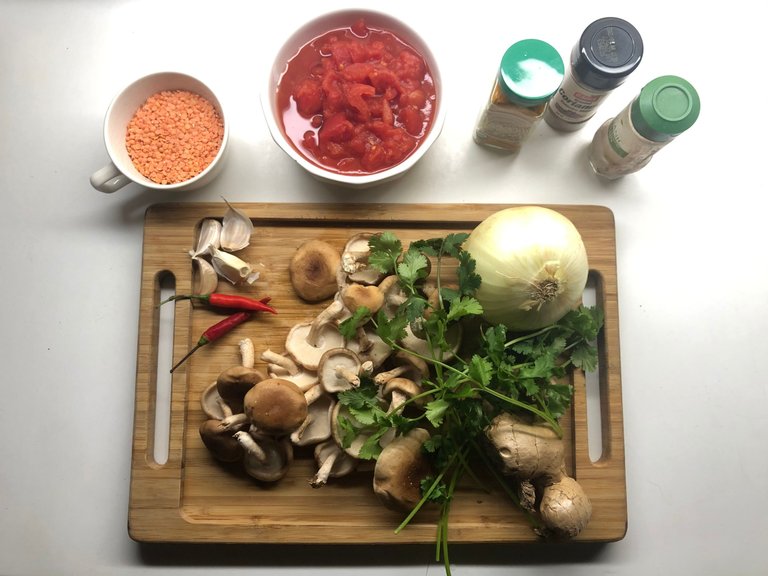 The recipe I loosely followed called this "Lentil Tomato Dhansak". Now, again I don't know much about Indian cooking(although I do love it); but I was under the impression that Dhansak in general usually implies both lentils and tomatoes. So, I thought to myself, "that sounds rather boring", and having a decent amount of Shitake mushrooms I got on sale that were likely not going to keep long; I decided to pile more mushrooms in there to make them more of the feature.
Now, if you don't like spice, this recipe may not be for you. You can certainly do things to omit the spice; i.e. scrap the chili peppers and replace them with something milder(or nothing at all). Part of this recipe involved cooking the mushrooms in a cumin mixture; so replace it with something a little less bold if you feel.
Alternatively, if you really like spice; I'd suggest cranking up the heat on this one. I'm an avid spicey food fanatic- and to be perfectly honest I wish I had made this a little hotter.
Regardless, let's get into it!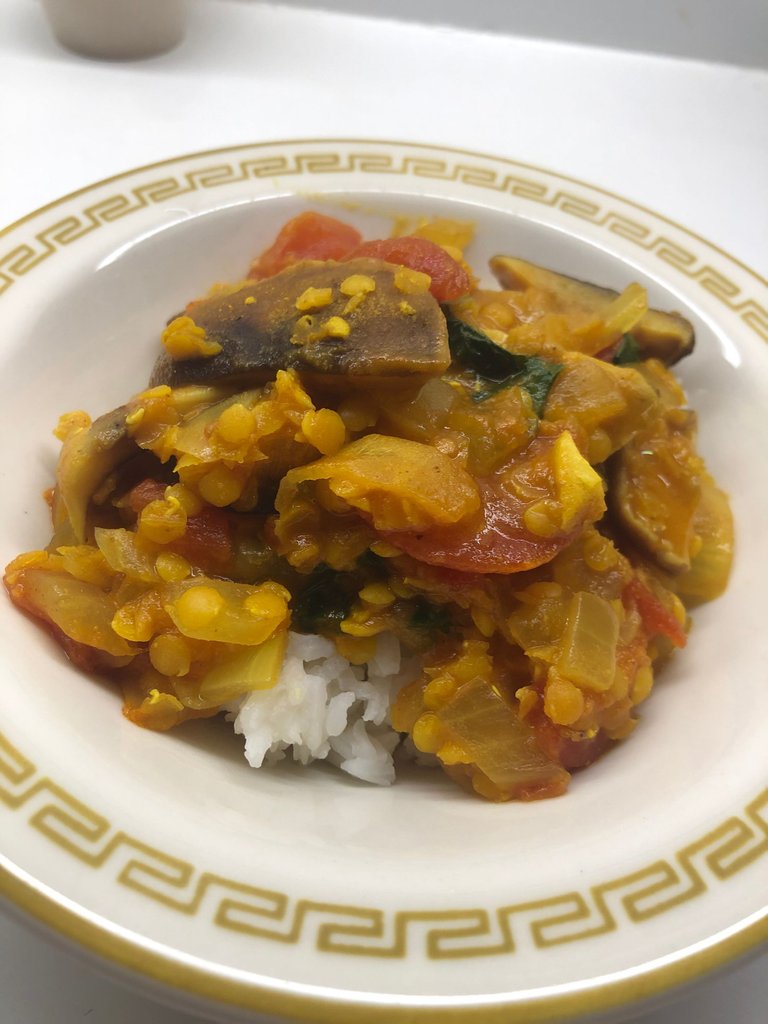 Ingredients
Subject, as always, to your own creativity. I adapted this recipe from another recipe; so, as with all cooking, feel free to adapt your own from mine. I used what was available and affordable in my area and what I already had in my kitchen!
~1/2 lb Shitake mushrooms. Use whichever type you'd like. I just had Shitake
100 g red lentils
1 can chopped tomatoes(or chop them yourself; roughly 450 g)
1 medium/large white onion
4 cloves of garlic
2-3 thai chilis(or 1 of a larger variety)
small bunch of cilantro
2 tbsp ginger
1.5 tsp ground coriander
2 tsp ground cumin
1 tbsp vegetable oil
1 tsp ground turmeric
1 tsp merken(optional)
Rice/Naan/anything else you'd want to eat it with! Or eat on it's own :)
(2 TBSP yogurt). The reason I put this outside the rest of the ingredients is that I did not use it in the process that is displayed in the photographs here so it would feel like a lie to write about how it is with yogurt. I imagine that it would be a very beneficial addition. I had planned on using yogurt, but when I got to that stage and pulled it out; I discovered that the yogurt I hadn't touched in awhile was quite moldy and it ended up going to it's grave.
However, I felt it important to leave it WITH the ingredients on the off chance anyone was setting out to make this and was taking a trip to the store. I don't want what happened to me to happen to anyone else haha.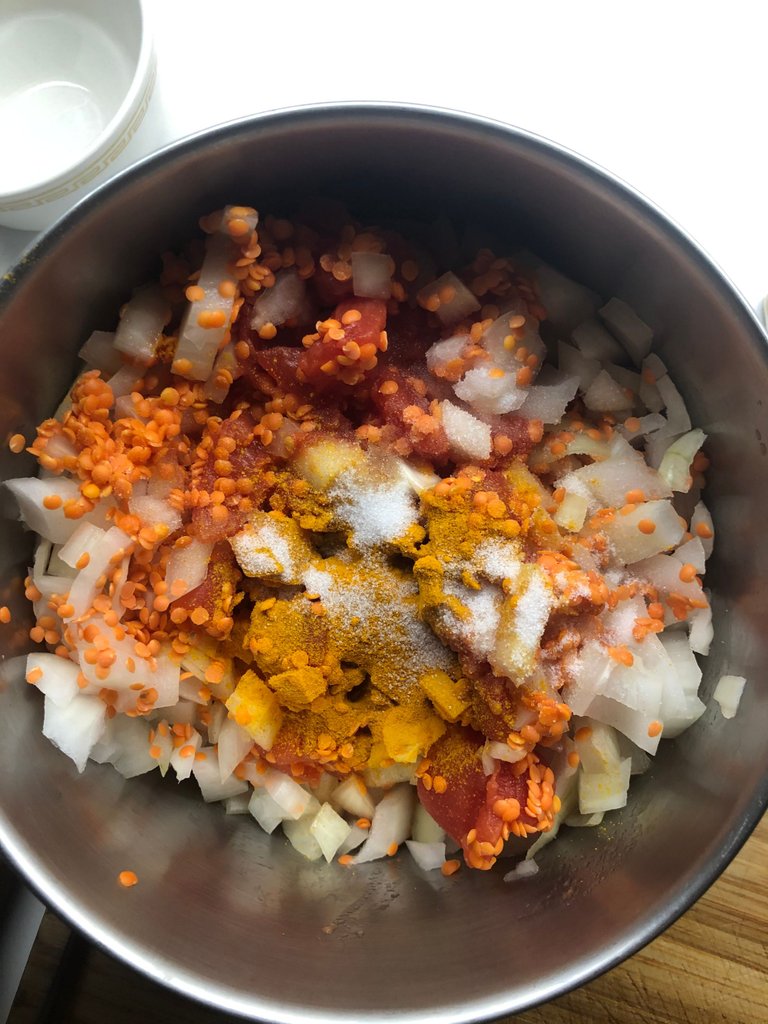 Chop your onion as you'd like. I went kind of between "diced" and "sliced". I'm not really sure what to call it. "Little squares". When I hear myself talk like this I can't believe I worked in so many kitchens "professionally". Add the onion to a pot with the lentils and your tomatoes. Add enough water to cover it a little bit and a little salt if desired. Also add your turmeric here. Gently simmer, uncovered, for about 20 minutes OR until your lentils reach desired tenderness. I'm not one for timing things; I usually just use the second method.
While that's simmering, chop your mushrooms, garlic, chili peppers, and shave your ginger; as desired. You will be wanting to have all points of your mushrooms able to make contact with the pan, but depending on variety that could be difficult. I'm not sure if I chopped these Shitakes in the best form but I don't really care; it tasted great.
(3) In a separate pan, begin to heat your oil. Once heated, throw your mushies right in there and whip em around until they've gained some color and almost all (or all) the oil is absorbed. Add your cumin and coriander and keep moving the mushrooms around to coat them in the spices. Things will be dry. Keep it moving for a couple minutes and then throw in your ginger, garlic, peppers and merken. Keep the motion going for a couple more minutes.
(4) Pour in the mixture from the other pot and mix. I added about ~4 oz/120 ml of water to thin it out a little bit. Simmer for 20 minutes, stirring occasionally. If your turns out like mine did, it will appear a little more watery than you'd desire. Either cook it out or forget about it if you're not serving absolutely immediately. I had forgotten to make my rice at this point and by the time that was done it had settled to perfect consistency off heat.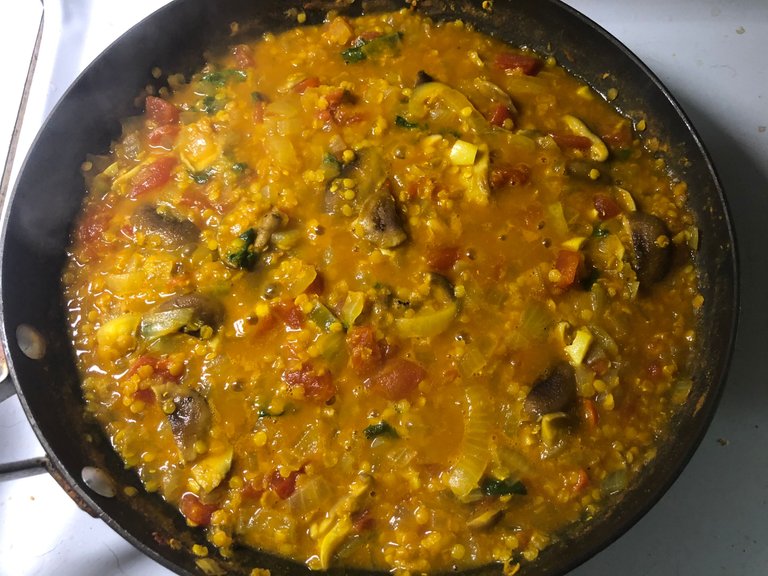 (5) Chop up your cilantro and any other last minute spices you want to add and throw them in. This is also the time to throw your yogurt in if you're smarter than me and actually check the quality of your perishables before you start cooking. Mix well, turn off heat, cover, serve, put away, store, throw out, feed to dog; your choice!
I ate mine with rice as that is what I had. I only had a small amount of the rice and I actually ended up eating a bowl of the Dhansak on it's own and I'm not complaining whatsoever. I think naan would accompany this very well; although I say "I think" when I'm just speaking on what it is traditionally served with.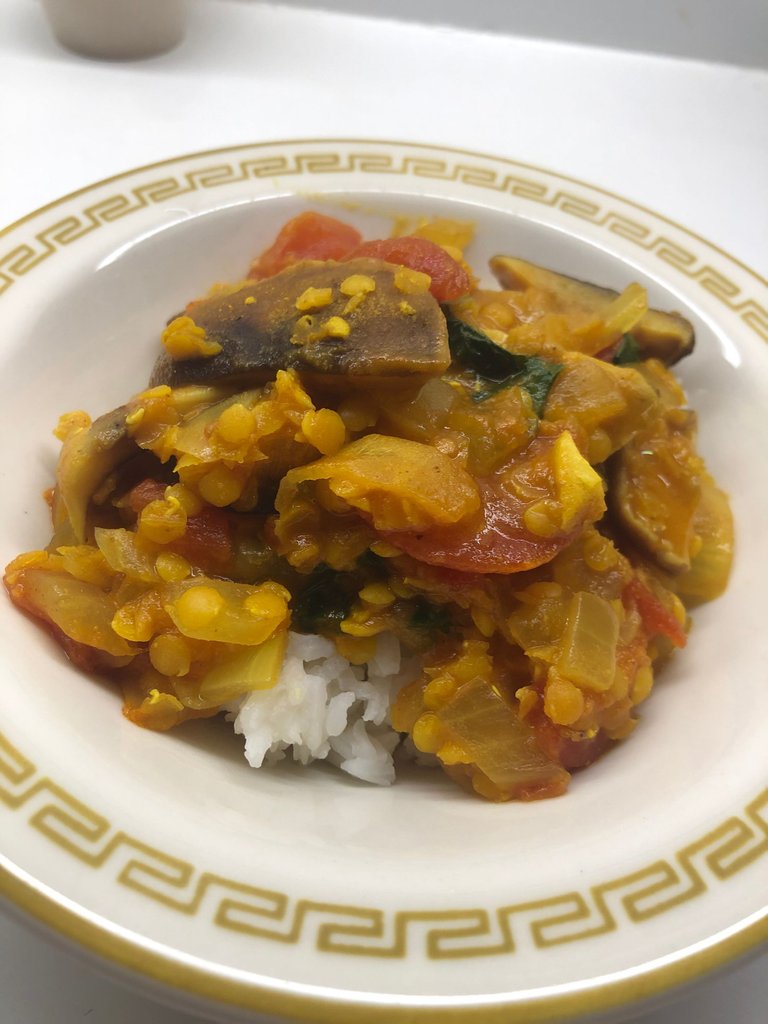 And that's that! It's a little time consuming but all in all pretty easy. A small amount of work and then just kinda waiting and occasionally stirring. The mushroom coating process is really the only point you need to pay much attention.
I very much enjoyed this dish. I think I could have made it a little better with the improvements I hinted at above. Anyone who cooks Dhansak traditionally I would love to hear your feedback. Please; don't feel the need to be kind 😂
That's all for now! Let me know if you end up giving this easy, cheap, delicious dish a shot. It's relatively low-calorie; depending on how much naan and rice you consume with it. I wish I had used cauliflower rice to be perfectly honest as I have some cauliflower begging to be used but I didn't feel like dealing with my horrible blender. Stay beautiful and healthy all you HIVE folks <3