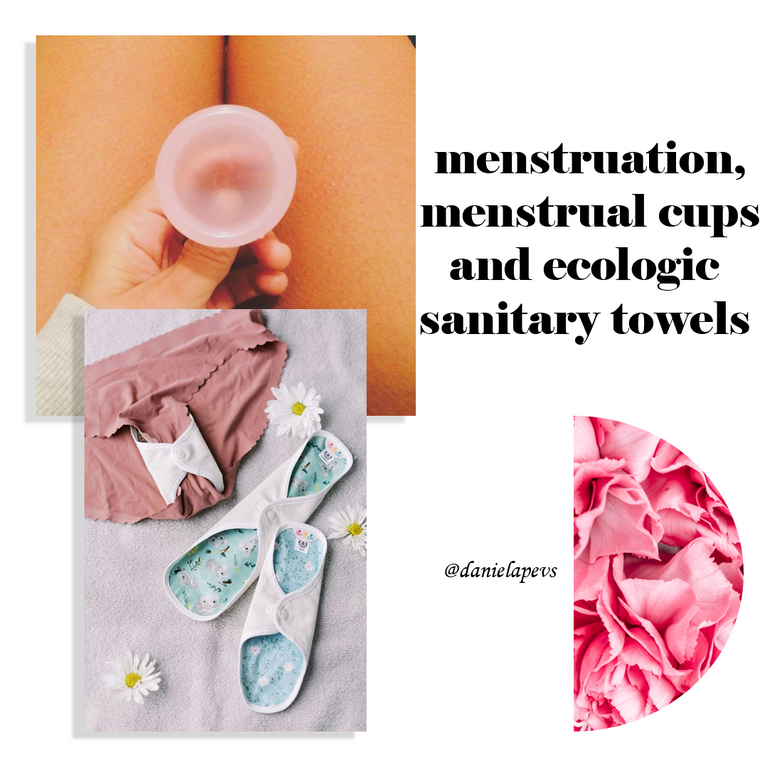 Source I | Source II | Source III

The promise is a debt, so today I bring you another informative post regarding the ecological pads and the menstrual cup. So have a coffee to share this reading as a very pleasant conversation between girl friends.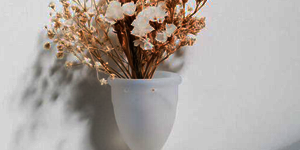 Source
At this point in your life you may already know about the existence of the menstrual cup due to the enormous demand it has obtained in this last decade, since in fact, when I had my first period on my 10th birthday, the most common thing I heard was always the disposable towels or tampons. Despite the fact that it has only recently become popular, the truth is that menstrual cups have been on the market for a little over a century, with the vulcanized rubber being used as the first manufacturing material.
Don't worry, today's cups are made of surgical silicone since we already know that our most delicate area must be very well protected. So let's answer some very common questions regarding it, let's talk about the sizes and their benefits both physically and spiritually.

The menstrual cup is designed in the same way as a hygienic tampon, the difference between the two is that the tampon absorbs blood, has chemical components that are usually harmful to the health of our vagina (such as the use of perfumes for them). On the other hand, the menstrual cup is in charge of collecting the blood until it is time to empty it, clean it again and introduce it. These have no perfume and it is recommended that the material is always transparent or white.
How do I know when it's time to change my menstrual cup? At first you will always have the uncertainty that the cup may be overshot, although the truth is that the cup is designed to be changed every 12 hours (with a regular flow of blood). But here it is all a matter of getting to know you and at the same time, knowing the intensity of your cycle, also adapting it to your own comfort.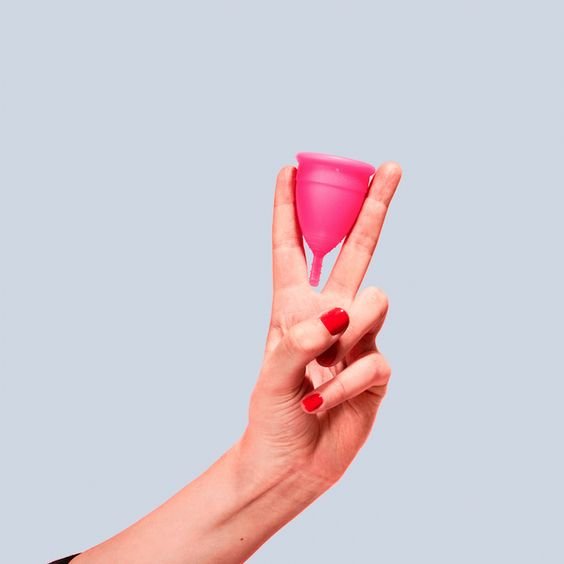 Anatomy and sizes. The most talked about topic among all of us, what will be my size? This varies depending on whether you have already had sexual activity or not, if you have already gone through the birth process and the knowledge you have of your body, that is, if you have ever used tampons you felt uncomfortable, the ideal would be to always use the smallest size, in this case S. If you have an active sexual life and your vaginal canal is not so narrow, the ideal would be to use size M. And finally, if you have gone through childbirth this varies between size M and size L. You may buy a size that doesn't work for you and you have to change it, don't worry about it, the important thing is always to look for comfort, although if you wish you can go directly to your trusted gynecologist and find the ideal size for you.
Sterilization of the menstrual cup and menstrual flow. Although with disposable sanitary pads it seems that we have an excessive flow, the truth is that they only absorb a third of our flow if we are using a cup, so don't worry about exceeding the cup. The best way to sterilize our cups (both when you first buy them and when you first use them for your period) is to put them in boiled water for 3 to 5 minutes. The same thing, once your cycle is over, it's a matter of re-sterilizing it and storing it until your next period.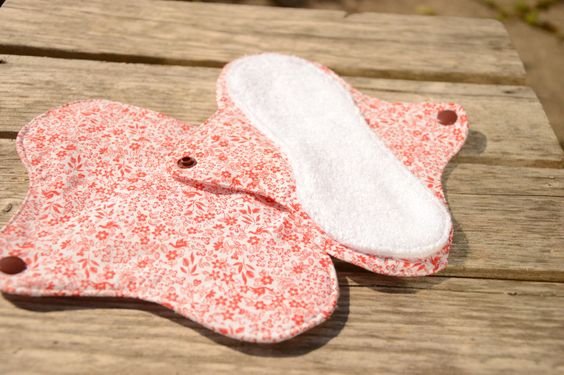 Participation of the ecological pads together with the menstrual cup. I know that at the beginning you will have the doubt again, feel that the cup is overflowing and you can get stained, this can happen only if the cup is placed wrongly, but it is always better to prevent than to regret. Ah, the ecologic pads, were our beginnings and then replaced by the disposable ones and now they return to us again, they are a marvel for both one and the same nature. You can always have with you (if you decide on the menstrual cup) the ecologic daily pads, they are smaller and will protect you in case of some small bleeding. On the other hand, if your decision is only to use the pads, you have all the freedom to choose sizes (as with disposable pads).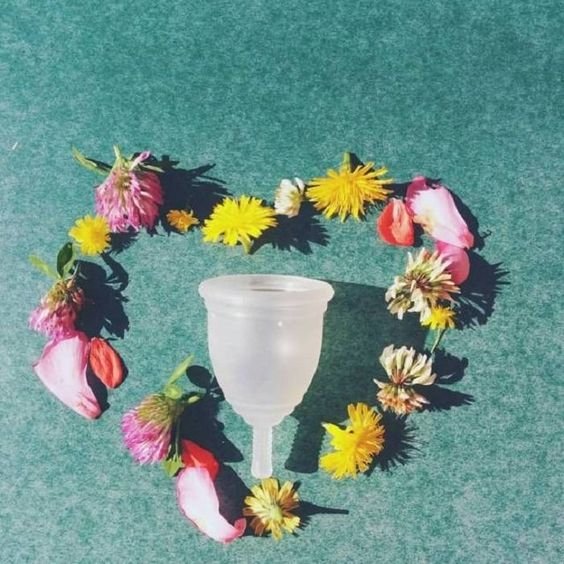 Use of the menstrual cup. As every first time you feel nervous, breathe a little and try to relax, you can sit on the toilet to put the cup or squat in a clean space, fold the part of the cup in the form of C and introduce it until only the end is left (which is the lower tail) on the outside, once ready remove your fingers and it will expand until it is empty, fulfilling its function to collect the bleeding. If you feel that the work is very forced, you can choose to help you with a little lubricant for intimate areas until you get used to put it on without using it. **With your clean hands, insert your finger and try again to bend the cup inside in the form of C, this to cut the vacuum that generated inside you, it is very important that you NEVER pull the cup by the end, this can hurt you a lot, your fingers can get a little stained but it is your blood: once removed the cup, you can empty it into the toilet, rinse it in the sink and re-insert it to continue with your daily activities.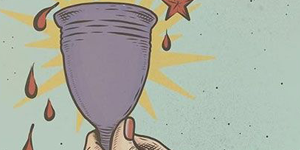 Source
A long and wonderful list would enter into this section of the benefits we gain both on a health, physical and spiritual level once we replace disposable methods with this wonder. But since I'm not a big fan of listing, let's open a discussion about the multiple benefits. As I mentioned in my post Women's Health, Menstruation and full moon, one of the first benefits you will obtain will be to greatly reduce the expenses you generate when buying disposable pads or tampons every month, the ''life'' of the cup is usually 10 years and, with a good care your ecological pads can last up to 5 years with you.
The second is to allow you to get to know yourself better, connect with your cycle and accept your bleeding as part of your nature (I know some have an aversion to their blood because of the constant bombardment the rule has received for decades or centuries perhaps) but once we re-naturalize our cycle and take care of it, we are allowing ourselves to restart a chain of biases and be reborn in the habits of self-care and self-love.
Have you ever thought of using your blood to strengthen plants? This is another benefit that allows a part of us to return to nature, our blood contains three of the primary macro-nutrients of plants: nitrogen, phosphorus and potassium. This helps them grow strong stems, have green leaves, produce flowers and form new roots. (i)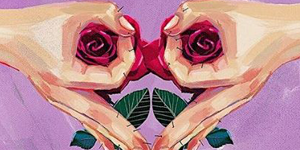 Source
When we reconnect with our body from any area we get better, I have read of girls who once they make the passes with their menses their pains have diminished considerably, it is always a matter of vibrating high and always with love. Whichever method you decide to use, always remember that you will be doing a great favor to your body and to nature by reducing the excessive consumption of disposable pads. In addition, it is very important to avoid using this type of material that damages and irritates both our vaginal bacterial flora and our skin (the rubbing of the pads is a nightmare).
This is only the first part of this topic, so extensive and wonderful that I come to share with you today, with the hope of continuing next week with a second part, I ask you to leave your doubts in the comments so that we can discuss them in the next topic. ♥

La promesa es una deuda, así que hoy les traigo otro post informativo sobre las compresas ecológicas y la copa menstrual. Así que tomen un café para compartir esta lectura como una conversación muy agradable entre amigas.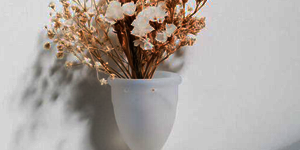 Source
Puede que a éste punto de tu vida ya conozcas sobre la existencia de la copa menstrual debido a la enorme demanda que ha obtenido en ésta última década, ya que de hecho, cuando cumplí mis 10 años que tuve mi primer período lo más escuchado era siempre las toallas desechables o tampones. A pesar de que es muy reciente su popularización, lo cierto es que las copas menstruales llevan en el mercado durante poco más de un siglo siendo usado como primer material de fabricación el caucho vulcanizado.
No se preocupen, actualmente las copas de hoy están hechas de silicona quirúrgica puesto que ya sabemos que nuestra zona más delicada debe ser muy bien protegida. Así que respondamos algunas dudas muy comunes con respecto a ella, hablemos de las tallas y de sus beneficios tanto físicos como espirituales.

La copa menstrual ésta diseñada de la misma manera que un tampón higiénico, la diferencia entre ambas es que el tampón absorbe la sangre, tiene componentes químicos que suelen ser perjudiciales para la salud de nuestra vagina (como lo son el uso de perfumes para los mismos). Por otro lado, la copa menstrual se encarga de recoger la sangre hasta que es momento de vaciarla, limpiarla nuevamente e introducirla, éstas no tienen perfumes y se recomienda que el material sea siempre de color transparente o blanco.
¿Cómo saber cuando es momento de cambiar mi copa? Al principio tendrás siempre la incertidumbre de que puede que la copa se rebase, aunque lo cierto es que la copa ésta diseñada para ser cambiada cada 12 horas (con un flujo regular de sangre). Pero aquí todo es cuestión de ir conociéndote y a su vez, conocer la intensidad de tu ciclo, también adaptarlo a tu propia comodidad.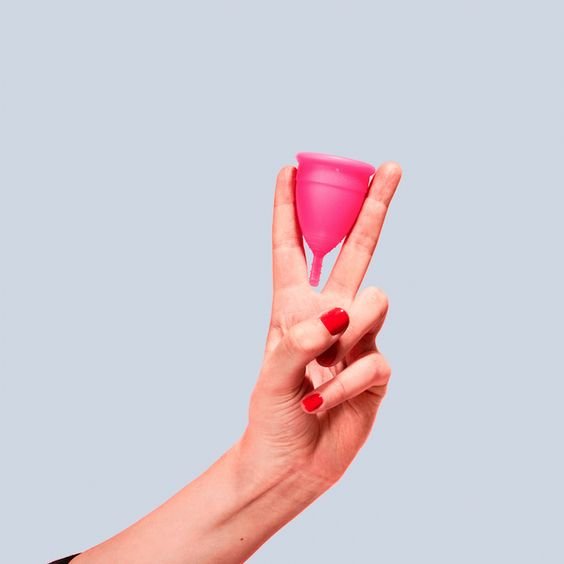 Anatomía y tallas. El tema más tocado entre todas nosotras ¿cuál será mi talla? Esto varía dependiendo de si ya haz tenido actividad sexual o no, si ya haz pasado por proceso de parto y el propio conocimiento que mantengas de tu cuerpo, es decir, si alguna vez usando tampones te sentiste incómoda lo ideal sería usar siempre la talla más pequeña, en éste caso S. Si en tal caso mantienes una vida sexual activa y tu canal vaginal no es tan angosto, lo ideal sería recurrir a la talla M. Y por último, si haz pasado por procesos de parto esto varía entre la talla M y la talla L. Puede que compres una talla, no te funcione y debas cambiarla, no te preocupes por ello, lo importante siempre es buscar la comodidad, aunque si deseas puedes ir directamente con tu ginecólogo de confianza y dar con la talla ideal para ti.
Esterilización de la copa menstrual y el flujo menstrual. Aunque con las toallas sanitarias desechables pareciera que tenemos un flujo excesivo, lo cierto es que estas solo absorben la tercera parte de nuestro flujo si estuviésemos usando una copa, así que no te preocupes por si llega a rebasar la copa. La mejor manera de esterilizar nuestras copas (tanto en su primera compra como al momento de usarla por primera vez en cada menstruación) es el de ponerlas en agua hervida de 3 a 5 minutos.Lo mismo, una vez finalizado tu ciclo, es cuestión de volver a esterilizarla y guardarla hasta la siguiente menstruación.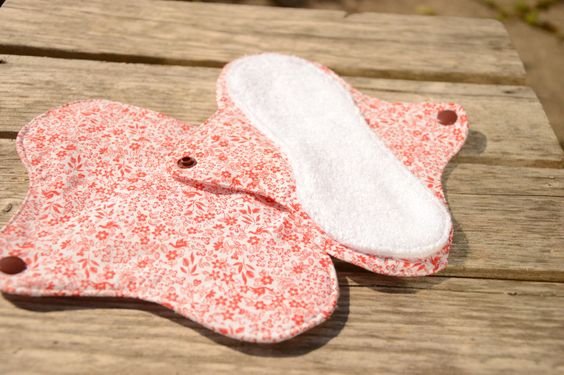 Participación de las compresas ecológicas junto con la copa menstrual. Sé que al principio tendrás la duda de nuevamente, sentir que se rebasa la copa y puedas mancharte, esto puede suceder sólo si se coloca mal la copa, pero siempre es mejor prevenir que lamentar. Ah, las compresas, fueron nuestros inicios para luego ser reemplazadas por las desechables y ahora retornan nuevamente a nosotras, son una maravilla tanto para una como para la misma naturaleza. Puedes tener siempre contigo (si es que te decides por la copa menstrual) las compresas diarias, son más pequeñas y te protegerán en caso de algún pequeño sangrado. Por otra parte, si tu decisión es sólo usar las compresas, tienes toda la libertad de escoger tallas (como con las compresas desechables).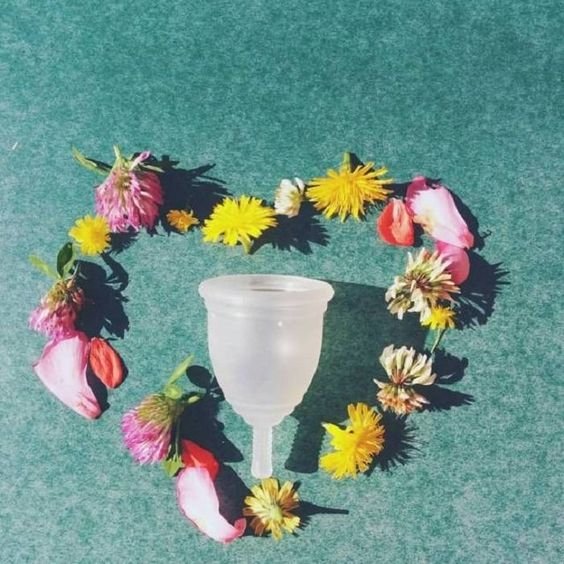 Utilización de la copa menstrual. Como toda primera vez sentirás nervios, respira un poco e intenta relajarte, puedes sentarte en el inodoro para colocarte la copa o ponerte de cuclillas en algún espacio limpio, dobla la parte de la copa en forma de C e introducela hasta que sólo quede la terminación (que es el rabito inferior) por fuera, una vez listo retira tus dedos y ésta se expandirá hasta quedar al vacío, cumpliendo su función de recoger el sangrado. Si sientes que el trabajo es muy forzoso, puedes optar por ayudarte con un poco de lubricante para zonas íntimas hasta que te acostumbres a ponértela sin usarlo. ¿Cómo retirarla? Con tus manos limpias, introduce tu dedo e intenta nuevamente doblar la copa por dentro en forma de C, esto para cortar el vacío que generó dentro de ti, es muy importante que NUNCA hales la copa por la terminación, esto puede hacerte mucho daño, tus dedos se mancharan un poco pero es tu sangre: una vez retirada la copa, puedes vaciarla en el inodoro, enjuagarla en el lavamanos y volverla a introducir para continuar con tus actividades cotidianas.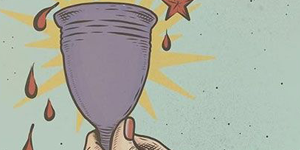 Source
Una lista extensa y maravillosa entraría en ésta sección de los beneficios que obtenemos tanto a nivel de salud, físico y espiritual una vez que reemplazamos los métodos desechables por esta maravilla. Pero como no soy muy fan de enumerar, abramos un debate sobre los múltiples beneficios. Como ya había mencionado en mi post de Salud femenina, menstruación y luna llena, uno de los primeros beneficios que obtendrás será el de reducir enormemente los gastos que generas al comprar cada mes compresas o tampones desechables, la duración de ''vida'' de la copa suele ser de 10 años y, con un buen cuidado tus compresas ecológicas pueden durar hasta 5 años contigo.
Lo segundo es el de permitirte conocerte mejor, conectar con tu ciclo y aceptar tu sangrado como parte de tu naturaleza (sé que a algunas les genera aversión su sangre por el constante bombardeo que ha recibido la regla desde hace décadas o siglos quizás) pero una vez que naturalizamos nuevamente nuestro ciclo y lo cuidamos, nos estamos permitiendo reiniciar una cadena de sesgos y renacer en los hábitos de autocuidado y amor propio.
¿Habías pensado en usar tu sangre para fortalecer las plantas? Éste es otro beneficio que nos permite retornar una parte de nosotras a la naturaleza, nuestra sangre contiene tres de los macro-nutrientes primarios de las plantas: nitrógeno, fósforo y potasio. Esto las ayuda a crecer con tallos fuertes, tener hojas verdes, producir flores y formar nuevas raíces. (i)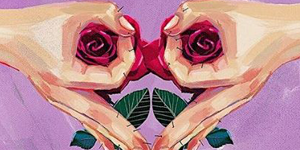 Source
Cuando hacemos de nuevo la conexión con nuestro cuerpo desde cualquier ámbito mejoramos, he leído de chicas que una vez que hacen las pases con su menstruación sus dolores han disminuido de manera considerable, todo siempre es cuestión de vibrar alto y siempre con amor. Sea cuál sea el método que decidas usar, recuerda siempre que estarás haciéndole un gran favor tanto a tu cuerpo como a la naturaleza al reducir el consumo excesivo de compresas desechables, además, es muy importante el evitar usar éste tipo de material que perjudica e irrita tanto nuestra flora bacteriana vaginal, como nuestra piel (el roce de las compresas son una pesadilla).
Esta es sólo la primera parte de éste tema, tan extenso y maravilloso que vengo a compartirles hoy, con la esperanza de la semana que viene continuar con una segunda parte, te pido que me dejes tus dudas en los comentarios para poder debatirlos en el siguiente tema. ♥
Images Sources
one
two
three
four
five