This post is written in two languages and divided for ease of reading.
Este post está escrito en dos idiomas y dividido para facilitar la lectura.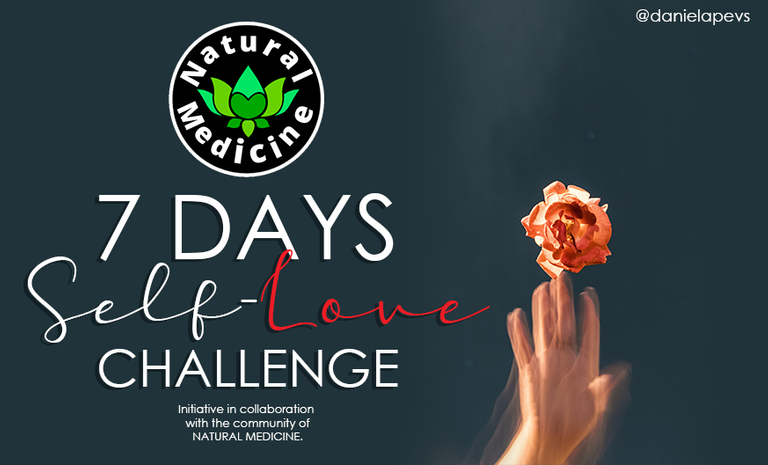 s o u r c e

Ah, el mes del amor y la amistad ¿no les parecen maravillosas las energías amorosas que se mueven durante estos días? A mi sí, la importancia del amor en comunidad es grande. Pero hoy la presentación es distinta, debido al excesivo marketing que recibe San Valentin, el cual prioriza el amor en pareja, estos días se vuelven tormentosos para quiénes están solos, dificultando entonces su capacidad de amarse, de disfrutar ésta fecha y enfrentándose quizá a pequeños episodios depresivos.
Así que en colaboración con la comunidad de Medicina Natural (@naturalmedicine) y, expandiendo un poco la participación de la comunidad de HIVE en el RETO DE FEBRERO, puedes ganar tanto el badge #mentalhealthawareness y también 20 HIVE y ¡500 LOTUS! Participando en ambos retos teneis la posibilidad de ganar 100 HIVE, detalles aquí.

Ah, the month of love and friendship, don't you find the loving energies that move during these days wonderful? To me yes, the importance of love in community is great. But today the presentation is different, due to the excessive marketing that Valentine's Day receives, which prioritizes love as a couple, these days become stormy for those who are alone, hindering then their ability to self-love, to enjoy this date and perhaps facing small depressive episodes.
So in collaboration with the Natural Medicine community (@naturalmedicine) and, expanding a bit the participation of the HIVE community in the FEBRUARY CHALLENGE, you can win not only the #mentalhealthawareness badge, but also 20 HIVE and up to 500 LOTUS! You can also enter your self love post in the February LOVE challenge for a chance to win 100 HIVE - details here.
EL CONCURSO CIERRA EL 28 DE FEBRERO
Puedes elegir en cuestión si deseas publicar 1 solo post de resumen el día 7mo del reto ó, si también lo deseas (y para aumentar la actividad de tu blog) publicar un post de bitácora contando tu experiencia cumpliendo el reto durante los 7 días.
El post (o los) deben estar relacionados con la actividad realizada durante cada día, una reflexión y sobre la importancia del amor propio.
Debe ser publicado en la comunidad de Medicina Natural (puedes hacer cross-post con otras comunidades).
Invitar a 2 personas a unirse al reto.
Dejar en los comentarios el link de tu participación para poder verlo.
Usar las etiquetas #NATURALMEDICINE #MENTALHEALTH Y #7LOVEDAYS
Por favor, rebloggear éste post.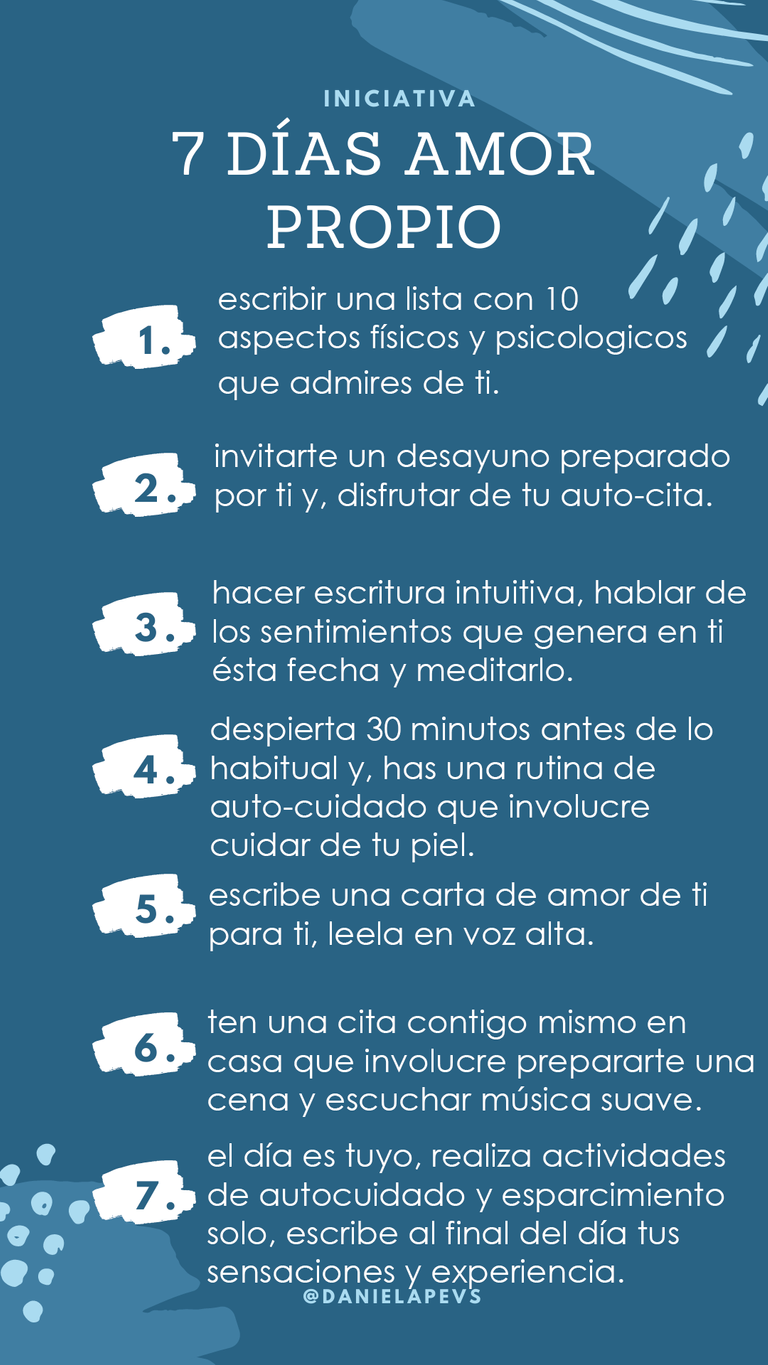 CONTEST CLOSES ON FEBRUARY 28TH
You can choose whether you want to publish a single summary post on 7th day of challenge or, if you also wish (and to increase the activity of your blog) publish a blog post telling your experience fulfilling the challenge during the 7 days.
The post(s) should be related to the activity performed during each day, a reflection and about the importance of self-love.
Must be posted in the Natural Medicine community (you can cross-post with other communities).
Invite 2 people to join the challenge.
Leave in the comments the link of your participation to be able to see it.
Use the hashtags #NATURALMEDICINE #MENTALHEALTH AND #7LOVEDAYS
Please reblog this post.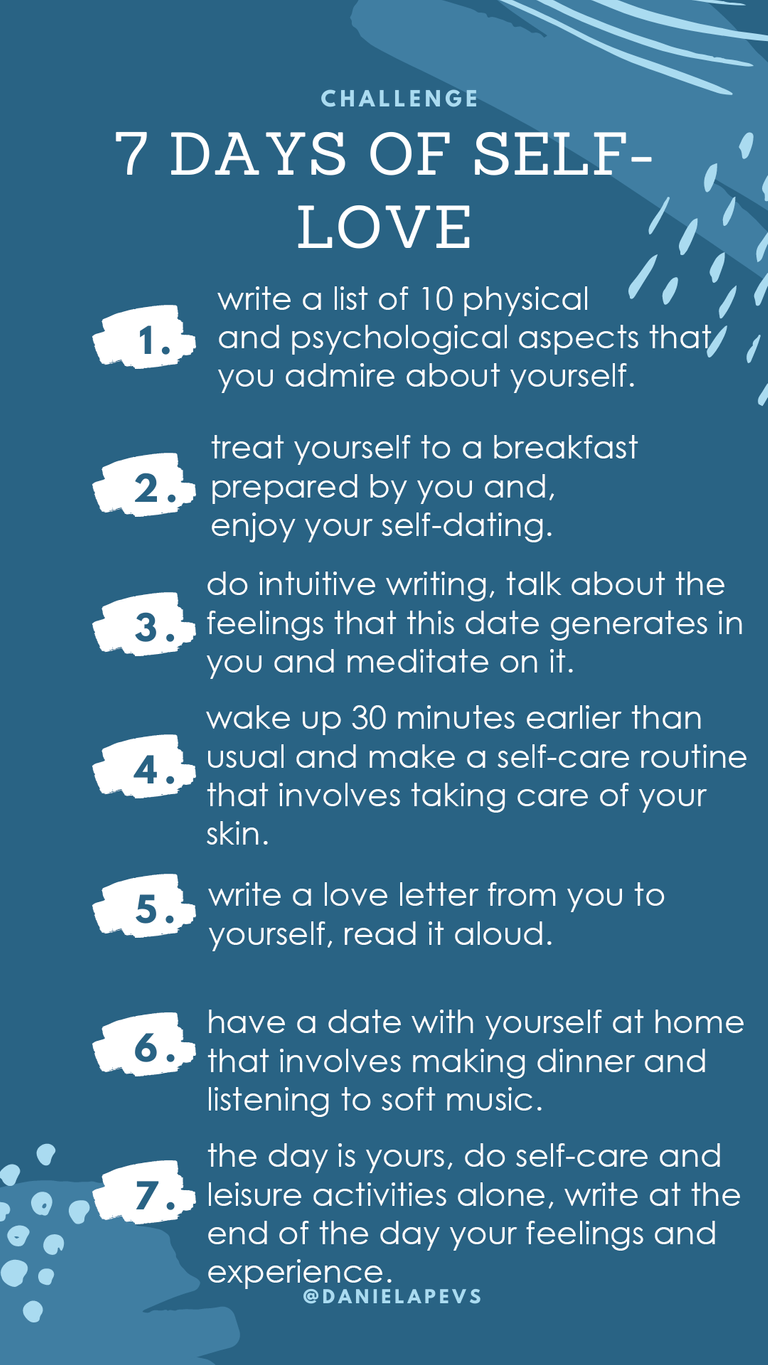 Éste iniciativa es posible gracias al apoyo de @riverflows quién es una persona extraordinaria.
Si vas a realizar los posts durante los 7 días recuerda siempre incluir reflexiones con respecto al amor propio y la importancia de la salud mental. ¡Yo también participaré con ustedes!
Recuerda siempre contarnos tu experiencia disfrutando contigo mismo y ejercitando el amor propio. ❤️
Invito a participar en ésta iniciativa creada por mí a @maryed, @heleana18, @orianabeam, @lqch, @mariajcastro28, @mariblue, @cronosclocks, @genesishealthy, @tripode y a la maravillosa de @riverflows.

imagen del reto creada con la ayuda de canva