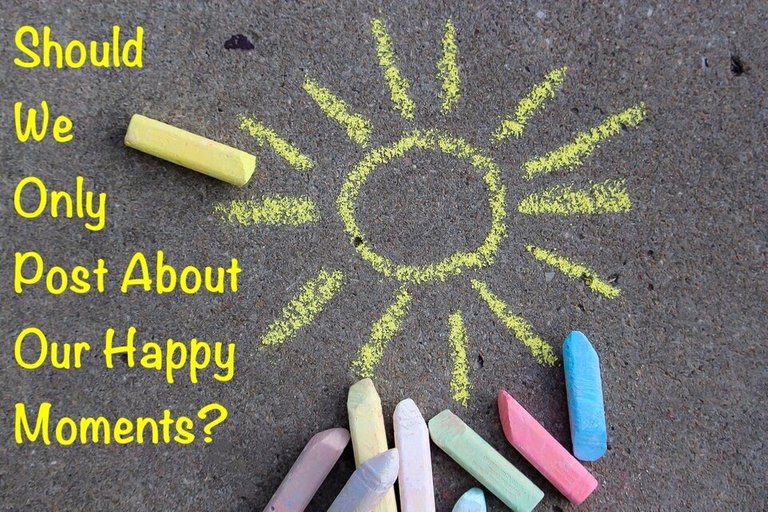 Quite frankly I think it's one's prerogative what they choose to write about.
Occasionally over the years I've heard several different opinions about whether or not one should write about sad events in their life or those not so sunny moments that we all experience.
𝙸 𝚍𝚘𝚗'𝚝 𝚠𝚊𝚗𝚝 𝚝𝚘 𝚋𝚘𝚛𝚎 𝚙𝚎𝚘𝚙𝚕𝚎 𝚠𝚒𝚝𝚑 𝚖𝚢 𝚙𝚛𝚘𝚋𝚕𝚎𝚖𝚜.
𝚂𝚑𝚊𝚛𝚒𝚗𝚐 𝚝𝚑𝚎 𝚜𝚊𝚍 𝚜𝚝𝚞𝚏𝚏 𝚠𝚘𝚞𝚕𝚍 𝚛𝚞𝚒𝚗 𝚜𝚘𝚖𝚎𝚘𝚗𝚎'𝚜 𝚍𝚊𝚢.
𝚆𝚑𝚘 𝚠𝚊𝚗𝚝𝚜 𝚝𝚘 𝚋𝚎 𝚋𝚘𝚐𝚐𝚕𝚎𝚍 𝚍𝚘𝚠𝚗 𝚑𝚎𝚊𝚛𝚒𝚗𝚐 𝚊𝚋𝚘𝚞𝚝 𝚖𝚢 𝚝𝚛𝚘𝚞𝚋𝚕𝚎𝚜?...
are just a few of the comments I have heard.
I remember when I was on Facebook scrolling through my feed, it was all happy jitters of joy and an abundance of sunshine sparkly happiness. It was when I was going through a rough time (during my miscarriage). I wanted to read something real, something I could relate to as a human being with actual pains and hurts.
I couldn't find anything relatable. Nothing to read about overcoming a hard time or getting through an emotional situation. It was all perfection and gladness.
I'm not saying I was wishing the whole world was suffering like I was but in that moment I wanted to find someone I could talk to. Someone that also needed encouragement and support like I did. Someone who could really feel and relate to my pain so that we could together find ways to cope through it.
I felt the beauty of being human was missing from that platform because everyone was so focused on being the eye of perfection and purity.
Well I for one am not perfect, my thoughts are not always pure, I struggle with my emotions, I don't always get it right...I'm what you call me.
When I came to this platform I was astounded by how many ladies I met that I could relate to in so many ways. Some I connected with so well that our friendships grew beyond this platform.
How did that come to be?
By reading other's stories about their life experiences, the good and gorgeous along with the bad and ugly. I finally found others that could relate to what I had went through and because of that we were able to encourage one another.
It was mostly them supporting me as they had already been through what I was going through. They offered me advice on how to cope and taught me ways to move forward. It was very uplifting and helped ease some of that agony I was feeling.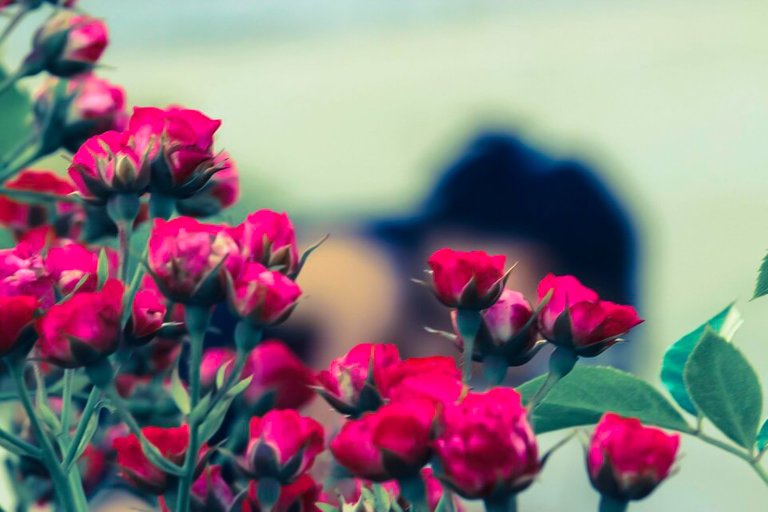 One of the reasons why I like sharing some of my personal struggles is to be a blessing to others. In the process of sharing it helps me as well to release things off my chest and speak them out loud and clear. It's a healing mechanism.
I share a little about what I've been through and how in the end it made me a stronger person by enduring it. I don't have to share every little detail because everything doesn't always need to be revealed. I feel I give just enough so whoever is reading can understand where I'm coming from and how it has affected me.
You just never know who may be going through the same thing you went through and may need that ounce of light to shine through, giving them some hope that they too will make it out okay.
The beauty of blogging is you can share as much or as little as you want to share. I've been talking lately about writing from your heart so that your readers can get to know you better and really connect with you. One can't really get to know me or connect with me unless they see both sides of me...the 𝕖𝕧𝕖𝕣𝕪𝕥𝕙𝕚𝕟𝕘 𝕚𝕤 𝕘𝕠𝕚𝕟𝕘 𝕨𝕖𝕝𝕝 me and the 𝕃𝕠𝕣𝕕 𝕙𝕠𝕨 𝕔𝕒𝕟 𝕀 𝕘𝕠 𝕠𝕟 me.
This is just the way I choose to present myself to you all by showing my talents as well as my flaws. My flaws are apart of my make up and contribute to who I am.
Speaking of flaws, one thing I appreciate seeing here is when people also share the mistakes they make along the way. Sometimes we don't get it right the first time around, then we try again and again to finally get the results we've been aiming for. Those mistakes you share, whether it be on a project, about parenting, health choices, we who read those learn from them.
We learn what not to do or what we can do to get a better outcome. For me seeing how someone keeps trying and not giving up is more motivating than getting something done right the first time. It shows our determination and perseverance. It shows that we are not afraid of failing. The only way we truly fail is when we don't at least try at all.
I am glad to be apart of a group where I feel comfortable talking about some of the thorns I've encountered in my life. If I can't be myself and share real parts of me I don't think I would be as committed here as I am. That's real talk.
I hope I don't bore you by sharing the real me and I hope I don't ruin your day but sometimes it's therapeutic for me to get some of my feelings out about life. I don't think anyone should feel ashamed for wanting to share a little bit more of who they are or what they face in their real lives.
Your comments and feedback have been apart of my healing throughout the years. Each of you know who you are that have helped me get through some of those rough edges. I appreciate you not judging me but instead just being here lending your ears and giving me sound wisdom according to what you have also went through.
Quite frankly I think it's one's prerogative what they choose to write about. If you want to open the shades a little more and share some of your scars and bruises of life and what you have endured so be it :)
I for one will not be bored, have a ruined day or feel bothered by hearing about your troubles. Instead I would hope to offer words of healing and encouragement based on the wisdom I've gained.
It's okay to be human, it's okay to have flaws, it's okay to be sad, it's okay to hurt, it's okay to be disappointed, it's okay to admit life is not all perfection because...life is full of unexpecteds.
♥️ ~
All photos are my own and were taken with our Cannon EOS Rebel T6.