Hi fellow Hiveians,
Today I'm back with my update on my journey with skin cancer. Am I successful? Find out below!
Edition 1 of this series can be found here
Here's a cool picture of lightning we got recently!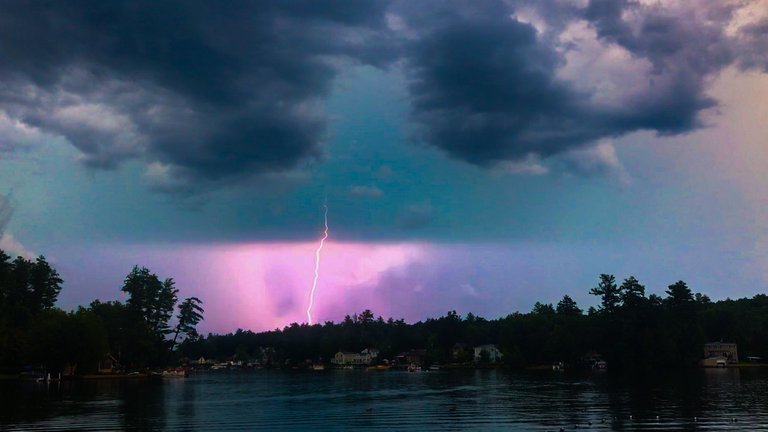 I want to preface this all with saying that you shouldn't take this as medical advice but this is my anecdotal experience.
Don't Get Panicked
One of the biggest things I can say any time you think you have cancer or some kind of serious health concern is try not to be in a state of panic. We can absolutely be scared and that's good but don't get to a state of panic. Panic has many negative health consequences associated with it but more importantly we do rash things we probably shouldn't do.
Once I understood what I've got going on I immediately started to figure out what I needed to do in my life to get rid of this thing without doing something even more dangerous or detrimental to my body. One of the first things I knew from past knowledge that we thankfully didn't need to apply, was that frankincense essential oil is a powerhouse against things like skin cancer and ailments of the skin. The other thing I knew I needed to do was to get to a more alkaline state of body. I cut out sugars except honey and tiny amounts of maple syrup, ate zero cheese, minimal dairy isolated to occasional bits of butter when needed and I started loading on vitamin C, D, B and drinking apple cider vinegar daily (although too much daily I realized! 2 tablespoons is the max daily dose, I was doing that 3x a day! Not good for a few reasons but I was trying to get to a better physical state). These things are important to do anyways to help our bodies reset but it's especially important when trying to eliminate something like this.
What I didn't know is there are four species of frankincense! The one you often see if you find it in a store is actually the Serrata species of it. That one has some great analgesic properties to it and is helpful in fighting infections and stuff but it's not the makeup I needed.
After searching the sourced article below, I learned of the proper genus for treating the skin issues that I needed, Boswelia Carteri genus of frankincense is the one that's very effective at battling the few types of skin cancer. I noticed a very significant difference in how my skin was reacting to this different makeup of frankincense and that was relieving.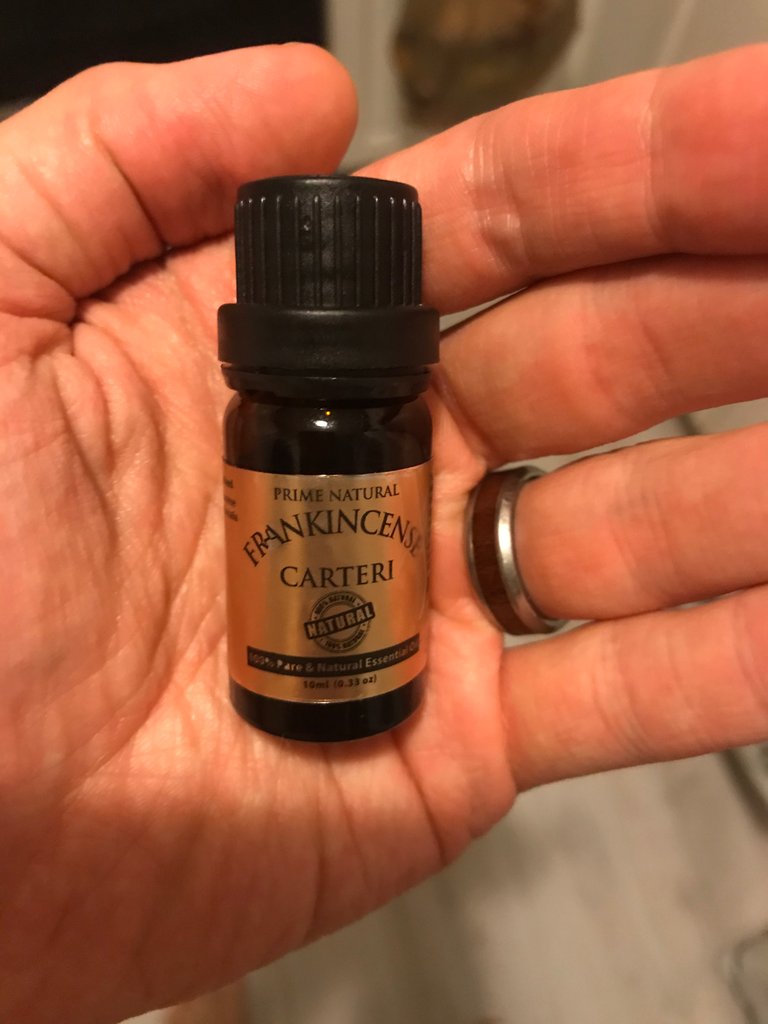 What I didn't realize was that it thankfully specified the genus right on the bottle so I didn't have to guess what I have!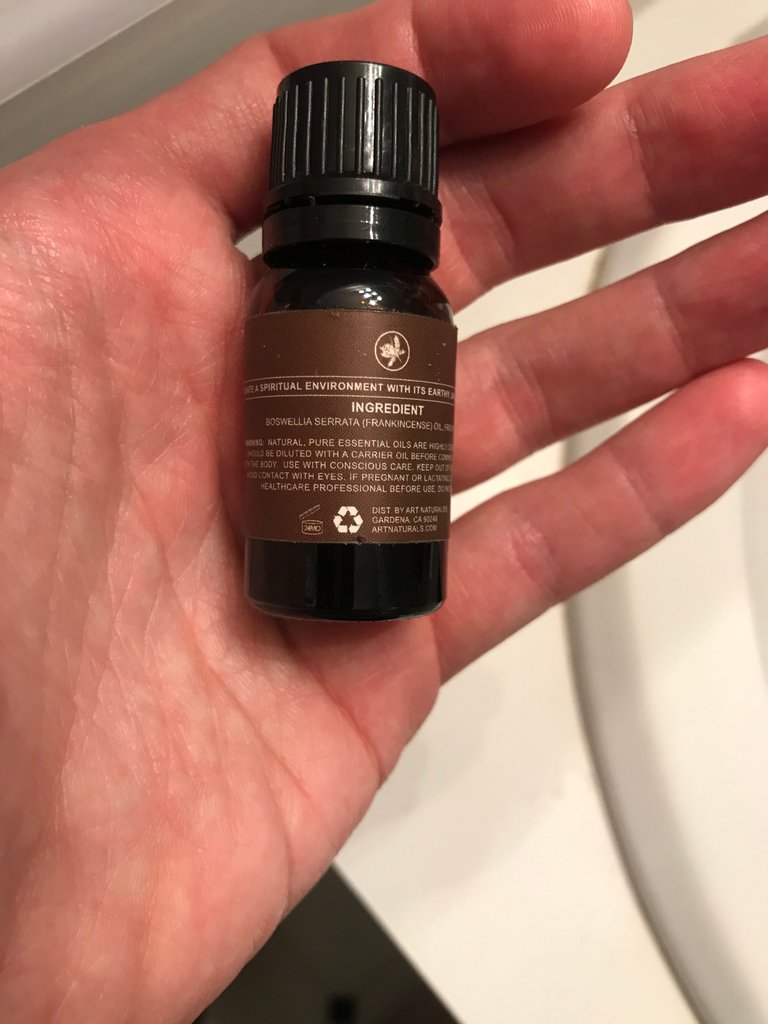 The other thing I did that was significant and really beneficial was something I read about but didn't give it a try until @perceptualflaws had told me to try it out. Since he did his own research on something he felt was suspicious earlier in his life, he learned of the benefits of this powerful concoction. The simple mixture is an organic eggplant macerated using a mortar and pestle mixed with organic apple cider vinegar that has the mother in it, which I think is the yeasts? The mother is what gives the vinegar it's rich properties and health benefits many of the times.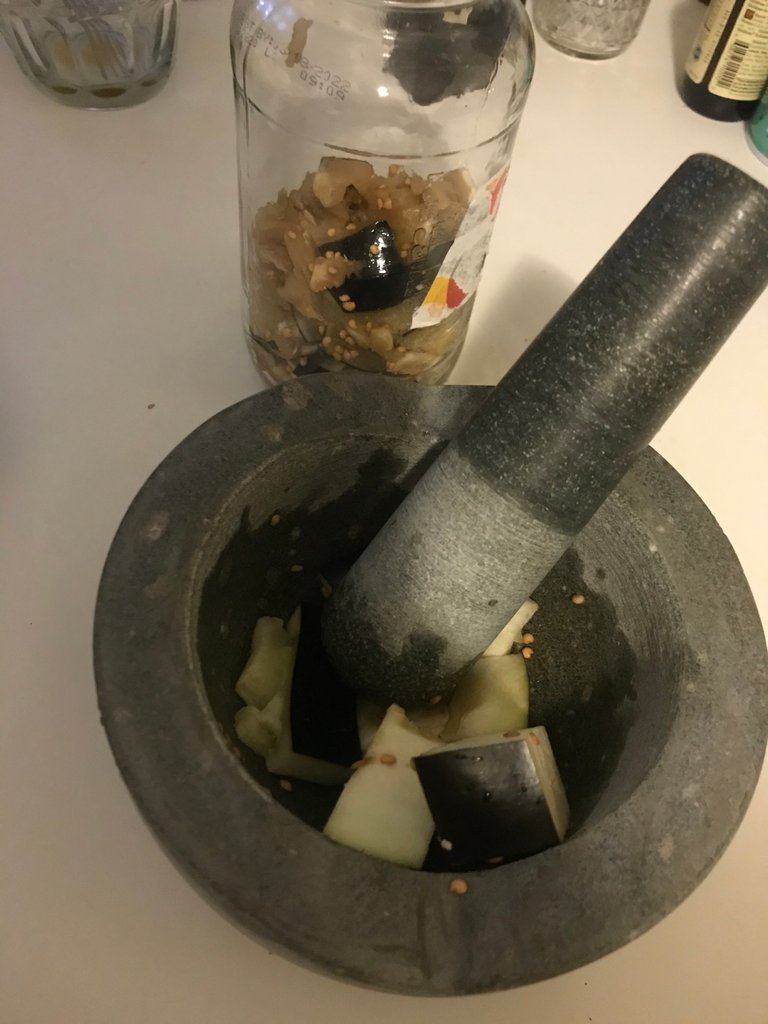 Once I crushed up the eggplant, I stuffed it in a glass jar so there wouldn't be gross chemical leeching or anything from plastic and I could give it a good seal, you fill the rest of the space in the jar with the organic apple cider vinegar with the mother. You seal it up and put it in the fridge for 3 days, giving it a good shake each day so that it stirs up the good stuff and you have your concoction ready to go. There is a company I think I read about that takes the benefits of the combination of the vinegar and eggplant and sells it in an expensive cream. No thanks! I'll get my eggplant and vinegar from the grocery store and take care of it myself! Funny story but my wife threw the stuff away the first time I made it lol she was like gross wtf is this red liquid! I was pretty sad that my best solution was now down the drain! 3$ later though and I had me another organic eggplant so it was totally fine. It was my fault for not giving her a heads up about what I made and why I needed it.
What I do to apply the stuff is soak a cotton ball in it and apply it to the spot for a while. I try to sit with the little munchkin and watch one of his shows and swish around coconut oil and by the time I'm done with the coconut oil and brush my teeth, it's been about 25-30 minutes so I just throw it away.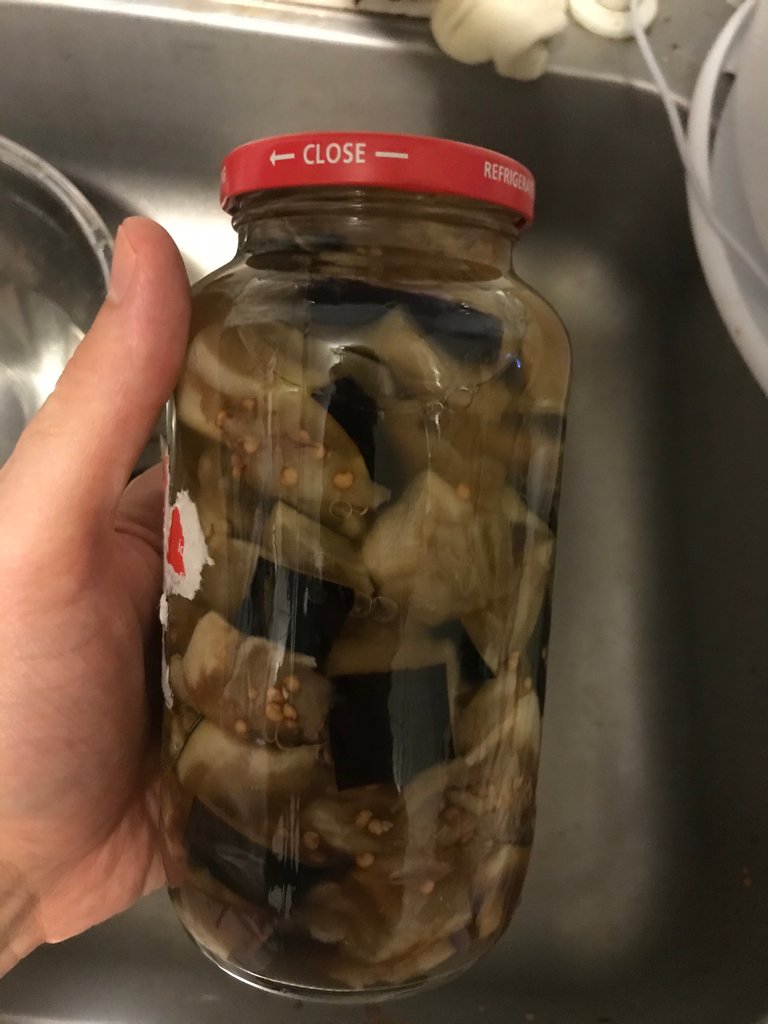 This is one of the components I would add to my frankincense coconut oil combination. I don't know if it necessarily did anything beneficial in the sense of what I needed for the skin cancer but I wanted to make sure I wasn't introducing any type of infection either. I would unfortunately sometimes pick at the damn scab and it would bleed so I was trying to be careful and not introduce an infection too. Colloidal silver has been a great addition to our cabinet so I figured why not? Let's try it out! I didn't get any type of infection so that's good!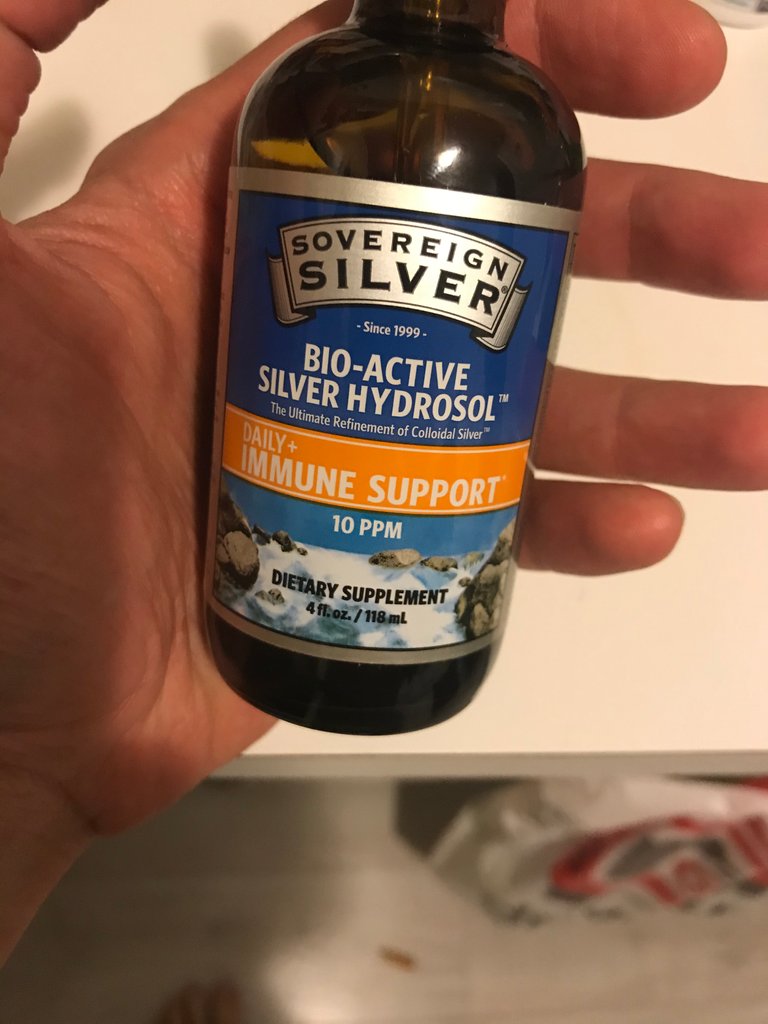 This was taken a few days ago. It was a lot smaller so I was feeling confident in my abilities!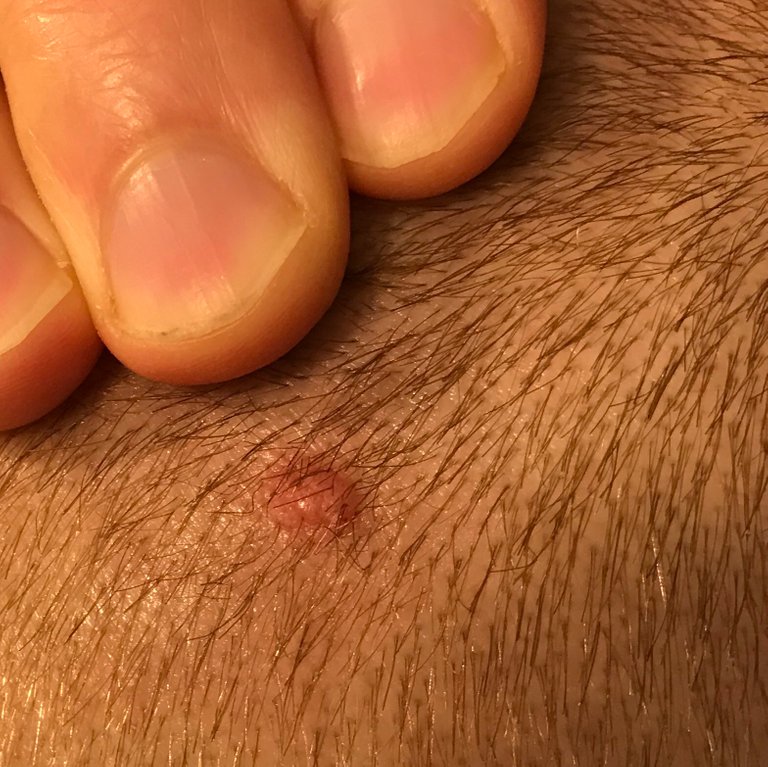 Worst versus Best
So I wanted to put it side by side, the worst the nasty thing looked before I applied the proper treatment and the best it's been which was taken this morning!
This picture was taken on June 20th. This was the turning point for me because it was definitely turning into something more sinister than I thought. One of the times I picked a piece of it off, it was gross and looked like the small juice packed pod looking things inside an orange or a grapefruit. That's not the normal composition of your skin, it's layered not bulbed.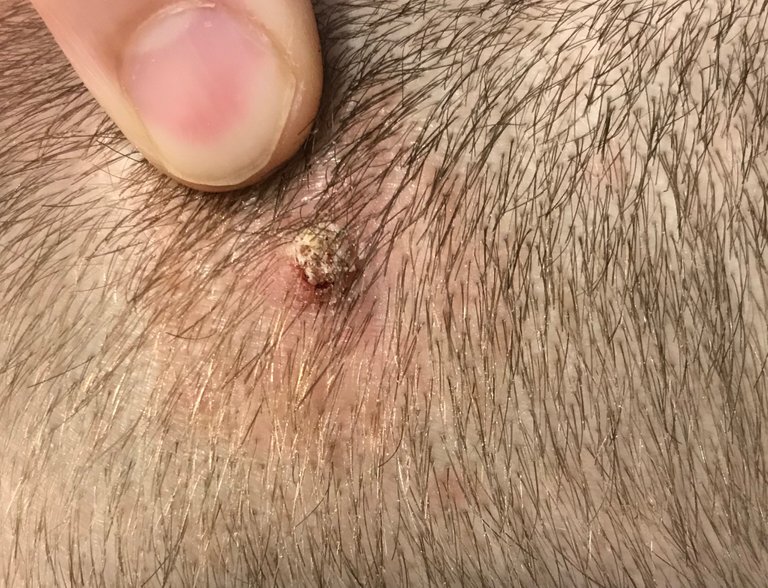 This picture was taken this morning, September 7th! Unless I pull the hair and skin back like I was here it's hard to just feel or see it. I am very glad that it's gotten back to almost normal looking skin.
Hopefully you found this catalog of my experience informational and at least a way that you could learn to empower yourself for something like this. I will note that I made a promise to myself that if it didn't get better by the fall I would see someone and seek advice on what it was. It's great to be able to put components together based on what we are understanding but sometimes it's best to get a biopsy or something to tell you exactly what it is so you aren't pursuing the wrong treatments.
I'll leave it here so the post doesn't get too long! I would love to get some comments so please leave me some below!

Connect with me!
Do you want to get paid, in crypto, for searching the internet? Try using and signing up for Presearch to earn some great crypto! I've currently got 1,415 PRE tokens, with a market value of $27.57. It doesn't sound like a lot but when you search using sites like Google you get paid $0! Join Presearch to break Google's stranglehold on the internet searches. If you'd like to sign up, use my referral link below and spread the word!
https://www.presearch.org/signup?rid=513043