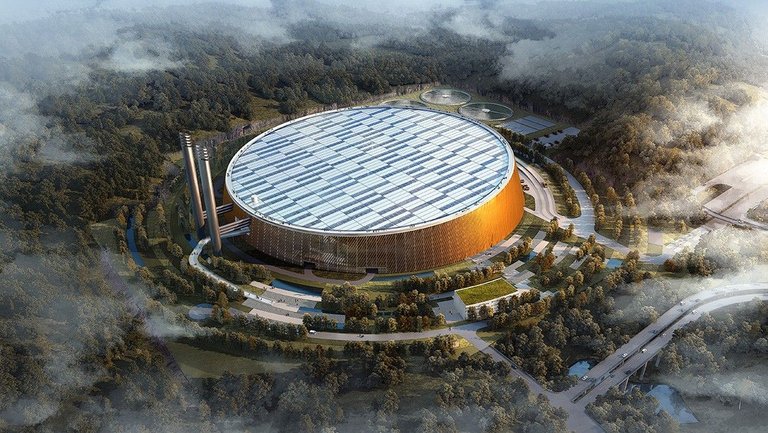 English
Hello friends of hive and Natural Medicine, this is my first participation in this community which I think is magnificent and in which I believe I will be involved much more from now on, before I did it as a reader of some posts and voting for some content, so that I have decided to create content in this community for which I feel identified and motivated.
I brought you a post about a news item that I saw and it interested me, then I did a little more in-depth study on the waste plant that is being built in Shenzhen / China. and it will be the largest worldwide of its kind. Which will incinerate 5,000 tons of waste per day, using the latest technology in clean incineration, generating 550 million kWh each year. With a population of 20 million, Shenzhen produces 15,000 tons of waste a day.
Spanish
Hola amigos de hive y Natural Medicine, esta es mi primera participación en esta comunidad la cual me parece magnífica y en la que creo estaré involucrado mucho más a partir de ahora, antes lo hacía como lector de algunos post y votando algunos contenidos, por lo que me he decidido crear contenido en esta comunidad por la que me siento identificado y motivado.
Les traje un post sobre una noticia que vi y me interesó, luego hice un pequeño estudio mas a profundidad sobre la planta de residuos que se esta construyendo en Shenzhen/ China. y es que será la mas grande a nivel mundial de su tipo. La cuál incinerará 5,000 toneladas de desechos por día, usando la última tecnología en incineración limpia, generando 550 millones de kWh cada año. Con una población de 20 millones de habitantes, Shenzhen produce 15.000 toneladas de residuos al día.
---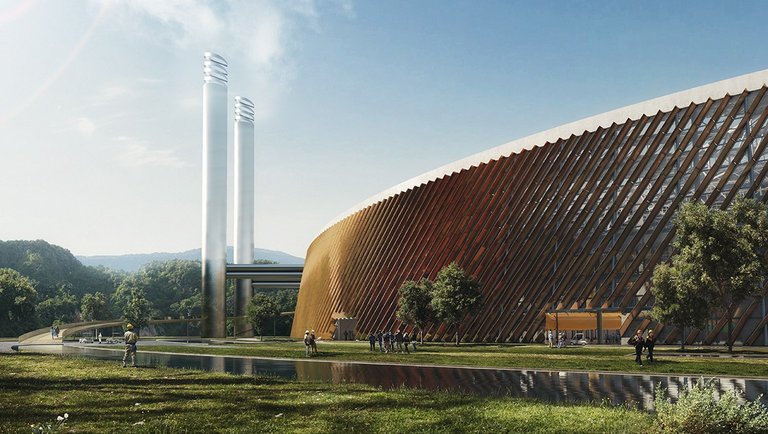 ---
The ZhenZhen Waste Conversion Plant is the winner of several international awards, is 112,645 m² in size and is considered one of the most iconic clean energy mega-buildings in 2021.
Of its 66,000m² of roof, 44,000m² will be covered by solar panels, which is great since the waste plant will not only convert waste into energy but will also generate its own energy and provide clean energy to the city.
All this under a work of low ecological impact with a friendly, innovative and futuristic architectural design.
La Planta de Conversión de Residuos de ZhenZhen es ganadora de varios premios internacionales, tiene un tamaño de 112.645 m² y se considera uno de los mega edificios de energía limpia más emblemáticos de 2021.
De sus 66.000m² de techo, 44.000m² estarán cubiertos por paneles solares, lo que es genial ya que la planta de residuos no solo convertirá los residuos en energía, sino que también generará su propia energía y proporcionará energía limpia a la ciudad.
Todo esto en una obra de bajo impacto ecológico con un diseño arquitectónico amigable, innovador y futurista.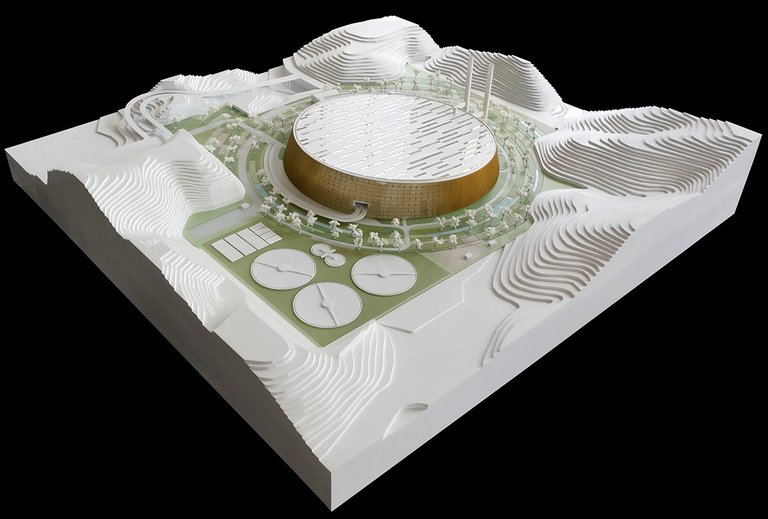 Detailed design work began in early 2016, and the plant is scheduled to go live in 2022.
El trabajo de diseño detallado comenzó a principios de 2016 y la planta está programada para entrar en funcionamiento en 2022.
---
Public visitors are invited to enter the plant through a landscaped park, via an entrance bridge that rises between the stacks to an entrance hall and a visitor center overlooking the plant's machinery such as source of education for citizens.
Shenzhen Energy Environmental Engineering Ltd. is committed to clean energy and waste treatment in the most environmentally friendly way possible. ZhenZhen increases its waste by 7% per year, making garbage the ideal fuel to produce clean energy.
Here are some photos of how the work is progressing:
Se invita a los visitantes públicos a ingresar a la planta a través de un parque ajardinado, a través de un puente de entrada que se eleva entre las pilas hasta un vestíbulo de entrada y un centro de visitantes con vista a la maquinaria de la planta como fuente de educación para los ciudadanos.
Shenzhen Energy Environmental Engineering Ltd. apuesta por la energía limpia y el tratamiento de los desechos de manera mas ecológica posible. ZhenZhen aumenta un 7% anual sus residuos por lo que la basura es el combustible idóneo para producir energía limpia.
A continuación unas fotos de como va avanzando la obra: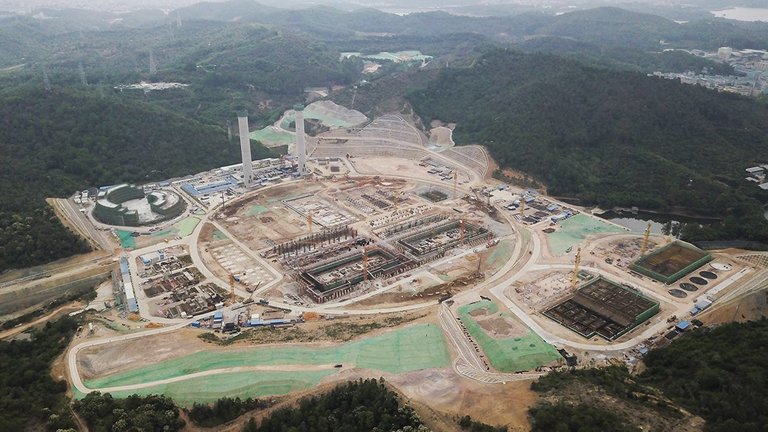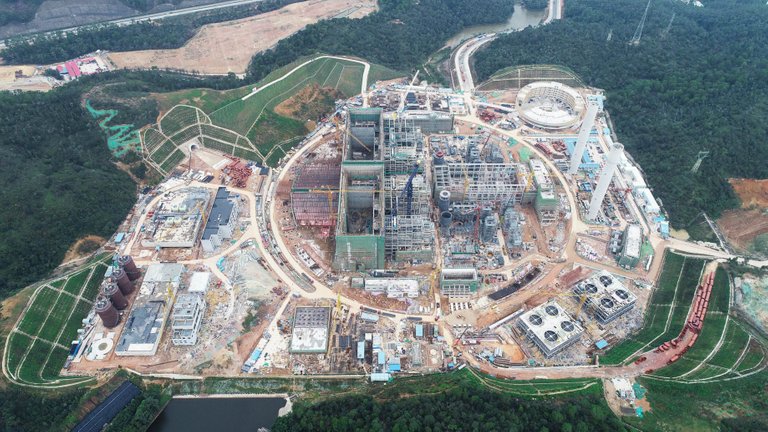 ---
Watch the video for an immersive experience of this great project
Mira el video para una experiencia inmersiva de este gran proyecto.
?autoplay=1
Democratic architecture:
Common to all work in the practice is a democratic approach to architecture that creates modern, open, and multifunctional spaces that are consistent with the ethical considerations of schmidt hammer lassen architects: a building revolves around people and is not simply an architectural form. Architecture must be closely integrated with its surroundings, with careful consideration of its functions and social context.
schmidt hammer lassen architects places special emphasis on the use of natural light as an integral part of the design process. Functionality, which meets the specific needs of users, is also key, as are all aspects of sustainability. Whenever possible, the practice will explore the vital relationship between art, design, and architecture.They affirm it.
schmidt hammer lassen architects has offices located in Aarhus, Copenhagen, London, Shanghai, and Singapore.
Arquitectura democrática:
Común a todo el trabajo, en la práctica es un enfoque democrático de la arquitectura que crea espacios modernos, abiertos y multifuncionales que son consistentes con las consideraciones éticas de los arquitectos de schmidt hammer lassen: un edificio gira en torno a las personas y no es simplemente una forma arquitectónica. La arquitectura debe estar estrechamente integrada con su entorno, con una cuidadosa consideración de sus funciones y contexto social.
schmidt hammer lassen architects pone especial énfasis en el uso de la luz natural como parte integral del proceso de diseño. La funcionalidad, que satisface las necesidades específicas de los usuarios, también es clave, al igual que todos los aspectos de la sostenibilidad. Siempre que sea posible, la práctica explorará la relación vital entre arte, diseño y arquitectura. Así lo afirman.
schmidt hammer lassen architects tiene oficinas ubicadas en Aarhus, Copenhague, Londres, Shanghai y Singapur.
---
Source of data and photographs/images: (click on the image below)
Thanks for reading, I await your comment!
Gracias por leer, espero tu comentario!