I have rarely felt the simple & pleasant sensation of fatigue. As a solo mom & entrepreneur, I have ping-ponged with monotonous regularity between being driven and being exhausted, between relentless activity and collapse. I generally sleep like someone in a coma most nights, and often spring out of bed with my agenda already running like a sacred mantra, usually somewhere before 5am.
Every. Single. Day.
I have also paid the price - a very high price - on multiple occasions with serious life-threatening illness, a decade or so in and out of hospitals, a long road to recovery and about 15 years clawing back my health. Yes, I have suffered complete adrenal collapse many years ago and vaguely remember not even being able to stand for several weeks.
Slowly I have been dismantling the beliefs, fears and underlying drivers for those poor choices, and have been winning. I practice yoga regularly now. I meditate. I eat better. I exercise. I even have days off sometimes now. Most people think I'm in superb shape for a woman of 56. But I still have the tendency to ping pong between driven and exhausted.
And so here I am in Vietnam, for the last week of 2019. Resting. Making a better choice. A week of R&R beachside with my 15 year old daughter, creating memories and enjoying experiences instead of giving gifts and buying more "stuff". And I have surprised myself by being incredibly tired. Not just the first day of our 7 day holiday, but every day. Even the days we have only walked on the beach, eaten, read and napped, I have been tired beyond belief.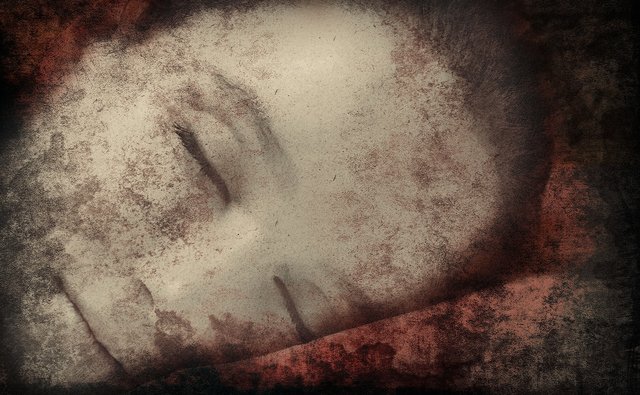 Image by Efes Kitap from Pixabay
Three days before we left for our trip, I was working like a madwoman in our herbal business in Chiang Mai, Northern Thailand. I leaned across the big table in the herbal production space and "threw my back" - most unexpected and something that hasn't happened for many, many years. I moved in the same way I move several hundreds of times a day, and suddenly everything seized and locked. Serious pain and that "I can't move!" level of muscle spasm. I was far too busy with preparing for our trip and end of the year orders to dwell much on the cause; I skipped yoga class (afraid of making it worse), stretched gently and often, managed on muscle relaxants for a couple of days and have been moving very, very carefully since. It's improving with lots of walking and stretching, but definitely still very painful after periods of sitting, laying in one position or long periods of walking without bending. I'm working with it and it's healing.
FFWD to Day 4 in Vietnam. I sent this picture to a friend.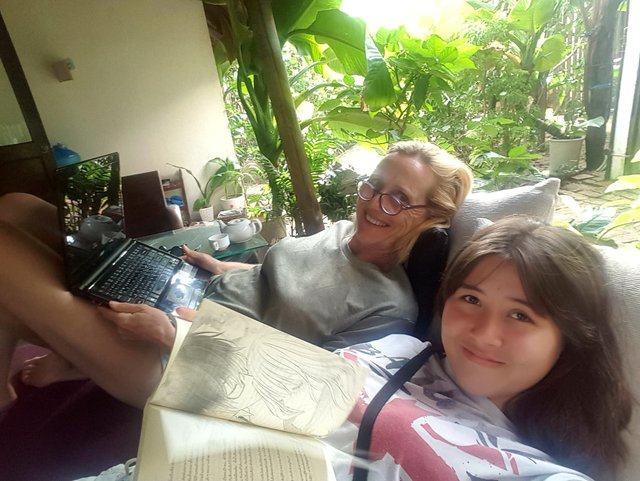 And I received what felt like a somewhat barbed reply:
Him: You Ladies really look relaxed... good to see.
Me: Tired. Still
Him: Is it just me, or do you often follow a positive with a negative...?
Me: Don't see tired as a negative.
Had his reply been from his normally gentler self and without that hint of a barbed question, it would have slid on through to the keeper. But being the overthinker I tend to be, I pondered. Do I really follow compliments and positive remarks about myself with a qualifying negative? Actually yes, I do. Often. Well spotted, young man. :) Why? Partly I feel unheard and unseen when people only acknowledge the carefully-managed facade, and partly because I was raised to feel that I shouldn't feel great. Dutch Calvinism at its finest. Don't tempt God and temper all blessings with a small slather of suffering, lest one drift into pride and too much pleasure. For balance and to remain humble. My beloved Oma started every second sentence with "Ja, maar...." (Yes, but..) - she was the master at qualifying everything good with a caution of risk, worry or 'what if'.
The best part of being an advanced A level overthinker is we go down rabbit holes others wouldn't bother with. The upside of that is we learn things others never see, and we make unusual connections and discoveries.
Having discovered that I feel unworthy of the label "well rested" (implies lazy) and annoyed that no one else could grasp how TIRED I still was, I started just mentally drifting around the issue of throwing my back and how could it even be possible for someone who is really fit and strong. I felt into my back pain, like someone probes a rough spot on a back molar relentlessly with one's tongue. Where exactly did the pain come from? From the current bone issue I'm working with in my spine? Actually no? The pain is acutely over my left kidney area. Down another rabbit hole. No kidney pain before. No UTIs. Peeing just fine, often and optimal colour. Drink well. Even the whole process of overthinking the origin of the pain made me tired! I groaned to myself, fell back on the pillows on the daybed, winced at the stab of backpain over my left kidney and then suddenly, had an Aha!!! moment.
A quick jump into the search engines and not 10 mins later, I had such a wonderful, natural medicine discovery. Life changing stuff, actually!
I learned that there is a clear causal and physiological link between "throwing your back" and severe adrenal fatigue.
Where do the adrenal glands sit? Right, smack bang on top of the kidneys.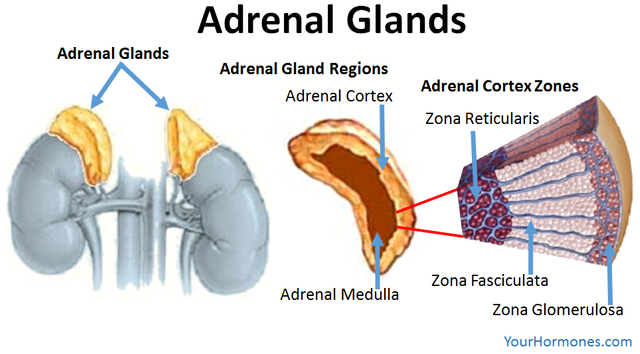 Your adrenal glands will give you warning signs that they are under stress long before they give up on you. Here are some common signs and symptoms that your adrenal glands are stressed:
Bright lights bother your eyes (need to wear sunglasses even on a cloudy day)
You get dizzy when you stand up or change positions quickly
Headaches across the forehead, over or behind the eyes
Your eyelids twitch
Your body jumps or twitches as you're falling asleep
Tired feet at the end of the day or pain in the heel (plantar fasciitis)
LOW BACK PAIN!
The muscles supporting much of the lower back (as well as the feet & knees) are related to the adrenal glands. The hamstrings, which span the back of the pelvis down past the knee, the gracilis, commonly known as the "groin" muscle attaching to the inside of the pelvis, and the sartorius, which is the longest muscle in the body going from the top of the pelvis down and across to the inside of the knee, all are related to the adrenal glands and provide major support to the pelvis and lower back. When the adrenal glands are under more stress than they can handle, whether from lack of sleep, a poor diet (too much caffeine, for example), emotional or physical stress, or various other issues, these muscles will directly be affected and the support to the lower back will be lost. Once the muscles no longer support the area, you're a prime candidate for an easy injury as the normal biomechanics are lost. If you ever wonder why someone suddenly "throws their back out" or wakes up with a mysterious low back ache, often it is because of an adrenal gland problem. The muscle imbalances are often there long before the symptoms occur, with few exceptions such as with a traumatic injury. Source
The really tough thing for a person with adrenal fatigue to grasp and work with is that the constant, over-production of adrenaline and cortisol stop them from feeling normal fatigue. And so the chemically-driven behaviours develop bad habits: "I don't feel too bad. I can push through and work for another hour..." And so we do. The really insidious thing is that the body becomes chemically addicted to elevated cortisol levels and a new "set point" is reached - one where the body is not able to reach deep rest due to chronically elevated cortisol levels.
So I have been given a gift. Throwing my back, the 7 days of rest, beachtime, mental quiet, healthy walking (around 15km per day!) and much more sleep than usual have helped to trigger cortisol detox, if you will. My dear friend's comment sent me off down a rabbit hole to understand it.
As we pack our bags tonight & prepare for our return to Thailand tomorrow, I have some rethinking to do. About lifestyle habits, personal values, the quality of my rest, and putting on my own oxygen mask before saving others. I need to feel the fears lurking deep down which drive me towards those relentless and, ultimately, self destructive behaviours. And I need to make healthier choices for myself, as I adjust my beliefs and my worldview.
My first step tomorrow, on the plane, will be to simply sit, to relax and FEEL that all things work for my greater good, when I allow them.
I'm aspiring to feel pleasant levels of fatigue on a regular basis... the kind of fatigue that makes you stretch lazily before a glowing fire, put your unfinished book down and decide that an early night is the best thing ever.
Grateful for the Journey.
---
Come check out my natural Thai herbal business… yes, we ship world-wide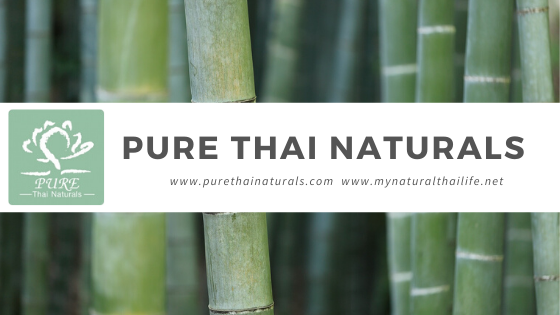 Leading the curation trail for both @ecotrain & @eco-alex.
Click Here To Join the manually curated trail "@artemislives" to support quality eco-green content.