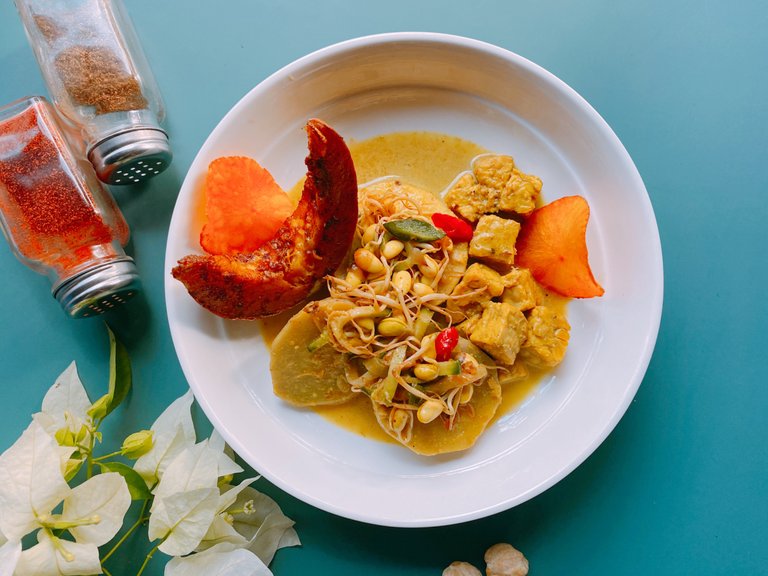 ---
Step by Step Cooking Tutorial
With Food Photography
---
Taro is the best rice substitute after potatoes and sweet potatoes. In Asia, Taro is often used for the manufacture of food and drinks, or enjoyed traditionally by boiling.
I am happy to look for other variations for ingredients to replace rice. For those of you who follow my blog, you have seen many recipes for replacing rice with potatoes and sweet potatoes ingredients. So this time I made a Taro dish as the main course which was served with various side dishes.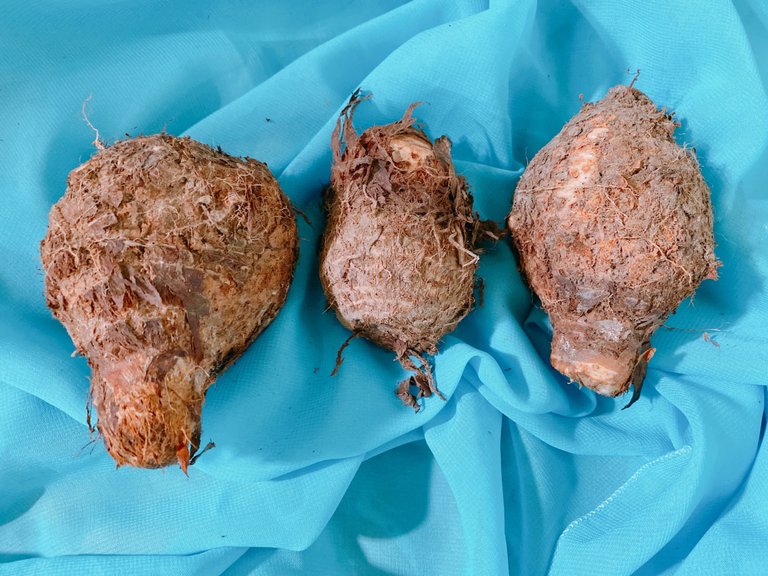 This dish uses plant-based milk, coconut milk as a creamy sauce with a delicious aroma.
---
---
---
THE IMPORTANT NOTE
It takes patience to clean Taro to get rid of the itching nature when consumed. There is a mucous patch in the taro meat that appears after being peeled and exposed to water. So make sure you also use gloves when washing Taro so it doesn't get itchy. I washed the peeled Taro up to 5 times.
Make sure there is no more mucus covering the Taro before cooking.
---
---
---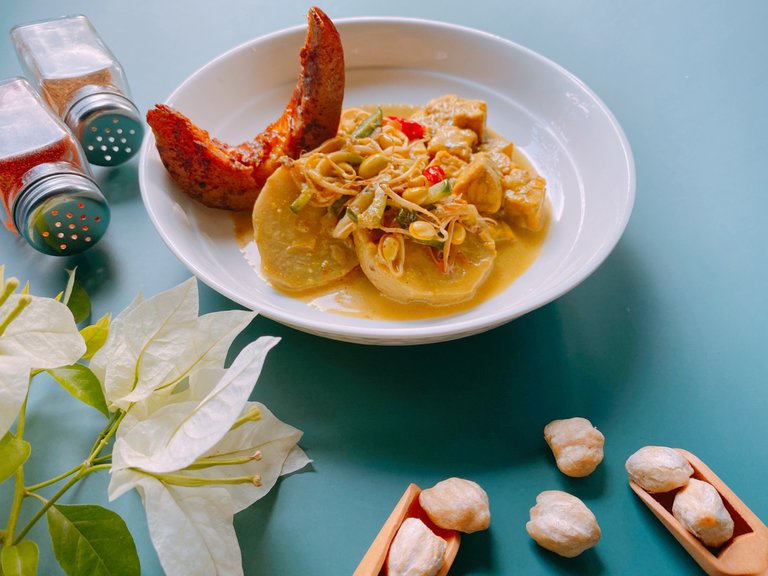 INGREDIENTS
200 grams of Taro
100 grams of Tempeh, cut into cubes.
100 grams of sprouts, in this recipe I use soy sprouts.
400 ml of water.
100 ml of coconut milk.
---
Ingredients for the Coconut Milk Sauce:
5 pieces of candlenuts.
5 cloves of red onions or half the size of medium spring onion.
3 cloves of garlic.
1 tablespoon of salt
1 tablespoon of broth powder.
Optional: 1 tablespoon of pepper to add a spicy taste and 1 tablespoon of turmeric powder to add color.
---
---
---
COOKING INSTRUCTIONS
- Step 1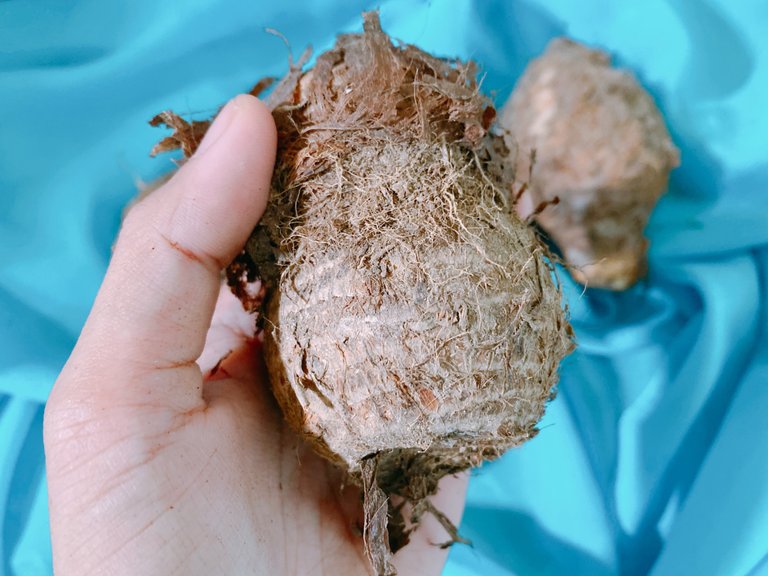 Peel the taro, then wash it clean.
---
---
---
- Step 2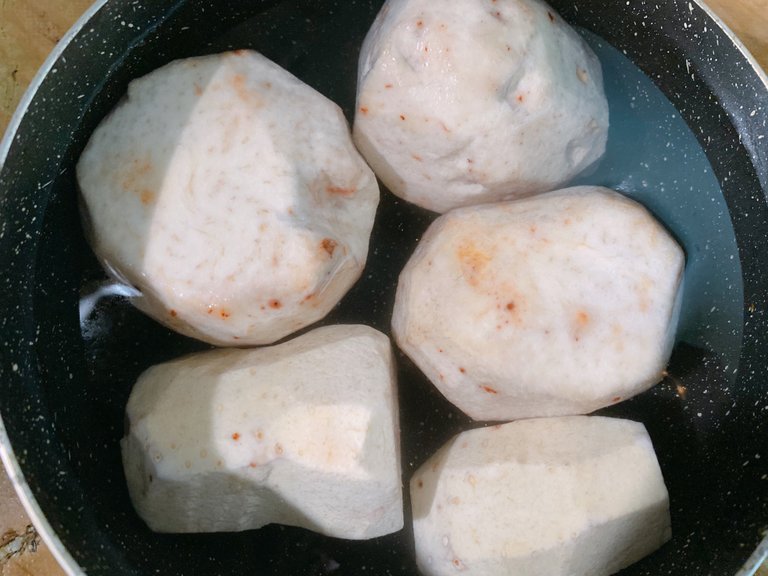 Boil the taro. You can also steam taro.
---
---
---
- Step 3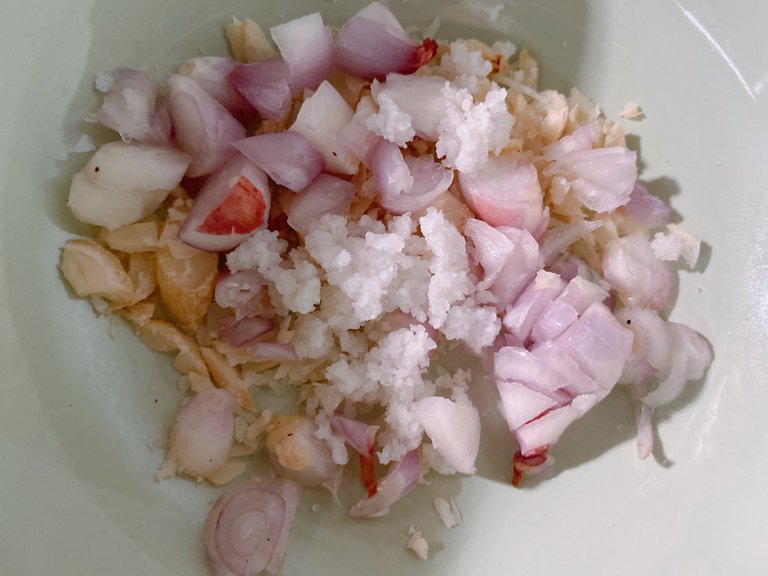 While boiling or steaming the Taro, prepare other ingredients. I prepared the necessary seasonings.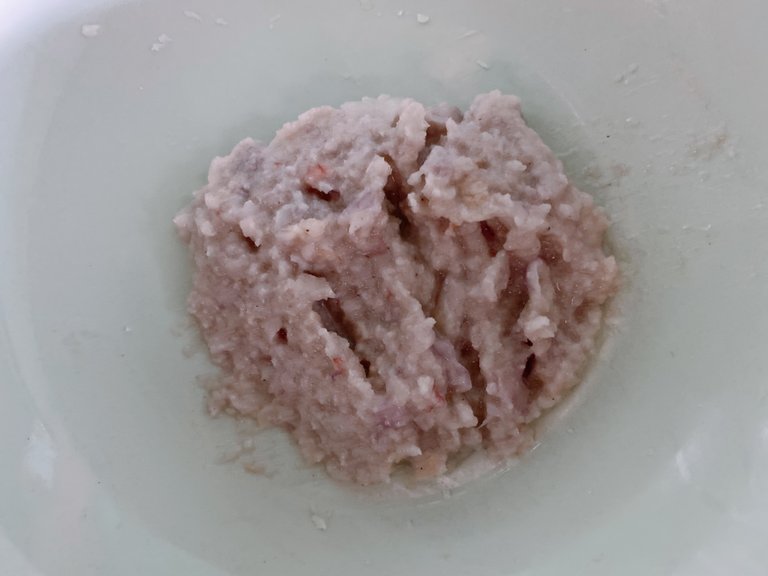 Here I am using a traditional spice grinder. You can use a blender. If using a blender, add enough oil if you need liquid ingredients to help soften the spices.
---
---
---
- Step 4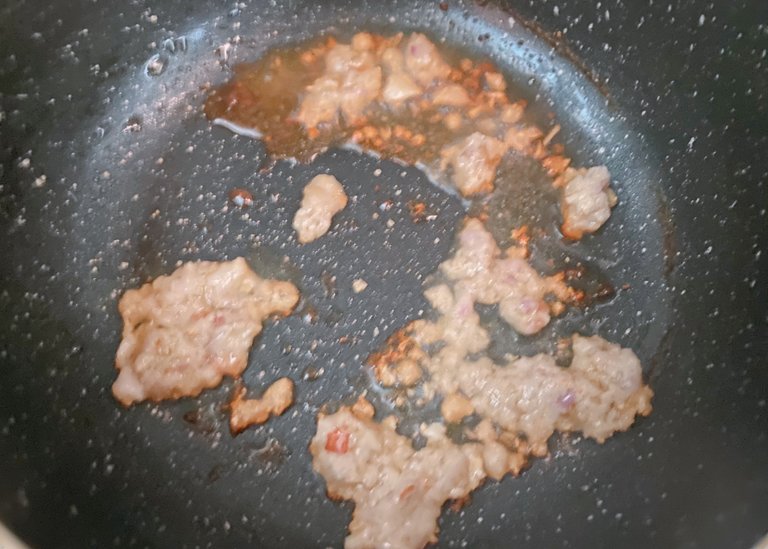 After the Taro is cooked, remove the Taro and set it aside. Then stir-fry the spices with a little oil.
---
---
---
- Step 5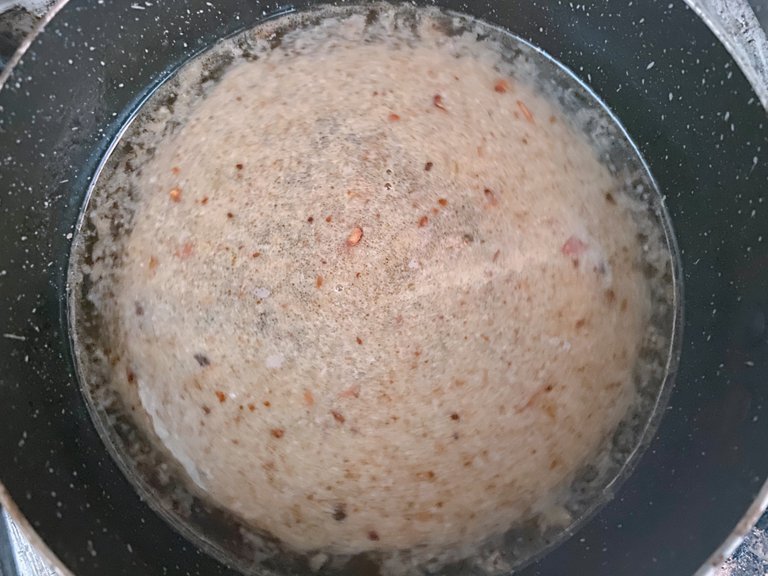 Add water after the spices are fragrant. Bring it to a boil.
---
---
---
- Step 6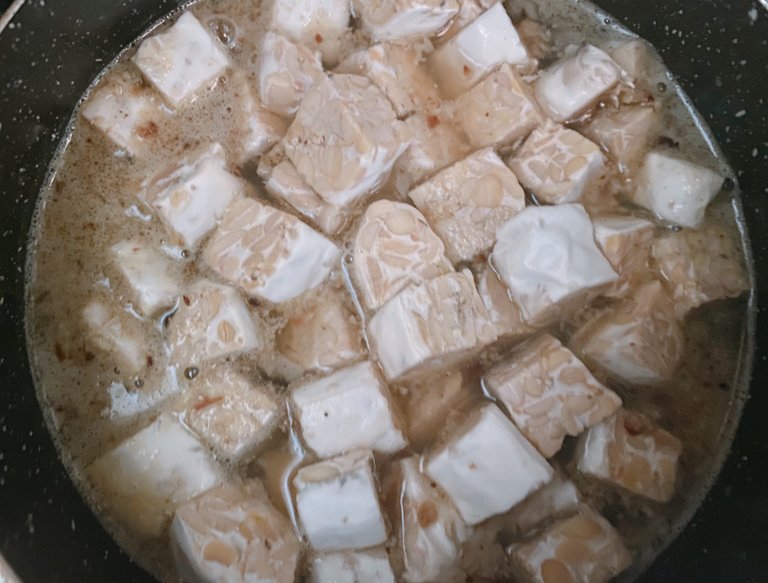 ---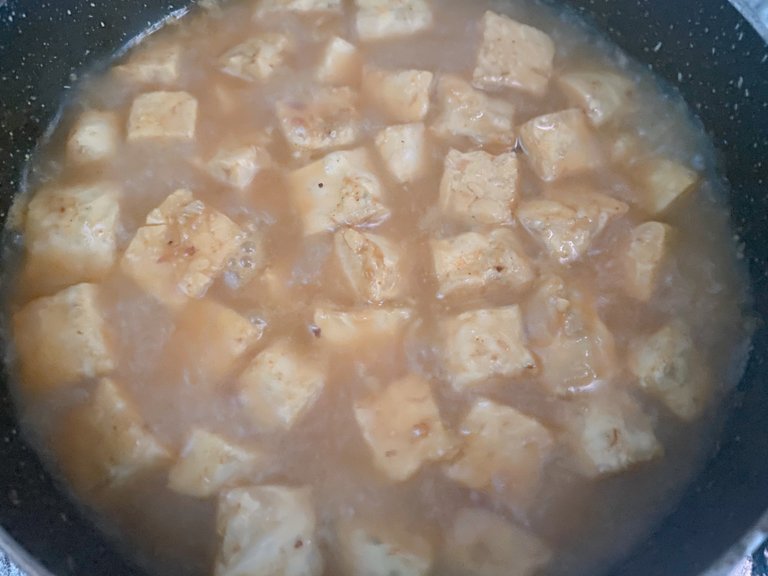 Add tempeh. Cook for about five minutes to let the spices soak into the tempeh.
---
---
---
- Step 7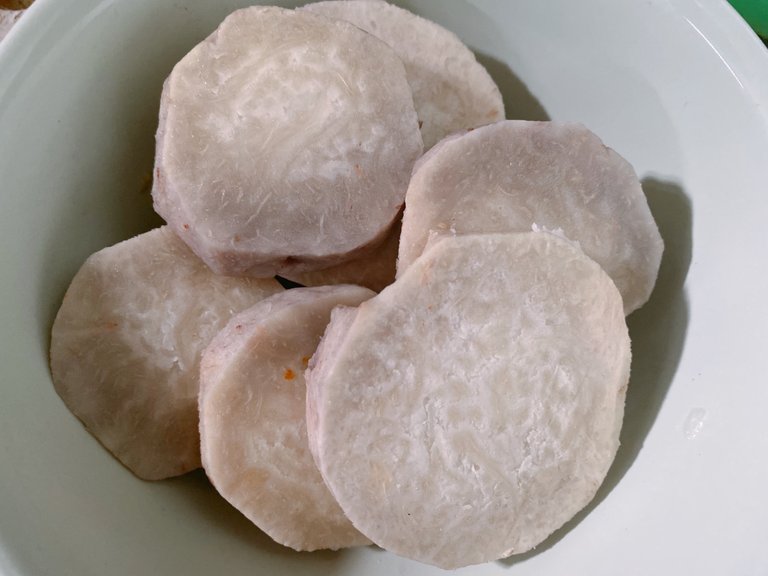 ---
Then add the boiled Taro which has been cut into smaller pieces than before.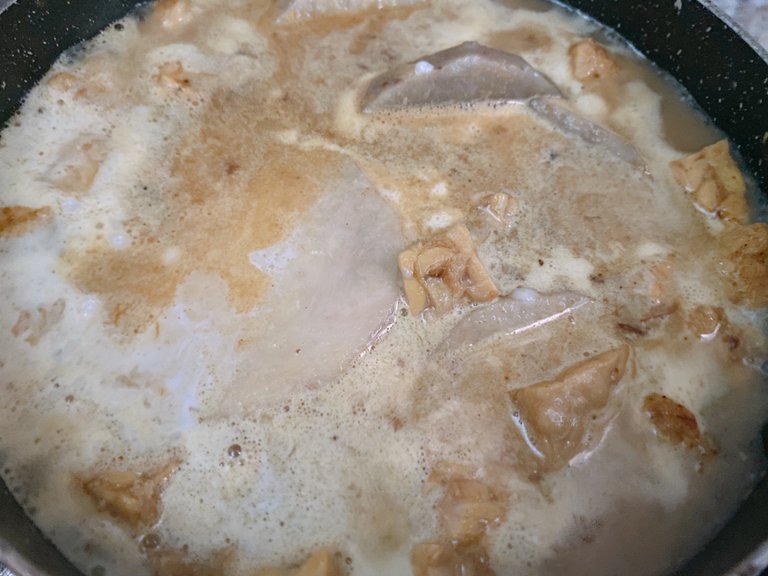 ---
Also, add coconut milk.
---
---
---
- Step 8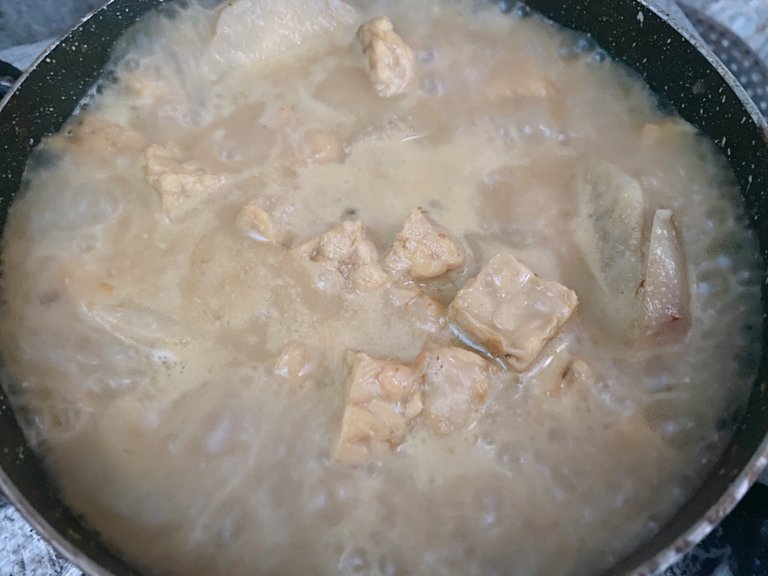 Stir well and cook for about 3 minutes, then remove from heat. Serve with Stir-fried Soy Sprouts and Spiced-Pumpkin.
---
---
---
STIR-FRIED SOY SPROUTS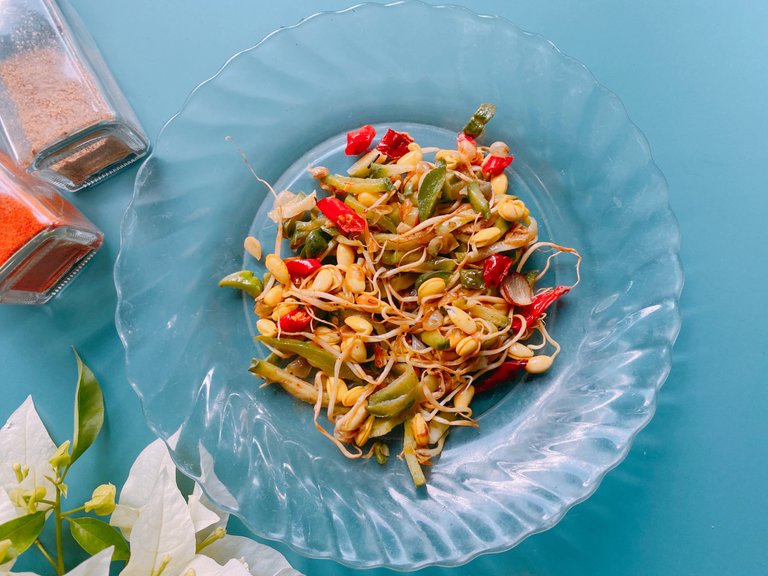 For stir-frying, I use simple spices, as usual, chili or paprika, onion, garlic, salt, and flavor-enhancing powder. Then saute the spices then add the sprouts with another vegetable mix if desired.
Stir-fry the Soy Sprouts while boiling or steaming the Taro to save time.
---
---
---
SPICED-ROASTED PUMPKIN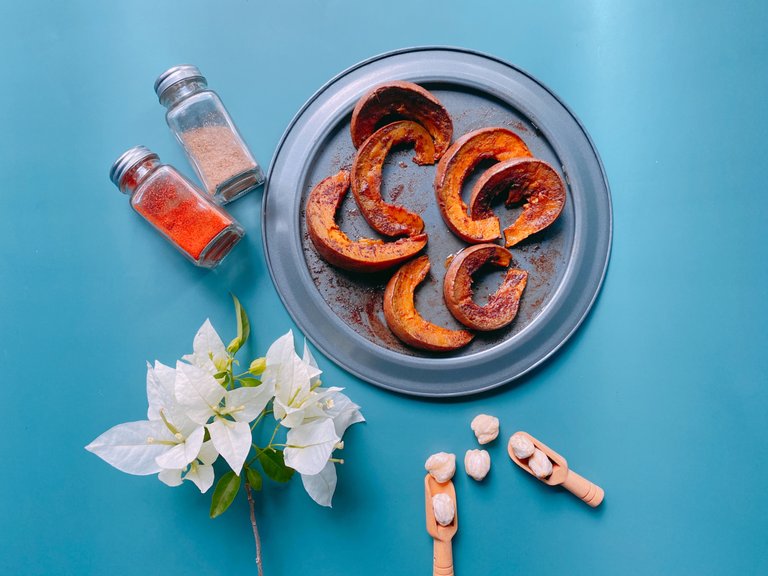 I served Spiced-Roasted Pumpkin to complete my dinner. You can skip this menu because sometimes pumpkin is a seasonal fruit. But in Indonesia every day I can find pumpkins easily.
---
Spiced-roasted pumpkin ingredients:
500 grams of pumpkin, unpeeled
50 ml of vegetable oil
3 tablespoons of ground cinnamon
---
How to Cook Spiced-Roasted Pumpkin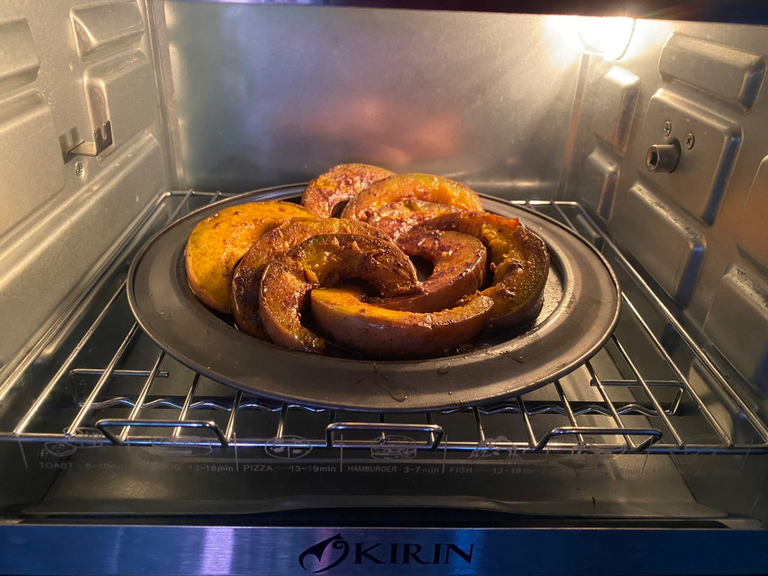 Roll the pumpkin wedges in the oil and ground cinnamon mixture. Or grease the pumpkin using a brush until it is completely coated on all sides of the pumpkin.
Roast the pumpkin for about 40 minutes at a temperature of 250 degrees Celsius. But it depends on your oven. If the pumpkin is not yet cooked, you can increase the roasting time by another 10-20 minutes by turning the squash pieces over.
---
On a previous blog, I also posted about the recipe for Spiced-Roasted Pumpkin with Coconut Yogurt.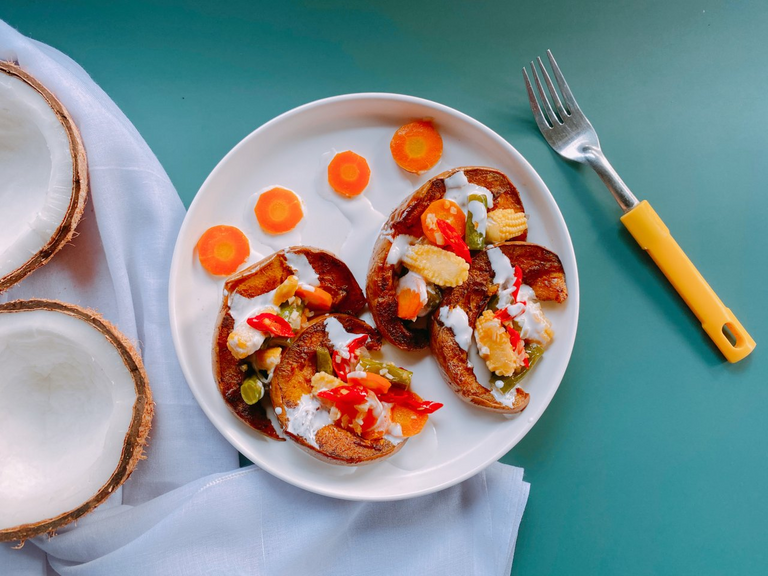 ---
---
---
---
PLATING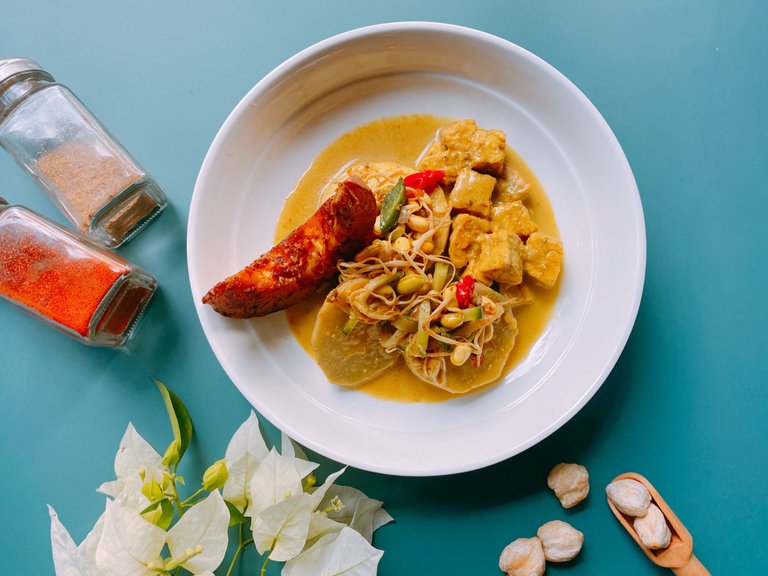 ---
---
---
Step 1
Arrange the Taro and Tempeh on a serving plate. Don't add too much sauce if there is a need for a photo session so that the ingredients are not covered in sauce.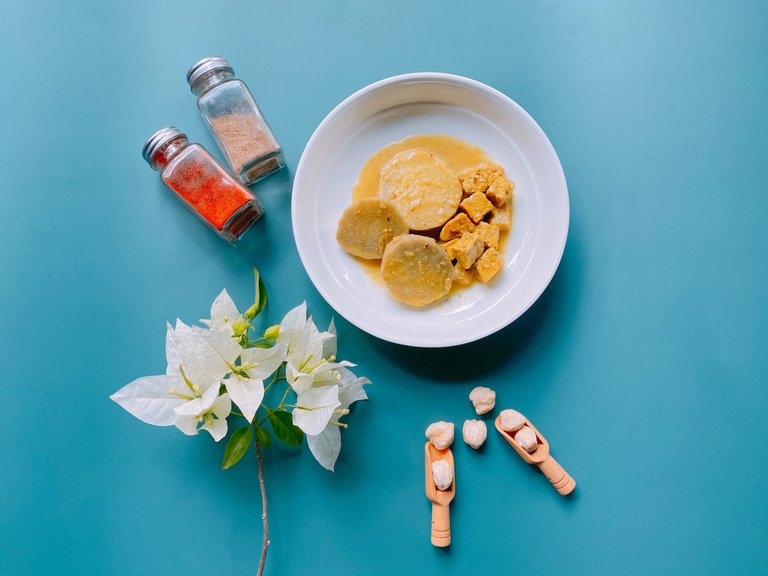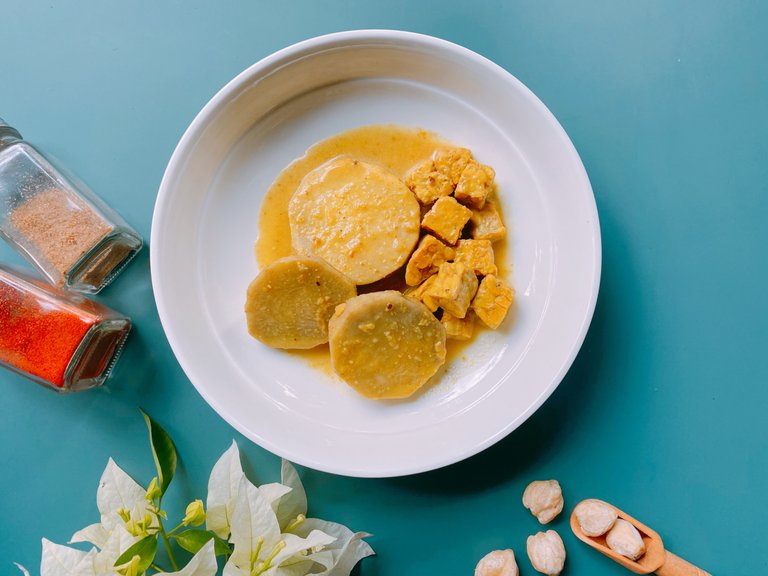 ---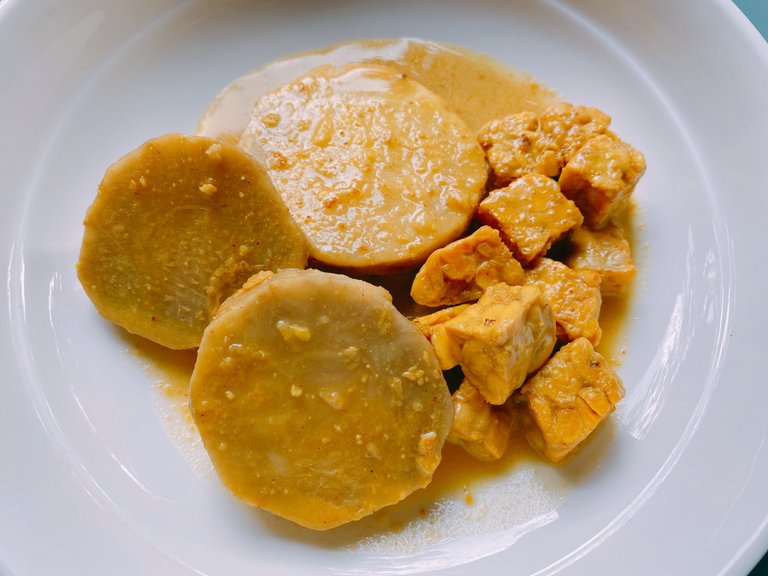 ---
---
---
---
Step 2
Add the sprouts on top of the Taro slices.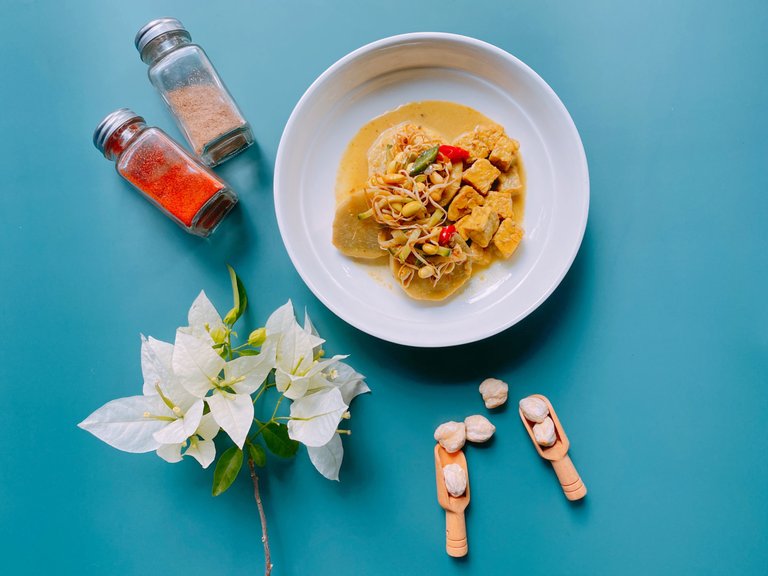 ---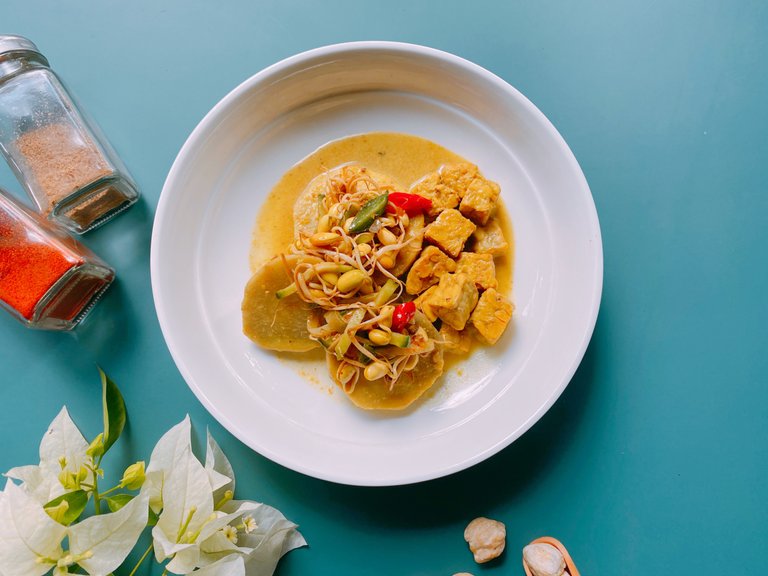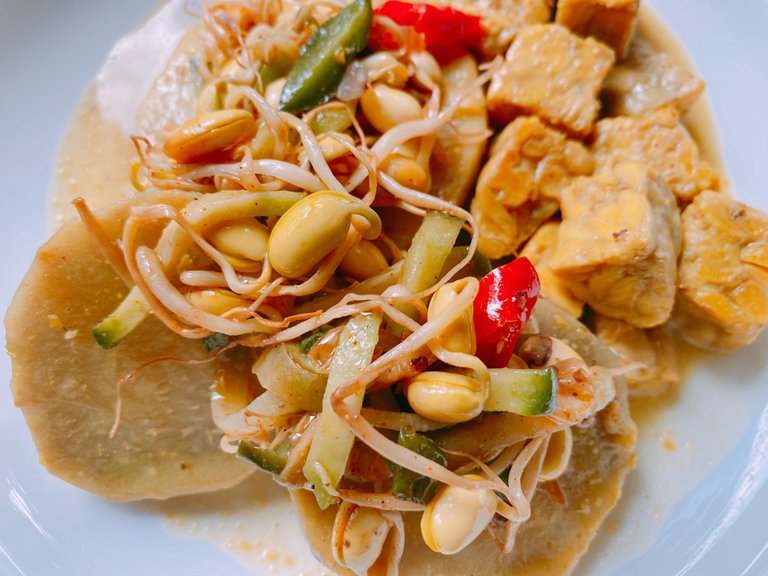 ---
---
---
---
Step 3
Add the spiced-roasted Pumpkin. I also add spicy chips to add a crispy texture.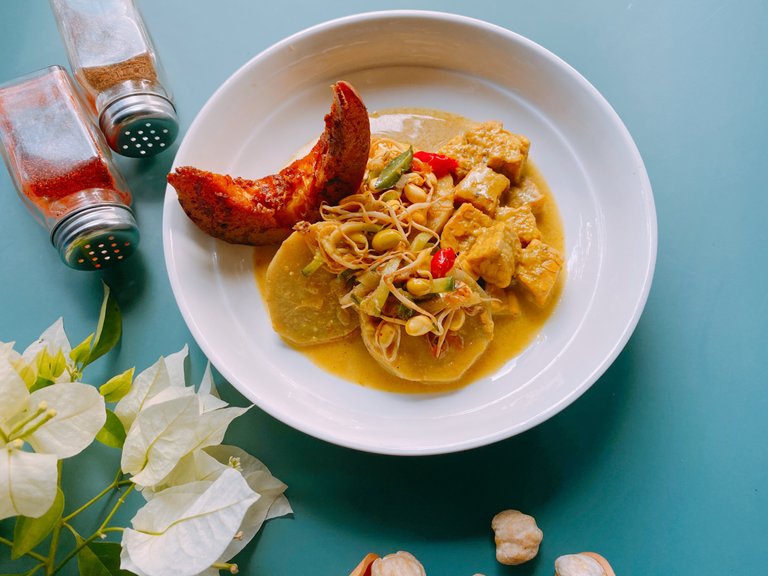 ---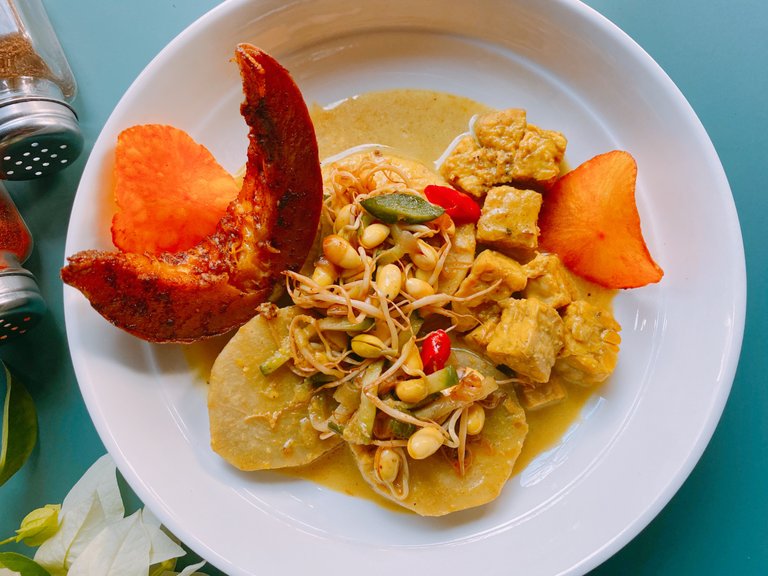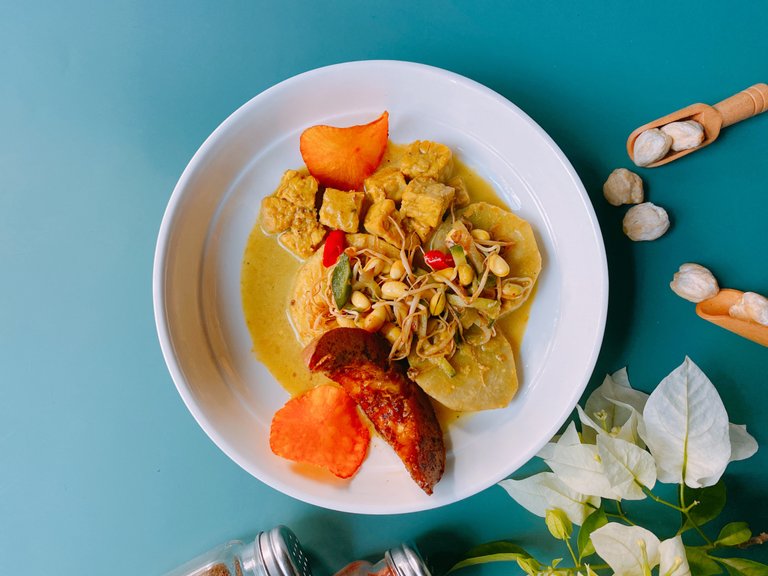 ---
---
---
---
READY TO SERVEED!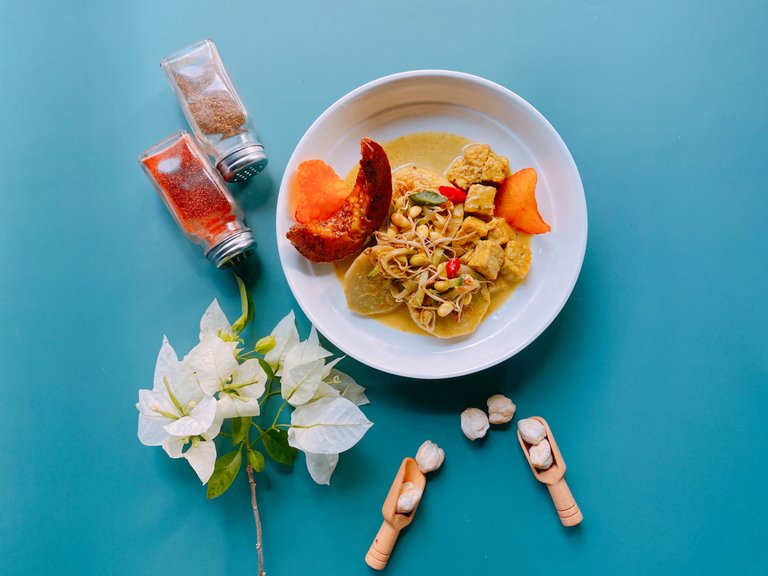 ---
---
---
What do you think my creations are from Taro ingredients? Don't forget to leave feedback in the comments and thank you for reading my food blog!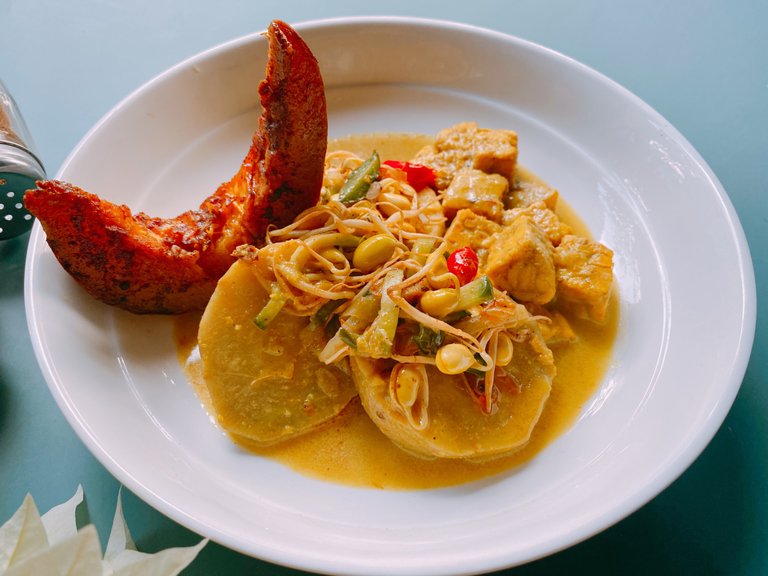 ---
---
---
Best Regards,
Anggrek Lestari
---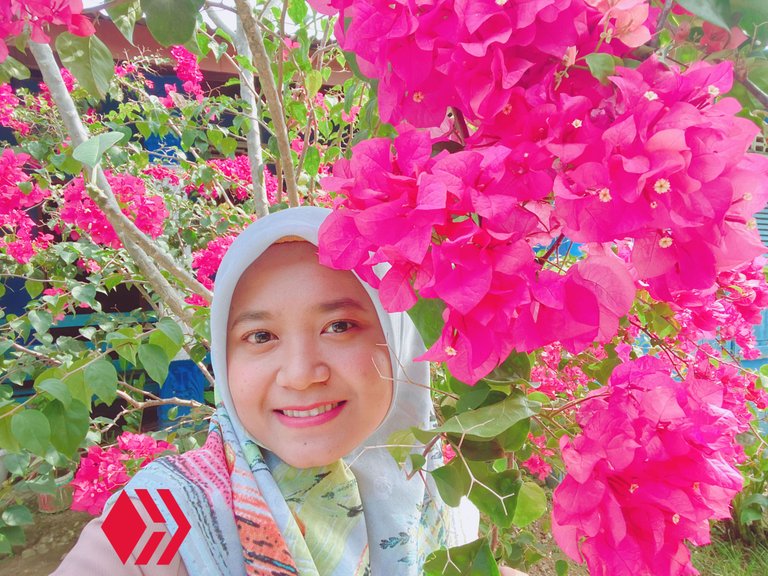 Who is Anggrek Lestari?
Anggrek Lestari is an Indonesian fiction writer who has published two major books. Now She is a full-time content creator. She has a goal to share food content that makes others happy and can get inspiration for foods that are easy to make and contain elements of health.
Make sure you follow her blog as well for some interesting discussions about life other than food.
If you need a copywriter for your projects, Anggrek Lestari will be ready to help you.
Contact Person: authoranggreklestari@gmail.com
Discord: anggreklestari#3009
---
Posted on NaturalMedicine.io