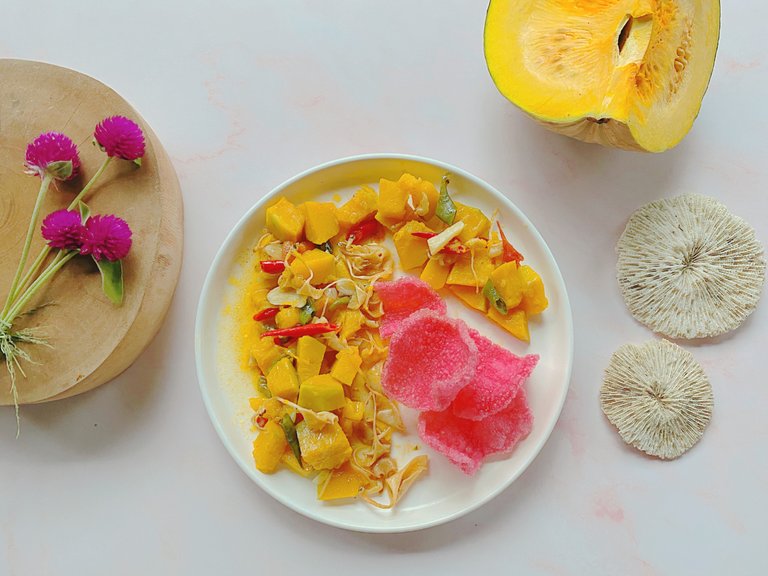 ---
A Plant-Based Side Dish Recipe
With Food Photography
---
I came to you with a recipe from the countryside that was simple but it helped us add a good taste to our bland rice.
Indonesians tend to be unfamiliar with pumpkin soup, but are more familiar with stir-fried dishes like stir-fried pumpkin.
---
---
---
What Ingredients Are Added in Stir-Fried Pumpkin Stir-Fry?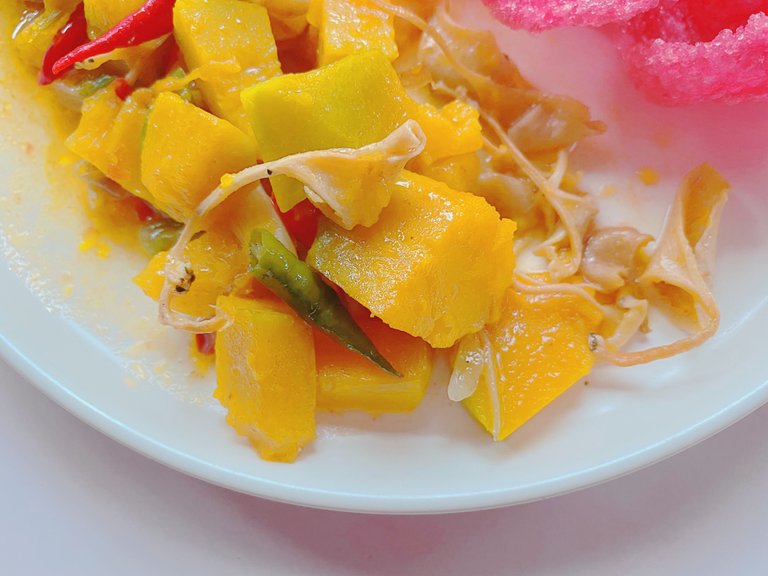 The stir-fried pumpkin flavor enhancer comes from savory ingredients such as dried anchovies and small prawns from local areas in Indonesia, and or mushroom broth. But as people who live in the countryside, not from the seaside or the sea, it is difficult for people like me to buy expensive anchovies or prawns.
That's why my cooking is also used without animal protein sources. I'm just not used to it.
---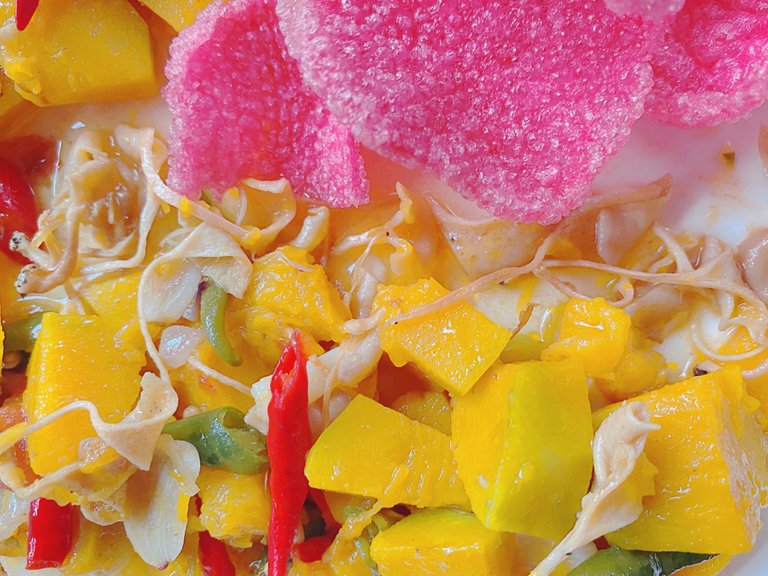 Mushrooms are the best and possible option to add to this dish. I often find edible wild mushrooms in dry wood in my garden. As in this recipe, I add mushrooms.
---
---
---
Mushroom Tastes Like Meat. Do You Believe It?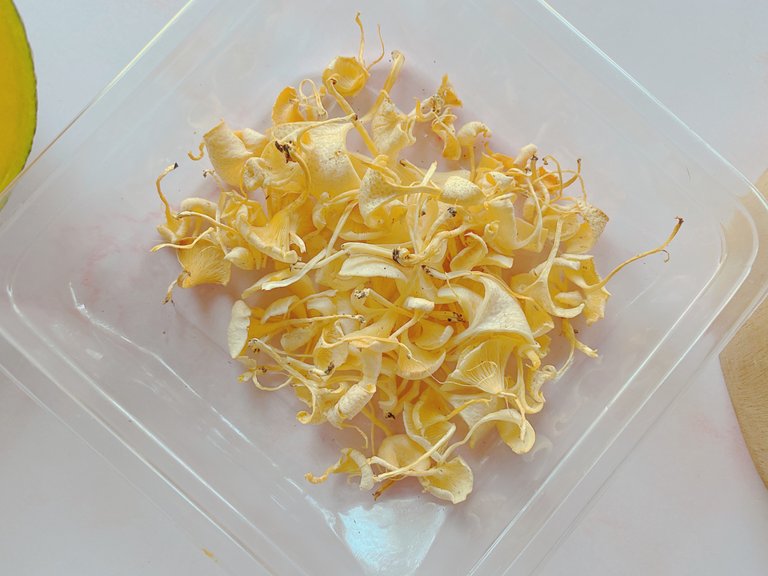 My mother and I had the thought that mushrooms taste like chicken meat. Especially the mushrooms with a thick texture.
Mushrooms are a blessing for us. Because at this time in the countryside it is also increasingly difficult to find edible wild mushrooms. The soils are not as fertile as they used to be and the environment is not as natural as it used to be.
So, we would love to find edible wild mushrooms, then mix them with other ingredients for a side dish.
What do you think about the taste of mushrooms? Similar to chicken meat?
---
DON'T WASTE THE PUMPKIN SEED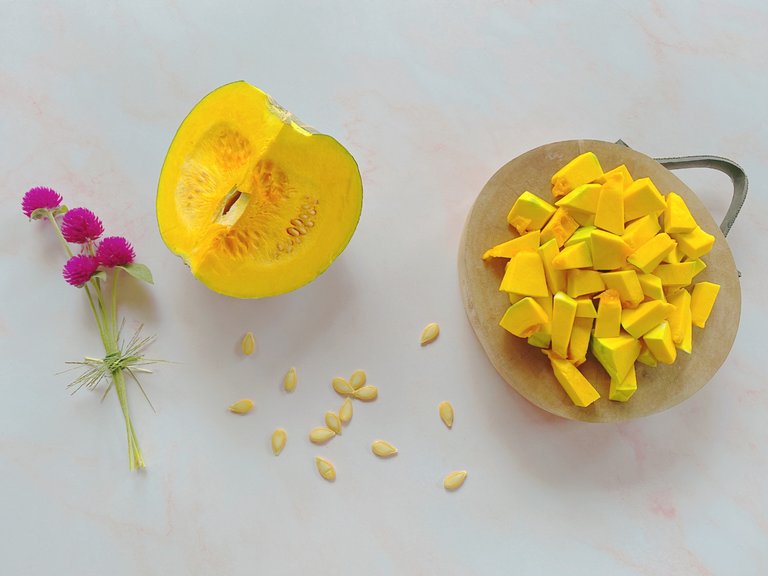 We can make great healthy snacks from pumpkin seeds. We can roast pumpkin seeds in olive oil and some of our favorite seasonings like pepper, cinnamon powder, and a pinch of salt.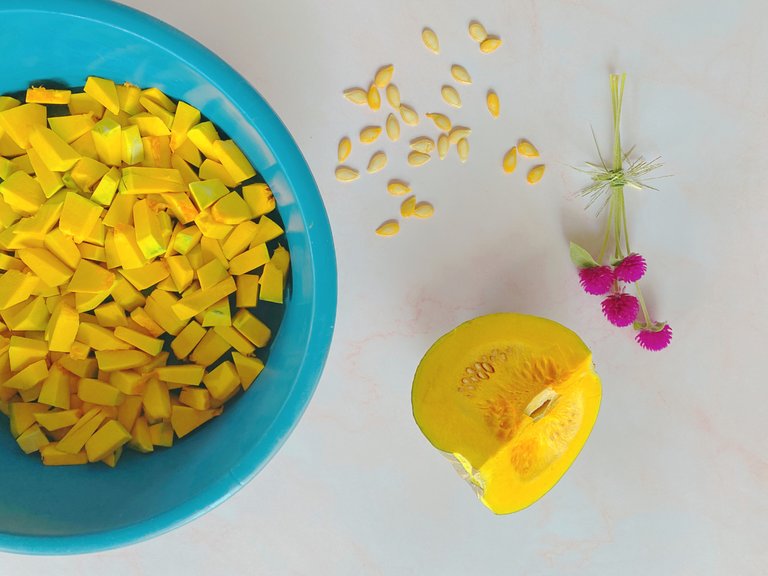 Important tips if you want to make roasted pumpkin seeds, don't forget to boil the pumpkin seeds first for about 10-20 minutes. Then roasted them.
---
---
---
STIR-FRIED PUMPKIN INGREDIENTS
The ingredients are very simple. Here I use local spices. Red chilies, green chilies, red onion, garlic, and tomato.
For additional ingredients, you can use campion/button mushrooms.
Avoid adding vegetables that are soft texture like green leafy. You can add broccoli or cauliflower, or baby corn for a more blended overall texture and harmonize delicious flavors.
---
Add mushroom broth to enhance the savory taste. It is important to add a savory taste to the stir-fried pumpkin because the basic taste of pumpkin is sweet. So we have to balance the sweetness with something savory.
---
---
---
HOW TO COOK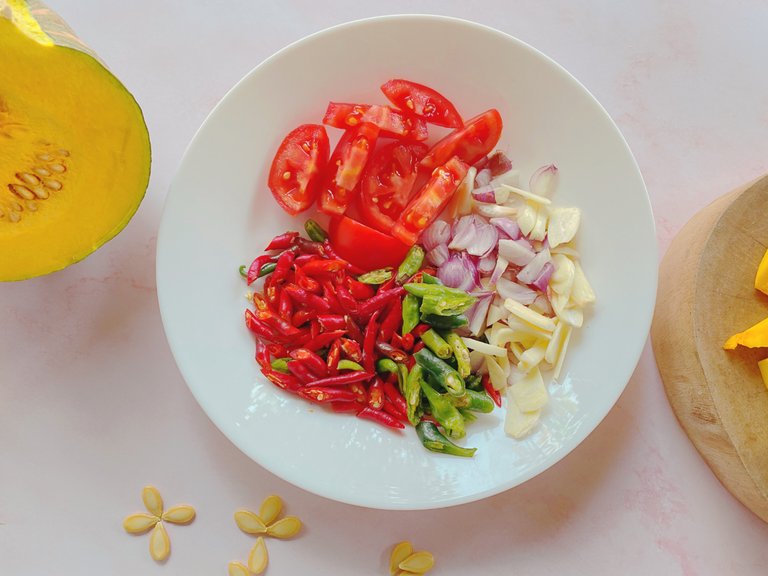 What's the most pleasing thing for a stir-fried-like dish? Yeeep, we only need to use the technique of stirring the vegetables with the spices that have been previously cooked in hot oil until they smell good!
So, we only need to saute the spices that have been cut beforehand. Cook until fragrant, then add the squash and other complementary vegetables.
Add just a little water. Don't put too much of it, as the pumpkin already contains water, and the texture will get soggy if there is too much water. It would be disgusting to the end if it was too mushy.
Don't forget to check the taste at the end before we remove them from a pan.
---
---
---
SERVING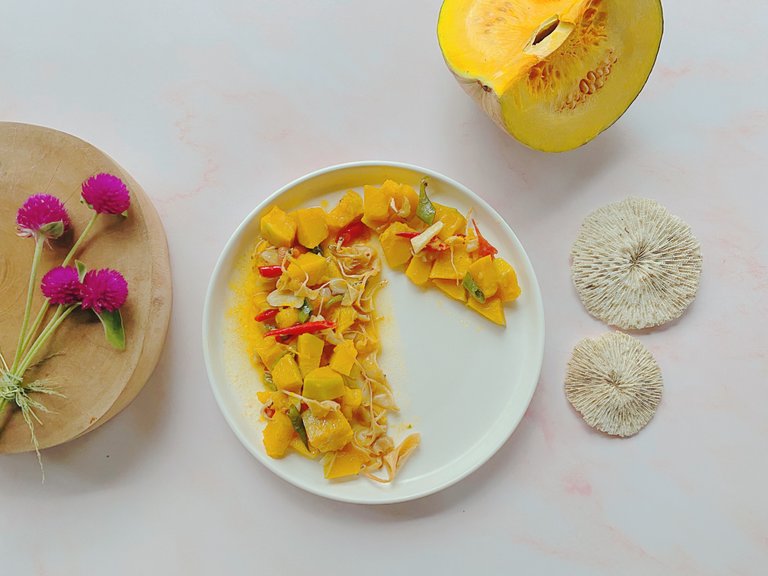 ---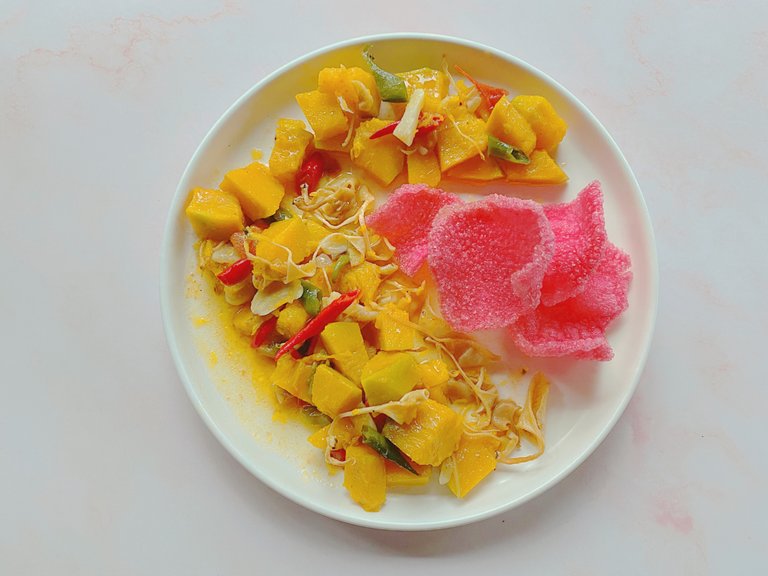 ---
Serve Stir-Fried Pumpkin with warm rice. It was like our little heaven in the countryside. Well, if you have fried onions, add them on top of the Stir-Fried Pumpkin. It will be perfect!
---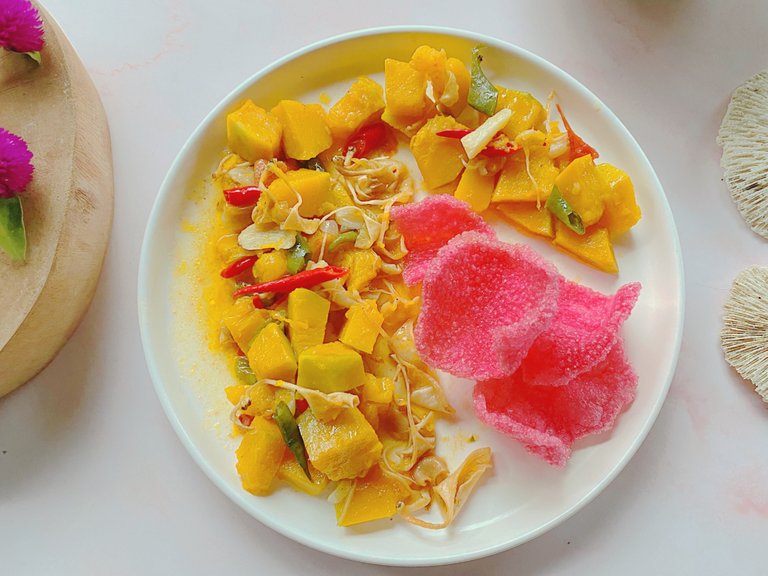 ---
How about crackers? Ah, of course, we Indonesians like to add crackers to our side dishes.
---
Here I use red crackers.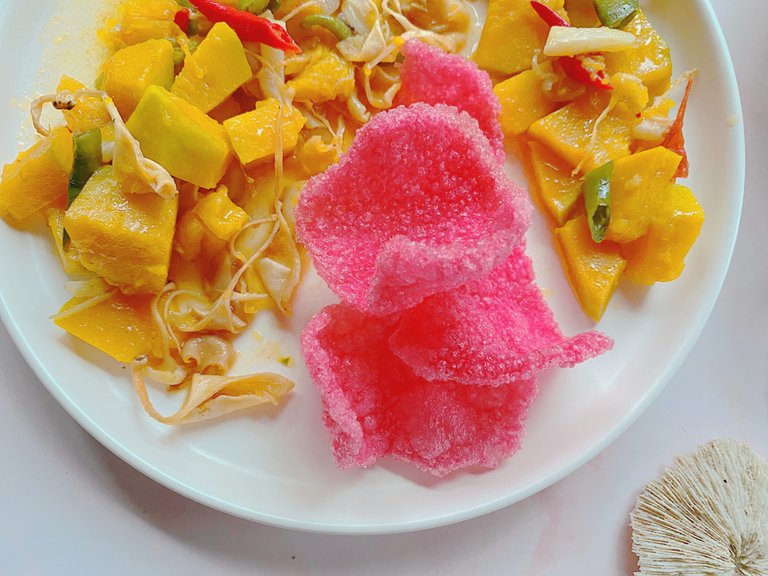 ---
---
---
---
What do you think of my simple recipe this time? Interested in trying this recipe in your kitchen?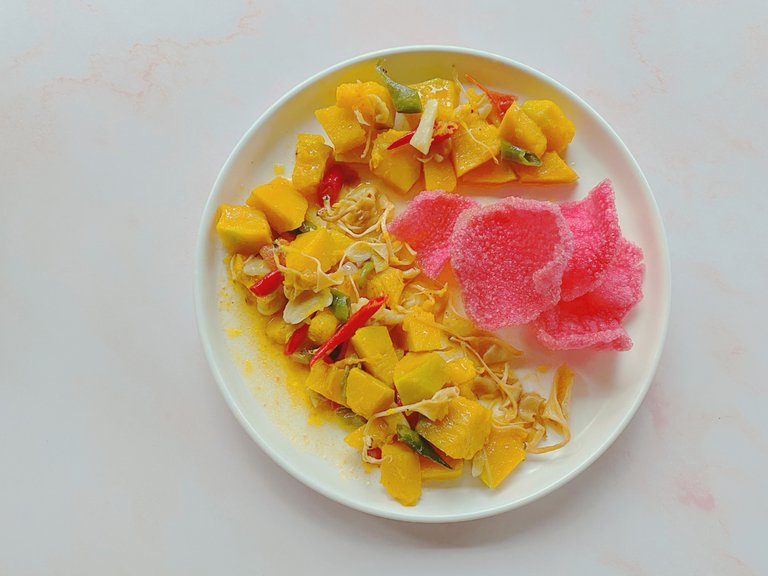 ---
---
---
Thank you for reading my blog and reblog if you want my blog this time worthy of reading by others.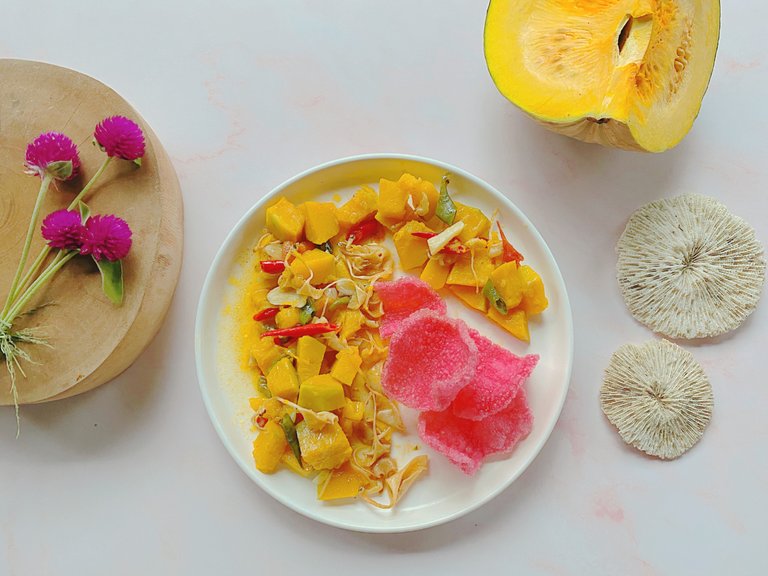 All pictures were taken with iPhone 11.
---
---
---
Best Regards,
Anggrek Lestari
---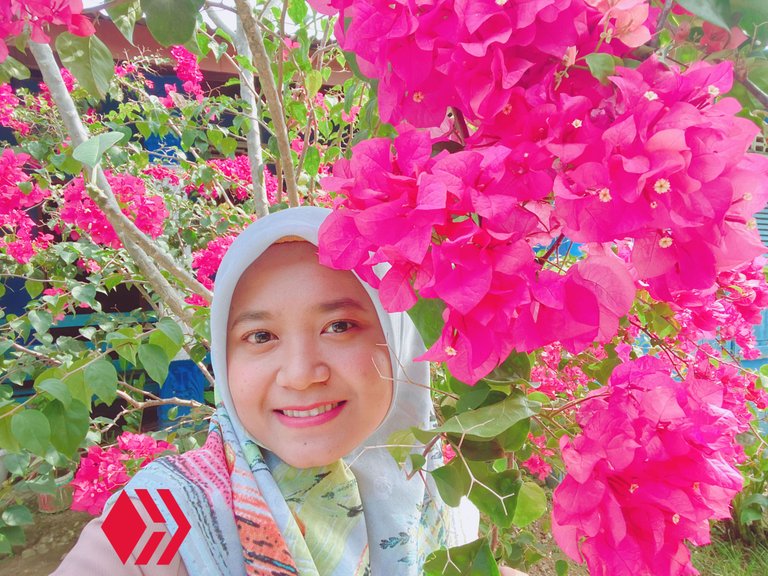 Who is Anggrek Lestari?
Anggrek Lestari is an Indonesian fiction writer who has published two major books. Now She is a full-time content creator. She has a goal to share food content that makes others happy and can get inspiration for foods that are easy to make and contain elements of health.
Make sure you follow her blog as well for some interesting discussions about life other than food.
If you need a copywriter for your projects, Anggrek Lestari will be ready to help you.
Contact Person: authoranggreklestari@gmail.com
Discord: anggreklestari#3009