It is the only bird that can fly backwards and the only one that could be suspended; its flight is perfect. The hummingbird is synonymous of balance in nature, and according to a Mayan legend, it symbolizes a presence, it is a messenger.

The anatomy of a hummingbird is privileged and its place in the ecosystem is fundamental in the cycle of flower pollination. Without animal pollination, many species of plants and animals would disappear, and thus humanity would lack food
---
Es el único pájaro que puede volar hacia atrás y el único que se suspende; su vuelo es perfecto. El colibrí es sinónimo de equilibrio en la naturaleza, y según una leyenda maya, simboliza una presencia, es un mensajero.

La anatomía de un colibrí es privilegiada y su lugar en el ecosistema es fundamental en el ciclo de polinización de las flores. Sin la polinización animal, muchas especies de plantas y animales desaparecerían, y por ende, a la humanidad le faltaría alimento.
Fuente
---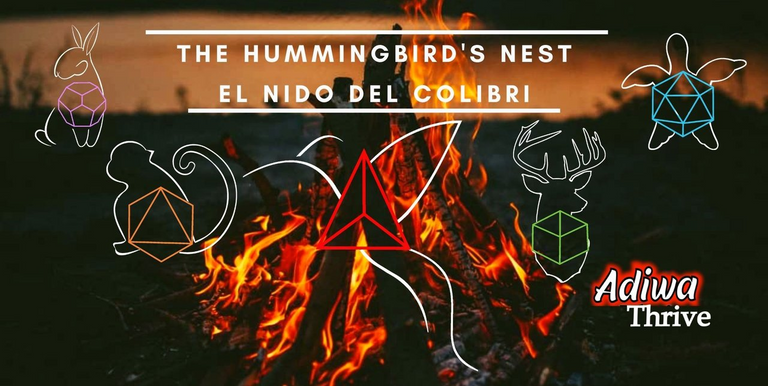 Just as the Hummingbird rests on the best-scented flowers to extract its nectar, this space aims to extract the substance of the best publications to continue the service of this colorful bird as a messenger of the Gods, making the ecosystem an abundant and diverse garden.

It is also necessary to say that I am salmon's cousin, and like me is able to go against the tide to fulfill nature
---
Así como el Colibrí se posa en las flores de mejor aroma para extraer su nectar, este espacio pretende extraer la sustancia de las mejores publicaciones para continuar el servicio de este colorido pajarillo como mensajero de los Dioses, haciendo del ecosistema un abundante y diverso jardín.
También es menester decir que soy primo del Salmón, y al igual que yo es capaz de ir contra corriente para cumplir con la naturaleza

Hola! // Hi!
Today I came from the fire to share the most beautiful stories and messages I have found in the honeycomb, besides being a special day, day of mental health, I think that intentionally or not the message of this week is directed to health and listening to the music of our hearts, following the natural order.
hoy vengo desde el fuego a compartir las historias y los mensajes más bonitos que he encontrado en el panal, además de ser un día especial, día de la salud mental, creo que de forma intencional o no el mensaje de esta semana se dirige a la salud y al escuchar la música de nuestros corazones, siguiendo el orden natural.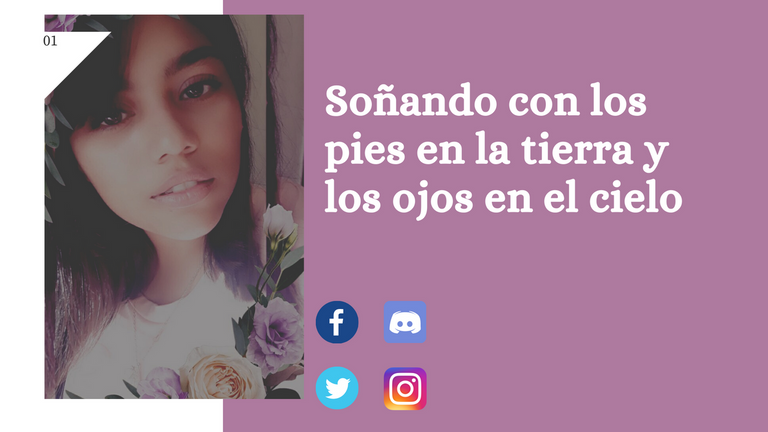 flying between the four directions and elements, @andreaa22 who also has the spirit of a hummingbird, gives us context and depth of the Wicca not only in the historical framework but also through his family and tradition, explaining the spirit of each element and its relationship to the directions, now I know that I am the "Fire Hummingbird of the South" the natural order is in itself harmonious and therefore music, much love and fire in your spiritual path!
---
volando entre las cuatro direcciones y elementos, @andreaa22 quien támbien posee espíritu de colibrí, nos da contexto y profundidad de las Wicca no solo en el marco histórico sino también a través de su familia y tradición, explicándonos el espíritu de cada elemento y su relación a las direcciones, ahora sé que soy el "Colibrí de Fuego del Sur" el orden natural es en sí armonioso y por ende música, mucho amor y fuego en tu camino espiritual!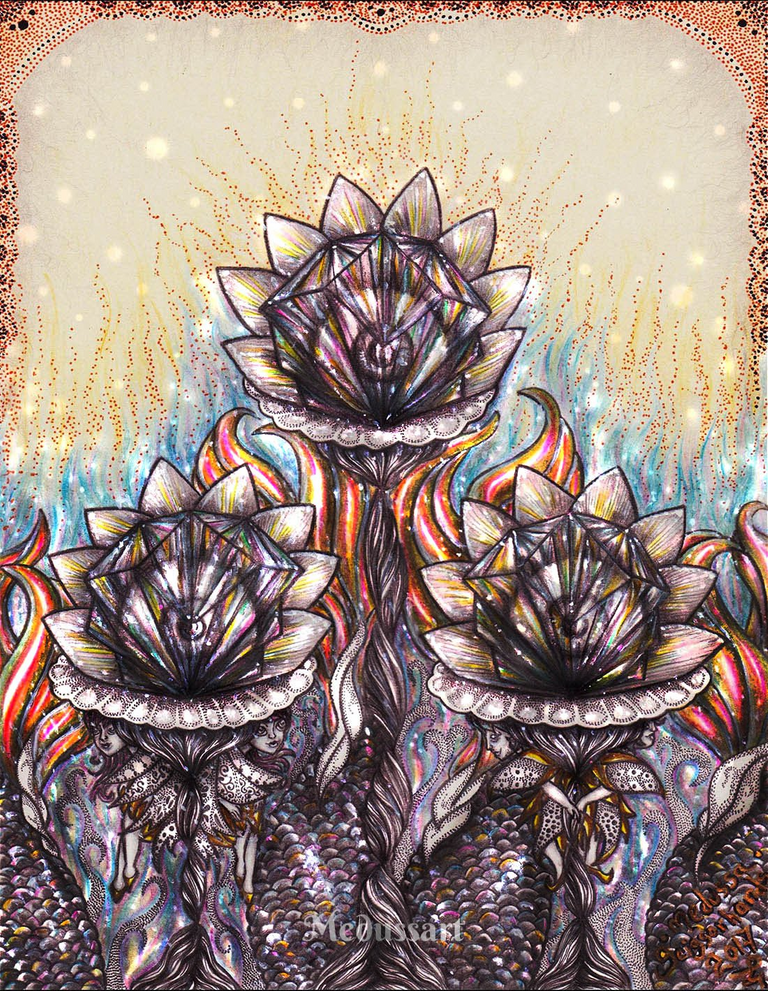 start, development and ending with porpouse


five senses set for art


art that is made ink-code-painting-message


a spark of light appears from your heart


and I leave this little fire of life, warmth and feeling.


I really liked your publication, congratulations, I thank you and I send you vibes, a message, that you keep coming back to the girl who is also painting today.
---
inicio, desarrollo y desenlace sentido
cinco sentidos puestos para el arte
arte que se hace tinta-codigo-pintura-mensaje
una chispita de luz aparece desde tu corazón
y dejo esta pequeña fogata de vida, calor y sentimiento.
me gustó mucho tu publicación, felicitaciones, te agradezco y te mando vibras, un mensaje, de que sigas volviendo a la niña que hoy también está pintando.

I appreciate the posts of Cabe, I know that he is aware of it but I would like to aware all the musicians of the space about the initiative that he host every week, where, in the framework of a weekly word in relation to the consciousness, will be defined the song to share that week the Hive Openmic, this week the publication will be in the framework of "Guardian Angels"
I believe in the angels and the constant assistance they provide in our development at snail's pace. Music is the direct bridge of connection between us and the cosmos, wait for my late entry!
---
Aprecio las publicaciones de Cabe, sé que el es consciente de ello pero quisiera hacer consciente a todos los músicos del espacio sobre la iniciativa que lleva cada semana, donde, en el marco de una palabra semanal en relación a la conciencia definirá la canción a compartir esa semana, el Hive Openmic, esta semana la publicación será en el marco de "angeles guardianes"
Creo en los angeles y en la asistencia constante que brindan en nuestro desarrollo a pasos de caracol. La música es el puente directo de conexión entre nosotros y el cosmos, espera mi entrada tardía!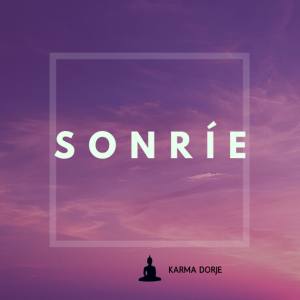 The most effective communication is that which is established with ourselves, being our ears within the silence of a meditation will make every musical note we play on our journey more harmonious, the smile is the most special nuance we can put into every day, @karmadorje walks us through a publication that is a mixture of reflection, anecdote and guided meditation.
---
La comunicación más eficaz es la que se establece con nosotros mismos, ser nuestros oídos dentro del silencio de una meditación hará más armoniosa toda nota musical que ejecutemos en nuestro caminar, la sonrisa es el matiz más especial que le podemos poner a cada día, @karmadorje nos pasea a través de una publicación mezcla de reflexión, anecdota y meditación guíada.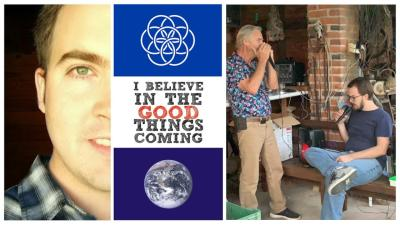 this is an emotional and reflexive post where we can connect with @eddiespino's circumstances for today, I appreciate his enthusiasm to vibrate in the music every day a little more and to look for that integral health care, besides sharing with us an excellent medicine music group
---
este es un post emocional y reflexivo donde podemos conectar con las circunstancias de @eddiespino para el momento de hoy, aprecio su entusiasmo por vibrar en la música cada día un poquito más y por buscar ese cuidado de la salud integral, además de compartirnos un excelente grupo de musica de medicina en inglés

That has been my contribution flying through the beehive, remember that every post gets a vote from @msp-curation and @medussart got the monthly "Hive Community Leader" vote!
Ese ha sido mi aporte volando por la colmena, recuerden que todos los post reciben un voto de @msp-curation y @medussart se llevó el voto mensual de "Hive Community Leader"!

432hz Concert + Curation
Join this activity every Wednesday at 10 AM EST where medicine and healing music are connected in the framework of the cryptosystems to vibrate in tune with nature.

Not only curating but healing
Únete a esta actividad todos los miercoles a las 10 AM Hora Venezuela donde la música de medicina y la curación se conectan en el marco de las criptomonedas para vibrar en sintonía con la naturaleza.

No solo Curando, También Sanando

Utiliza los tags #naturalmedicine; #lotus; #palnet y #adiwathrive dentro de tus publicaciones y los bloques de curación de contenido de @adiwathrive te estarán leyendo


@imagenius

Supporting Natural Health Content on HIVE
Discord || Community