Felica - The Second Camera Of The Three Felicas I Have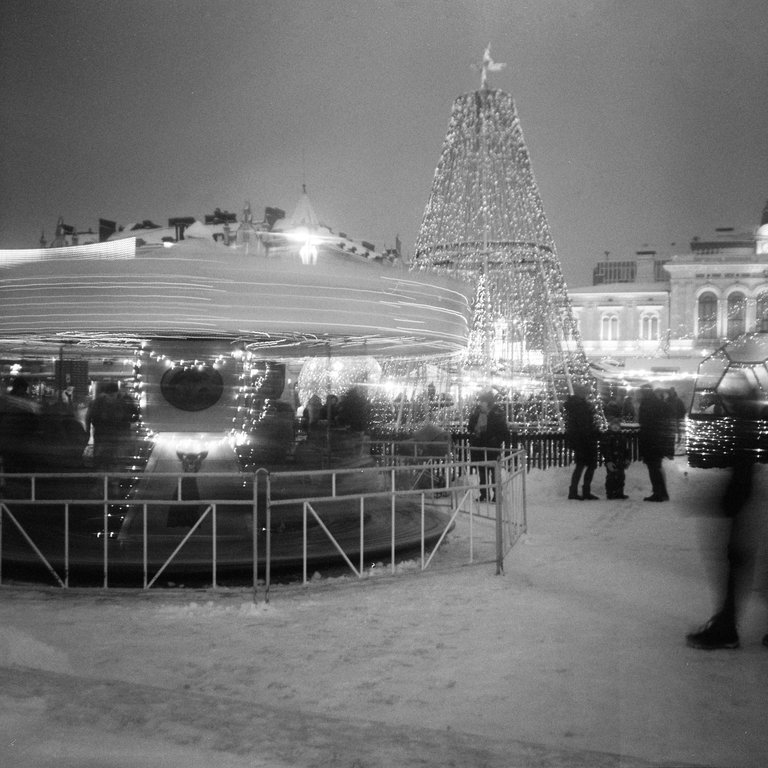 I currently have three Felicas and this is the second one of those, first photos with it. I have to confess you one thing. I think I'm in love with this little ugly duckling. It never seems to disappoint me. Or almost never. It's either: "Ooooooo awesome! Who would have known!" or "This is okay considering the camera the photo was taken with."
This one definitely is a jewel. The best of this film roll!
A little bit of cleaning, Ilford Delta film in and a reminder of the film ISO taped on the camera case.
The camera manual: www.butkus.org/chinon/felica/felica.htm This is how simple the camera is. Only two pages, a huge picture with jolly characters in it and three languages. Actually it may have been a four paged leaflet but still, simple instructions, a simple camera to use.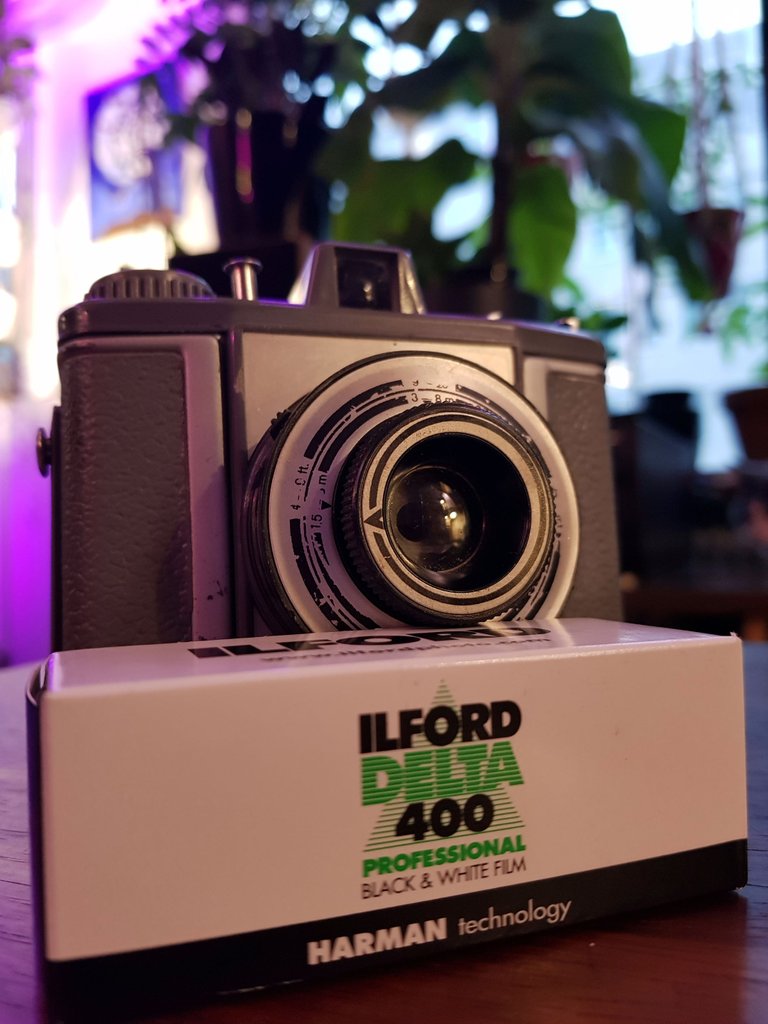 The Felica text and some of the numbers have vanished partly or completely but that's okay. It might be that this camera has been in frequent use so I think it has had a good life. And now I'm extending it.
Time to look at the results.
As usual I've done nothing to the photos. Few of them might be better if post-processed but as I want to know what kind of results does this camera and this film give in different conditions, I've left them as they are and I'll show you the photos with all of my and the cameras flaws in the pictures.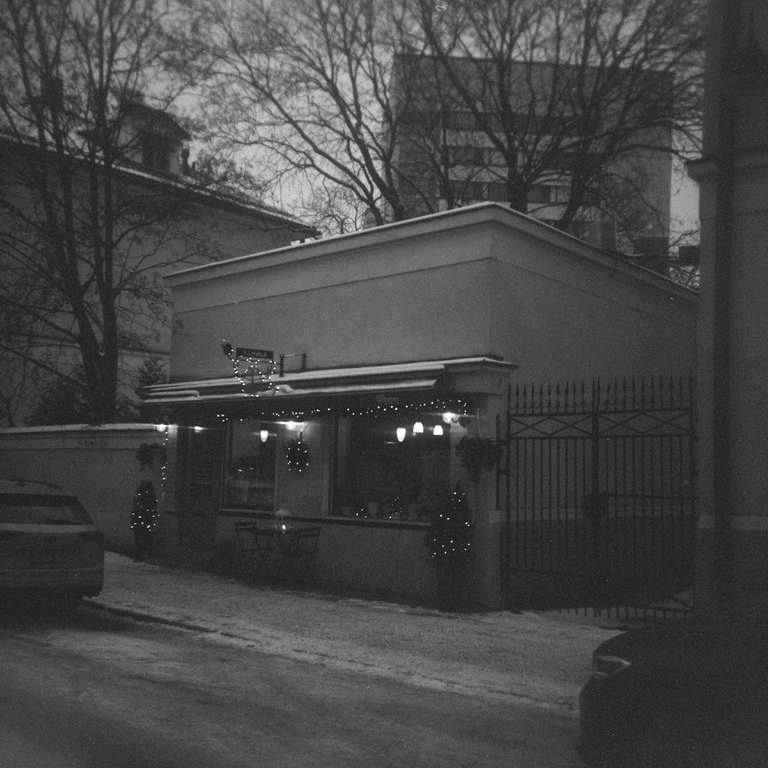 This Felica seems to have the same exact lens problem, or feature, how ever you want to perceive it, as my first Felica has. See the blurry tree branches on the top of the photo. It's like an Instagram filter with the difference that I actually happen to like this distortion. It makes the tiny building stand out more. It's actually a cafeteria, and not just any cafeteria, a waffle cafeteria that serves the best waffles that I've ever tasted. If you ever visit Tampere, Finland, you should definitely go there.
These two photos are from a cafeteria too, a recently opened one inside a second hand shop. The Felica is on the table and I counted about one second in my head. And that's that. Not bad at all. I should definitely do more long exposures.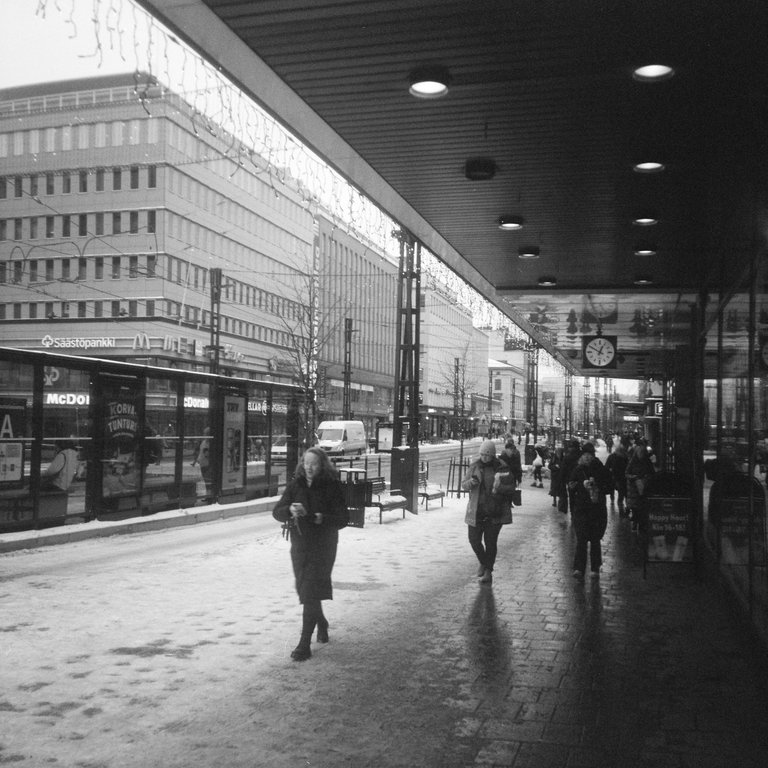 #Streetphotography is a must. And at it's best when people don't either notice that you're photographing or don't bother to do the: "should I wait until they have taken the picture or crouch walk quickly past the camera" maneuvers.
I like the dark & light combination in this photo and the line of the roof.
#Doubleexposure of course is a must. Whenever I can do that, I try to plan and photograph at least one. This one could have been better, the sign slightly more on the right but I'm not loosing my sleep over that.
The car photo looks like it's been photographed through a glass but it isn't. So what I think happened here is light leakage. See the right bottom corner and the sky, almost in the middle of it. Two huge round edged rectangles with lighter borders. Light leakage is my guess.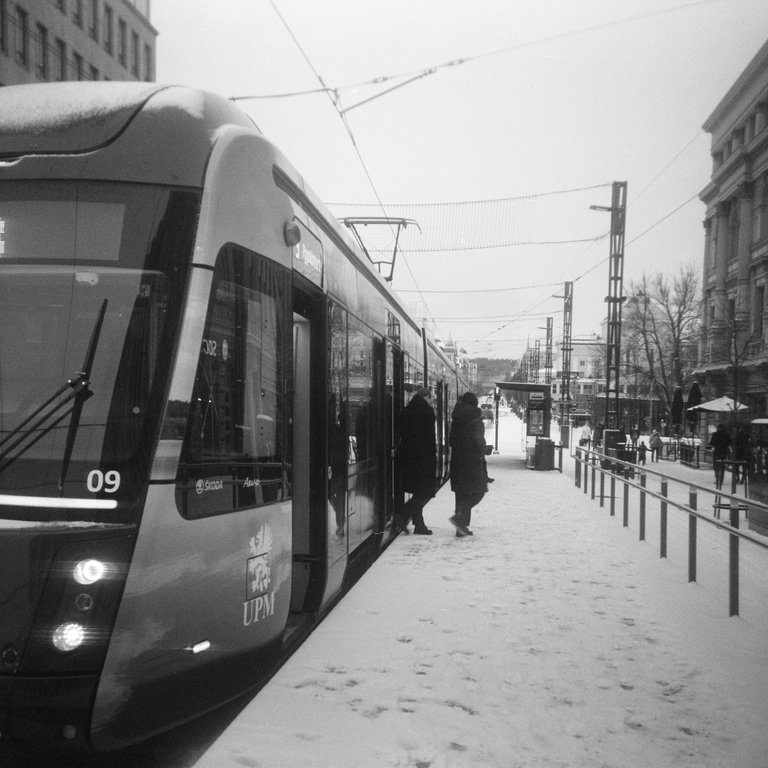 And what would my film roll or life (come to think about it) be without a tram photo. Sunlight has been little scares lately so not facing the sun as I have no clue where the sun is now (in space, haha) or how low, meaning that would it even be visible behind the buildings. Sure I do know where the sun approximately is (I'm not an idiot, only insane) but to get a proper facing the sun photo I should align myself better so that the thing I'm photographing really would be between me and the sun. But no luck there, only clouds.
Although here's hoping that the clouds stay just a little while longer since I love how snowy it is and there's no snow business without clouds and usually in the winter when the sky clears and you can see the sun, it gets colder and I'm happy freezing my ass of in -10°C, not -15°C or -20°C.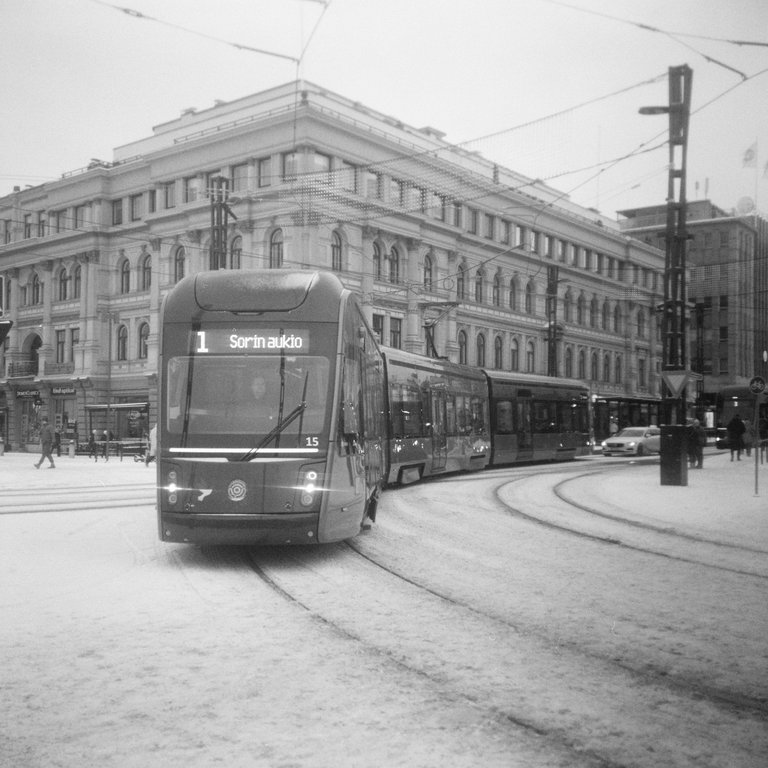 I think I have not yet photographed the tram from this angle. So now I have! This was my second option for the best photo. Fortunately there was a better one with the carousel.
Here it is again and for comparison a photo taken with my phone. I don't know what one would compare as the two photographing devices are so far from each other but nevertheless, here it is.
What did all this cost me?
Felica: 0€ (A gift! apparently I like old cameras.)
Ilford Delta 400: 4,50€
Film developing: 17,90€
Film scanning to TIFF: 20€
And finally, what would my post about cameras be without bragging with my latest purchases.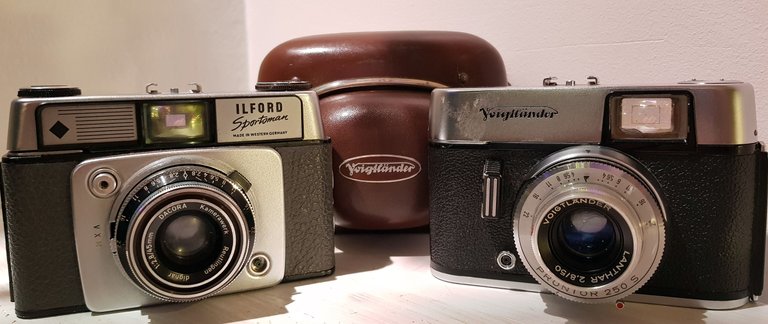 Still managed to stay under my current max limit per camera which is 20€. With that max buying price I'll make sure that I only buy cameras that most probably back in the days weren't that expensive to begin with. Or that I've stumbled upon a really good deal. Either way, I'm happy with not so fancy cameras. My new slogan is: happy with crappy!
---
Film cameras
Balda-Bünde Baldixette
1
Bilora Bella 66
1
Closter C63
1
Cosina Flash 35E
1, 2, 3
Felica
1, 2, 3
Kodak Box 620
1, 2
Kodak Brownie Six-20 Model C
1
Halina Paulette EE II
1
ZIAG Colora F
1
Digital cameras
Sony A6400, 16-50mm
1
Sony A6400, Laowa 25mm f2.8
1
Comparison: Sony A6400, Canon EOS 550D, Panasonic Lumix DMC-FZ7, Sony Cyber-shot DSC-P32, Canon PowerShot A550
1, 2
---
---