Felica Film Camera - Kodak Gold ISO 200 Film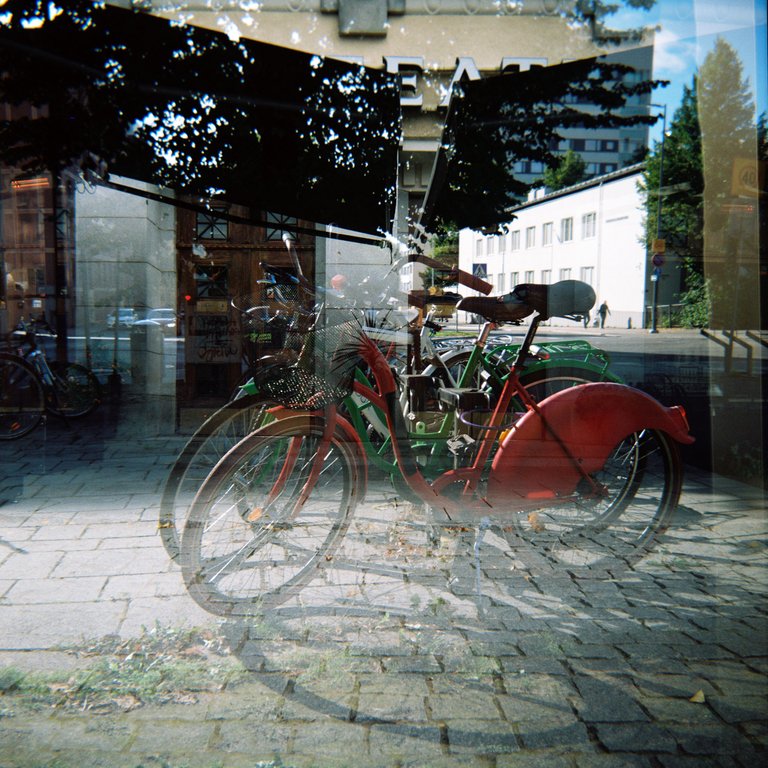 Well what do you know, a planned double exposure photo that actually looks alright!
Made in West-Germany got tired hanging on to my Felica on it's own as the old glue had seen it's best days, so I decided to help it with a cheap chain stores contact adhesive.
Also glued the camera case, my fingers and tape and table cloth and paper and... as I was saying, fixed everything perfectly and flawlessly.
I sanded rust off from here and there and applied clear nail polish as I was lazy and didn't go out to buy metal varnish. Also cleaned the whole camera a bit better from here and there, didn't open the lens or anything drastic because the camera worked and I want it to continue working.
Felica's view finder is really pathetic and it's frustrating to try to take photos with it but the first results were pretty cute so I wanted to try this again. Now with color film.
Looks like I wrapped the film around the camera. But trust me! I know what I'm doing!
So Fomapan, the film that I've used before has pretty good warning signs on the film that indicate when the next number is about to come. Especially important to spot the first number. Kodak film apparently doesn't. There's this KODAK text and then there's a | and then again the text KODAK and then the number 2.
So apparently the | was number 1 and what the heck, there's only 11 photos left now and I'm annoyed but am I annoyed enough to go in to the dark closet and put my hands in to a black bag and roll the film back and load it again to the camera... AAAAAAAAAAAAAAAAA! Noup. 11 is almost 12 so let's just say that the first frame sacrifice was for the Dark Film Gods who do their best in torturing people who are still using film in old cameras.
Just saying to the film gods that: "I'm not a fan! And I won't be worshiping you this weekend!"
There. All done. An exposed roll ready to be developed.
Kodak Gold ISO 200 color 120 film: 12,50€
Film developing: 12,90€
Film scanning to TIFF images: 20€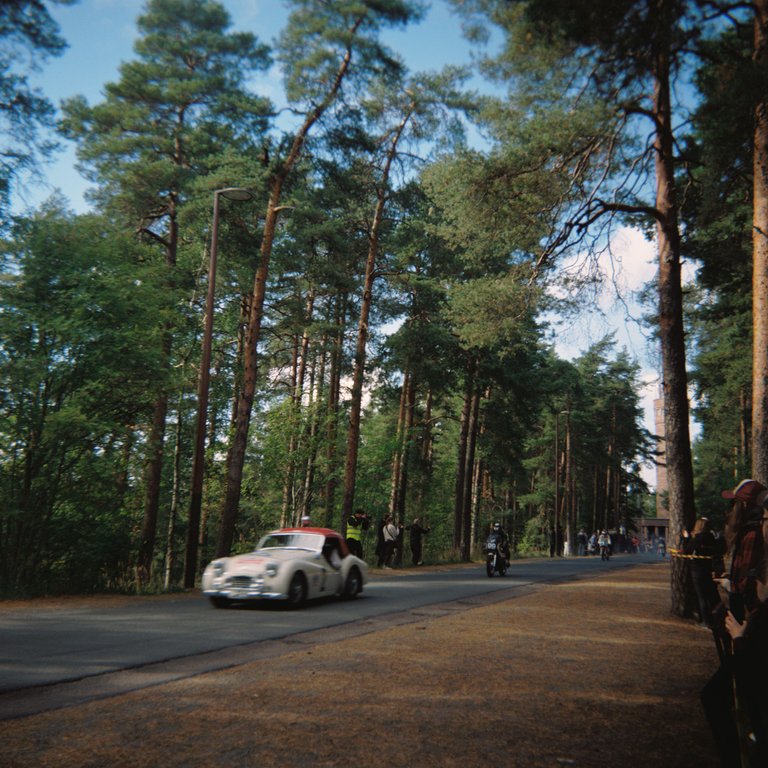 See the blurry top part of the photo! Something I didn't see before in the black and white photos because most of them had sky in it, but now that I knew what to look for the blurriness was quite obvious.
There was a thing called Pyynikki circuit September 11th at the Pyynikki esker. Pyynikki circuit used to be a race but isn't a race anymore but a place to show off your fancy old motorcycle or a car. Mostly motorcycles driving around few laps. Like a race but not because the actual race was too dangerous as 3 drivers died after crushing and flying of the road in a dangerous curve and down to a ravine. Actually I'm not sure how the drivers died but there is a dangerous curve and a long drop right beside it and three drives did die during the racing years and the whole race was banned 1971.
Anyway, I took my old cameras out to greet other oldies. A Felica and couple other cameras.
Felica has the choices ☀️ or ☁️ and shutter speeds 1/50, 1/25 and B and as I already pointed out, a tiny round viewfinder that's designed for frustrating picture taking and a 200 ISO film in it so it probably wasn't the best choice to try to take photos of fast moving objects. Unless you're an expert and have photographed races before, which I'm not and haven't. Also the start of the longer straight probably wasn't the best place to try to photograph, but as all the best places were pretty crowded and my Felica or any of the other cameras don't have a long-focus lens this was the best place to be.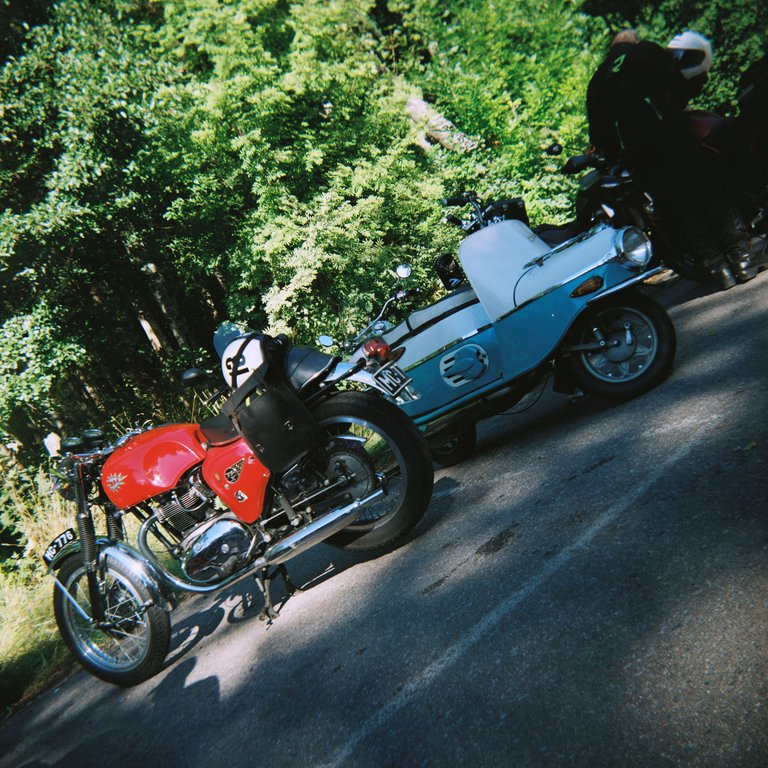 Fortunately the motorcycles also were still for a while. I couldn't resist those delicious colors.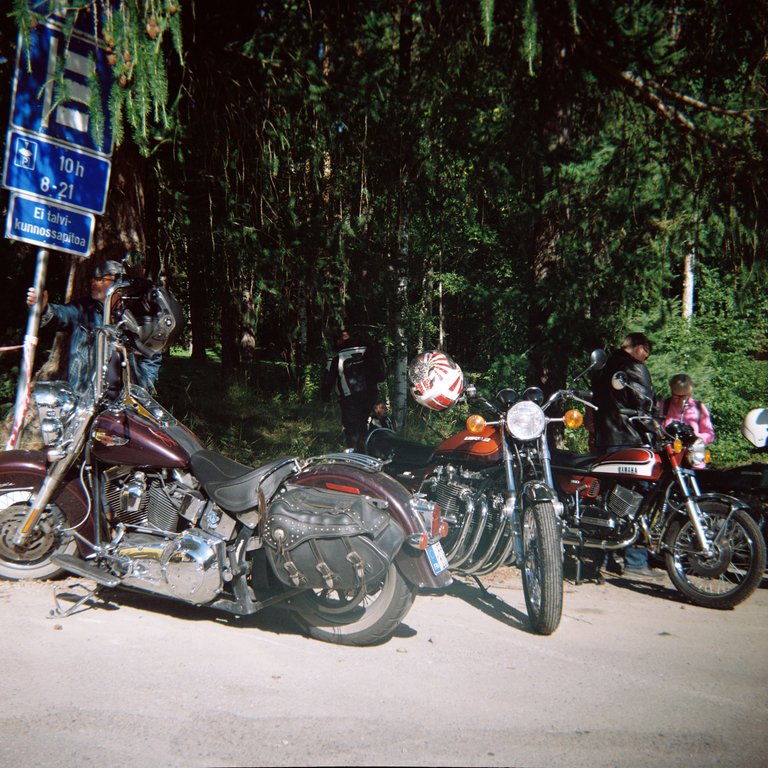 I couldn't quite capture what I was looking for because I should have either moved a little bit closer which was not an option since that would have been in the middle of the way where motorcyclists were driving back and forth or a little bit further away which also wasn't a option because there was a fence.
After taking this photo some dude came to say that I should have removed the lens cap when taking the photo. Even though I was squatting there quite a white, adjusting the distance, making sure I had the sunny aperture option selected and the faster shutter speed, and waiting for the motorcyclists to drive past and after taking the photo, it took me a while to dig the lens cap from my pocket and make sure it was firmly on before I walked away squeezing the Felica on my hands, he did't see any of that, only assumed that he knew better and decided to com to me and repeat his opinion to me. Twice. Because he thought he was right. Well Dorky Dude, the Felica just looks like that from the side and the photo turned out fine even though you insisted I had the lens cap on. Some old dudes just are like that. Jerks.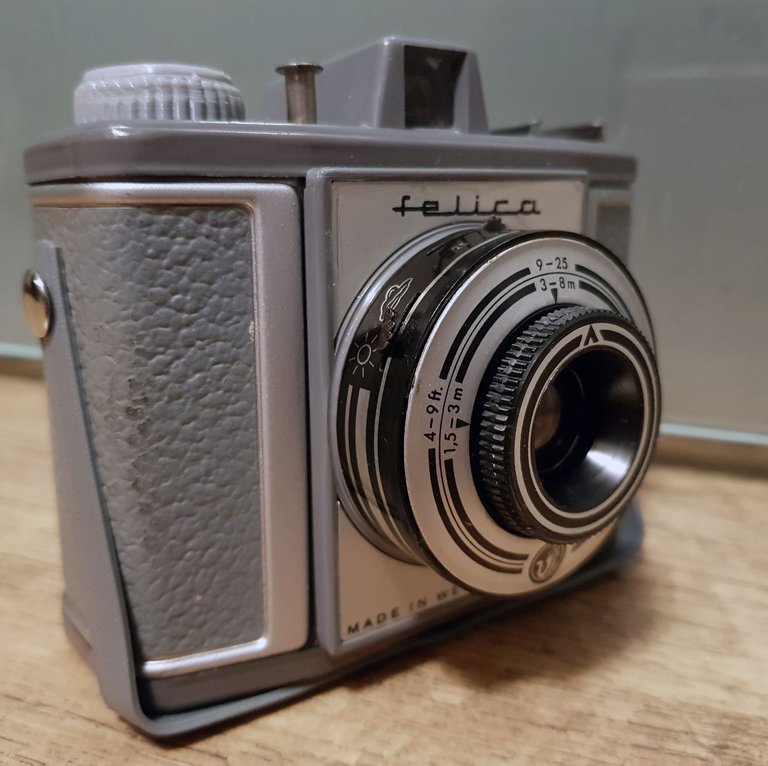 Here's the Felica without a lens cap.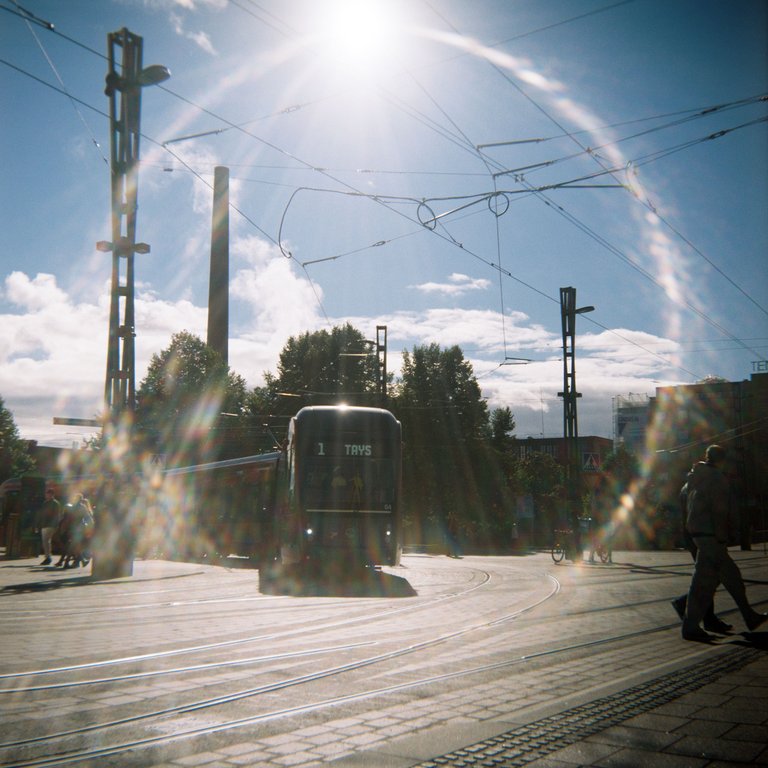 It's always worth while to take a photo facing the sun.
I'm pretty sure the lens of the camera was clean, no grease on it to cause the halo, because I've been cleaning everything with alcohol (or perhaps that's it, no alcohol for me) so this must be the lens. A feature in the Felica, which is excellent because that's what I am looking for in the old cameras. A little bit, or little more weird images that do not have to be super sharp like in digital cameras, but proper character without filters. This must be the same feature you can see in the other photos, blurriness on the top corners. I love it!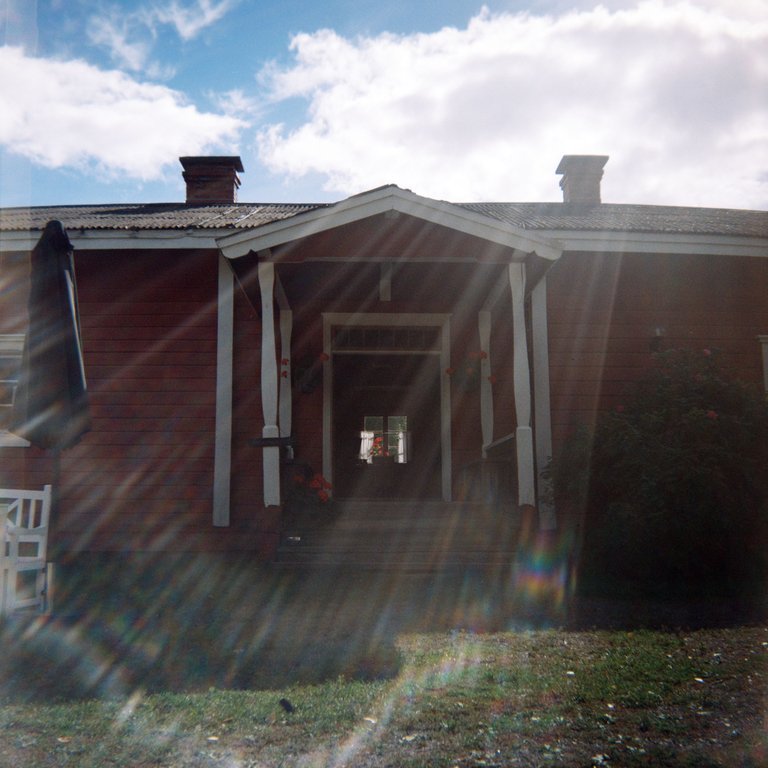 Thanks for the rays, sun!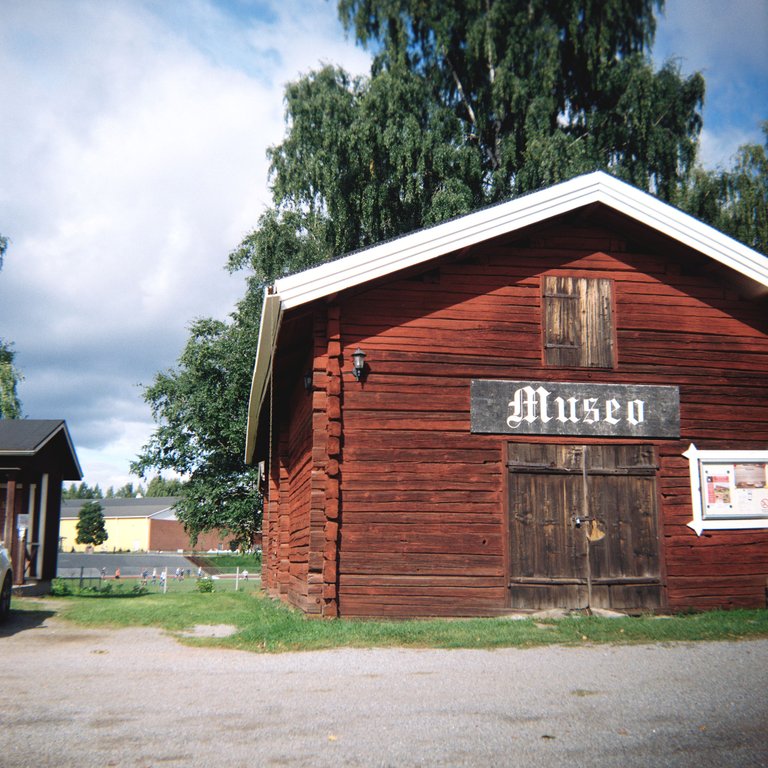 Oh alright then. Sun behind my back. Let's go back to that. Again really delicious colors.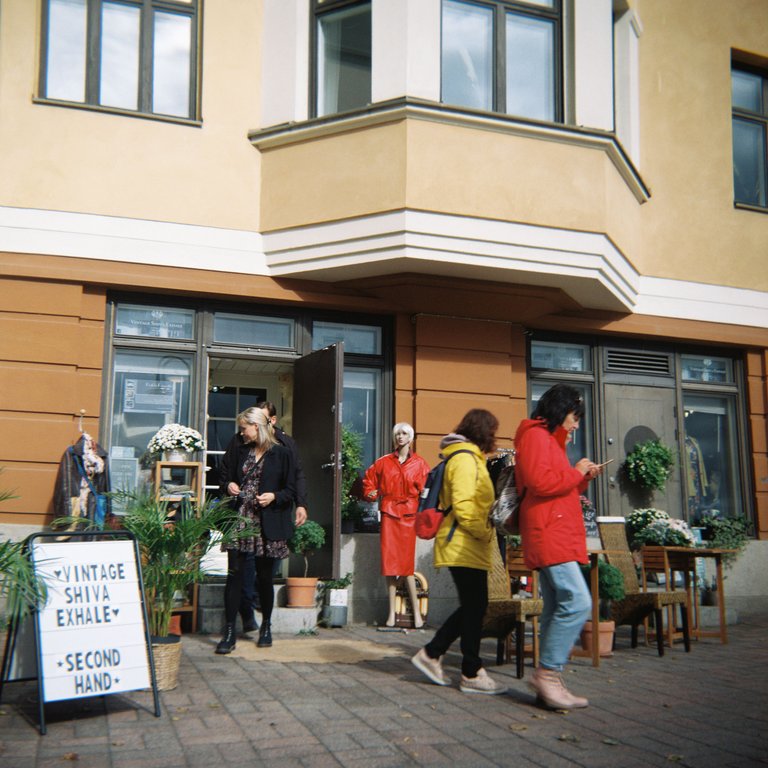 A cool second hand shop and cool stuff inside but no cameras.
Fortunately I did find a flea market that had one table full of old cameras.
It either was the end of someones hobby or they just needed to get more room for cooler and more expensive and precious cameras.
So they got rid of the crappiest cameras.
That is a classic win-win situation.
Someone getting rid of their shit and me buying it.
There was also a Cosina camera body and a lens available, a more professional version than my Cosina pocket camera but I decided to leave it there. My bag was already full.
Here's what I found!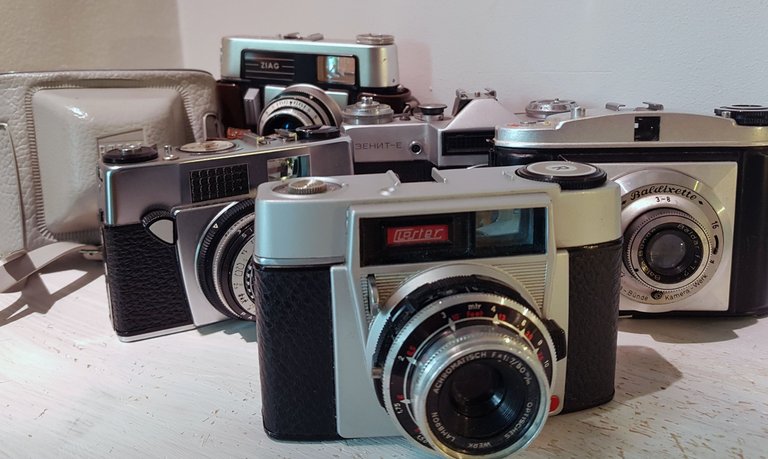 The first camera in the back left corner inside the camera case is from a different flea market than all the rest.
Here's how much this all cost me:
Bilora Bella 66 --> 10€.
ZIAG Colora F --> 15€.
3EHИT-E body --> 3€.
AGFA Silette L --> 4€.
Balda Baldixette --> 14€.
Closter C63 --> 6€.
I've already put a 120 size film in to Bilora Bella and I've also taken photos with it.
ZIAG is ready for a film and there is one for it waiting in the fridge. Some day those two will meet and make together beautiful art or anticlimactic disappointments.
For 3EHИT-E = Zenit-E I have no lens, which is not a problem because there are plenty of suitable lenses available, but alas, the curtain shutter gets stuck. Also it's partly detached from the bottom. So I have no other choice but to open it and perhaps that way ruin it for good if I screw open the wrong screw and then I'm screwed. Pop pop and bling blong go all the little screws and springs to different directions and I'm left with a heavy, perhaps cast iron made camera body. And happy cats fiddling with my screws all over the floors.
AGFA Silette also has shutter problems so perhaps I could screw the 3EHИT-E open at the same time and mix all the little parts. Double times screwed isn't screwed at all, right?
Balda Baldixette is a weird and ridiculous thingy that looks a bit like a modern camera but actually is just a box camera. Teeny tiny viewfinder and a loudly popping out lens tube. Or is it collapsible tube, I don't care. It makes a ridiculous sound both ways popping out and when I press it back. Anyway, since it's so weird and ugly and I think the lens in the end of the collapsible tube has to have suffered from the tube popping out because there's nothing to soften the blow, I've loaded a film and I've actually already taken few photos with it. Can't wait to see what I've captured!
Finally Closter C63. There's a film inside of this one too and I've already taken photos with this one too.
Oh god I'm going to be so poor after I develop all these films.
---
Film cameras
Kodak Brownie Six-20 Model C
1
Felica
1, 2
Kodak Box 620
1, 2
Cosina Flash 35E
1, 2, 3
Digital cameras
Sony A6400, 16-50mm
1
Sony A6400, Laowa 25mm f2.8
1
Comparison: Sony A6400, Canon EOS 550D, Panasonic Lumix DMC-FZ7, Sony Cyber-shot DSC-P32, Canon PowerShot A550
1, 2
---
---