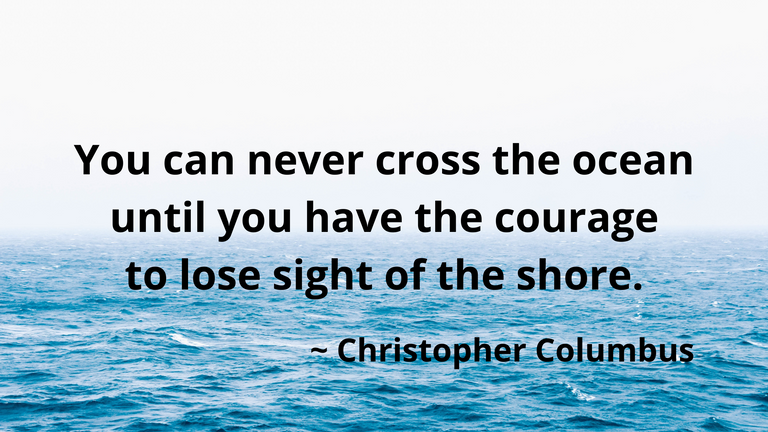 For as long as we hold on to the past, we will never be able to build a better future.
I am going to keep today's post relatively short. To an extent that is also because today's thought is applicable to me in a very practical, physical way too.
I've been mentioning a couple of times now that we are in the process of moving. Well, it was mainly getting prepared up until now, but we had several issues along the way too.
Nonetheless, the day has arrived. Everything is packed and today is just taking care of the final odds and ends. Tomorrow is the big day. The actual move is taking place tomorrow.
For us, it is more than just a physical move to a new location. Over the past couple of years, we had quite a journey. It was filled with many experiences and challenges (I might actually do a post or two about our journey), but we overcame and it is time to start a new chapter.
In the physical, we, as a family, see this move as an opportunity to literally move on and face a positive and exciting new future ahead of us. An opportunity of leaving behind what is behind us.
You will never have certainty about anything in the future. There will always be uncertainties. But let go of the past. Leave it behind. I'm not saying you should be reckless or irresponsible. But you will have to face some elements of risk. Learn as much as you can about what you need to do and take calculated risks. Make informed decisions and move on.
Yes, for as long as you can see the shore...that will be your limitation... You will remain close to where you were all the time.
It's time to become courageous and lose sight of the shore. Explore new horizons and meet your new, exciting, bright future.
Are there any guarantees? No.
Will there be any risks? Yes.
But it's worth it. Again, don't become reckless. Don't be irresponsible. Do your research. Educate yourself. Do whatever you need to do. But don't remain stagnant or passive.
Take one step at a time, but start moving forward! Soon, each step you take will become bigger and bigger.
Here on this blockchain, you have the support. Talk to people here in the #CTP community. Reach out. There is a big possibility that you might meet someone who has the knowledge and experience you need and they would most likely be willing to share it with you. You will find many people to encourage, motivate and support you. There is no need to go it alone. But reach out and engage with people.
I hope this will inspire you to take that first step and face the future with confidence.
If not, share your doubts with us. Tell us what is holding you back. Let's do this together.